B
arcelona-born, André Martinez was four when he moved to Le Locle with his family, in 1961. This new environment would, he says, "predestine" him to join the region's largest industry, watchmaking, although his initial training would be in jewellery. Artistically inclined, he studied jewellery-making and gem-setting in La Chaux-de-Fonds but got his first job producing prototypes for a watch company, rising through the ranks until the opportunity arose for him to apply his jewellery expertise, but in the context of watchmaking.
He was 28 when a leading dial manufacturer in Le Locle tasked him with setting up a decoration department which he did, with great success. However, as the years passed he found himself increasingly occupied running the department, spending more time at his desk and less time at the workbench, where he was happiest. More than anything he wanted to go back to using his hands and his speciality: miniature painting. "Grand feu enamel was all the rage back then," he recalls, "whereas I painted on mother-of-pearl, which doesn't lend itself well to enamelling. I could see there was so much that could be done to develop miniature painting."
André Martinez went on to produce miniature-painted dials for a number of watchmakers, including Bovet, still a client, and Corum under Severin Wunderman, the man who steered the brand to success. Hoping to democratise this type of handcrafted dial, Wunderman commissioned Martinez for several hundred pieces a year, prompting the artist to set up his own studio, turning it into a hotbed of talent that would play a key role in popularising this art. His wife, a lacquer miniaturist, still works alongside him.

Have brush, will travel
As the industry pursued a strategy of vertical integration, several of his protégés were snapped up by watch brands. With no schools teaching miniature painting, the kind of hands-on experience that can only be gained within a studio is invaluable. "I've had offers to buy the studio, which I've always turned down," he says. "The whole point of setting up on my own was to escape office life. Selling the business would take me away from what I want to do."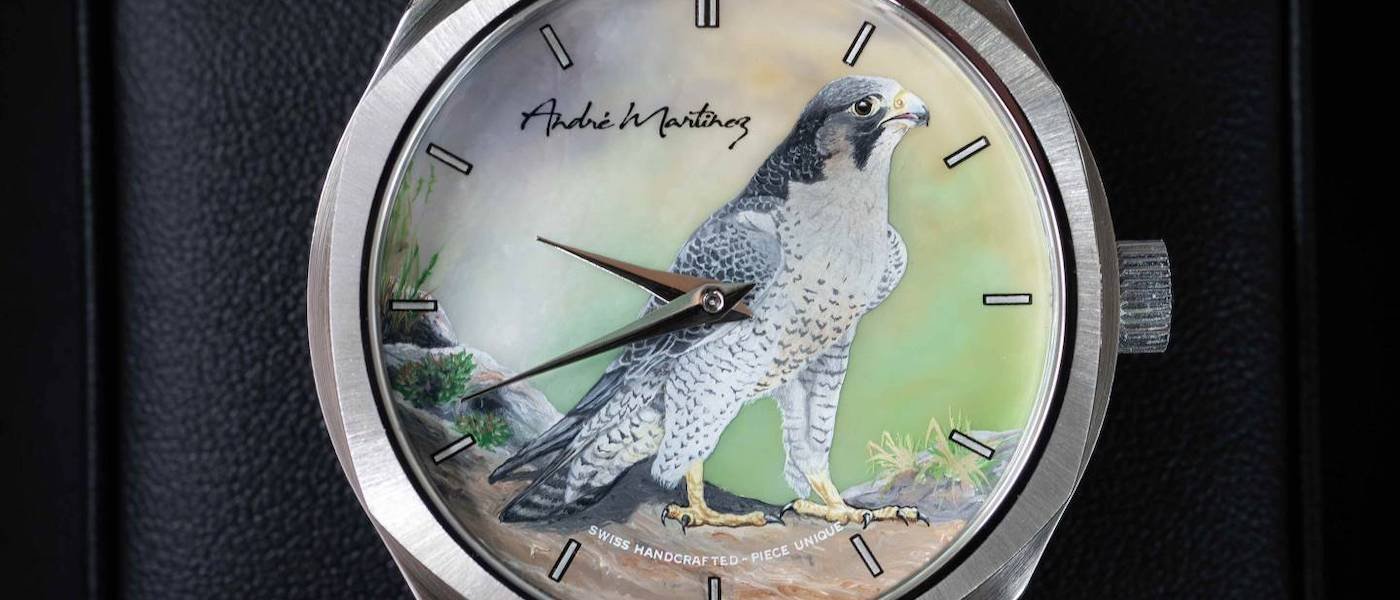 Despite reaching retirement age in 2022, André Martinez has no intention of hanging up his brushes. The artist, who produces mainly one-off or very limited editions, continues to collaborate with a number of brands. Like enamellist Anita Porchet, he is a reference in his field and is often contacted directly by collectors for bespoke pieces. He travels the world, delighting audiences with demonstrations of his art at watch exhibitions. A single dial can take anything from a dozen to more than 300 hours to complete. "People come away from these sessions amazed by the amount of patience required," he observes.

The right ingredients
How does the creative process unfold? "Most of the time, the collector already has a clear idea of what he or she wants," Martinez explains. "I then suggest designs and media. I've become something of a specialist in unconventional materials such as SuperLuminova or India ink. Gold, wood and mother-of-pearl can all be miniature-painted." Martinez uses pigments that are produced in Switzerland in the form of a synthetic paste and tested by Laboratoire Dubois to guarantee their stability and inalterability, in particular their UV resistance, as well as compliance with the REACH regulation. André Martinez spent several years perfecting blends that are now used by the miniaturists who trained under him.
The surge in interest in artisan watchmaking has meant a new golden age for his work: "Industrialisation has reached a point where people are coming back to handmade." Miniature portraits are a frequent request, as are landscapes, reproductions of famous paintings, from Velázquez to Warhol, even abstract designs. He insists on the collaborative nature of what he does: "I make sure staff at the studio develop a range of skills. It prevents boredom or repetition when working on a series."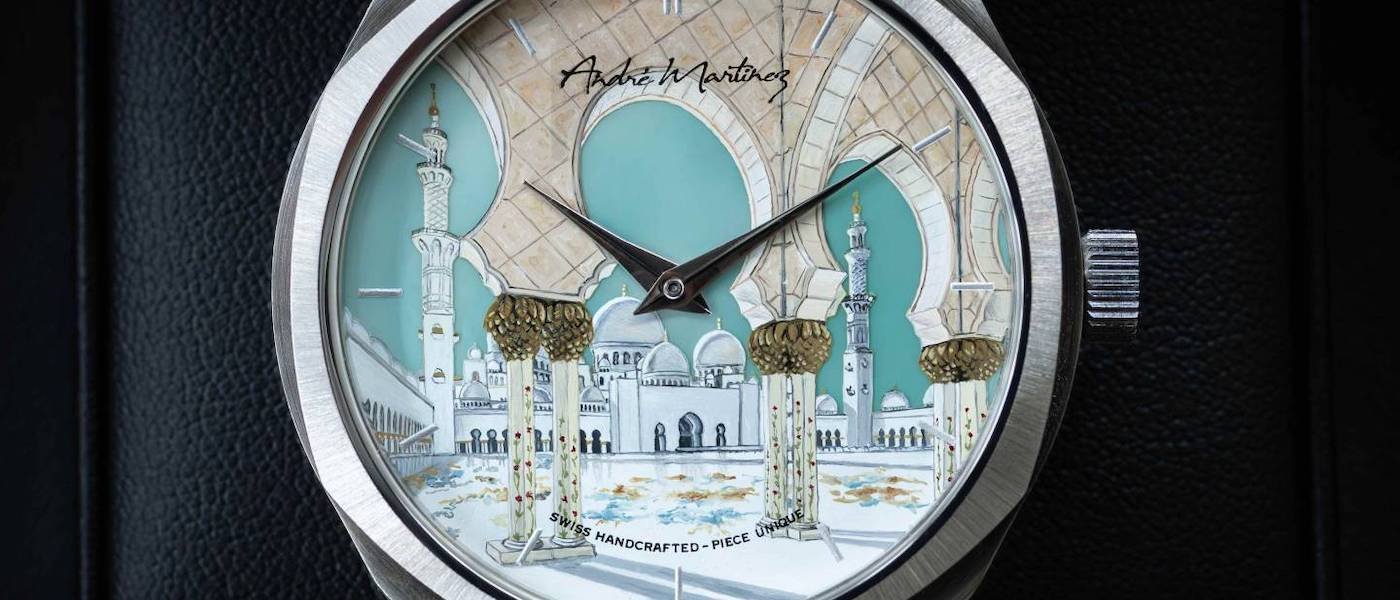 Keeping the flame alive
Even though he has nothing left to prove, André Martinez has set himself a new challenge to carry on where Severin Wunderman left off and make miniature-painted dials – generally reserved for the higher echelons of watchmaking - more widely available through collections of his own. "I'd been toying with the idea for a while but kept putting it off because I was too busy at the studio. Now I'm at retirement age I can finally make it happen!"
The André Martinez collection launches with five exceptional watches in 18k gold, housed in an original case of his design. Each dial is hand-painted on a natural mother-of-pearl substrate. Prices are in the region of CHF 40,000 – considerably less than for a model by one of the brands that traditionally puts his prestigious signature on their dials.

"We're a small brand with small margins. It's really my independence expressing itself. It's less about the brand and more about an art that I want to bring to the fore and pass on to others." André Martinez continues to train young talent in his studio, so that they can assist him with future commissions from customers who have been entrusting him with their projects for years.
He's excited at the prospect of converting the ideas he's been "accumulating for years" into reality, thanks to the collection. "Doing what you love for a living, in complete freedom, is the ultimate luxury," he says. "When customers become a part of their project, seeing their reactions as their watch takes shape, day after day, is one of the great joys in life!"