I
n recent years, changes in watch distribution have increasingly led multi-brand retailers to consolidate around a small number of "super-groups", managing dozens of points of sale on several continents. It is a way of bringing more leverage to the negotiating table when facing brands that are increasingly developing direct sales through their own networks of boutiques or e-commerce platforms.
One such major player is Bucherer, historically a leading retailer in Europe and very close to Rolex. After buying leading American retailer Tourneau as well as Baron & Leeds in 2018, the company now has a foothold in the United States. It is also present in the United Kingdom through the acquisition of The Watch Gallery. Today, the Lucerne-based family group founded in 1888 manages 36 points of sale in Europe, 17 of which are in Switzerland, to which must now be added 32 boutiques in the United States, currently in the process of being relabelled with the name of the parent company. That makes almost 70 stores worldwide.
Changes in watch distribution have led to a growing consolidation of multi-brand players around "super-retailers" such as Bucherer.
Bucherer also highlights its historical expertise at local level by operating boutiques for the brands themselves. It has also chosen to extend the choice of models available by launching a pre-owned offer, in which Tourneau was a specialist. It has also revitalised its own watch brand, Carl F. Bucherer.
Until last year, this expansion strategy was bearing fruit. Over the last decade, turnover grew from CHF 700 million to 1.7 billion, and the number of employees increased from 1,000 and 2,000, according to estimates by Swiss newspaper Le Temps.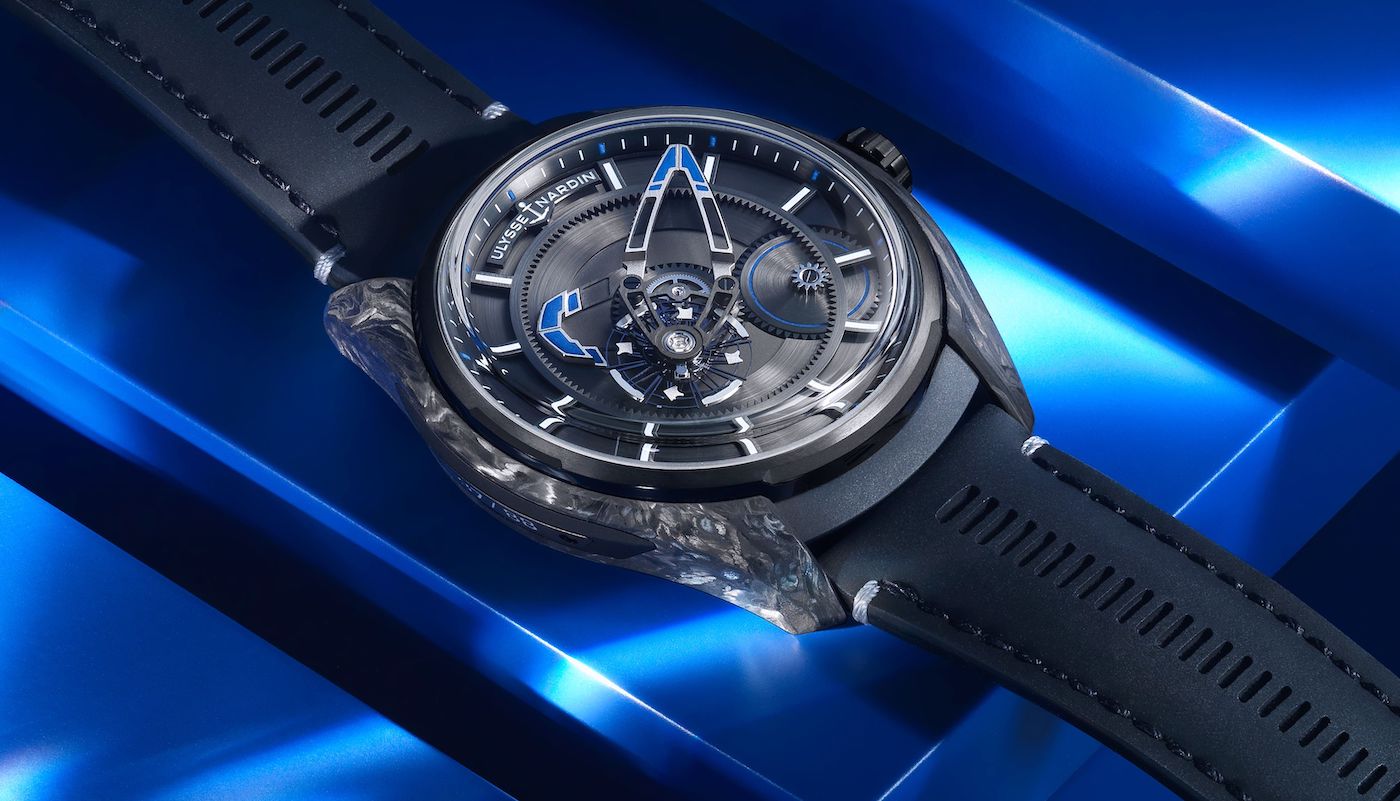 But global watch retail has been thrown into turmoil by Covid-19, which has wiped out sales to tourists, particularly in the horological hubs of Lucerne and Interlaken, leading to job cuts for the group.
Bucherer nevertheless has an ace up its sleeve in the face of a situation where, under pressure from the pandemic crisis, brands are increasingly favouring their own network of boutiques by reserving its flagship pieces for them. The aim of the Bucherer BLUE programme is to bring back a form of exclusivity to the retailer, through sought-after and exclusive timepieces developed with the brands themselves. It's worth noting that some exclusive pieces made in collaboration with retailers have historically achieved high values (think of Patek Philippe with Tiffany & Co models).
Some exclusive pieces created in collaboration with retailers have historically achieved high values, such as the Patek Philippe models with a Tiffany & Co. signature.
The arrival of Patrick Graf as Bucherer's Chief Commercial Officer in 2016 coincided with the launch of this ambitious programme. He reveals what goes on behind the scenes.
Europa Star: What was the strategy behind the introduction of the Bucherer BLUE models?
Patrick Graf: We realised that there was a huge demand for exclusive watches and we approached some of our partners with a view to producing a series of timepieces available only at Bucherer. In reality, the idea of creating collaborative or exclusive watches is not fundamentally new, and we had been doing it for decades. But through Bucherer BLUE, we have decided to structure and group these collaborations under a single identity. We started this programme by launching 16 models with nine different brands in autumn 2016. To date, the Bucherer BLUE collection comprises 45 models.
The identity of the programme revolves around the colour blue. Why?
Dark blue is the official Bucherer colour. But for this programme we have brought in a more contemporary, fresher blue with an "electric" tone. It is also the colour of the future, sustainability and corporate social responsibility. In the early days of Bucherer BLUE, the colour was very present in the models offered, on the dial or on the strap. But since then we have evolved the concept, and these days it can be as simple as a wink on the movement or on the strap stitching.
In the future, watches and jewellery will be less "blue" in appearance, because we do not want to lock ourselves up or limit ourselves. In fact, we are no longer limiting ourselves to watches, as we have released a Harley Davidson (the most expensive motorbike in the world, worth CHF 1.888 million) as well as a Lamborghini Aventador S which was personalised as part of the Bucherer BLUE programme.
"One of the highlights is certainly the wildly successful Tudor Black Bay Bronze Bucherer BLUE. We've just introduced it in the USA."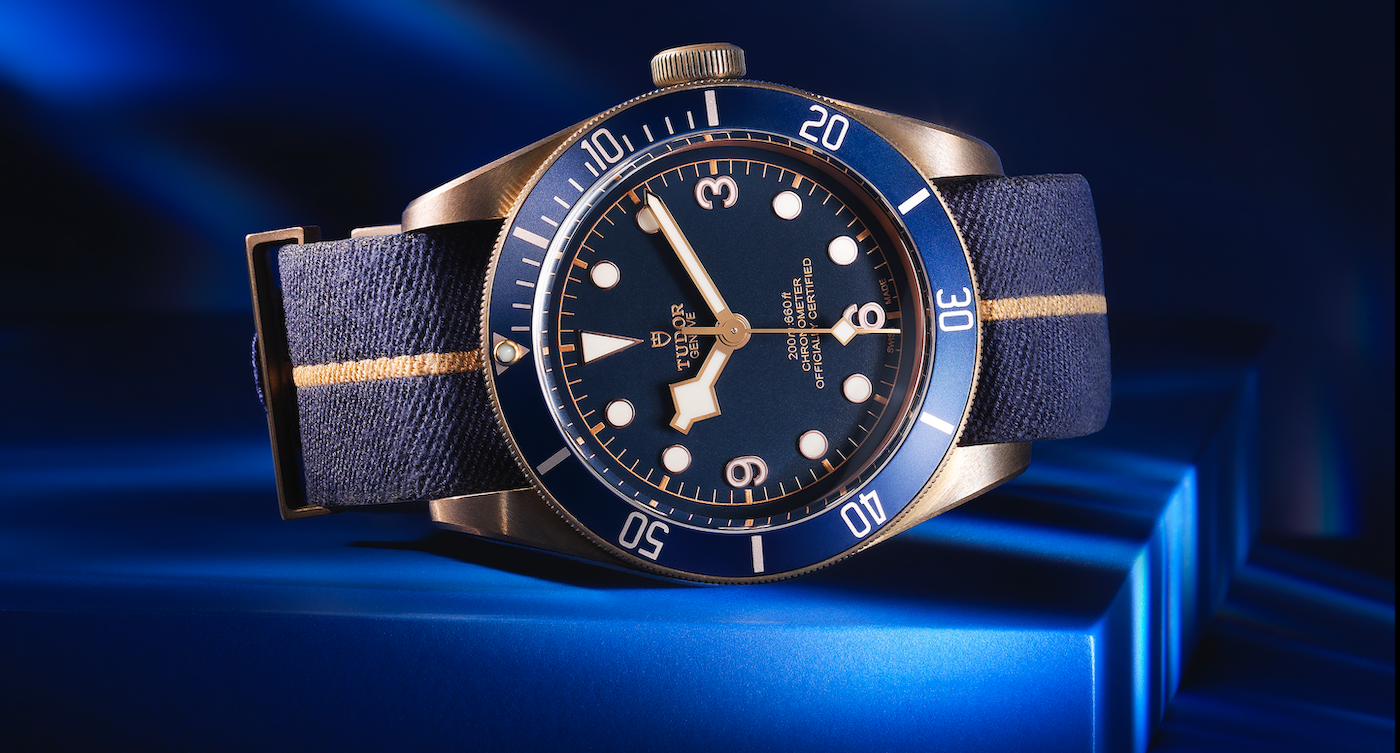 Is it up to you to go out and look for participating brands, or do they approach you spontaneously?
Unsurprisingly, the relationships evolved as the programme grew. When we started in 2016, we reached out to several partners and explained the approach. Companies including IWC and Audemars Piguet immediately saw the potential and wanted to participate. We remain very selective. But what is especially important to us is that all price ranges are offered, from Tissot to Vacheron Constantin, so that all our customers can find something that speaks to them.
Which models of the programme have been the most successful over the last five years?
If I had to name just a few, one of the highlights would certainly be the wildly successful Tudor Black Bay Bronze Bucherer BLUE. We have just introduced it in the United States as part of the opening of the new Time Machine concept store in New York.
Another emblematic model in the programme is the Audemars Piguet Royal Oak Offshore Chronograph, which we now offer with a new rubber strap. This watch experienced a boom in China after a Chinese influencer spontaneously shared his purchase with his followers. The Chopard Happy Sport is also very impressive, and is one of our best-sellers, as is the latest version of the Panerai Luminor GMT model. For its part, IWC is a loyal partner brand that has already launched four Bucherer BLUE timepieces.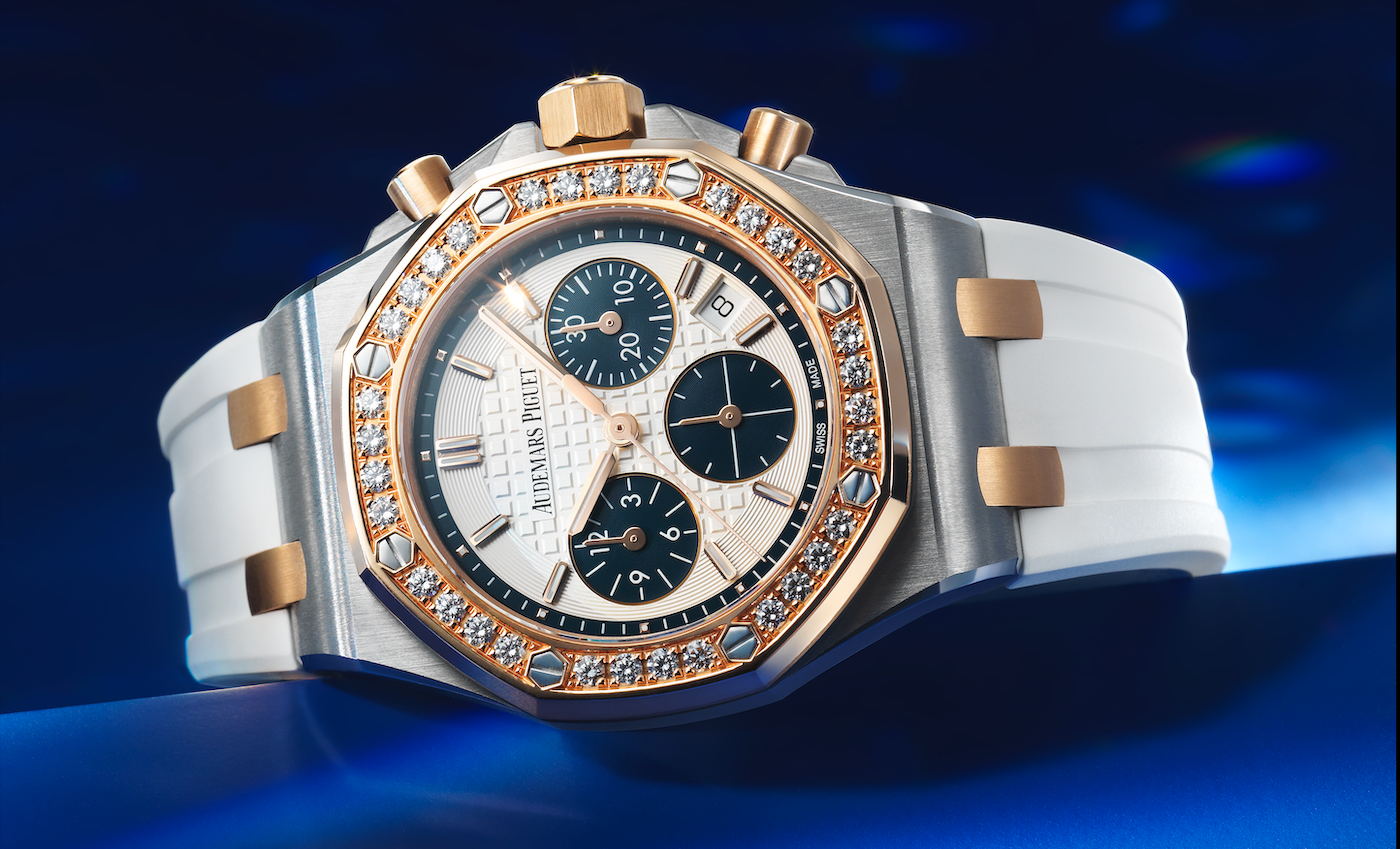 How do you allocate these watches through your network of boutiques?
Some are limited, such as the 30-piece Hublot Classic Fusion Bronze of 2018 or IWC's Big Pilot's Watch Big Date from last year, of which only 100 pieces were produced. Other watches are not limited and are therefore available throughout our network. However, when we design a new Bucherer BLUE watch with a brand, we usually remove the previous collaboration from the collection.
Can these timepieces be purchased online?
Yes, in fact, we have found that in addition to our Certified Pre-Owned programme, which is very successful on the internet, Bucherer BLUE models are among the most popular models sold online.
"In addition to our Certified Pre-Owned programme, which is very successful on the internet, Bucherer BLUE models are among the best selling models online."
Is the aim of this series to expand your customer base?
We see people we have known for several years as well as new customers. It is true that the average age is particularly young for this series of models. After all, we were looking to bring in a refreshing concept. By the way, we are planning to open a new dedicated and disruptive space by the middle of this year in Zurich. It's a lifestyle and fashion-oriented concept that will surprise many people.
How does the process of creating these models operate between your own team and the partner brands?
The design phase is carried out in close collaboration. This process can take months. We have a person in our team who is responsible for the partnership and is very close to the brands. We can push certain limits as a multi-brand retailer and we know what sells best, what attracts our customers. This is a very persuasive argument for the partner brands.
"We know what sells best, what attracts our customers. This is a very persuasive argument for partner brands."
Is it also a way of responding to the limitations of access to their exclusive pieces?
Unfortunately, fewer and fewer exclusive models are being attributed to multi-brand retailers. Many customers are looking for special and limited editions; this is a clear trend. But more and more brands keep exclusive pieces for their own stores, not for multi-brand boutiques. We are responding to this problem with the Bucherer BLUE programme, which we would like to further strengthen in the future.
We have a solid customer database and offer a choice: many people come to us to find out which brands are in fashion. With Bucherer BLUE, we support each partner brand's popularity. This is even more true for brands that currently have a strong presence in China but are looking to strengthen their position in Europe or the United States.
How has the programme been affected by Covid-19? And what can we expect for 2021?
Last year we launched only five Bucherer BLUE models: two Audemars Piguet Royal Oak Offshore Chronographs, the IWC Big Pilot's Watch Big Date, the Panerai Luminor GMT with Super-LumiNova in Electric Blue, and the Ulysse Nardin Freak X Bucherer Blue. This last model is representative of the way in which the brand wants to gain market share: the close cooperation we have established with them strengthens their attractiveness and reputation. Through Bucherer BLUE, we establish long-term relationships with our partner brands.
This year, we are planning to release between 8 and 10 new watches between August and October. We will dedicate two timepieces exclusively to the American market, to coincide with the inauguration of Time Machine in September 2021. We will also offer some unique pieces in the high-end segment.