S
eeing the number of exceptional pieces recently launched, that have a direct or indirect relationship with space, one gets the impression that the coronavirus-led lockdown has stimulated the astronomical ambitions of watchmakers.
Whether they draw their inspiration from science fiction, offer space-time measurements expressed in kilometres per hour, get lost in the contemplation of the starry vault, or create tiny starscapes on the wrist, space, in all its forms, remains a major inspiration for those seeking to push back the frontiers of mechanical timekeeping.
Here are a few very relevant examples.
SCIENCE FICTION
We knew that Jean-Marie Schaller, Louis Moinet's boss, was crazy about space, stars, astronauts and Martian meteorites, not to mention fragments of T-Rex and other fossilised dinosaurs. But with his Space Revolution model, he takes his obsession with space and time even further, demonstrating that it can lead him to create timepieces like no other.
Take this double tourbillon flying in constant rotation, with its cages in the shape of satellites that are regularly overflown by two spaceships straight out of a science-fiction movie, crossing and re-crossing 18 times every hour. The upper spaceship makes an hourly revolution in five minutes, and the lower spaceship performs one anti-clockwise revolution every 10 minutes.
These two spaceships, weighing barely 0.8 grams each, are made of titanium and then coloured with a hybrid ceramic insert. Interposed between the cylinder and the dome-shaped sapphire crystal, which allows the viewer to contemplate the ballet from the side, a floating highlight accentuates the sensation of emptiness in which the satellites and spaceships orbit. Two oscillators with a differential mechanism, six ceramic ball bearings, a total of 470 components, are set inside a 41 mm polished and satin-finished gold case.
SPACE-TIME
The UR-100 by Urwerk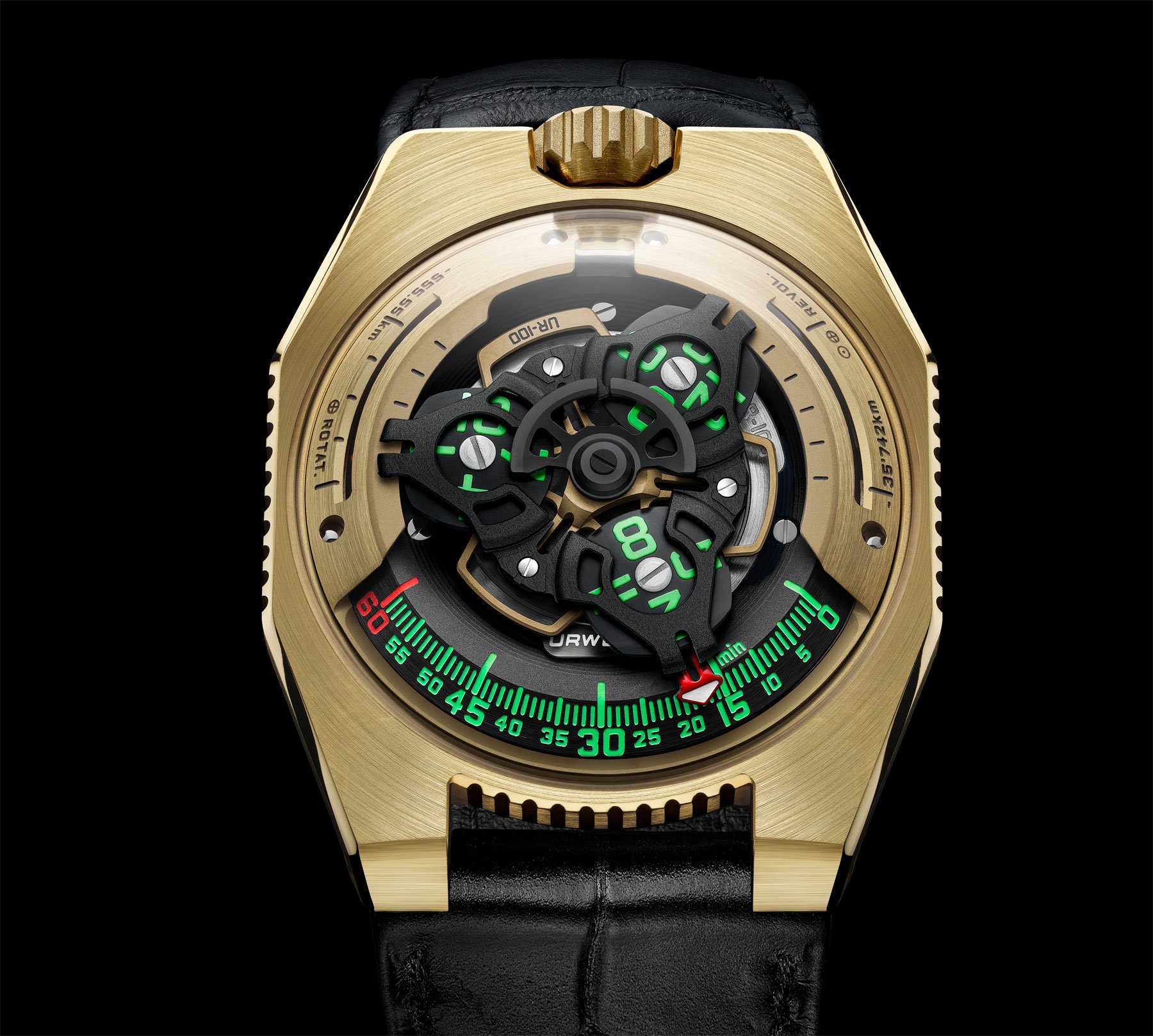 We remain in space with the UR-100, "the fourth episode of the intergalactic saga of the UR-100 collection," as Martin Frei, co-founder of Urwerk, a designer and a big fan of science fiction, states.
Connoisseurs of the genre will recognise the inspiration as coming straight from C-3PO, the Star Wars droid, from which it takes the yellow gold in the pale sheen of its carcass. The thin, eight-sided, irregularly long, partially notched case is topped by a flat sapphire bubble in the centre. The hour is displayed on rotating satellites and the minutes on a fixed 120° arched rail.
But what particularly distinguishes the UR-100 is the "odometer" on its sides. The kilometres in question are those, at 9 o'clock, which indicate the 555.55 kilometres travelled in 20 minutes by the Earth at the equator as it rotates on its own axis, and at 3 o'clock the speed at which the Earth revolves around the sun – 35,740 kilometres every 20 minutes.
This space-time element is highlighted by the red hand which, after indicating the time, disappears to become a mileage indicator. This brand new "complication", both poetic and philosophical (reminding us that, even when motionless, we are hurtling through space at an incredible speed) offers us a completely different way of telling time, no longer in hours and minutes but in kilometres, around ourselves and around the sun.
CONTEMPLATION
The DB28XP Starry Sky by De Bethune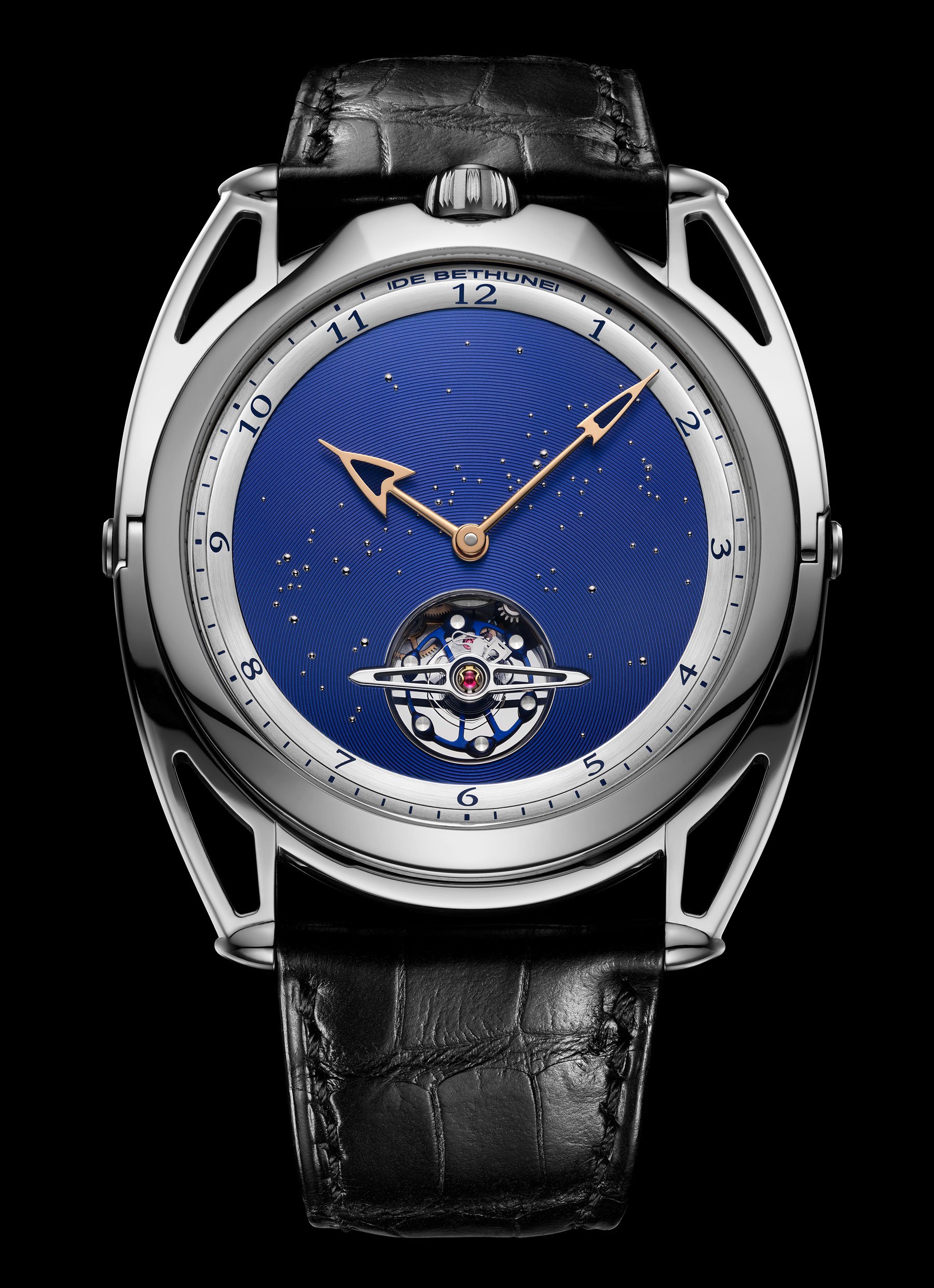 For the tenth anniversary of its DB28XP, De Bethune has steered clear of science fiction and the measurement of space-time, inviting us instead to contemplate a magnificent show. The timepiece's dial is a blue firmament studded with stars. Executed for the first time in blue Microlight, its surface is punctuated by a multitude of microgrooves that play freely with light. Small pins of white gold are chased into the blued titanium, representing as many stars suspended in the celestial vault (customers can ask for the specific constellation they want to see, according to a celestial map from the date, time and place of their choice).
Classic, round, extra-flat, with its 12 o'clock crown inspired by pocket watches, the Starry Sky hugs the wrist with its completely redesigned mobile cradles. A silvered hour circle, a timer with Arabic numerals, and rose gold hands designed specifically for this watch make it a sleek and sophisticated object that is both absolutely contemporary and utterly timeless.
GLOBES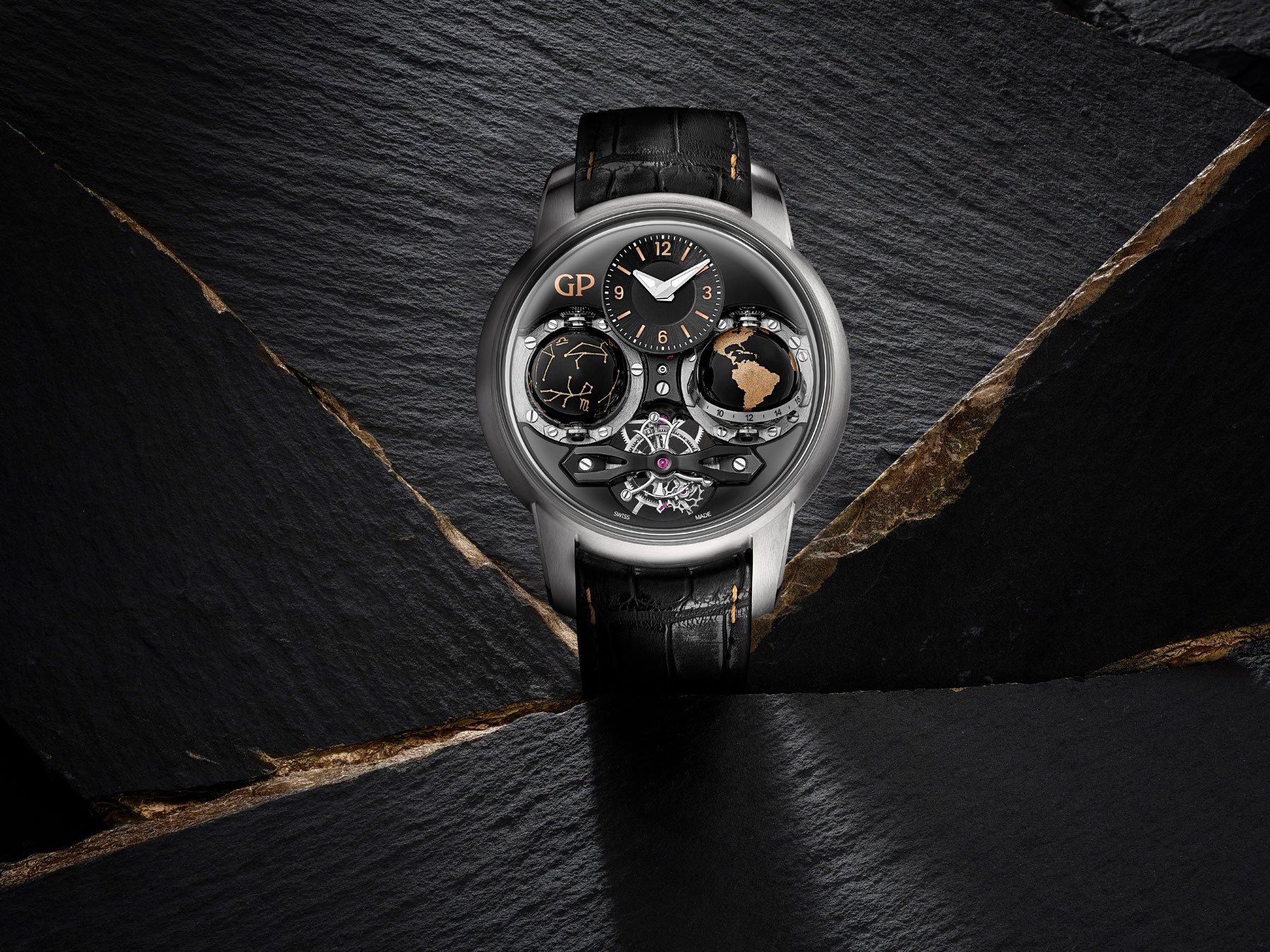 A solar day is 24 hours; in sidereal time, the exact measure of celestial time, a day lasts 23 hours and 56 minutes. To do full justice to this small but real difference, with the greatest possible accuracy (leap years are intended to correct the accumulation of this small difference over four years), Girard-Perregaux has equipped its Cosmos Infinity with two different globes placed side by side above a black PVD-treated grade 5 titanium tourbillon.
At 3 o'clock, a globe that rotates 360° in 24 hours indicates the day and night of the time displayed. At 9 o'clock, a second globe that also rotates 360°, but in 23 hours and 56 minutes, displays the constellations of the zodiac.
The two globes are made of polished onyx and decorated by hand with pink gold micropainting. The visible elements of the dial are also in mirror-polished black onyx – the material that dominates Girard-Perregaux's entire 2020 collection – and the movement is mounted in a titanium case 47 mm in diameter.
Without a winding crown, for obvious reasons of balance and symmetry, it is equipped with a winding and adjustment system on the back, consisting of three engraved bells filled with luminescent ceramic that indicate their respective functions.