A
t the beginning of 2021, a fully skeletonised Nautilus 5711 (including its PP 26-330 calibre) with forged carbon bezel was one of the most commented-on and shared models on social networks. This model was transformed, in accordance with the wishes of a wealthy collector, by Artisans de Genève, a company specialising in watch customisation.
An impressive creation named "The Pearl Project", obviously not approved by Patek Philippe. It also, unsurprisingly, raised a few eyebrows among the brand's purists.
Nevertheless, once a model has been sold, its owner can decide to personalise it as he or she wishes, regardless of whether the changes are in keeping with the brand image (the risks being then not to be serviced anymore). Requests can range from a simple engraving to a complete redesign, as illustrated by the skeletonised Nautilus produced by Artisans de Genève for their customer.
An entirely skeletonised Nautilus 5711 was one of the most commented, shared and hotly debated timepieces on social networks at the beginning of 2021.
Sacrilege or daring? A skeletonised Nautilus 5711 customised by Artisans de Genève caused quite a stir at the beginning of 2021. The project took three years to complete. The calibre 26-330 was entirely skeletonised and every component was bevelled by hand, some satin-finished and others pearled.

©Artisans de Genève
©Artisans de Genève
From Lenny Kravitz to Spike Lee
Celebrities and collectors are accustomed to making sometimes extravagant requests. Artisans de Genève created a buzz a few years ago with another skeletonisation project, in this case on the Rolex Daytona watches belonging to Formula 1 driversJuan Pablo Montoya and Rubens Barrichello. The workshop's other clients include John McEnroe, Spike Lee, Lenny Kravitz and Andrea Pirlo. Blaken, another specialised company based in Germany, will only customise Rolex models, illustrating the dominance of the brand with the crown among collectors.
The skeletonised Rolex Daytona belong to racing driver Juan Pablo Montoya

©Artisans de Genève
"When we started our business in 2005, we were pioneers in the personalisation service," says John Isaac, Creative Director of Artisans de Genève. "We have always been committed to offering a tailor-made service to private clients, with limited capacity. We do not sell or supply watches to our clients but work exclusively at their request, for their private use and on their own timepieces."
He continues: "Watch brands did offer this, but only in a rather limited way. In contrast, the automobile industry already had several specialised structures, such as Singer (Porsche 911), Mulliner (Bentley) and Atelier Ferrari. It inspired us to offer a similar service in the watch industry."
The boom in collectors' watches, with a period of extraordinary growth for auctions and the pre-owned sector, has also created a strong dynamic for those involved in personalisation. Artisans de Genève calls upon a network of highly specialised subcontractors to work on its customers' collectible timepieces.
The boom in collectors' watches, which has sparked a period of extraordinary growth for auctions and the pre-owned sector, has also created a strong dynamic for players in the personalisation sector.
"We work with around thirty craftsmen in Switzerland exclusively," emphasises John Isaac. "Our mission is to offer the best of Swiss watchmaking craftsmanship, always at the service of the end customer. Furthermore, we are a pure player and our services are only available online through our website. We offer no trading or distribution activities for watch products, which is a very important and differentiating point for us." The company, which customises a few dozen pieces a year, clearly states that it is "not able to meet all the demands, in view of the nature of the craft and its limitations."
©Artisans de Genève
A well-connected watch "punk"
Another famous figure in the world of watch personalisation is George Bamford from the UK, who presented a customised TAG Heuer Aquaracer in the company of the brand's CEO Frédéric Arnault last year. In 2020, he also revisited Girard-Perregaux's Laureato to give it a diaphanous twist.
This specialist in PVD finishes, who appreciates dark tones and likes to include the character of Popeye on the dial, works on the personalisation of private models, as well as on limited series for brands such as TAG Heuer, Girard-Perregaux, Bulgari, Zenith or Casio.
The Aquaracer model by TAG Heuer, equipped with the Calibre 5 Automatic movement, revisited by the Bamford Watch Department. The creation illustrates the growing proximity between customisation companies and established brands.
As well as runninghis own studio in London, Bamford has also launched his own fashion watch brand at a much more accessible price point than his customisation services. He is active in industries ranging from automobiles to beauty products. On his site, there is a configurator that allows you to customise models ranging from Girard-Perregaux's Cat's Eye to Bulgari's Octo or Serpenti, according to your own taste.
"Watch brands need to expand their horizons, to reach new customers through collaborations, and I am committed to this strategy," explains George Bamford. "But it took a visionary like Jean-Claude Biver to launch this new development path. He was the first to trust me, by asking me to revisit TAG Heuer's Monaco. When I first started out, I was considered a punk in watchmaking: I'm still a punk at heart, but I might as well be part of the system if I'm going to transform it!"
George Bamford during the creation of the Aquaracer limited edition: "The orange design elements and the sporty bezel are reminiscent of TAG Heuer's landmark pieces launched between 1979 and 1994."
"When I started out I was considered a punk in watchmaking: I'm still a punk at heart but I might as well be part of the system if I'm to transform it."
The Briton points out that the luxury industry itself was born out of personalisation, in the sense of individual service: "Louis Vuitton used to create made-to-measure travel trunks. Through our activity, we are somewhat returning to the starting point of luxury and craftsmanship. The brands will increasingly move towards unique or limited models."
This reflection is in line with the drastic fall in volumes the Swiss watch industry has suffered in recent years, an issue further exacerbated by the pandemic. "The problem is that it makes no economic sense for high volume brands to industrialise 25 different dial colours," Bamford reflects. "That's where I come into the equation. Companies such as Richard Mille or Hublot, which have already perfectly integrated the concept of limited editions, would probably have less need of my services."
A growing number of collaborations
While George Bamford was the first watch customisation specialist to forge partnerships with established brands, other players are following suit, demonstrating the vitality of this niche. Swiss bespoke company Label Noir, for example, has just released models in collaboration with Maurice Lacroix and Anonimo. Before that, the company made a name for itself by equipping a Rolex model with a tourbillon.
"I went to the Geneva Watchmaking School and then worked for several watch brands before launching a watch subcontracting company in 2011," says its founder Emmanuel Curti. "We did assembly work for the brands and after-sales service for private individuals. One thing led to another, and customers started asking me if I could make modifications to their watches. As I found myself continually faced with the same requests, I decided to start personalisation in 2014 through Label Noir."
Emmanuel Curti, head of Label Noir since 2014, now also offers to create exclusive pieces for brands.
"Who are we to judge a person's tastes? Beauty is subjective."
Like his colleagues, Emmanuel Curti has made the most of social networks and the web to gain popularity and to converse directly with potential clients. The company provides customisation for watches belonging to private individuals. For a little under two years, Label Noir creations have also been distributed through a limited network of concept stores, outside the traditional watchmaking circuits.
"Tastes and colours are not up for discussion," the entrepreneur emphasises. "Through personalisation, we have really become aware of the range of possible aesthetic desires, which are sometimes far from being unanimous. But we refuse nothing on the pretext that it's 'not beautiful'. Who are we to judge a person's tastes? Beauty is subjective."
An AIKON Automatic by Maurice Lacroix playing on shades of black and anthracite has been developed by the Swiss brand in collaboration with Label Noir.
The first collaborations with Maurice Lacroix and Anonimo signal a new focus for Label Noir, which has transformed its website to reflect this new activity. "Our aim now is to multiply partnerships with brands on limited editions," says Emmanuel Curti. "There will always be customers who will come to us for customisations, but we want to gain legitimacy in the watch industry. As the examples of MB&F with H. Moser & Cie or Louis Erard with Vianney Halter clearly show, the principle of collaboration is gaining strength in watchmaking."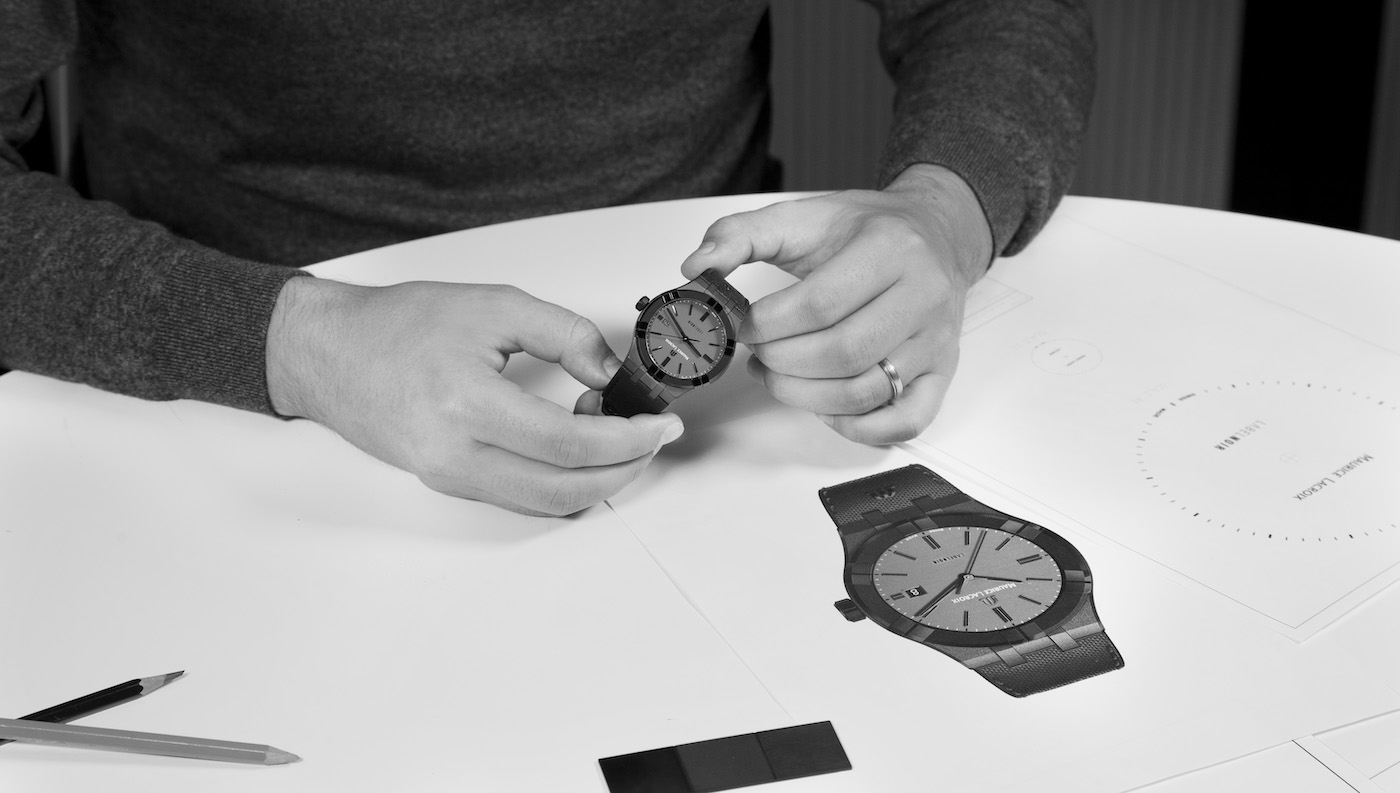 Pepsi or Coke?
In the case of both the Bamford Watch Department and Label Noir, companies that started with unauthorised transformations are now official partners of certain brands – a turnaround not unlike the evolution of the secondary market, which has also seen a wave of official collaborations and takeovers (Watchfinder & Co. by Richemont, Analog Shift by Watches of Switzerland or more recently Crown & Caliber by Hodinkee).
The field of personalisation, long relegated to fringe arrangements between private individuals or professionals in a vague parallel or grey market, also seems to be gradually gaining legitimacy, tacit or otherwise, in the eyes of the watchmaking "establishment" – although the brands most prized for personalisation in the watch collecting scene, Rolex and Patek Philippe, are certainly still far from being ready to sign collaborations in the same way as TAG Heuer, Zenith, Girard-Perregaux or Maurice Lacroix have done.
Limited to 45 pieces, the Girard-Perregaux Laureato Ghost was created in collaboration with the Bamford Watch Department. George Bamford, generally a fan of black, has for once designed a reinterpretation in white ceramic.
"I always like to work with the so-called challengers because they are usually willing to take a lot more risk than the top of the class," states George Bamford. "It reminds me of Pepsi against Coca-Cola. They are always cooler in their communication: because they are in second place, they can loosen up. If I see someone wearing a Zenith at a party when everyone else has a Daytona or a Nautilus, I will go to that person; it intrigues me. Personalisation is a bit like that too: it makes you cool!"
According to Bamford, it is also about brands getting to know their customers better. "If I were the CEO of Porsche, I would buy Singer right away, because they give you access to customers that you didn't necessarily have as a mainstream brand. Personalisation forces you to ask yourself about your customer base and your potential. Brands always tend to forget their customers. They become gentrified. We're here to help them reconnect." Where will his dreams take him next? Perhaps to working with Breitling ("Georges Kern is a rock star") or with IWC ("I designed my studio in London very much like one of their boutiques").
"If I were the CEO of Porsche, I would buy Singer right away, because they give you access to customers you didn't necessarily have as a mainstream brand."
A complex dialogue with the brands
For his part, John Isaac, Creative Director of Artisans de Genève, says he prefers to keep working with private clients only, and is not seeking any official collaboration. "Personalisation must remain a personal matter, face to face with the client," he says. "We take pride in the fact that we know all our clients personally. That's real luxury. In fact, we would rather reduce the number of pieces we handle each year in order to achieve even more exceptional personalisation."
"We are in a position where we try to keep our independence as much as possible, without being confronted with the policies of the brands or the distribution networks," he continues. "Within the groups, we would be entering a system where everything is formatted: we would lose flexibility, creativity and reactivity. And I think it would be a bit of a contradiction in terms to launch series of 'personalised' watches. By remaining in an exclusively private relationship with our clients, without intermediaries, we are free to do everything."
The legal advantages of staying independent were also highlighted by Emmanuel Curti of Label Noir: "By remaining in the private domain, we are protecting ourselves legally. Of course, some brands refuse to take models that have been transformed for after-sales services, but others are happy to do so."
Label Noir shocked the horological world in 2018 by equipping a Rolex Milgauss with a tourbillon.
"We have excellent relationships with some brands, while others are much more resistant to our work," John Isaac says. "It always surprises me: what's the problem with fulfilling the desire of a private customer? Is it better for him to stop wearing a watch that he considers too standard, not in his image? All our customers love their watches. They're not failing the brand by personalising them. They are true enthusiasts, otherwise they would not put as much effort and resources into customising their watches. When you're ready to invest up to several hundred thousand francs for your model, you really have to love watches!"
©Artisans de Genève
Diverging paths?
The bespoke specialist poses the equation in the following terms: "Who decides in the end, the customer or the brand? We see houses like Audemars Piguet refocusing on their end customer. That's what I believe in. Through our services, we focus entirely on the client's desire." Nevertheless, as he explains, he does not accept all requests: "Technically, we could do anything, but we still try to respect the DNA of the original brand, because you can't be a watch lover and not love brands."
Over time, the entrepreneur believes that the idea of modifying branded watches will become more legitimate. Nevertheless, the debate remains lively, and the companies in the segment sometimes face hard choices. Should they collaborate officially with brands or continue in a strictly private mode? Use only customers' timepieces, or buy watches themselves? Enter the retail sphere or remain pure players? Accept all customisations? Launch limited editions?
For its first collaboration with a brand last year, Label Noir revisited Anonimo's Epurato model: the luminous sandblasted grey of the dial contrasts with the azure blue hue of the second hand.
"We serve as a laboratory for brands, which can use us to test new creative avenues without completely committing their image."
"We now have to try to play around with different facets, following our recent collaborations with watch brands," says Emmanuel Curti. "We don't want them to be communicated at the same level as a private individual's personalisation. But we are also a very good platform for brands to try out new creative avenues without completely committing their image."
The pandemic crisis, by bringing the watch industry to its knees, has also forced it to reconsider the role of some of its players. Whole swathes of markets once considered "grey" or "parallel" are finding new legitimacy. This also seems to be the case for bespoke specialists, who are very reactive online and in a direct dialogue with their customers, at a time when the luxury industry is aiming to offer an increasingly "personalised" experience.