I
nspired by the techniques and knowledge of the past, in recent years, Salin has put old equipment back into business. With tools used since the 1970s, alongside innovative know-how, the company is able to produce the traditional Milanese tissue bracelets.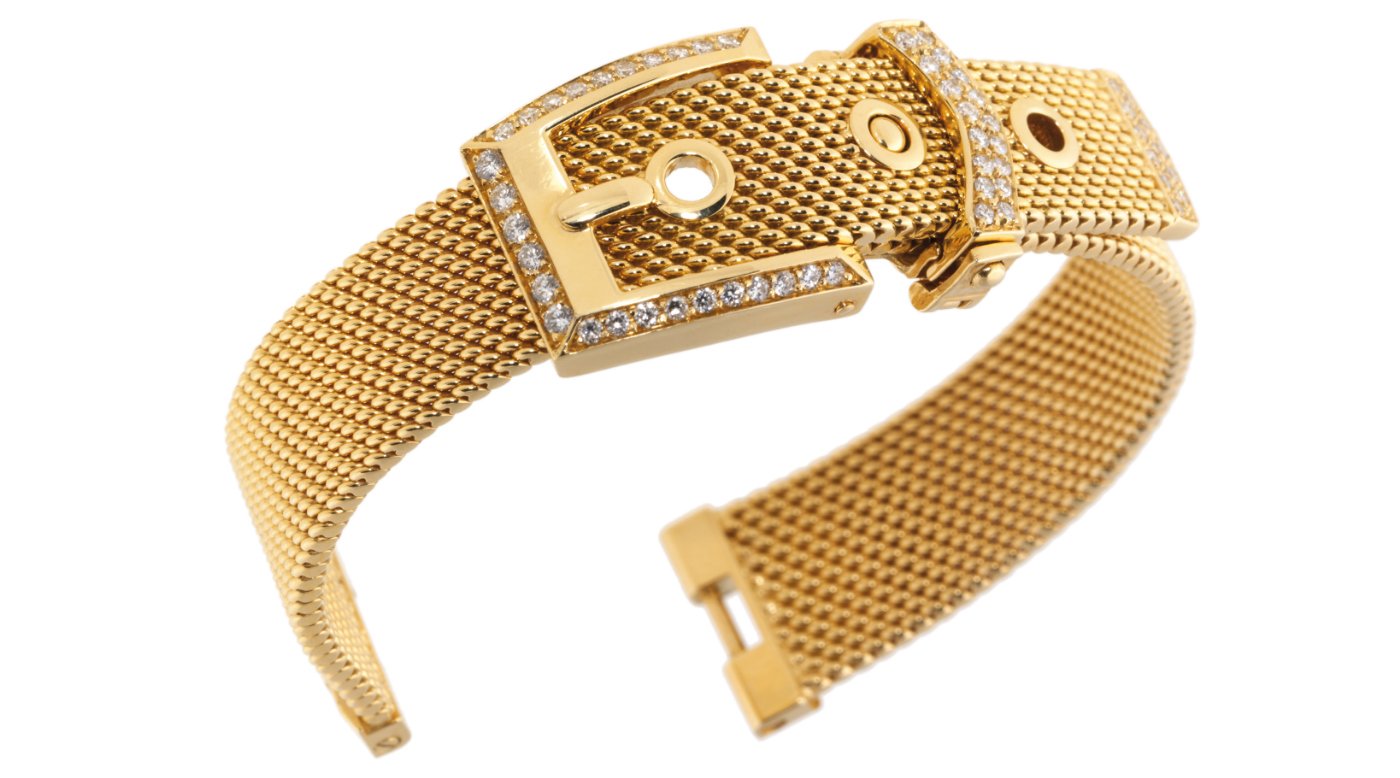 It all starts from a gold thread, which is transformed into spirals that are intertwined with each other. The result: a resistant mesh, like metal, is created - but it is as flexible as tissue.
Thanks to new welding techniques taking advantage of the perfection of the laser beam and the patient mastery of Salin's goldsmiths, the spirals are blocked together, giving shape to the bracelet.
The patient manual work of the "polishing people" illuminates the bracelet, giving it brilliance, elegance and timeless charm.
A dedicated buckle
A nice bracelet is not enough to conquer the customer, you also need a practical and reliable solution for its adjustment and wearability. With this in mind, Salin has worked to improve the aesthetics and functionality of the closing systems that have been applied to bracelets tissue until now.
The buckle developed by Salin revolutionizes the traditional two-blade buckle by integrating a simple and reliable adjustment system. Applicable to any type of tissue bracelet, this buckle allows anyone to adjust the length with a few simple intuitive gestures and without the use of specific tools.
The adjustment ensures that one end of the bracelet (the long one in the case of a bracelet for a wristwatch) is not connected to the blade in a stable way but can slide inside a guide obtained.
A button, stably applied to this movable end, prevents it from leaving the guide, thus avoiding that the bracelet opens and slides from the wrist with open adjustment. Being able to be positioned in one of the various slots made along the blade, it also allows a millimetric adjustment of the length of the bracelet. Once the position has been chosen, the button is held in place by the pressure of a locking blade which fixes it in the chosen position.

A bracelet to never take off
With this in mind, Salin has studied and developed the new CONFORTEX tissue bracelet. Its characteristic is the elasticity of the links (fig. 1), which allows a significant lengthening of the bracelet when subjected to traction (fig. 2).

Thanks to this feature, the CONFORTEX bracelet wraps around the wrist, ensuring maximum comfort at all times of the day, keeping the watch always correctly positioned on the wrist and compensating for small changes in the wrist due to tiredness or physical activity.
This is why Salin has defined it as "the bracelet to never be removed"!
Explore the Europa Star archives - Join us as a Club member
New: 40'000 pages added, since the year 1950!
Our data base contains over 100,000 pages and 70 years of fully searchable back issues, up to the most recent publication. A treasure trove for all knowledgeable professionals and aficionados.