H
irsch, based in Klagenfurt in southern Austria, is a multinational watch strap company with over 800 employees worldwide and a turnover of 75 million euros. It supplies some 16,000 specialist retailers with bracelets, has its own "In Time" boutique network of around 150 shops in Europe and equips numerous Swiss watch brands.
The Austrian company is best known for its innovation. Although the Hirsch family has been active in leather working for several centuries, it was the "patriarch" Hans Hirsch who really gave an international dimension to this family tradition, thanks to his invention of a new technique for folding the strap without sewing, the "Hirsch Rembordé", in 1955.
Then came a succession of innovations, including the presentation of watch straps directly on the stores' counters, rather than being kept in drawers, as early as 1961; the first ISO certification for a watch strap manufacturer in 1995; the introduction of connected microchips in 2002; a first strap made of aloe vera in 2009; and the combination of leather and rubber in the Performance strap collection as of 2014.
Hirsch supplies straps for both traditional watches and the new smartwatch market.
The new generation, namely the two brothers Nikolaus and Matthäus Hirsch, joined the management team in 2019. The transition from their father Robert Hirsch is well under way. Among the challenges they face are the digital transformation of the industry, the ecological transformation, with the introduction of new, renewable, non-animal-based materials, and also new products such as smartwatches (Hirsch has actually developed an adapter to fit its straps to the Apple Watch). We met the two brothers to discuss these challenges.
Based in Klagenfurt, southern Austria, Hirsch is a multinational watch strap company with more than 800 employees worldwide and a turnover of €75 million.
Europa Star: What have been the most significant events in your company's history?
Matthäus Hirsch: You have to go back to the 18th century to find the beginning of the leather working tradition in our family. One of our ancestors, Johannes Franz Hirsch, born in 1765, was the first to open a leather workshop in Lower Austria. It was a small tannery, producing leather for shoes and saddles. But the company as it exists today was founded in 1945 by our great-grandfather Hans Hirsch in Klagenfurt, southern Austria. He began producing watch straps at his kitchen table. He made them from leather he salvaged from shoe-making offcuts. He started with a pocket knife and a sewing machine as his only tools. But he was a true inventor, a passionate engineer, who never stopped coming up with innovations!
Matthäus and Nikolaus Hirsch
Can you name a few?
Nikolaus Hirsch: His most outstanding invention, which proved decisive for the success of our company, was the special "rembordé" technique he introduced in 1955. This is a means of seamlessly binding the upper and lining leather of the watch strap. This results in smoother edges, which improves the quality and durability of the strap. This method has been patented and even goes by the name of "Hirsch Rembordé". It is now an industry standard.

How did the company grow from this turning point?
Matthäus Hirsch: Over the years, the products appealed to both watch brands and retailers, laying the foundation for the mainstream brand we are today. Exports of our strap gradually increased, eventually reaching over 80 countries. At the time, watch straps were made from a single piece of leather and did not contain much technology. Our company was able to infuse new know-how into the industry.
What are your main markets?
Nikolaus Hirsch: Our main market is Europe, where most of our customers are, but we are also well positioned in Asia and are active globally.
Today, watch strap manufacturing is a global industry, with most of the production taking place in Asia. Do you still produce in Europe?
Nikolaus Hirsch: Yes, of course! We still produce a large quantity of our straps in Austria. Only the entry-level items are made in China. And our goal is to one day return to full production in Austria, which seems to be more and more realistic with the new technologies we have.
"Our goal is to one day go back to full production in Austria, which seems to be more and more realistic with the new technologies we have."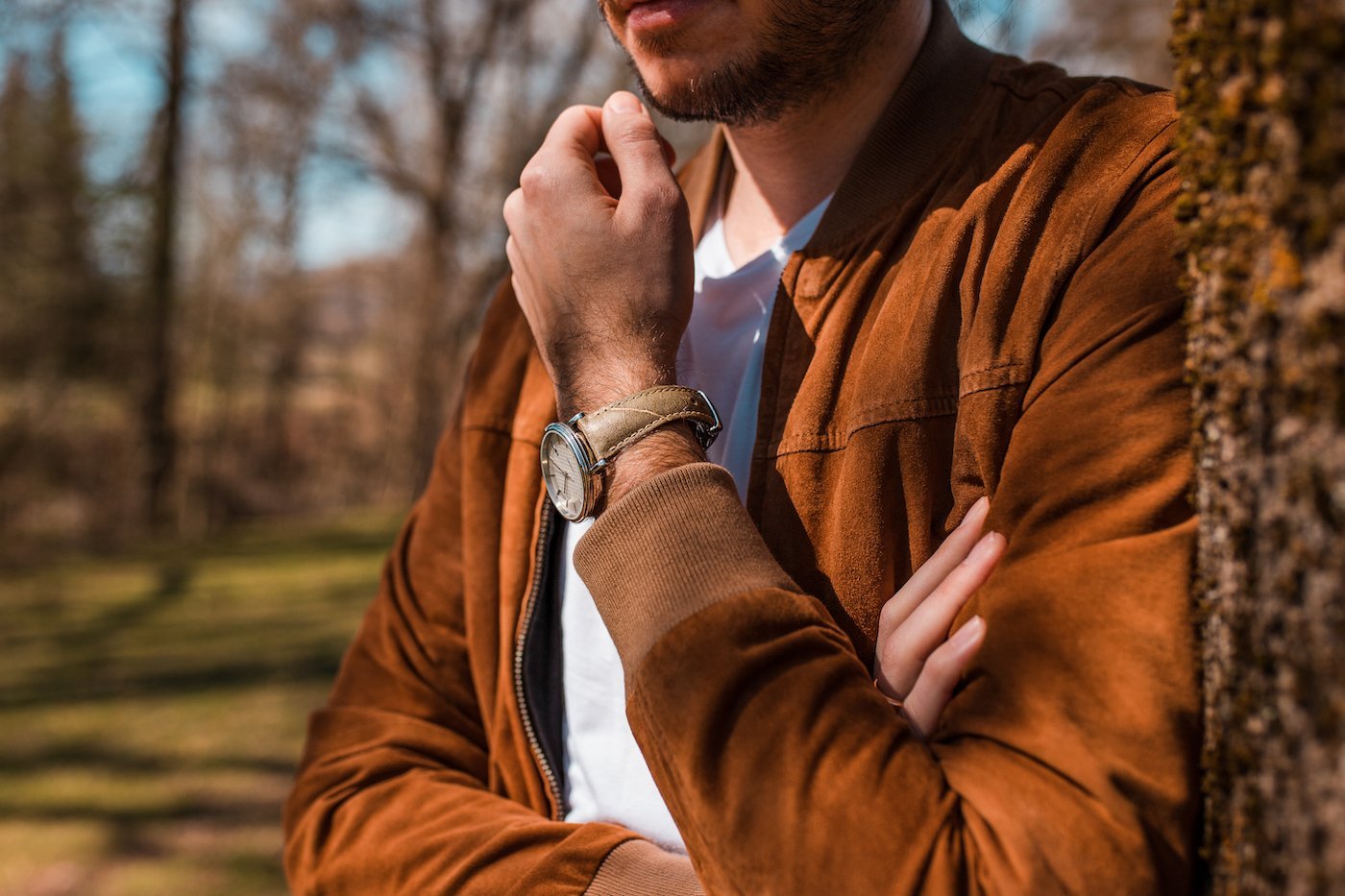 As a new generation at the head of the family business, what challenges do you face?
Nikolaus Hirsch: We can certainly still improve in terms of digital communication, both internally and externally. More generally, it's about bringing new, more modern practices to a traditional company. It is sometimes difficult to adapt to the changes that keep coming ever faster in our world, but they bring so many new opportunities...
Do you also plan to sell your straps online?
Matthäus Hirsch: Actually, we are already selling our straps online in our own webshop, which we opened just in time, before the pandemic. In addition, we are selling to our business customers via our B2B platform.
A new animal-free strap from the Nature collection
Hirsch is particularly well known for the many innovations it has patented throughout its history. What are the most promising ones today?
Matthäus Hirsch: Three years ago, we set up the first robot for automated product classification. We have also worked a lot on better data collection and software analysis, in order to be more flexible with regard to demand. Last year we introduced a new platform that enables our customers to order smaller series. All these innovations allow us to produce better and work for the top end of the market, while at the same time producing more thanks to automation. Today, we work as much for the high-volume market, for example smartwatches, as for the luxury segment, including Swiss brands.
"Today, we work as much for the high-volume market, including smartwatches, for example, as for the luxury segment, including Swiss brands."
Automation has its limits, though...
Nikolaus Hirsch: Indeed, you will always need a human touch, and we could not fully automate our production. This is a very important topic, which we discuss constantly with our partners and customers. Every step needs to be controlled, and this is what gives the product its beauty, the more 'artisanal' side. You have to think outside the box about how the strap is best deconstructed, to find the best balance between automation and craftsmanship.
Another topic of debate is the manufacture of more environmentally-friendly straps. We are seeing more and more brands adopting straps in recycled materials, or new organic materials.
Nikolaus Hirsch: It's a topic that's gaining a lot of momentum nowadays, but we've always wanted to produce in a sustainable way; after all, our great-grandfather started by reusing leather scraps, cutting them and forming the padding of the strap. On the other hand, we are always trying to come up with new organic and animal-free products. We have now set up our own production of materials, for example straps made from vine leaves, in our new Nature collection.
Who are your biggest customers: watch brands, retailers or individual buyers?
Nikolaus Hirsch: Actually, all of them! Each category of customer now represents about a third of our sales. This allows us to be more flexible and to test new materials and ideas in smaller quantities before introducing them on a larger scale to the watch industry.
"We have now set up our own production of materials, for example straps made from vine leaves, in our new Nature collection."
Given your knowledge of leather work, do you plan to expand beyond straps, into leather goods, for example?
Matthäus Hirsch: We have already sold innovations to companies active in other sectors, but as far as our production is concerned, we want to stick to what we know best, which is watch straps. There is still a lot of innovation to be done, in terms of both product and customer service. A good example of this spirit of innovation is that, as early as the 1970s, we integrated electronic chips into bracelets for our employees to access certain internal services. Then, a few years ago, we introduced consumer straps equipped with NFC chips. We try to be ahead of the curve.

How has the pandemic crisis affected your company? The volume of watches produced and sold worldwide dropped sharply.
Nikolaus Hirsch: : It was a very difficult time. The watch industry was hit hard, and it was no different for us. Our turnover depends a lot on retailers, who had to close their shops for several months. The demand from Swiss brands also decreased. We had to think about how to get back on track. This required finding new ways to keep in touch with customers, mainly via social networks, as we could not travel. Staying visible was the most important thing. Now we are out of the worst. This year, we feel much better about the situation.
The Swiss watch industry is producing smaller volumes but moving upmarket. This presumably also has an impact on straps.
Nikolaus Hirsch: Yes, we also feel it in our own price structure. But you have to educate the consumer to understand the price of the straps and to recognise the quality of our production. Still, we try to keep our starting prices at under 20 euros. The trend we are clearly seeing is that end customers are willing to spend more for the quality of what they wear. They are increasingly mature and educated, and this applies to watch straps too.
"End customers are willing to spend more on the quality of what they wear. They are increasingly mature and educated, and that includes watch straps."