T
he crisis is hitting the entire watchmaking sector hard. But the impact is perhaps even harder on those brands that, even before the pandemic, were undergoing what the politically correct might call a "transition" – and what others might categorise as an ongoing effort to establish themselves as major players in a global digital economy. Achieving that aim requires a certain degree of decision-making autonomy, and a well-thought-out long-term strategy. Brands forced to survive from quarter to quarter, under pressure from shareholders, have little chance of succeeding.
Three years: that was the length of the plan to re-energise Parmigiani Fleurier, presented by Davide Traxler in 2018, and accepted by the board of directors of the brand founded in 1996 (chaired by Daniel Riedo, ex-CEO of Jaeger-LeCoultre). Faced with stiff competition from brands with a higher profile and older heritage on the one hand, and new independent brands with a more nimble, breakthrough style on the other, the company has found it difficult to achieve commercial viability with the heavy industrial apparatus that was backing it up.
Three years: that was the length of the recovery plan presented by Davide Traxler in 2018, and accepted by the board of directors of Parmigiani Fleurier, to break even financially.
Davide Traxler joined Parmigiani Fleurier in 2018. The manager has been active for more than 20 years in the watch industry, and previously worked for Bulgari, Chopard and Corum.
Three years to achieve financial break-even and preserve the brand, in a watch market that is becoming increasingly concentrated. That meant reducing the number of references, launching more "casual" lines, and conquering non-European markets.
The crisis that erupted in the second year of the "Traxler plan" is, however, undermining this ambition. And the new generation at the head of the Sandoz Family Foundation, owner of the watchmaking division to which Parmigiani Fleurier belongs, will perhaps be less patient than the previous one: it has just sold its luxury printing division, comprising Genoud (Switzerland) and Musumeci (Italy), to a German private equity company.
Parmigiani Fleurier Tondagraph GT: this new collection aims to position the brand in the steel segment that dominates the contemporary watchmaking scene.
Contacted following this transaction, a spokesperson for the Sandoz Foundation made the following statement about the future of the watchmaking division (Parmigiani Fleurier, Vaucher Manufacture, Atokalpa, Quadrance & Habillage, Les Artisans Boîtiers and Elwin): "The sale of the printing companies is in no way connected to or prejudicial to the future of the watchmaking division. (...) The companies of the watchmaking division are in a phase of turnaround. The aim of all these operations is to ensure a long-term sustainable perspective for these companies."
In charge of this turnaround at Parmigiani Fleurier, Davide Traxler is now facing a pandemic crisis of unprecedented proportions that no 3, 5, 10 or even 20 year plan could possibly have taken into account. Here is our interview.
Europa Star: What is your assessment of the period we're living through?
David Traxler: We have to face the fact that the pandemic has had a colossal impact on the entire watch industry. It is an historic crisis, the deepest of our generation. This is the time we're living in, we must realise it and name it. Everyone has read the half-year results of the major groups, and smaller brands always suffer even more in times of crisis. It's frightening, especially in terms of the preservation of skills. And it's not a question of market adjustment: everyone is affected, it's a global issue. That's the reality.
It's affecting you at a particularly sensitive time.
We put in place a three-year strategic recovery plan: this year, the second year of the plan, was to be the pivotal year. Following the outbreak of the pandemic, I asked for an 18-month extension to achieve the desired results. This is under discussion. The first year was encouraging because we had achieved the objective we set.
What was that objective?
It was to cut losses by a third in the first year, another third in the second year and break even in the third year. We were very confident going into the second year. The crisis could hardly have come at a worse time. Everything has stopped.
"The crisis could hardly have come at a worse time. The first year of the recovery plan was encouraging."
Can you give an estimate of the pandemic's impact, in figures?
We don't share numbers. But the results of the major watchmaking groups give an idea of the levels of decline in turnover over the first half of the year: between 40% and 50%. Nevertheless, in this context, we are set to lose less than if we had not undertaken the recovery plan. This year should be a repeat of last year.
Kalparisma Snow
Crisis or no crisis, what are the main pillars of your plan?
The first action was a cost-saving plan to eliminate all expenses not directly related to our activities, such as the sponsorship of the Montreux Jazz Festival. Then, we invested in development outside Europe: we were too concentrated in this market alone. A single subsidiary was set up in Germany to oversee European sales, which made it possible to close several national subsidiaries. Investments, particularly in communications, were redirected to China, the United States and the Middle East. Teams have been changed, to put people in touch with the local reality in these markets.
"We invested in development outside Europe: we were too focused on this market alone."
And on the product side?
That's what I call our "road to 50", going down from 350 to 50 active references. This is based on our know-how, but also on current market demands: we have clearly seen a trend away from a formal fashion style towards a more casual one. In watchmaking, this translates into a shift from the traditional gold watch with a crocodile strap to more versatile models on a bracelet or rubber strap. This trend cuts across all brands, but those with a formal style like ours are the most strongly impacted. We had to make an effort to offer more casual proposals. That's the reason for the new GT, a key launch for Parmigiani Fleurier.
The Tonda GT Rose Gold Blue is limited to 150 units.
Can you introduce this new line to us?
I don't consider this collection sporty; rather, it's refined and elegant. We named it GT because the term evokes both the racy style of "Gran Turismo" in motor racing and the elegant world of the 18th century European "Grand Tour" of the British elite. Aesthetically, the Tonda GT is distinguished by its Big Date at 12 o'clock and its integrated strap. As for the Tondagraph GT, it combines the most useful complication, the annual calendar, with the most liked complication, the chronograph. Both are equipped with the same movement. The Tonda GT is also available in a luxury version with a rose gold case. This new line is the result of a collaboration between internal and external designers, including Dino Modolo, who designed the Overseas for Vacheron Constantin.
"The raison d'être of the new GT, a key launch for us, is to present a more casual spirit of Parmigiani Fleurier."
Has this new line affected your average price?
No, I think it's going to stay stable. Last year our average price was CHF 22,000. There may be increased sales of steel watches, but that's not our goal per se. Today, we are mainly working on reducing our costs and our purchases, which is what led to our meeting our savings targets last year. For example, the Tonda 1950 Flying Tourbillon Double Rainbow introduced this year allowed us to reuse certain components.
Tonda 1950 Flying Tourbillon Double Rainbow
Does your plan include targets in terms of volume?
The volume target remains 3,000 watches a year. Above all, we want to offer retailers a brand that sells with a good margin for them. My opinion, which I know is less and less widely shared, is that brands that abandon their historical retailers will lose in the long term.
"The Tondagraph GT combines the most useful complication, the annual calendar, with the most liked one, the chronograph."
You've just launch your American e-boutique: that's often a sticking point with retailers...
In our case, we launched this site specifically to support our retailers. They are an integral part of the platform. When a watch is ordered, our regional representative receives his margin. Or more precisely, the margin is divided between the retailer and an individual salesperson. This is both an act of solidarity with those who are currently out of work, as well as a way of encouraging sales in the current context.
There was no resistance from them?
In all transparency, two retailers did not wish to participate at the beginning of the programme. But customers started talking to each other, especially about a special initiative put in place for the launch of the platform: the sale of the first 40 hand-finished GT models at premium prices. In the end, it was the customers themselves who pushed retailers to participate. We sold all these timepieces sight unseen. All in all, the GT has been outstandingly well received. Perhaps we are also benefiting from the fact that the world's most important watch brand has not yet launched a model this year: this leaves a little room for others in terms of media attention...
"My opinion, which I know is less and less widely shared, is that brands that abandon their historic retailers will lose in the long term."
Tonda Sélène 36mm: the bezel set with 46 IF diamonds totalling 1.8 ct encircles a white mother-of-pearl dial with gold indices.
Another initiative you put in place in the United States in response to the pandemic is the "Helping Heroes" programme. What is it?
During the month of April, this initiative in partnership with our American retailers encouraged customers to make donations to hospitals selected by our representatives. By making such a donation, they could purchase credits on Parmigiani Fleurier models, to be redeemed at their local retailer.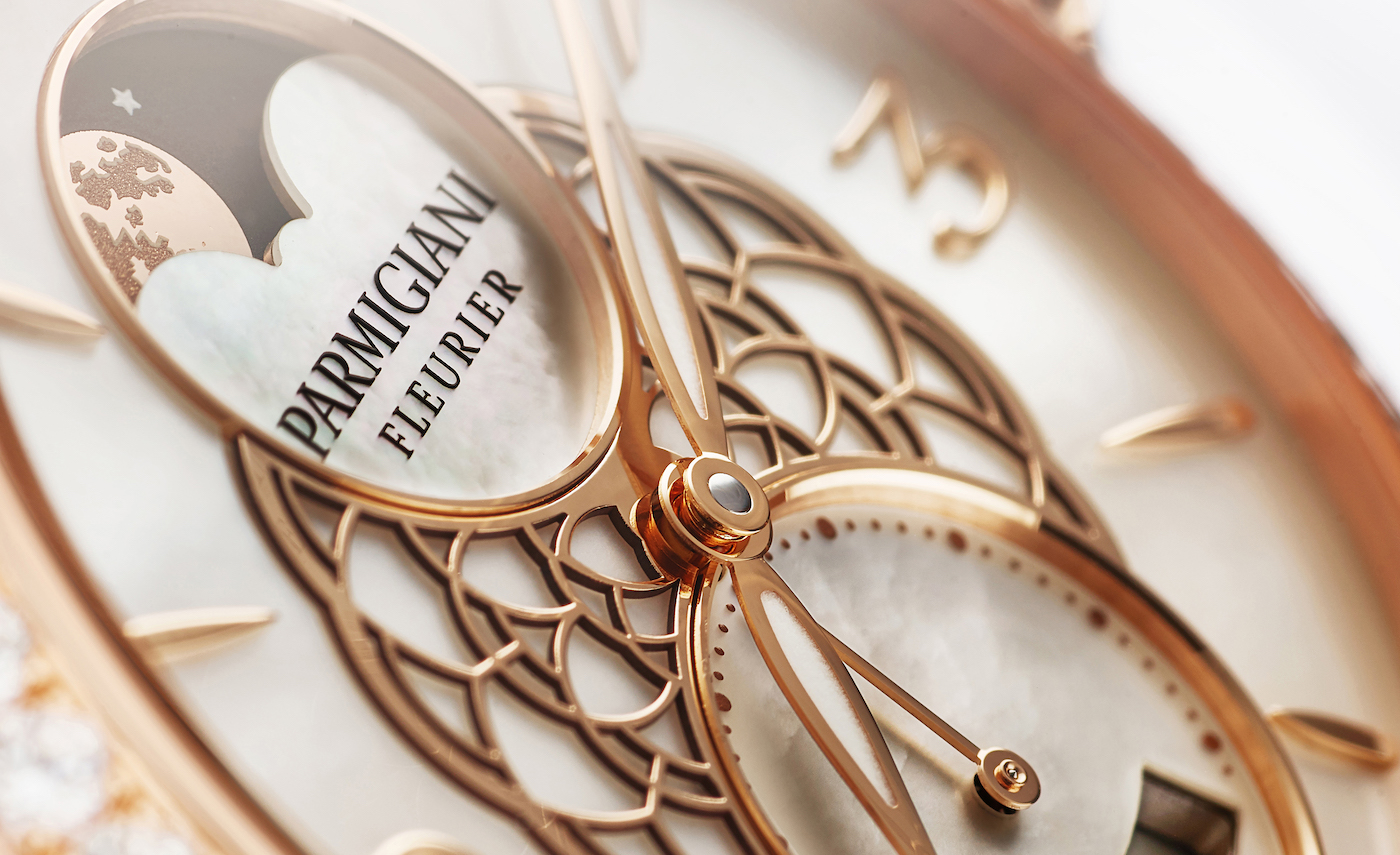 Switzerland is your historic market, but it is at a standstill due to the halt in tourist flows, particularly from Asia. Does this explain the numerous initiatives that took place in the United States in the first half of the year?
An e-commerce strategy is always easier to implement in a single country, especially if that country is already familiar with online sales; in the United States, people trust the logistics of e-commerce. But these initiatives are mainly due to our new American team, which is vey dynamic. Another team that has reacted very well is our Japanese subsidiary: July has been a record month for sales in the country, and new retailers have started to represent us in the midst of the pandemic. Of course, as a brand we remain relatively unknown, so just a few models can make a difference. A big task last year was getting the right people in place, and the results are starting to show.
The Hijri Perpetual Calendar model is based on technology Parmigiani Fleurier developed for an exclusive table clock launched in 2011 and inspired by the restoration of a pocket watch featuring an Arabic calendar.
What were your hiring criteria?
Primarily an excellent knowledge of the local culture and its watchmaking community. Japan is a perfect example. I hired a new representative who is Japanese, who had already worked in watchmaking and had converted to pastry making. When I saw that all our retailers were also selling his pastries, I realised that he had to be convincing! Respect for local culture and dialogue with local representatives is a key element today. Only "local" people can really grasp all the cultural, sometimes imperceptible, nuances of the local market. I want the purest possible feedback from the source to make my decisions. In the future, I believe that the Swiss watch industry will grow if it has more confidence in cultural diversity, and also in gender parity. The crisis should open up new perspectives in this regard.
"Respect for local culture and dialogue with representatives is a key element today. In the future, I believe that the Swiss watch industry will grow if it places greater trust in cultural diversity and also in gender equality."
Do you anticipate any more launches in the second half of the year?
Yes, at Watches & Wonders in Shanghai in September. We're going to focus on our women's models. We have a very good balance between men's and women's models, and the high-end women's segment has been somewhat neglected by brands, some of which are more oriented towards jewellery today. We have real potential, with the Metropolitan Tonda in particular.
The Tonda Métropolitaine aventurine is equipped with the PF310 proprietary automatic movement with a gold oscillating weight, and features a 36 mm diameter case paired with a bezel set with 46 IF diamonds totalling 1.8 ct.
Your watchmaking division is also very active in subcontracting, a sector that has also been severely affected by the crisis.
I can't speak for my colleagues. Nevertheless, their client portfolio is made up of healthy, resilient brands. Furthermore, it should be emphasised that the support of the Swiss government has been extraordinary: it has made it possible to preserve the industrial fabric of watchmaking.