I
n 1970, Citizen released the world's first wristwatch with a titanium case: the X-8 Chronometer model. The name combines an X, signifying the unknown, with 8, the symbol of infinity. The initiative opened up new and, at the time, unknowable possibilities for the watch industry, which has since adopted titanium on a massive scale.
1970: Citizen produces the world's first titanium wristwatch: the X-8 Chronometer.
It is to Citizen that we owe titanium's breakthrough into watchmaking. This light (with a density of around 60% that of steel), corrosion-resistant, hypoallergenic metal, which is abundant in the earth's crust but relatively difficult to work with, was discovered in 1795 by the British reverend and mineralogist William Gregor in the sands of a Cornish river. It was named "titanium" that same year by German scientist Martin Heinrich Klaproth, after the Titans, giants of unrivalled strength from Greek mythology. It took more than a century before an American researcher, Matthew Albert Hunter, succeeded in producing 99% pure titanium, in 1910. Today, Australia is the main extractor of titanium oxide, ahead of South Africa and Canada.
1960s: titanium takes flight
Thanks to its lightness and strength-to-weight ratio, but also its superplasticity, which enables it to take on complex shapes, titanium is closely associated with the aeronautical and space industries. Today, it would be unthinkable to produce aircraft without titanium components. Naturally, the golden age of space exploration in the 1950s and 1960s, which took place against a backdrop of rivalry between the United States and the Soviet Union, saw a formidable acceleration in the use of titanium.
Thanks to its unique properties, titanium is closely associated with the aeronautical and space industries.
It should therefore come as no surprise that Citizen began using titanium in watchmaking as early as 1970, one year after the first moon landing (titanium was one of the essential materials used in the Apollo 11 mission). With a purity of 99.6%, the titanium case of the X-8 Chronometer was also a very tangible tribute to the success of this human and technological adventure.
In 1970, Citizen released the world's first wristwatch with a titanium case: the X-8 Chronometer model.
Super Titanium™: an enduring titan
Several problems nevertheless emerged that posed a threat to the material's future in the watchmaking industry. Two challenges in particular prompted many years of research by Citizen engineers. The first was to give titanium a brighter, more refined and polished appearance, with a beautiful lustre (initial applications had generally resulted in a rather rough, matt surface). The ATTESA model introduced by the Japanese brand in 1987 represented an aesthetic step forward in this respect.
1987: A new titanium is developed with a soft brilliance: the ATTESA watch.
The other, even more complex challenge was to provide a "second skin" for the metal, which in its raw state is sensitive to scratches and subject to deformation during processing, because it is softer than steel. Citizen's Duratect surface-hardening technology (resulting in a hardness more than five times that of stainless steel) was the answer to this challenge. The brand's proprietary Super Titanium™ appeared in 2000, offering greater colour variations and a smooth, mirror-like finish.
2000: Super Titanium™ makes its debut on the ASPEC World Time model.
Slimming diet for titanium
The strength of titanium was further improved in 2006 for the Promaster Eco-Drive radio-controlled watch by the addition of a plasma (DLC) and gas (MRK) treatment. Citizen's ever-increasing mastery of Super Titanium™ even enabled Citizen to apply it to the case of the ultra-thin Eco-Drive One model (3.53mm) released two years ago, which houses the world's thinnest movement, measuring 1.00mm thick.
2006: The radio-controlled Promaster Eco-Drive is the first model to adopt the dual surface hardening technology Duratect MRK + DLC.
2018: Eco-Drive One, a super-thin 3.53 mm model using Super Titanium™
To celebrate the 50th anniversary of the first titanium watch case, Citizen is launching the GPS Satellite Wave F950 model in a limited edition of 550 pieces worldwide, illustrating the absolute mastery and expertise the watchmaker has acquired over this metal. This top-of-the-range model for Citizen, retailing at 5,000 dollars, provides a superlative showcase for the brand's technological signature.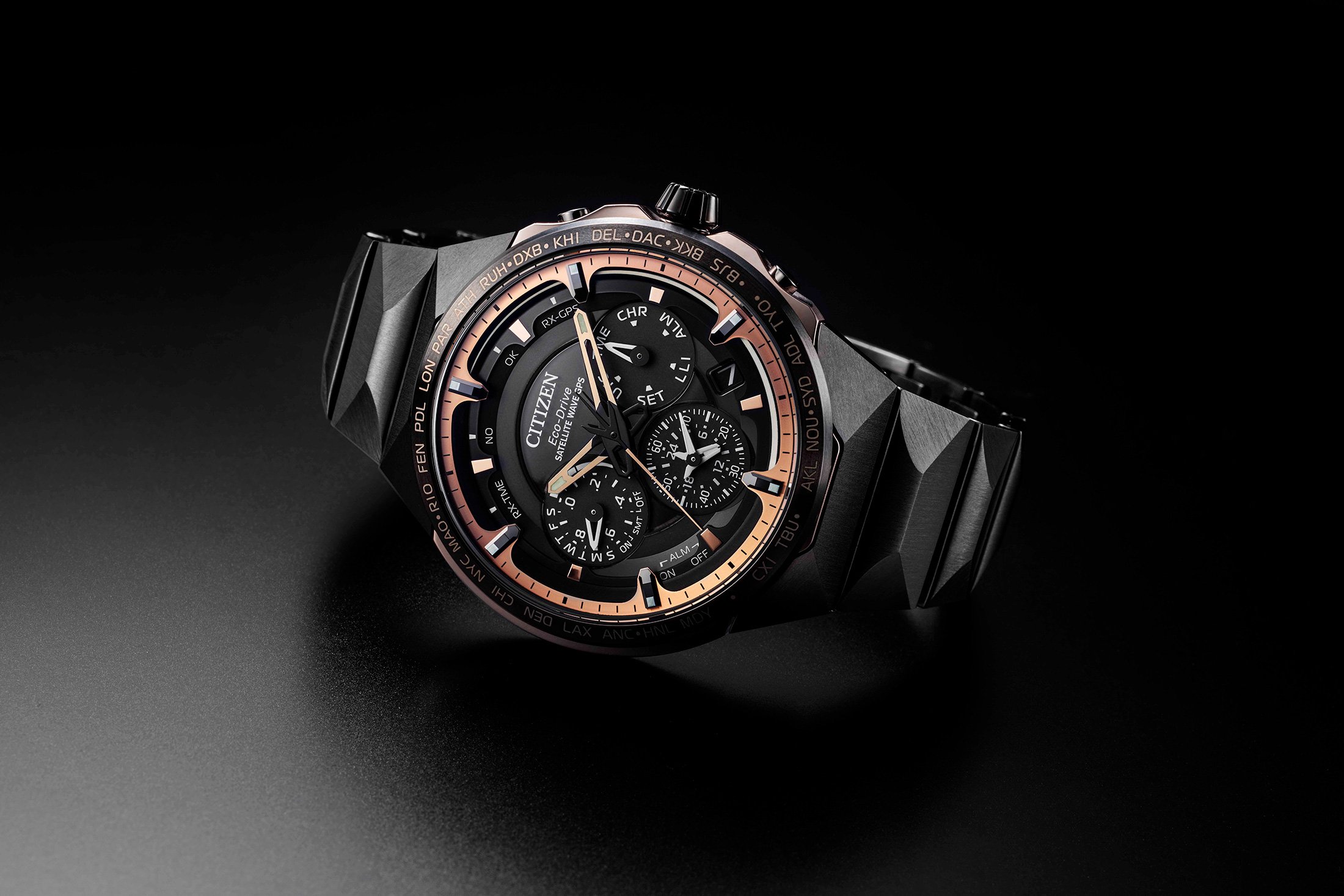 The case (whose 47.5 mm diameter gives it an imposing presence on the wrist) and band feature geometric lines that form a three-dimensional surface, creating a stunning sculpted shape of angles and shadows. The black dial is a multi-layered structure comprising six parts stacked on top of one another, evoking the unfathomable depths of outer space. The quality of the case and the bracelet are among the most important features of the model. Consisting of several separable parts, they display a linear and edgy design and are coated with a highend Duratect treatment of DLC and Sakura Pink. As titanium is difficult to process, this delicate work is a testament to 50 years of R&D by Citizen.
Spatial ultra-precision
The model is equipped with the high-tech F950 movement which uses light as its energy source – another pioneering technology from Citizen. This advanced movement has the ability to receive time signals by satellite at the world's fastest speed of within 3 seconds. It offers remarkably fast watch hand movements through a high-speed twin-coil motor which is capable of rotating the second hand 360° forwards or backwards in a single second.
This unprecedented speed streamlines the process from signal reception to completion seamlessly. Super Titanium™ offers the advantages of scratch resistance, maintenance of its original shine, lightness, softness in wear, corrosion resistance (making it perfect for outdoor activities and water sports, even at sea), and beautiful colouring, with a variety of tones such as silver, black, gold and even pink gold.
This model, inspired by space, uses signals received from space to ensure its precision. Its development allows for ever greater advances in the mastery of titanium, including space travel. Citizen is a corporate partner of HAKUTO-R, a commercial lunar exploration program managed by iSpace, a Japanese space startup that is developing its own lunar landing modules.
For Citizen, the lunar adventure is not just part of its past – it's also part of the future! The brand is a corporate partner of HAKUTO-R, a commercial lunar exploration program.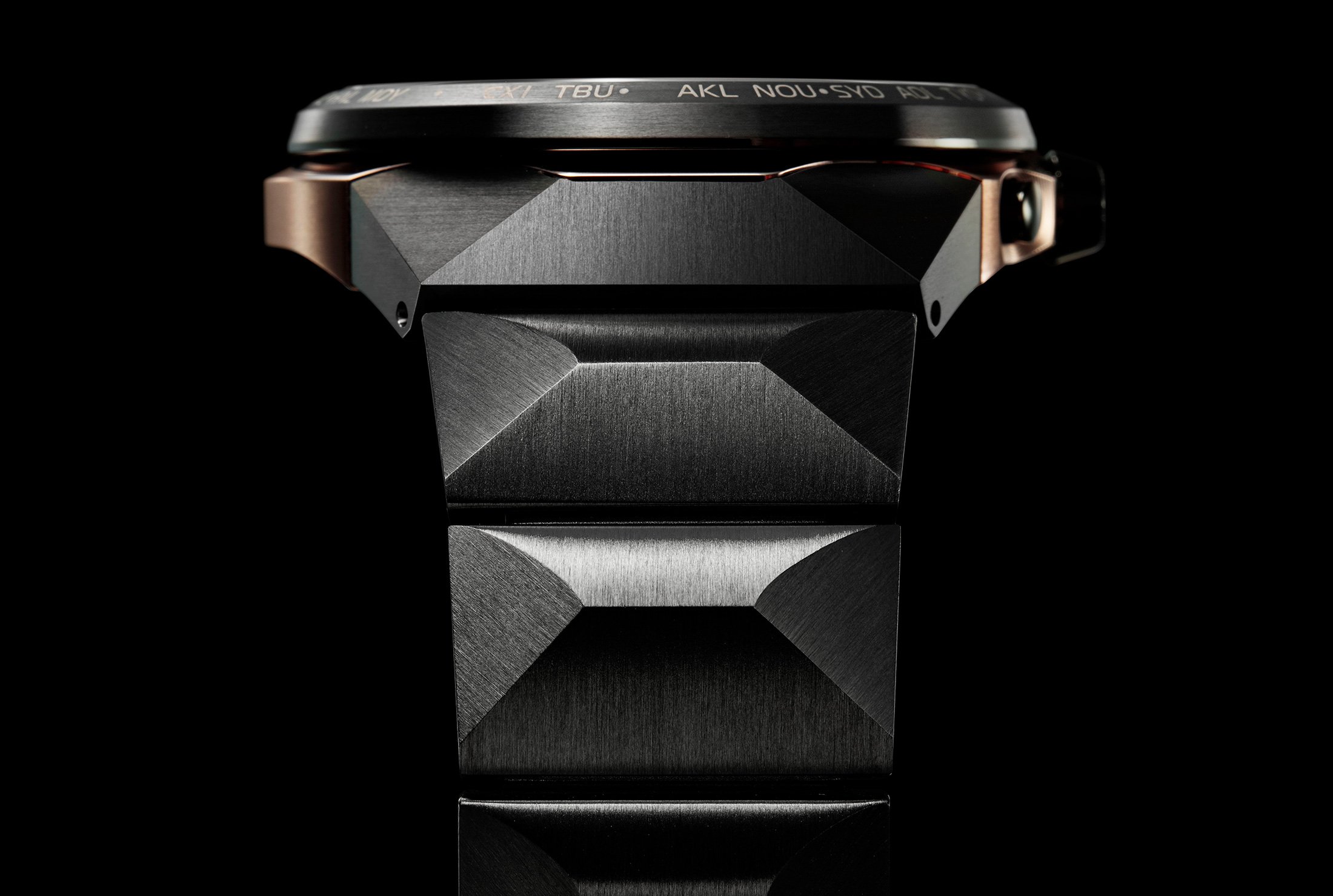 The lunar landers to be used for HAKUTO-R's two missions in 2021 and 2023 will employ Citizen's Super Titanium™ and will be launched on Falcon 9, the space launcher developed by entrepreneur Elon Musk's SpaceX. For Citizen, the lunar adventure is not just part of its past – it's also part of the future!