S
omewhat to everyone's surprise, Antonio Calce was recently appointed CEO of Greubel Forsey. This excellent company, run by Robert Greubel and Stephen Forsey since it was founded in 2004, has in less than 20 years built a flawless reputation at the technical and artistic cutting edge of haute horlogerie.
Technically the duo, in a remarkably progressive and systematic manner, have explored wholly new chronometric paths, offering up numerous inventions along the way. And artistically, Greubel Forsey has taken loving decoration to extremes, producing watches with exceptional, brand-defining finishes (think of their fabulous grained finishes, for example, or their micro-engraving).
In brief, Greubel Forsey is 100 people producing 100 watches a year. That says it all. But although the machine is perfectly well-oiled and efficient, times are changing – not only due to the pandemic crisis – and the issue now is how to ensure the long-term future of the company.
This is where the company is playing its trump card: Antonio Calce. We talked with him.
In brief, Greubel Forsey is 100 people producing 100 watches a year.
Antonio Calce and Robert Greubel have now joined forces to ensure the continuity of a brand of very fine watchmaking.
Antonio Calce: Before the questions, I'd like to start by saying two things. The first is, I want to thank Robert Greubel for his trust in me. When you're asked to take care of Greubel Forsey, it's an extraordinary gift, but it's also a huge responsibility. Secondly, words are useful, but whatever you say, concrete results are always the best response.
Europa Star: So for the results we'll wait, since you've just arrived on the scene. But why were you asked to step up in the first place?
I'll start with the facts. Greubel Forsey's current price segment ranges from CHF 350,000 to CHF 1 million for the Grande Sonnerie. We can say that at a rate of 100 watches a year, each item is unique. Viewed as a whole they're impressive, outstandingly well-made, with a line-up of 30 one-off calibres and seven major inventions. But, an outsider might be tempted to ask: what do these different timepieces have in common, what is their distinguishing mark? It's not always easy to see. Solely the most discerning collectors are capable of doing that, you might say.
And so the dilemma facing Greubel Forsey is to choose between two different future paths. On the one side, there's that of hyper-specialisation, as you might call it: extremely limited, or rather even more strictly limited, production aimed at highly initiated, very wealthy watch lovers, for whom substance counts more than appearance. But this single, specialised pool is not very expandable. Or even shrinking. And so that begs the question: is one market alone sustainable?
The other possibility is that of "maturing" the brand, moving it into other price segments, working on its image and opening up to a broader customer base – "broad" being a very relative term.
So I imagine that's the path you've chosen. But isn't there an underlying risk of a gradual loss of substance?
No, as long as we don't compromise on quality and have a clearly defined strategic vision. That's what we did by defining, step by step, a measured path that should take us to maturity by 2024, the company's 20th anniversary. The steps are as much about the product as about management, communication and distribution.
The Hand Made 1 watch at the workbench. From now on, it will be limited to three models per year.
Let's start with the product...
We've defined three supporting pillars. The first, let's call it GF's Origins pillar, which addresses its traditional, expert customer base, will remain absolutely intact and be made even more attractive by even greater rarity. To provide some examples, we'll be producing only three items a year of the Hand Made model [ed. note: Hand Made won the Men's Complication prize at the 2020 GPHG in Geneva], our perpetual calendar and the Grande Sonnerie. All the other models will also be limited.
But parallel to this, we'll be creating a second supporting pillar that I'd call Attraction – products in the CHF 200,000 and CHF 350,000 price range. These timepieces will have a single common denominator and be clearly coded as belonging to the Greubel Forsey dynasty. Aesthetically they'll have a very strong identity, powerful visual impact in terms of their exterior, a more modern design, a strong signature look, but in line with what has been done up to now.
Not disruptive, but planned evolution that should enable us to reach out to broader customer base by no longer counting solely on highly discerning, expert collectors, by being more open. They'll be watches for wearing. This pillar will be segmented by calibre, each calibre associated with a product offering with a very strong identity in terms of their exterior. And there will be no compromising on quality. That will remain unchanged, whatever the range.
The Grande Sonnerie, a masterpiece of mechanical and acoustic engineering by Greubel Forsey
And you mentioned a third supporting pillar!
Absolutely. That's the pillar I call Longevity. The 30 calibres Greubel Forsey created cost a lot of money to develop and hone, so now we have to make them profitable and sustainable by evolving them, each according to their individual characteristics and functions. For example, our perpetual calendar calibre will have five or six different lives. It will no longer be the calibre of a single watch. It will undergo changes through its different incarnations.
This new offering typology you describe is aimed at the present and future Greubel Forsey buyers, but how will it affect marketing and distribution?
The work we're doing with Robert Greubel, who's Chairman of the Board of Directors, covers all the aspects of brand sustainability, so to speak. We've been discussing the vision for the past six months at twice-weekly governance meetings, with great complicity and complementarity, in order to clearly define our objectives and how to attain them.

The typology of the offering and products also responds to a need to categorise their respective market segments, pricing and distribution, obviously. It reflects a vision of the brand's future that we have to build with partners who share this vision and will be able to carry it forward.
In concrete terms, is this about opening or closing sales outlets?
Today, we have around sixty sales outlets. We're going to close a third of them, but we're going to open new ones so as to have 35 outlets at the most within the next three years.
Our aim is to build genuine partnerships with a global product offering that ensures a real turnover. We want to set up a genuine commercial strategy with each of these partners, work on the clout of the brand and its presence at the point of sale, offer advanced training for sales staff, and together with our partners devise local promotions and events. These partner outlets have to have a customer profile that corresponds to the brand's development, which is schedule over several years.
"2022 will be the year when we implement the first important stage, with four major launches, four strong products in succession."
The first novelty presented in 2021 by Greubel Forsey is the Balancier Contemporain in 5N red gold. At only 39.6 mm in diameter, it houses the smallest movement ever created in the brand's workshops.
You also told me that you believe that brand communication has to evolve...
La communication doit nous permettre de nous consolider sur quatre axes: les partenaires de la distribution, les clients actuels, les clients potentiels et la presse.
Communication must enable us to consolidate our position in four areas: distribution partners, current customers, potential customers and the press.
We're going to proceed in stages. 2021 is a year of preparation. It will basically be devoted to organisation, structuring the Committee, building teams, managing but also developing the way we handle inventory, purchasing, logistics and so on.
2022 will be the year when we implement the first important stage, with four major launches, four strong products in succession, in January, March-April, August-September and December. A really strong offering.
For existing customers, we will offer optimised customer service, with a new, dedicated website to be launched in April 2021. It will be a sort of concierge platform. It will also have some specialist content and a pre-owned sales section. But, I would like to stress, always, systematically and without exception, with the involvement of a retailer. We never do and will never do direct sales.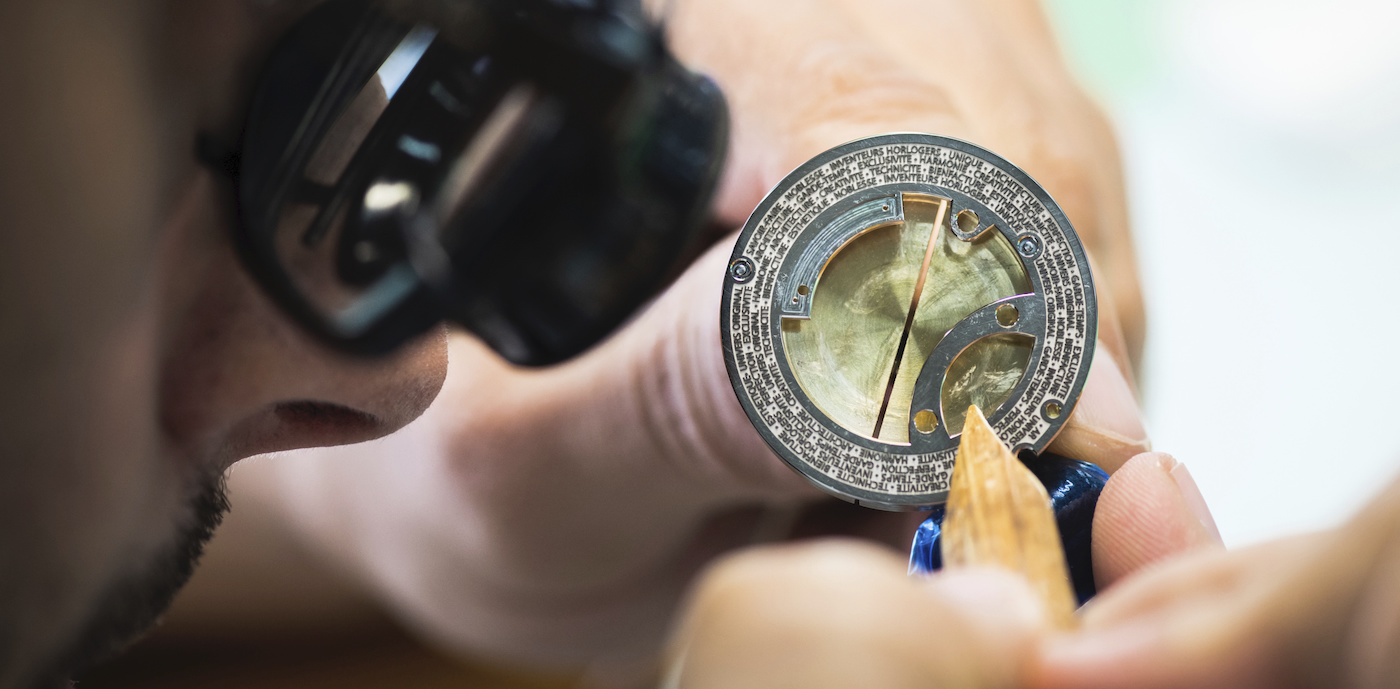 And what about the customers yet to conquer?
We need to invest in visibility. And to reach this potential audience, we're going to use 100% digital, finely targeted communication. We're going to work specifically on twelve cities. We're going to create content geared to the theme of "Art & Invention", Greubel Forsey's motto –two territories of expression of considerable depth offering numerous opportunities. Digitally, we're going to use well-chosen tools, depending on specific and local uses. And this digital marketing needs to be dynamic. From our partners we expect feedback and proposals so we can develop new tools suited specifically and exactly to their market, together.
The Calibre GF 02, with double tourbillon 300, a major invention by Greubel Forsey as presented in Europa Star in 2007.
And what about the press, which you mentioned?
We need to rebuild a relationship and communicate better to the public, not just to our immediate prospects. The brand has to assert itself and radiate far beyond specialist watchmaking circles. It has to become more widely synonymous with excellence and technical and artistic reference. From this perspective too, the "Art & Invention" avenue offers important opportunities for expression. The first step in that direction is a new website, with new content set to appear in April or May this year.
Quite a challenge...
And incredibly motivating. As I've already said, it's a real gift and I believe, in all modesty, that my past experience, especially of managing very high-end but larger-volume brands, is a key asset. But for the rest, as I said at the beginning, ultimately it's the results that really count.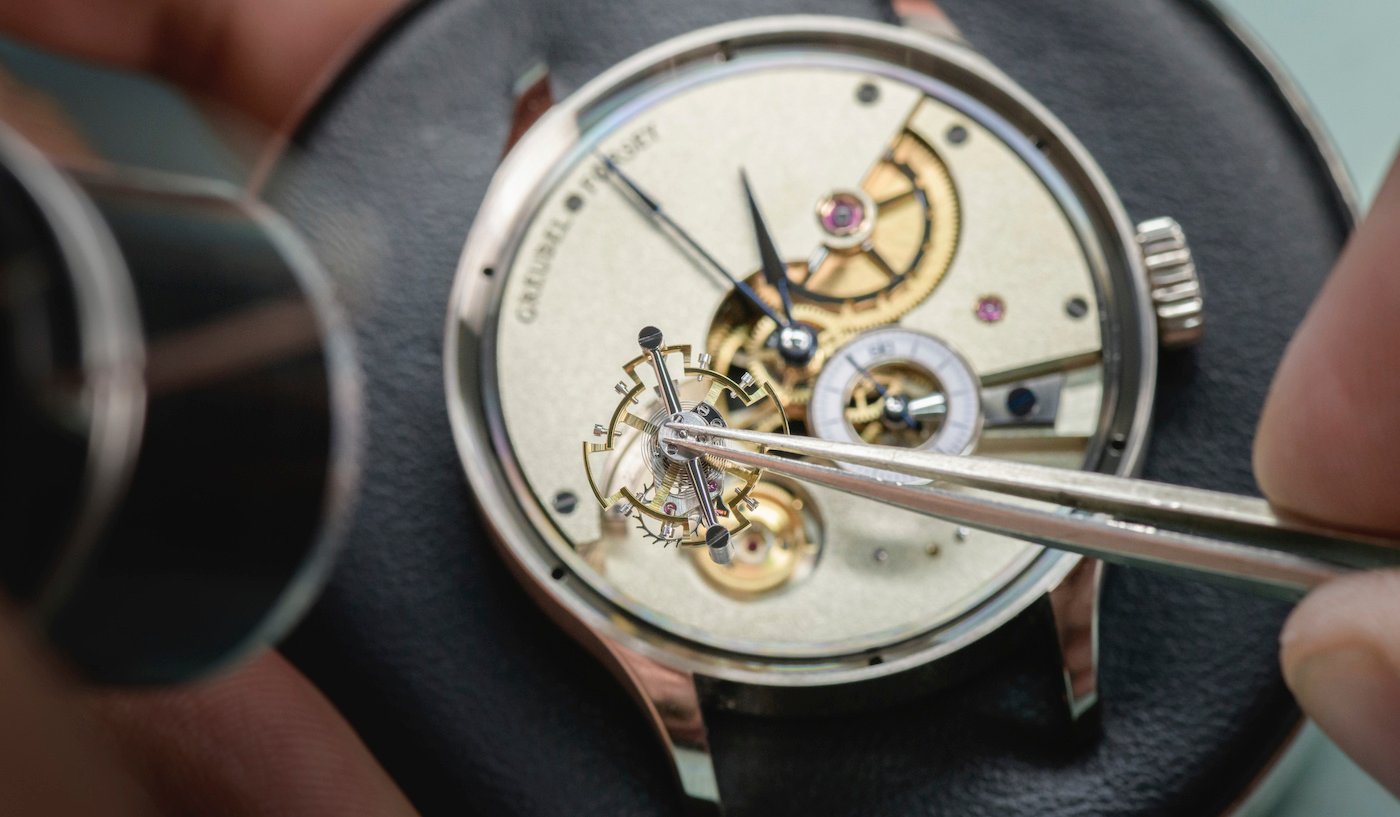 BIO EXPRESS: ANTONIO CALCE
Born in 1967 in Switzerland, Antonio Calce graduated in microtechnology and business management. He began his career in 1994 at Piaget. Between 1997 and 2005, he was successively appointed product development manager and then general manager of Officine Panerai. He joined Corum in 2005, was appointed CEO in 2007 and spent a decade at the head of the brand. In 2015, he was recruited by Kering to lead the Sowind Group as CEO. In 2020, he joined Greubel Forsey, firstly as advisor to Robert Greubel before being appointed Chief Executive Officer and Executive Board Member.