S
imply put, a chronometer is a particularly precise watch. Throughout history, watchmakers have utilized the services of independent testing facilities to certify that their watches are indeed chronometers. The Horological Society of New York (HSNY) announces the launch of its Chronometer Certification Program, a new testing service for watchmakers and watch manufacturers that wish to have their watches certified as a chronometer by a third party. HSNY's rigorous testing protocol exceeds the international standards outlined in ISO 3159, and reflects HSNY's 150+ years of dedication to advancing the art and science of horology.
Testing is conducted in a range of temperatures and positions over a 15 day period. The conditions used are designed to represent extreme environments that a watch may experience during wear. Only a visual rate testing procedure is used. Traditional watch timing machines use microphones to listen to a watch as it is running and quickly give a rate. In contrast, a visual rate testing procedure takes longer to complete but gives more reliable results. Watches that pass the testing requirements are issued a physical certificate with specific test results.

"Independent chronometer testing and certification is a valuable service for both watchmakers and watch collectors," said Nicholas Manousos, Executive Director of HSNY. "With a certificate from HSNY, watchmakers can advertise their chronometers with confidence, and watch collectors can be assured that their watch is indeed a chronometer. I look forward to welcoming many brands from around the world to test their watches in New York."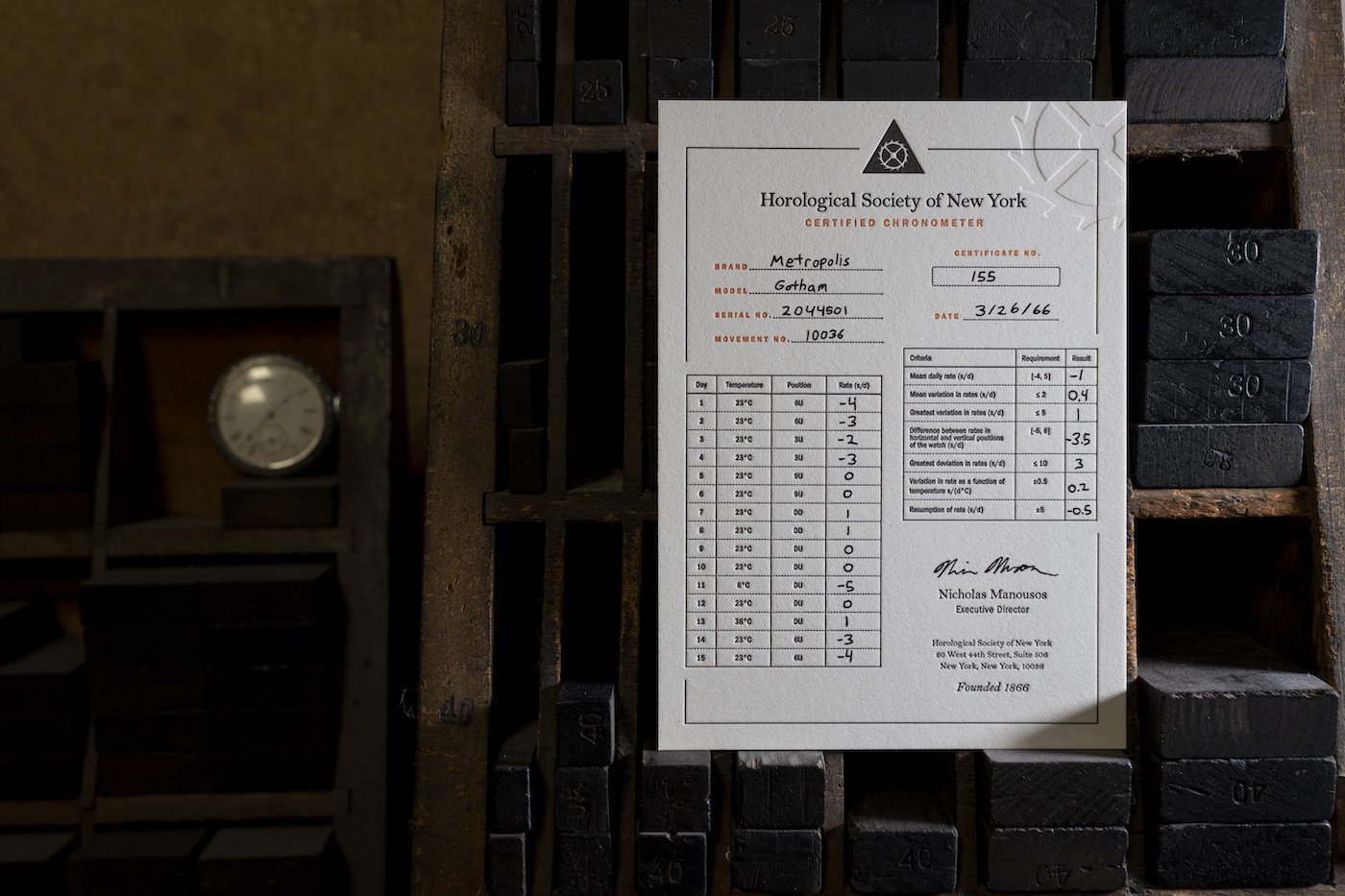 The first brand to offer a HSNY Certified Chronometer for sale is Massena LAB. The Habring2 x Massena LAB ERWIN LAB03 is a new timepiece with a hand-wound movement entirely developed, manufactured and assembled in-house by Habring2, complete with a bronze dial designed by William Massena and created by dialmaker and watchmaker Joshua N. Shapiro. The Habring2 x Massena LAB ERWIN LAB03 is a combination of classical design and proportions, skilled craftsmanship and a precise movement - a testament to the creative watchmaking process and the friendships that are created along the way.
"We are proud and honored to partner with the Horological Society of New York to offer the first timepiece to be officially certified under its new Chronometer Certification Program," said William Massena, founder of Massena LAB. "HSNY plays a pivotal role in expanding and educating the public on the artistry and craftsmanship that is fine watchmaking. This new program continues the organization's mission of providing best-in-class resources for both watchmakers and watch collectors alike."
HSNY's Chronometer Certification Program is available to all watchmakers and watch manufacturers worldwide. Only new, cased-up mechanical watches with a spring balance oscillator are eligible for testing. Watchmakers and watch brands that sell HSNY Certified Chronometers may advertise this fact, and are allowed to include a mark on the dial or movement of their watch indicating that it is a HSNY Certified Chronometer. HSNY offers no guarantee that any watch submitted will pass the testing requirements.
Click here for more information, including complete details on the testing protocol.