50
years: it was fifty years ago that Gucci first placed its instantly recognizable logo, the double G, on the dial of a Swiss watch. For a long time, timepieces produced by the Italian luxury brand were synonymous with "fashion", mere accessories at best, and were never really taken seriously by connoisseurs of fine watchmaking. Some, like the famous model GG 3600 L from the 1990s, in steel with a square G-shaped dial, attracted a certain amount of notoriety. But as far as watch aficionados were concerned, no amount of edgy design could replace fine mechanics.
Gucci celebrated its 50th anniversary in watchmaking with "Gucci Wonderland".
In 2021, when Maurizio Pisanu was put in charge of Gucci's watch and jewellery division, things began to change. He's been given carte blanche, or almost, to restore the lustre of the brand, which belongs to the Kering group, and gain entrance to the highly select circles of high jewellery and haute horlogerie. This radical change of direction started in 2021 when the new Gucci 25H collection was released. These models came equipped with the internally designed GG727.25 calibre; some versions also have a tourbillon in the 6 o'clock position, created by a watch designer based in Neuchâtel.
But the brand's decision to raise the stakes took another step forward this year. During the Watches and Wonders fair, which took place in Geneva from 30 March to 5 April 2022, Gucci invested in a superb mansion overlooking the lake to unveil its latest watch collections in a real-life "Wonderland". Privileged guests had the opportunity to discover some utterly unexpected timepieces under the Gucci signature: the Gucci 25H Skeleton Tourbillon with its highly contemporary design, and the delightfully bonkers G-Timeless Planetarium. Instead of hour markers, this timepiece has twelve precious gemstones around the edge of the dial, which revolve on their own axis. In the centre is a gigantic tourbillon that brings constant movement to the dial. What a bold way to celebrate the 50th anniversary of Swiss watchmaking – Gucci style.
The G-Timeless Planetarium has twelve revolving gemstones instead of hour markers, and a giant tourbillon in the centre of the dial
This curious piece – both watchmaking complication and high jewellery – was born from the fertile imagination of Alessandro Michele, the maison's artistic director for seven years, who left Gucci on 23 November. But the man who actually brings all these – sometimes seemingly impossible – creations to life is Maurizio Pisanu, Managing Director Watches & Jewelry and Global Director High End Décor & Lifestyle. Since being made head of both departments he has implemented a global strategy that covers product, visual identity and distribution in both categories. We met him on the shores of Lake Neuchâtel.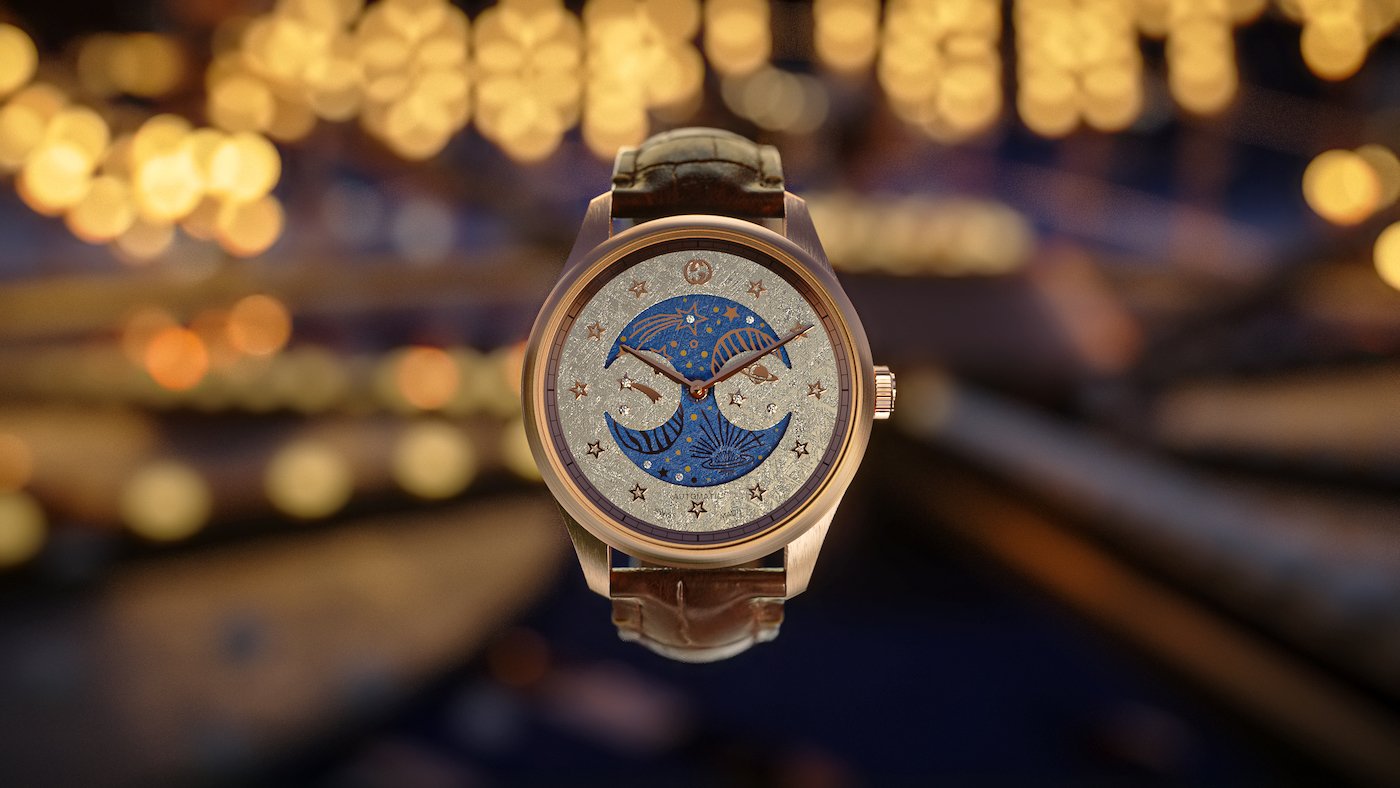 Europa Star: Since you were appointed head of watches and jewellery at Gucci, you have cut the number of watch collections significantly. Is this part of your new strategy?
Maurizio Pisanu: Yes indeed. The more collections you have, the more messages you have... which in the end means your message gets lost. Today, our watchmaking rests on four pillars, and we will continue to build on and invest in those. The most recent is the Gucci 25H watch, which has a specific aesthetic. It's a thin, 8mm deep model: a timeless classic. This year we also introduced a skeleton tourbillon, and next year we'll bring in some new complications. The 25H will be a Gucci icon.
Then there's the G-Timeless, which we embellish with highly distinctive details such as snakes or bees, which make it a bit different. Third, there's the sports watch family, Gucci Dive, which has been around for 20 years, and which we are taking upmarket. And finally, we've reached the chapter of jewellery watches. Alessandro Michele's aesthetic vision had nothing to do with the watch world, but that's what made it different. On one hand you have the technical specifications – all our movements are Swiss made – and on the other you have a highly recognisable aesthetic. We couldn't remain in the mid-range sector, and we had everything we needed to move forward. The best is yet to come!
Gucci G-Timeless Dancing Bees Tourbillon
Where do you want to position Gucci's watchmaking?
First of all, I like the idea of accessible watchmaking, and I'm not just talking about price. Accessibility also means seeing more and more young people wearing our watches. Classic watch industry messaging often points to the idea of handing things down from generation to generation. That's not us. We buy an object because we like it, not necessarily to pass it on. But in parallel with that, we also want to move upmarket, as we have over the last two years. And that's why we're introducing disruptive timepieces to the market.
Up to now, we've been seen primarily as a fashion brand, but we also have the ability to create a haute horlogerie product. It took time, but we got there. We have launched a tourbillon, but we could also consider introducing minute repeaters and other complications that speak our brand language. No one expects us to produce classic complications. Our universe is playful; it's filled with colour and emotion. Luxury can be fun, too. Particularly after Covid. We're all thinking about ourselves much more, because we've realised how fragile our existence is.
Were you given carte blanche to reposition the brand?
Up to now, my job has been to place the best possible technology – the phenomenal expertise of artisans and watchmakers – at the service of Alessandro Michele's creative vision, and to try to bring his worldview, his creativity, his imagination, into the watchmaking world, which is much more rigid. We had to convince our watchmakers to do things that they normally wouldn't. It takes time, but it's fascinating.
For example, Alessandro Michele wondered if it was possible to tell the time in a different way. That's how the idea of the G-Timeless Planetarium, with its twelve rotating precious stones, was born. It's jewellery haute horlogerie: a complication with a giant tourbillon in the centre. The mechanism behind the watch took two and a half years to develop. It tells the time too – but that's not the first thing you think of when you look at it!
Gucci G-Timeless Moonlight
You are not a manufacture in the strictest sense – your movements are made by partners. What do you do in your own workshops?
We make the cases and the metal bracelets – our leather straps are made at our workshops in Florence. 100% of our dials are made in Ticino by Fabbrica Quadranti, a company that has been making dials for 40 years, which we bought around 20 years ago. We make the index markers and all the decorative details. We don't produce the movements, but we design and develop all the complications. After that, the job of putting our ideas into production is done by two independent contractors: one is a complications specialist, and the other focuses mainly on tourbillons.
We want to bring more of the movement manufacturing part in-house – or at any rate, build some more solid partnerships. Overall, we make 90% of our own watches. The other 10% is made up of exclusive pieces that are produced externally. There are very few of these – three to five a year – but they are a wonderful complement to all the work we've put into developing the brand over the last six years.
Gucci 25H Skeleton Tourbillon
You're in the midst of a complete redesign of your workshops in Cortaillod, in Neuchâtel canton. Who's doing the work for you?
Our own team of architects. They create all our offices and shops, and they know the brand aesthetic inside-out. We will be opening up an exhibition space. We own some exceptional pieces dating back to the 1950s, before we were Swiss made, that we want to share with the world. The idea is that we exhibit them in this space, creating a timeline illustrated with timepieces from our history. In addition to workshops, we'll have a showroom, a VIP room and a private room for clients. It's important for us to show what we are capable of.