I
n watchmaking circles, everyone knows Franco Cologni, for many years the éminence grise behind the Richemont Group, the guiding hand behind the SIHH in Geneva and the founder of the Fondation de la Haute Horlogerie (FHH). Less well known are his intensive efforts to promote the arts and crafts through the founding of the Richemont Creative Academy in Milan, which has trained Masters of Arts in Design since 2003, and the Fondazione Cologni dei Mestieri d'Arte (1995, Milan), a pioneering non-profit institution that already boasts 25 years of existence.
With his Fondazione dei Mestieri d'Arte, Franco Cologni advances a very broad definition of the arts and crafts, which actually cover numerous human activities, "trades" in which "manual intelligence" makes all the difference between the banal and the exceptional. To illustrate the case in point, it's enough to consult the long list of publications released by the Fondazione. There are books on the Chef, the Watchmaker, the Coin Engraver, the Luthier, the Chocolatier, the Typographer, the Photographer, the Automobile Designer, the Winemaker, the Ceramicist, the Jewellery-maker and the "Silk Sculptor" among a hundred other examples.
On the strength of this experience, simultaneously editorial, educational (the Fondazione organises numerous training courses with master craftsmen and women or companies) and academic, mainly in Italy, Franco Cologni persuaded Johann Rupert to apply the same methods but on a much vaster, global scale. It was this impetus that gave rise to the Michelangelo Foundation for Creativity and Craftsmanship, another non-profitmaking organisation, founded in 2016.
A continuously expanding network of excellence
Today, the Michelangelo Foundation groups together nearly 3,000 craftsmen and women from over 40 countries. And its work is far from over because after Europe, lands rich in outstanding artisans, such as Japan, Korea and Singapore, are also gradually opening up. Elsewhere, exploration is already well under way in Colombia, a prelude to expansion into other South American countries. Africa is also on the agenda. The world is vast and everywhere there still subsist fabulous crafts, exceptional manual arts, rare skills, many of them threatened with extinction for want of being handed down, for reasons of generational change and the triumph of standardised affordable, global goods.
But before we say more, we need to define what a "craft" is, who the "artisan" behind the product is and why, for whom and in what context they exercise their craft. Because some link exists between a maker of traditional wooden saddles for the donkeys of the Cyclades and a sophisticated glassblower in Murano, a maker of sumptuous parasols in Japanese paper and a cutler with a hint of the gypsy, and it needs to be defined.
This is where the work of the Michelangelo Foundation began: with a definition of the objective criteria that make an artisan an artisan of excellence. First published in Italian in 2014, the voluminous Il valore del mestiere. Elementi per una valutazione dell'eccellenza artigiana (in English, The Master's Touch) by Alberto Cavalli provided the "objective bases" for a definition. This gave rise to 11 base criteria: authenticity, competence, craftsmanship, creativity, innovation, interpretation, originality, talent, territory , tradition and training.
"Artisan-hunter"
Based in Milan, Alberto Cavalli is now the director of the Fondazione Cologni dei Mestieri d'Arte and executive director of the Michelangelo Foundation based in Geneva. He shares this position with Corinne Paget-Blanc, the deputy director, who worked with Jaeger-LeCoultre for many years and now oversees all communications. And communication, in every sense of the word, is the key tool that is making it possible, little by little, step by step, to build the gigantic network of worldwide artisanal excellence.
"To achieve this," Corinne Paget-Blanc explains, "we depend on partners, institutions, schools and museums everywhere who have detailed knowledge of the terrain and who share our vision. We adapt our criteria depending on the milieu, territory and cultural and social specifics. It's on this basis that we set out to source the artisans."
And so a new profession has sprung up: "artisan-hunter". "That's right," says Corinne Paget-Blanc. "For example, we often use local journalists who are able to guide and advise us. There are also problems of language and comprehension. These intermediaries also help artisans with any possible steps they need to take, or to communicate more effectively about the value of their work. We ask nothing of the artisans. We're there solely to help them show their work off to better advantage, build networks, and also conserve their know-how and pass it on. And I have to say we have a whole store of beautiful stories to tell, amazing encounters, thrilling discoveries, and every time the emotion is mutual. For example, we've also worked with Fabrique Nomade in Paris, which strives to highlight and promote the professional integration of migrant and refugee craftsmen and women. Helping them take up their craft again is restoring an essential part of their dignity."
Collaboration and skills transfer at the heart of the Foundation's activities
All the selected artisans come together on a joint platform which forms the hub of the Foundation's activities. These fall into several categories, but all have the same goals: to protect, promote and guarantee the artisans' longevity; to contribute to making their traditional craftsmanship more relevant to the modern world; to inject creativity into it; to be the source of cross-collaboration between artisans and designers, artists, creators, institutions and companies; to give them greater visibility; to share the value of craftsmanship more widely and attract new generations.
In relation to this final, crucial point of transferring skills to younger generations, the Foundation has a broad educational offering. For example, it recently set up a programme of summer schools aimed at schools of art and design and vocational schools. One concrete example is wickerwork in Portugal.
This is an outstanding, age-old craft, but one that crucially needs a touch of modernity breathing into it if it is to survive. The Foundation brought young designers to Portugal for a summer school in which they began working side by side with traditional craftsmen and women. It's a two-way transfer of skills: on the one hand a craft, on the other new creativity.
There are multiple examples of this kind of cross-fertilisation, whether between Aubusson tapestries, a great Spanish chef and local ceramicists, or the exceptional Moroccan art of Zellige tiling – the type of ornamental mosaic tiles seen in Islamic architecture – shared between young designers, artists and traditional artisans.
"One recurring problem of many artisans who want to pass on their know-how is the difficulty they have in decently remunerating apprentices who are interested," Corinne Paget-Blanc goes on to explain. "To this effect, we've set up a funding programme to help finance apprenticeships. And starting in 2024, we'll be launching a complementary teaching programme for those apprentices to help them become self-employed in turn, with a professionalising mini-Master's degree aimed at teaching them accounting, administration and communication skills …"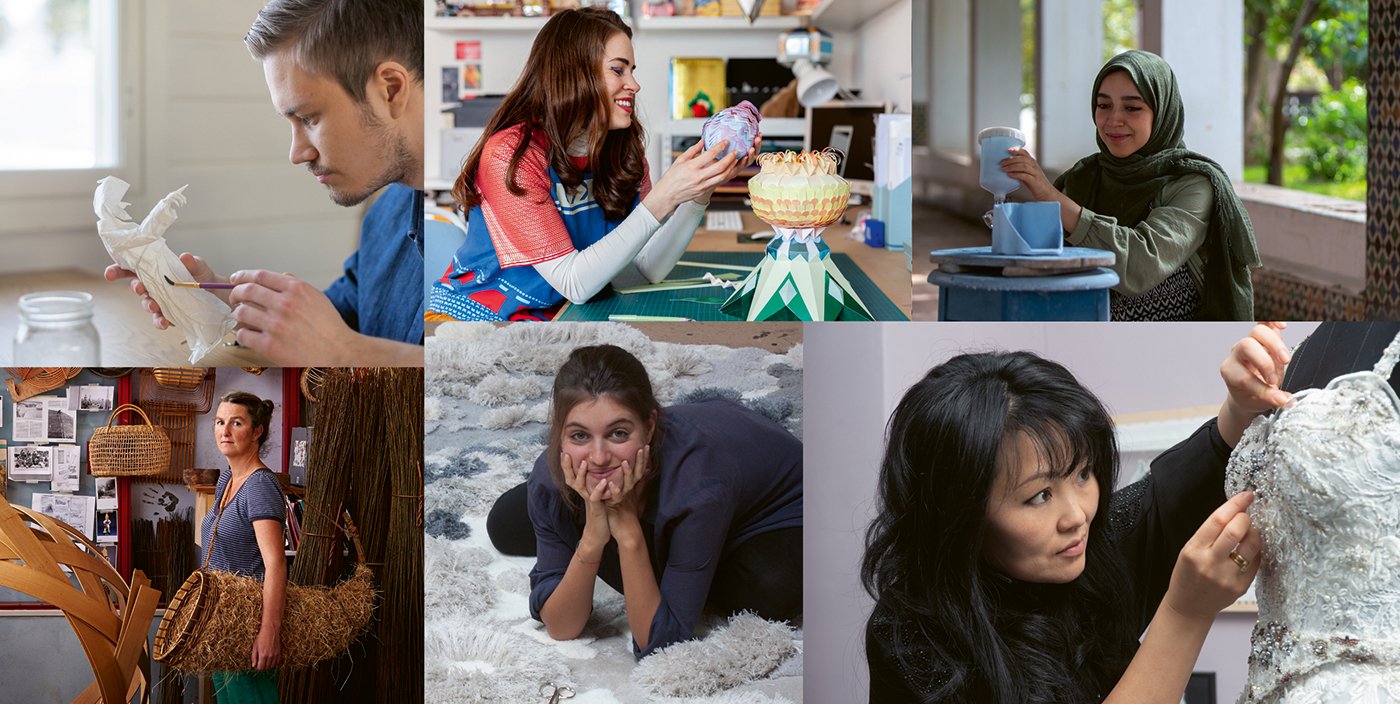 Homo Faber
But the most visible tip of the iceberg is the grand event, called Homo Faber, that the Foundation organises every two years in Venice, on the island of San Giorgio, simultaneously with the famous Biennale Arte, one of the world's most important art shows.
The second edition took place last May and over the course of its twenty days attracted 55,000 visitors, who came to admire and share in the work of 400 artisans (the next edition will take place in spring 2024), in 16 different exhibitions organised by 16 different curators.
"We saw everybody there, designers, brands, artists, influencers," says Corinne Paget-Blanc, restraining herself with difficulty from dropping names. "It's a magical place, an island facing San Marco, ideal for encounters, richly inspiring and conducive to collaboration."
Proceeding with the same desire to cross-fertilise excellent craftsmanship, the Michelangelo Foundation is also present every year at the Milan Furniture Fair, in the Fuori Salone section where, inside a palazzo, it presents an iconic exhibition entitled Doppia Firma, or Double Signature which, as its name suggests, shows objects produced by master artisans paired with designers. These genuine co-creations breathe new life into largely traditional crafts that are rooted in, and sometimes confined to, specific territories, handed down on a mere thread from generation to generation.
Lastly, addressing the general public in a yet broader sense, the Homo Faber Guide app identifies, lists and presents all the master craftsmen and women who form part of its vast network (for the moment nearly 3,000 in number, but not a week goes by without new names appearing). Region by region, town and town, anyone can now plan their own itinerary to go out and meet the artisans who take part in the Michelangelo Foundation programmes.
Each and every one has their own generously documented and illustrated presentation page. You can navigate by location or by type of activity, seeking out the best blacksmiths in England or weavers in Spain, to cite two examples among a thousand others.
A lesson for the watchmaking world?
Unlike many other more marginal activities, watchmaking is both a craft of excellence and a global industry. Thanks to its economic value and also its social prestige, it therefore enjoys far greater media coverage. But within this industry we have, over the past few years, observed a steady rise in the prominence given to arts and crafts: it is an activity that frequently requires the input of master craftsmen and women. Most of these are proudly self-employed and intend to remain so.
Thanks again to the craze that has grown up for mechanical and artisanal watchmaking, crafts we feared – and still fear – might disappear are beginning to take on a new, and new kind of, life. Artisanal watchmaking is attractive and a whole new generation is starting to emerge, young boys and girls, watchmakers, enamellers, engine turners and other master craftsmen and women. This generation is as handy with a computer, 3D modelling and social media as with a chisel, loupe or kiln.
Another positive characteristic: this generation are experts when it comes to having conversations; they're eager to transfer knowledge and try out different combinations. Very often, the result is an object with extra soul. And that is what truly characterises excellence.
The work of the Michelangelo Foundation is exemplary in this respect. It helps weave a dense fabric, draw up a living map of master artisans, gives them visibility and links them together, thus creating new opportunities and new vocations. This fact has not escaped the big watch names, who duly trooped through the Venetian corridors of Homo Faber. It was the place to go for new ideas, to strike up new friendships, and learn from them.