A
s heir to the great Genevan tradition, Patek Philippe has always placed particular importance on sharing its love of fine watchmaking, notably through exhibitions. In the years from 1970 to 1980, at the peak of the quartz crisis, the manufacture played a major role in the strong rebound of the mechanical watch, with traveling exhibitions on themes such as "The Creative Hand" and "The Watch as a Work of Art".
Eleven years ago, Patek Philippe went a step further by launching a new concept of grand exhibitions open to the public, offering free admission and encouraging closer acquaintance with its creations, heritage, philosophy and breadth of expertise. In the course of the five editions organized to date these events have increased in size and scope, welcoming a total of some 165, 000 visitors.

After Dubai in 2012, Munich in 2013, London in 2015, New York in 2017 and Singapore in 2019, Patek Philippe chose Tokyo for its sixth grand exhibition. Historically, Japan represents a key market for the brand – a market of connoisseurs, treasuring rare handcrafts and able to appreciate all the technical excellence and painstaking workmanship contained in a timepiece. Japanese customers, born into a culture that unites respect for tradition with avant-garde spirit, are also perfectly placed to understand the "tradition of innovation" that has guided Patek Philippe since 1839.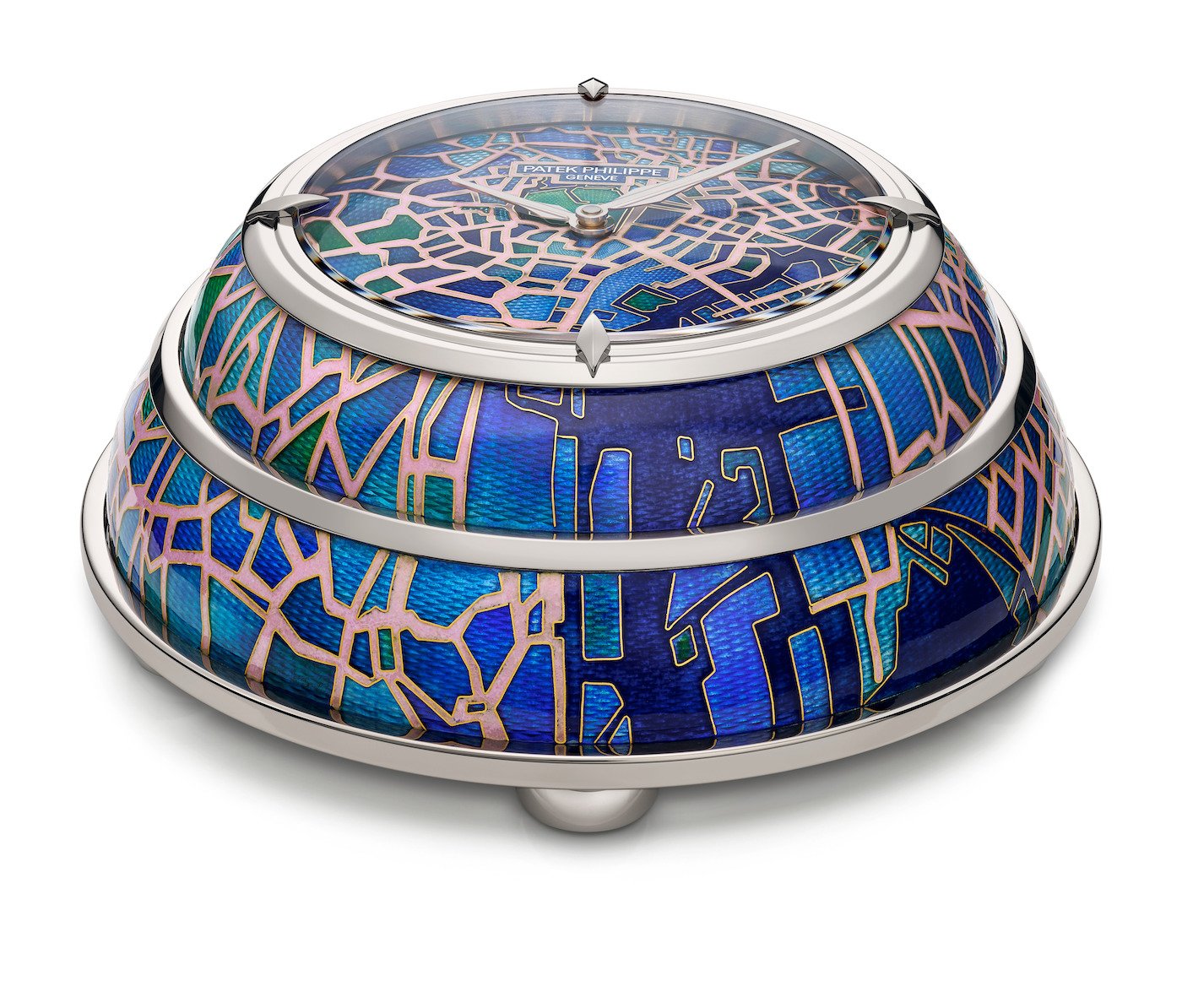 An exceptional decor
Open from Saturday 10 to Sunday 25 June 2023, the grand exhibition "Watch Art" Tokyo 2023 is held, as were the previous exhibitions, in a place emblematic of the host city. It takes over the Sumitomo Sankaku Hiroba, located among the soaring towers of the Nishi-Shinjuku business district. This lively quarter is just a few paces from Shinjuku Station, Japan's busiest railway station, which serves about 3.5 million passengers a day. The Sankaku Hiroba ("triangular plaza") event space, inaugurated in 2020, nestles at the foot of the triangular Shinjuku Sumitomo skyscraper. It takes the form of a vast hall measuring some 3,200 square meters, covered by a massive glass roof rising to 25 meters at its highest point without internal supporting columns.
Ref. 5308P-010
In this area bathed in natural light, Patek Philippe has created a decor of more than 2,500 square meters – the largest ever conceived for a grand exhibition –conjuring up the streets of Geneva and that city's lakeside setting, including the famous Flower Clock. The exhibition, divided into several themed areas, invites the visitor on a voyage of discovery through the Patek Philippe universe, including all the brand's most renowned Geneva sites – the historic headquarters in the rue du Rhône, the manufacture at Plan-les-Ouates and the Patek Philippe Museum – as if he or she had magically stepped over the 10,000 kilometers separating Geneva from Tokyo.
The entire current collection and Rare Handcrafts collection
The grand exhibition "Watch Art" Tokyo 2023 brings together more than 500 timepieces and objects illustrating a wealth of different types of expertise. In particular, visitors may admire the manufacture's entire current collection, with its lavish choice of watch families and models for men and for women, spanning every watchmaking segment from the style icons to the most technically complex mechanisms.
Ref. 5531R-014
The rare handcrafts (including miniature painting on enamel, cloisonné enamel, hand engraving, micro wood marquetry, hand-executed guilloché work and gemsetting) meticulously preserved by Patek Philippe, are also on show, with a splendid array of 40 one-of-a-kind pieces and limited editions (dome clocks, table clocks, pocket watches and wristwatches) inspired by Japanese culture, with its rich artistic repertoire and ancestral skills, along with demonstrations by artisans before the visitor's eyes.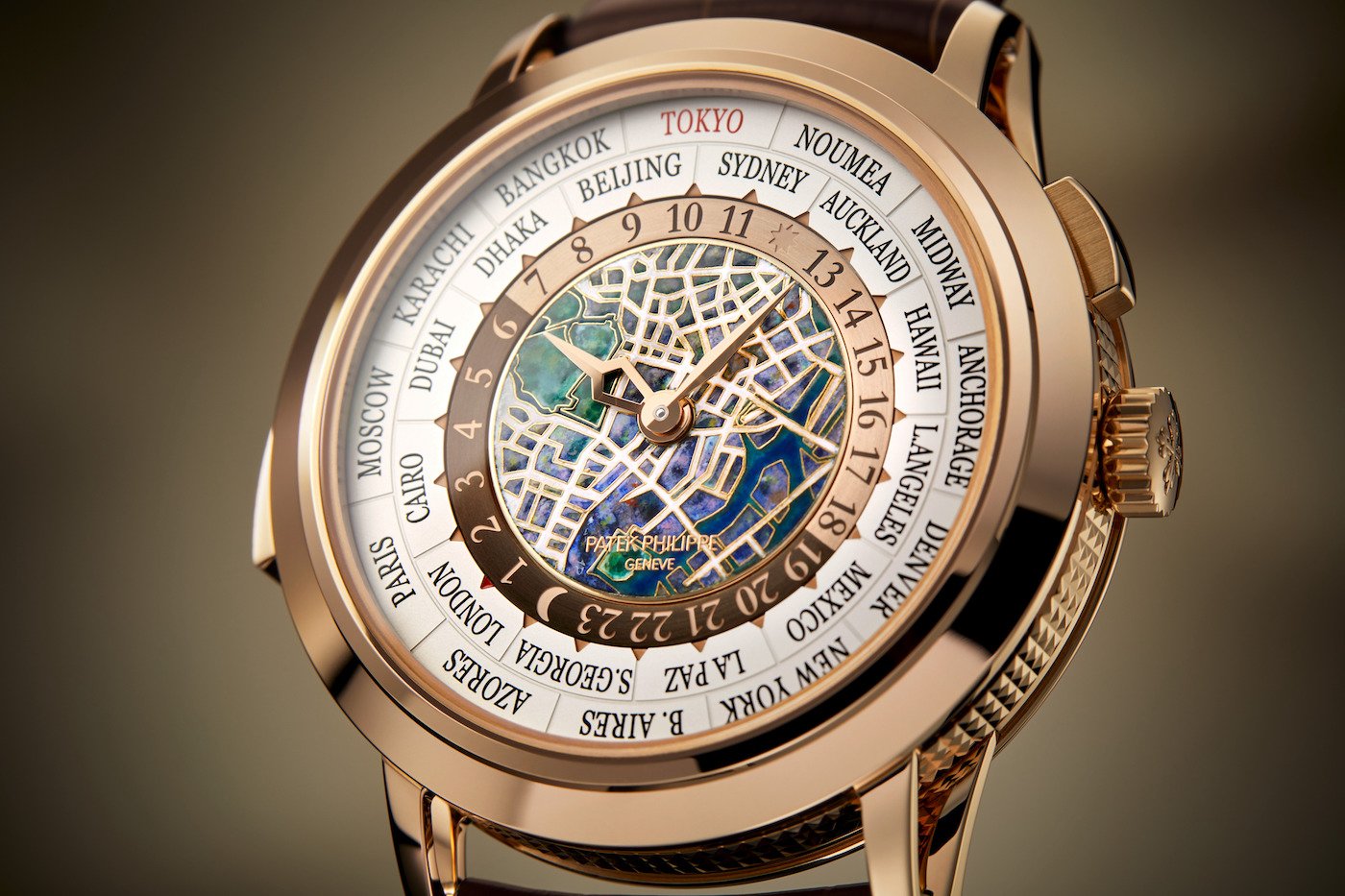 The jewels of the Patek Philippe Museum
The exhibition also presents a selection of some 190 pieces belonging to the Patek Philippe Museum in Geneva and exceptionally allowed to travel for the Tokyo event. Those from the "Antique Collection" (sixteenth to early nineteenth century) include some of the oldest watches in the world and numerous technical and aesthetic masterpieces illustrating the entire history of horology.
The pieces from the "Patek Philippe Collection", tracing the manufacture's rich heritage, feature the first known perpetual calendar wristwatch, launched by Patek Philippe in 1925 (No. P-72), the World Time wristwatch 1415 HU of 1948 (No. P-1026) and a pocket watch with minute repeater and 30-day power reserve of 1918 that had belonged to James Ward Packard (No. P-1703). A new section entitled "Historical Owners" invites visitors to admire a pendant watch presented to Queen Victoria at the Great Exhibition in London in 1851 (No. P-24) and other timepieces belonging to famous patrons.

An exceptional reunion of horological masterpieces
One room presents the vast collection of movements designed and built entirely by Patek Philippe, with a new area devoted to the steps involved in producing the parts and another dedicated to research and development.
A generous place is accorded to the complicated watches, one of the manufacture's strongholds, with – for the first time in a grand exhibition – a section exclusive to the super- complications (such as the Calibre 89 and the Star Caliber 2000) and a space entitled "Master of Sound" showcasing the chiming watches, including the most complex of all, the Patek Philippe Grandmaster Chime with 20 complications, and the Sky Moon Tourbillon Reference 6002R-001.
Visitors also have the chance to meet Patek Philippe master watchmakers, as they carry out demonstrations on a variety of movements. In addition, the public and devotees may view exceptional pieces lent by their Japanese owners for this event.
A fine array of limited editions
Similarly to its predecessors, the Tokyo 2023 grand exhibition is accompanied by the launch of several limited editions in every segment of the Patek Philippe collection. Featuring among these six new introductions are two technical pieces making their global debut: a new self-winding Quadruple Complication (Reference 5308P-010) and the first World Time watch equipped with a date display synchronized with local time (Reference 5330G-010). The choice is completed by an exclusive version of the World Time Minute Repeater (Reference 5531R-014), a refined reinterpretation of the ladies' Moon Phase model (Reference 7121/200G-010) and two new elegantly understated Calatrava models (References 6127G-010 and 7127G-010).
Ref. 5330G-010
The new self-winding Reference 5308P-010 unites a minute repeater, a split-seconds chronograph equipped with two new patented mechanisms and an instantaneous perpetual calendar in apertures. A true feat of miniaturization and energy management, this Quadruple Complication, housing a new caliber R CHR 27 PS QI movement with optimized performances, greets the world in an elegant platinum case with pierced lugs, framing a dial in rose-gilt opaline.
The new World Time Reference 5330G-010 claims the spotlight with a patented world first: a date display synchronized with local time and adjusting automatically backwards or forwards when a different time zone is selected. The new caliber 240 HU C self-winding movement, equipped with an innovative differential system, indicates the date on the periphery of the dial by means of a center hand in transparent glass with a red varnished hammer-head-style tip. The elegant case in white gold frames a plum-colored dial with a hand-guilloched center.