M
eisterSinger watches show the time with just one single hand. The same is also true of the new model, the Neo Pointer Date. Although the watch is equipped with an additional hand, its only function is to display the date in the middle of the dial.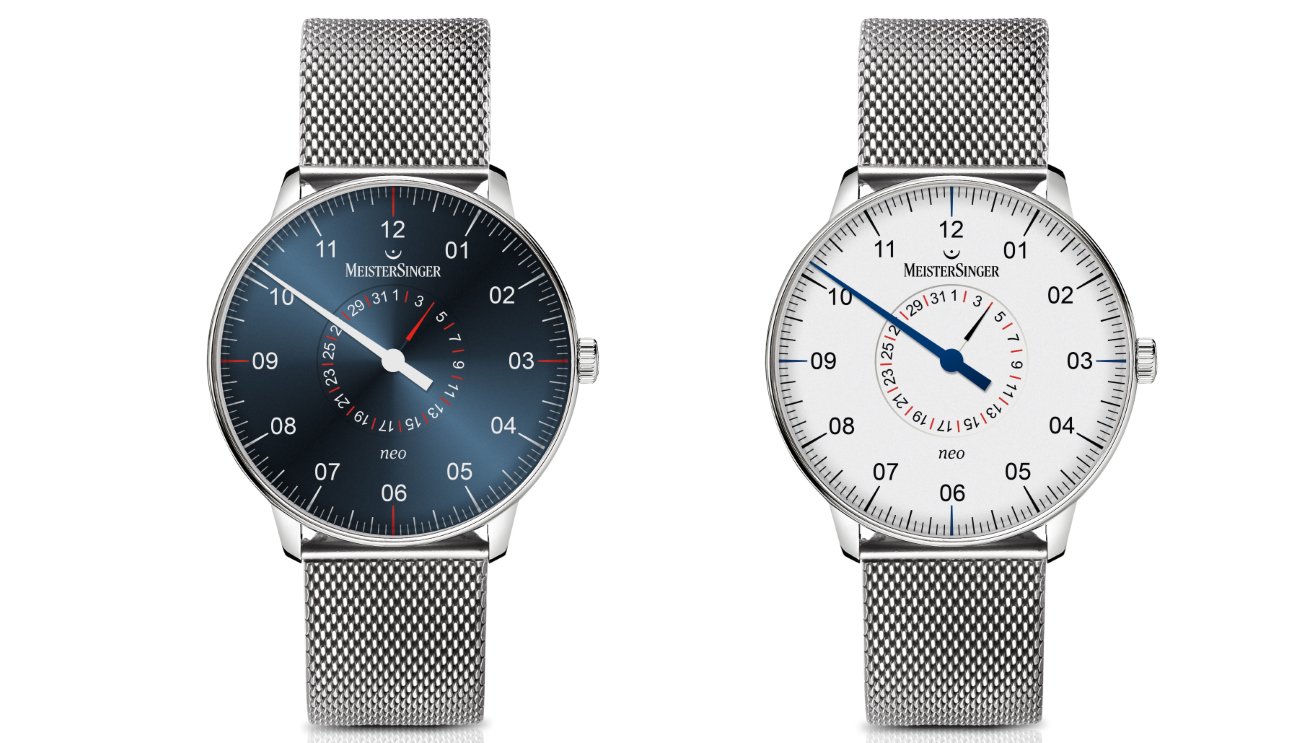 Classical form of display
This form of display was a traditional one for wristwatches, as the date used to be indicated by a hand at the center of the dial long before the first date windows appeared. Moreover, the design, which is rare today, follows the MeisterSinger principle of not showing the current moment individually but in context, providing an overview of both the weekly and the monthly course of events, just like the open date rings on the Perigraph or the Pangaea Day Date.
The Neo Pointer Date is a variation on this idea and follows the classical rule that the hand for indicating the longer periods of time, in this case the full days, is the shortest. The date circle is somewhat recessed and located tightly around the center of the dial, clearly different from the minute scale and the hour numerals. Its typography and the small, needle-like hand are highly typical of MeisterSinger.
Two models in two sizes
With its slender bezel and domed hardened acryl glass, the Neo is one of the most elegant models in the MeisterSinger collection. It is 36 millimeters in diameter and just as popular as the Neo Plus in its 40 mm case. For that reason, the Neo Pointer Date is also available in these two sizes, each in two versions, i.e., opaline white and sunburst blue.
The Neo Pointer Date and the Neo Plus Pointer Date are both powered by a Swiss automatic movement. The screwed back of the stainless-steel case is engraved with the fermata logo, stamped with a serial number, and water-resistant up to 3 bar.
All models come with a finely meshed milanaise bracelet.
Explore the Europa Star archives - Join us as a Club member
New: 40'000 pages added, since the year 1950!
Our data base contains over 100,000 pages and 70 years of fully searchable back issues, up to the most recent publication. A treasure trove for all knowledgeable professionals and aficionados.