T
ime's intrinsic flow presents itself as a broad spectrum of possibility. "Now" potentially lasts forever, as it continually becomes what was "soon" just a moment ago. Stopping and preserving time are as illusory as scheduling and prolonging a rainbow. All we can do is enjoy the beauty of both phenomena as they appear to us.

The Soonow Instant Rainbow, a multi-colored timepiece integrating the HYT patented fluidic module, shows time and light performing their intrinsic magic, just as a ray of light interacts with water drop to create a rainbow. Its design is rooted in the truth that both are in constant motion. Its message is that both should always be appreciated and never restrained. Yellow and blue, two of the three primary colors, trace the paths of elapsed and future time respectively. The other colors of the rainbow spread across and around the dial with refined gradual shading. Light dances with 668 sapphires, amethysts and tsavorites in 14 color variations. In combination with the violet anodized titanium dial, covered with 313 18-carat yellow gold pins, this heightens the overall radiance of the mesmerizing, three-dimensional whole.
At a time when circumstances challenge us to focus gratefully on life, the styling of the skeleton on the dial of the Soonow Instant Rainbow has a hypnotic quality. Its right eye shows the power reserve progressing smoothly through the entire color spectrum, as does the seconds indicator in the other socket. Different monochrome Super-LumiNova® outlines, around the openings for the eyes, nose and mouth, draw gazes. And, almost as a tongue-in-cheek reference to the hoped-for pot of gold at the end of the rainbow, is a grin full of solid gold teeth. These, and all times, should be looked straight in the eye from a place of wonder and hope.
HYT was born of a question. Time flows and only gains meaning through content. So why limit its measurement to indicating the now in splendid isolation, with needle-sharp hands or fleeting digital displays? Determined that its rebellion should make statements and waves, a multi-disciplinary think-tank set out to create timepieces that visibly connect the past, present and future. The HYT answer is a watch that overcomes the force of gravity to indicate the passage of time with liquids. Highly advanced technology took its cue from philosophy to mirror time's intrinsic fluidity.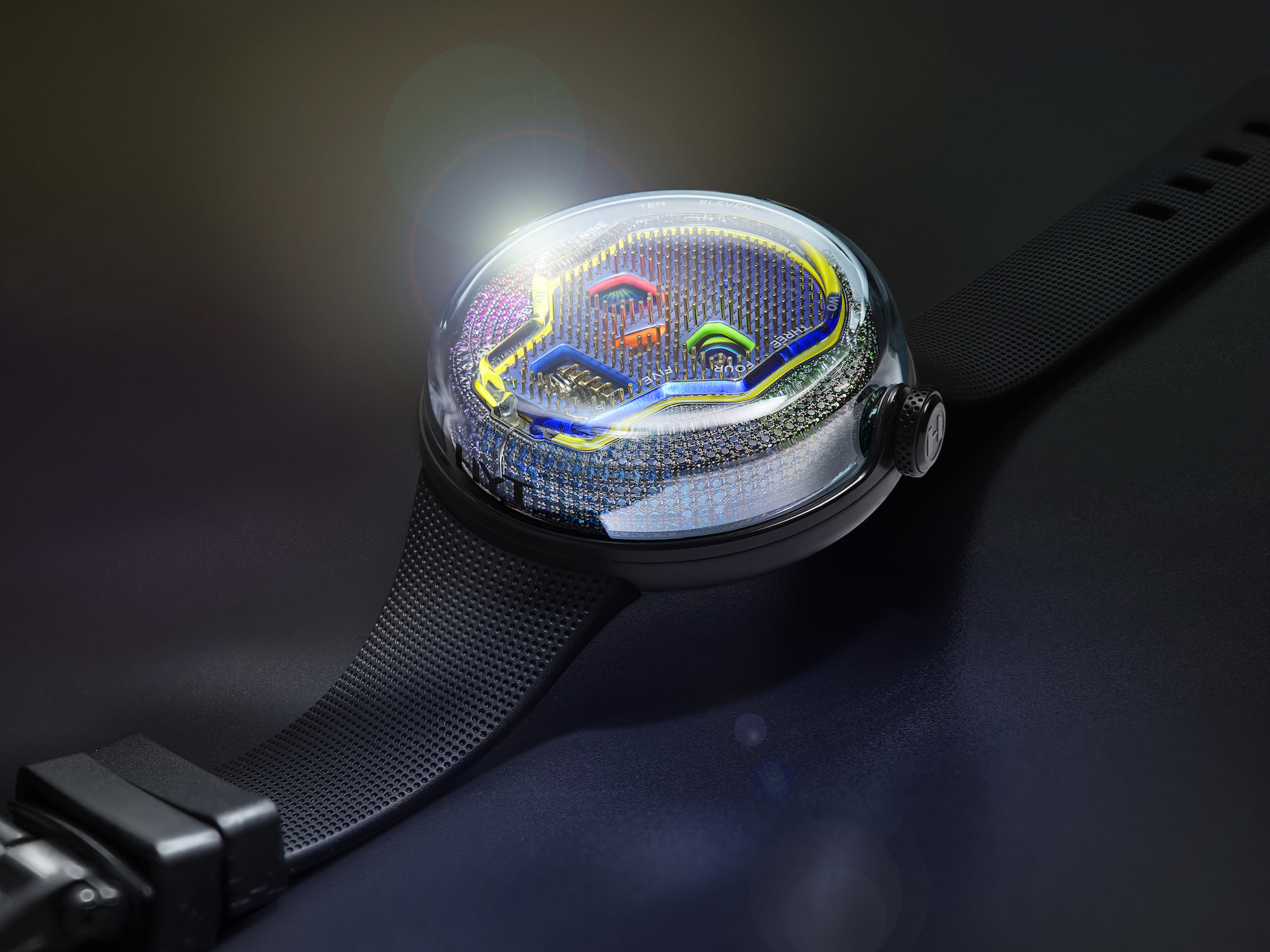 The rest is history. To be precise, it's history that began 3,400 years ago with the Clepsydras, or water clocks, of the Pharaohs. These so-called "water thieves" transported H2O from one container to another to measure elapsed or "stolen" time. This meaningful visualization of the transition of time seemingly disappeared until 2012, when HYT broke new scientific ground, inventing a wristwatch integrating a patented fluidic module. A colored liquid documents the recent past; a transparent fluid indicates the foreseeable future. Their meeting point is a meniscus, aka the now.