E
quipped with a unidirectional ceramic dive bezel, a reliable helium valve and in-house developed trigalight self-powered illumination technology, the new P67 SuperSub by Swiss brand traser is meant to be the perfect companion for every underwater explorer – whether in the mystical waters of the tropics, the cool depths of a mountain lake or beneath the eternal ice of Canada...
With a water resistance of 50 bar, the P67 SuperSub can handle depths profiles twice as deep as traditional dive watches with a water resistance of just 20 bar. As you descend into the depths, the light dwindles and colour intensity fades. For this reason, alongside water resistance, good readability is an essential feature of the new dive watch from traser. Thanks to the in-house developed trigalight self-powered illumination technology, the hands and hour indices of the P67 SuperSub glow even in complete darkness and poor visibility.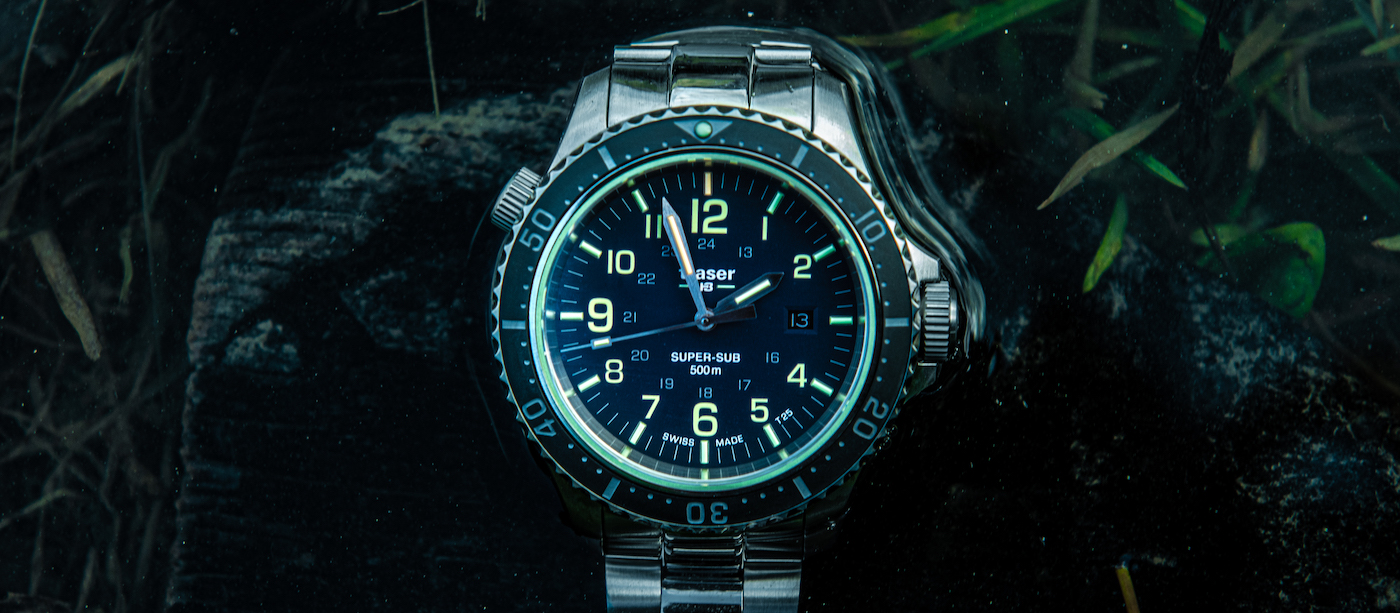 In the deepest, darkest corners of the ocean, the trigalight elements illuminate the P67 SuperSub with no external energy source needed. The helium valve, which allows helium molecules to escape in a controlled manner during the decompression phase in a diving bell, protects the watch from damages during deep dives.
Meanwhile, the especially robust, unidirectional ceramic bezel with a luminescent glass seal and the anti-reflective sapphire glass protect the P67 SuperSub against scratches and scrapes during reef dives. And with its stylish time dial in black, blue or orange, the P67 SuperSub is sure to turn heads on land, too.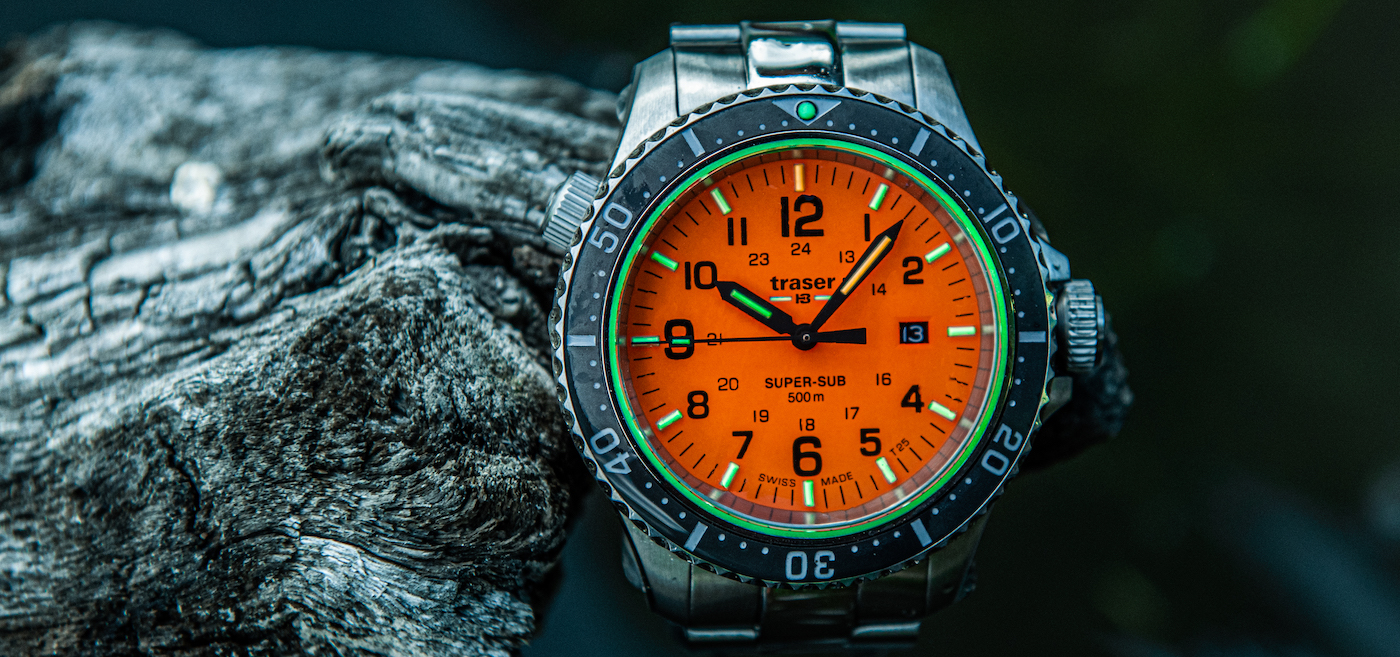 As well as the T25 standard version, traser offers personnel holding a special professional licence the extra-bright T100 special edition. Brighter trigalight light capillaries and a yellow-highlighted minute hand provide additional clarity on the dial, which is decorated with a wavy dial. Thanks to its robust indentations, the P67 SuperSub's ceramic bezel – designed to be unidirectional for safety reasons – can also be used effortlessly while wearing dive gloves.
A Swiss quartz movement ticks inside the new traser watch, while the case bottom is decorated, appropriately for a dive watch, with a silver lightfish. The deep-sea fish represents effortless and clear readability of the time in darkness and in poor visibility with the P67 SuperSub at every depth – thanks to the self-powered illumination technology.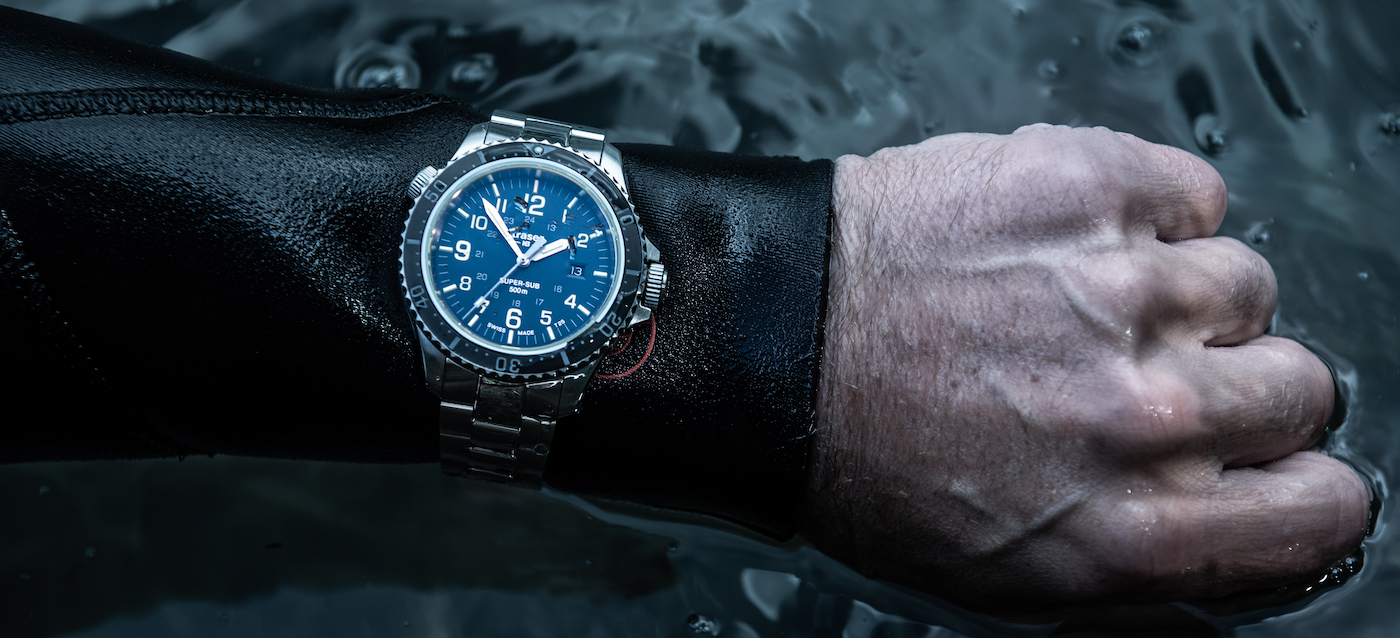 Both the rubber strap and stainless-steel bracelet will fit over any wetsuit thanks to the diver strap extender. The new rubber strap was designed to make the dive watch even more rugged and is easy to take on and off quickly due to its over-sized buckle.
The traser P67 SuperSub is available from CHF 595 with a rubber strap and from CHF 695 with a stainless steel bracelet. From CHF 795, the P67 SuperSub is also available with all its extensive features in a special case. Alongside the dive watch with a stainless steel bracelet, the set contains a rubber strap and extender, as well as a tool to change the strap.