M
auro Egermini, CEO of Schwarz Etienne, met Kari Voutilainen a couple of years ago. He was already aware of the Finn's exceptional work and reputation, but when the two men chatted, Mauro was struck by Kari's endearing modesty and immediately felt at ease with him. The two men spoke again on a couple of occasions and, ultimately, they explored the possibility of collaborating in some way.
The Schwarz Etienne Roma Synergy by Kari Voutilainen, bears the names of both parties. It is not the usual customer-supplier relationship. Indeed, both parties have worked together on the design, the making of the dial and, lastly, the movement finishing. This collaboration is an exemplar of synergy where the expertise of both parties working together surpasses the combined efforts of each party working in isolation.
Regulating organ
Unusually, Schwarz Etienne makes most of the regulating organ in-house. This includes escape wheels, pallet levers, balance wheels and, most remarkably, hairsprings. Few companies make hairsprings owing to their complexity.
Modular movements
Schwarz Etienne has attracted praise for its modular movement design. Several of the brand's movements are engineered in such a way that a barrel can be exchanged for a micro-rotor. This confers economies of scale. For example, a modular movement, irrespective of whether it is hand-wound with two barrels or automatic with one barrel, will share the same mainplate and bridges. This approach allows the Swiss firm to create high-quality movements that represent impressive value for money.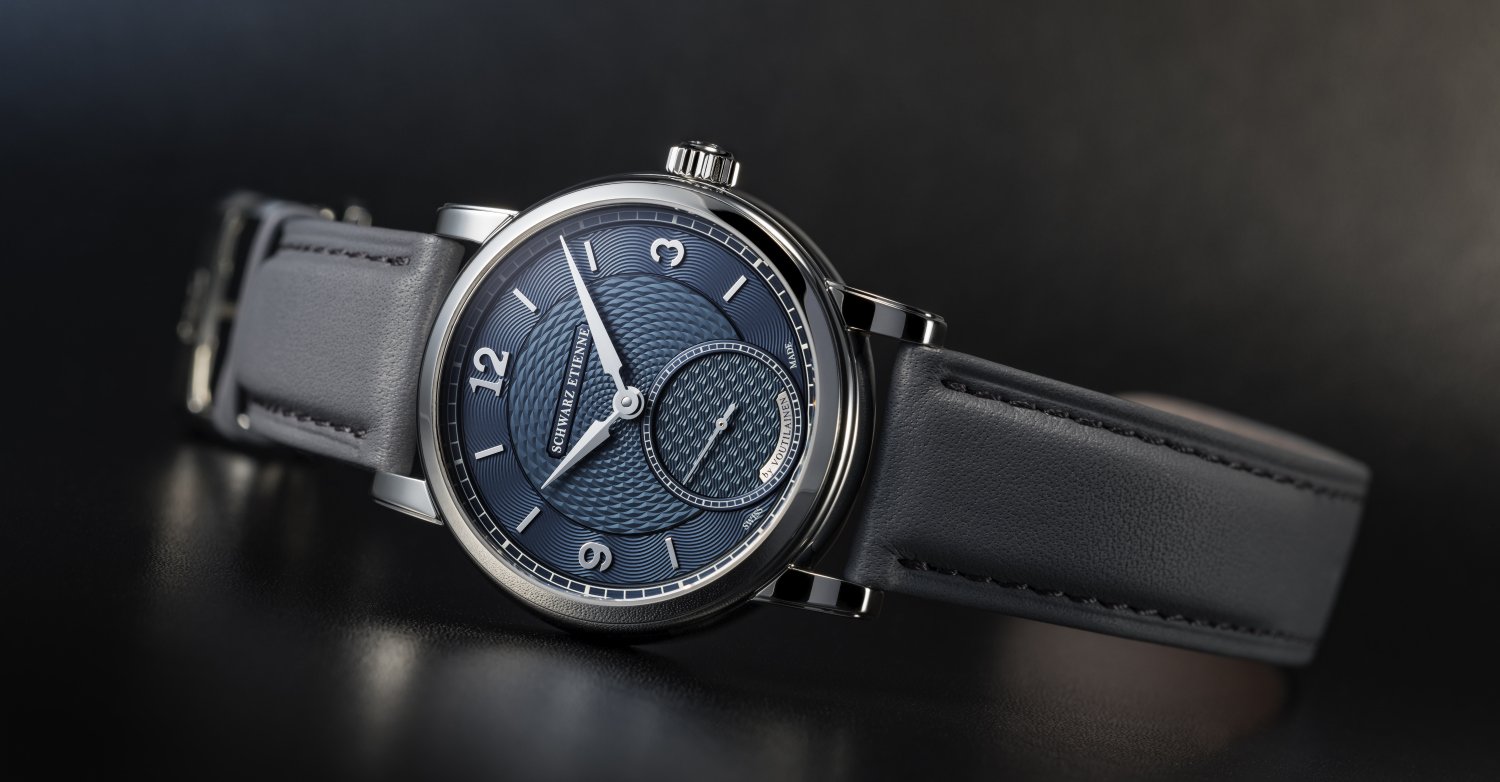 The dial
The Schwarz Etienne Roma Synergy by Kari Voutilainen is offered in two dial colours, 'ocean blue' and 'sand grey'. Both versions feature silver-toned, lancine-shape hour and minute hands. A combination of short, applied batons and contemporary Arabic numerals denote each hour. They are presented on a hand-guilloché hour track enriched with a 'soleil' pattern. A neat chemin de fer frames the dial area, providing an elegant means of delineation as well as aiding readability.
The central area of the dial encompasses an 'écaille de poisson' motif. Intended to resemble fish scales, the textured motif emanates from the fulcrum of the dial with the scale gradually increasing in size as it approaches the hour track. The Schwarz Etienne name is presented on a plain cartouche below noon.
A generously proportioned small seconds display occupies a sizeable portion of the lower dial area. It usurps some of the central dial area as well as a section of the hour track. The small seconds display is suffused with a sea of 'vague' guilloché. Again, a chemin de fer is used to frame the small seconds display. In addition, a silver-toned plaque references the Kari's contribution.
The case
The Schwarz Etienne Roma Synergy by Kari Voutilainen is housed in a 39mm stainless steel case which has a thickness of 11mm, allowing it to readily reside beneath the shirt cuff.
The case gleams resplendently courtesy of its highly polished surfaces. This form of polishing accentuates the numerous case contours around the bezel, case band and lugs.
Both versions of the Schwarz Etienne Roma Synergy by Kari Voutilainen are complemented with colour-coordinating straps, each made of leather and endowed with a contrasting leather lining. Each strap is paired with a stainless-steel folding buckle.
The movement
The Manufacture automatic movement, the Calibre ASE 200.00, is visible via the exhibition case back. It features 198 components, including 33 jewels. The balance has a frequency of 21,600 VpH (3Hz) and, assuming the watch is fully wound, the movement will run autonomously for up to 86 hours.
Micro-rotors are a speciality of Schwarz Etienne. While other companies also offer models equipped with a micro-rotor, they are few in number. A micro-rotor sits flush with the neighbouring bridges, mitigating the thickness of the movement. Unlike a movement fitted with a conventional oscillating weight, there is nothing to obstruct the view of the beautifully decorated bridges and various other components.
In this instance, the micro-rotor has been decorated by Les Ateliers Kari Voutilainen. His company has also embellished the ratchet wheel with diamond drops and snailing. The bridges are hand-bevelled and feature straight flanks. Indeed, hand bevelling abounds and sits in concert with black polished steel parts.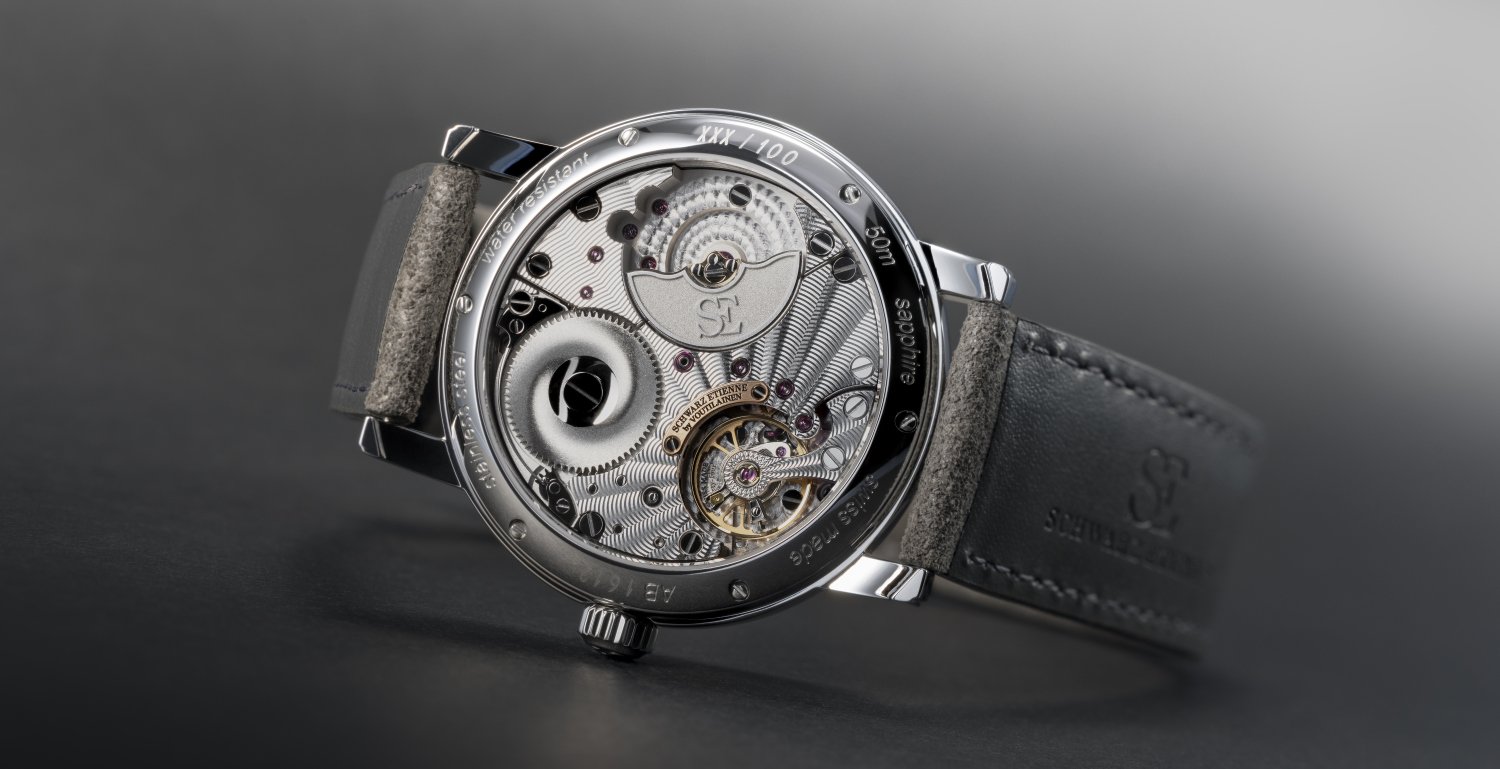 The aforementioned guilloché decoration found on the dial also extends to the movement. A guilloché motif, again executed on a rose engine lathe, emanates from the balance's shock protection system, spreading outwards. The pattern is not restricted to just the balance cock but extends to all of the bridges.
The jewel and screws are highly polished and perlage is visible adjacent the micro-rotor. An 18-carat red gold applique is positioned adjacent the balance wheel and proudly proclaims 'Schwarz Etienne by Voutilainen'.
Kari Voutilainen
Kari Voutilainen was born in 1962 and attended watchmaking school in Tapiola, Finland. After graduating, Kari held a number of positions in the watch industry, including teaching at WOSTEP and working at Parmigiani Fleurier doing restoration work and making unique pieces.
In 2002, Kari set up his own watchmaking workshop, Les Ateliers Kari Voutilainen, located in Val-de-Travers. Since making watches bearing his own name, Kari Voutilainen has gained worldwide recognition for his timepieces.
Guilloché by Les Ateliers Kari Voutilainen
Kari and his colleagues have been instrumental in the design of the Schwarz Etienne Roma Synergy by Kari Voutilainen. Furthermore, Les Ateliers Kari Voutilainen have been responsible for the dial creation and movement finishing.
On many mass-produced watches with so-called guilloché dials, a circular brass disc is stamped under pressure, resulting in a patterned surface. However, the dial of the Schwarz Etienne Roma Synergy by Kari Voutilainen is made using a rose engine lathe, conferring superior definition. These machines are manually operated. There is an absence of computer controls and a lack of electrical power. Typically, rose engine lathes are very old as new replacements are unavailable. Indeed, the rose engine lathe within Kari's atelier dates back to 1907.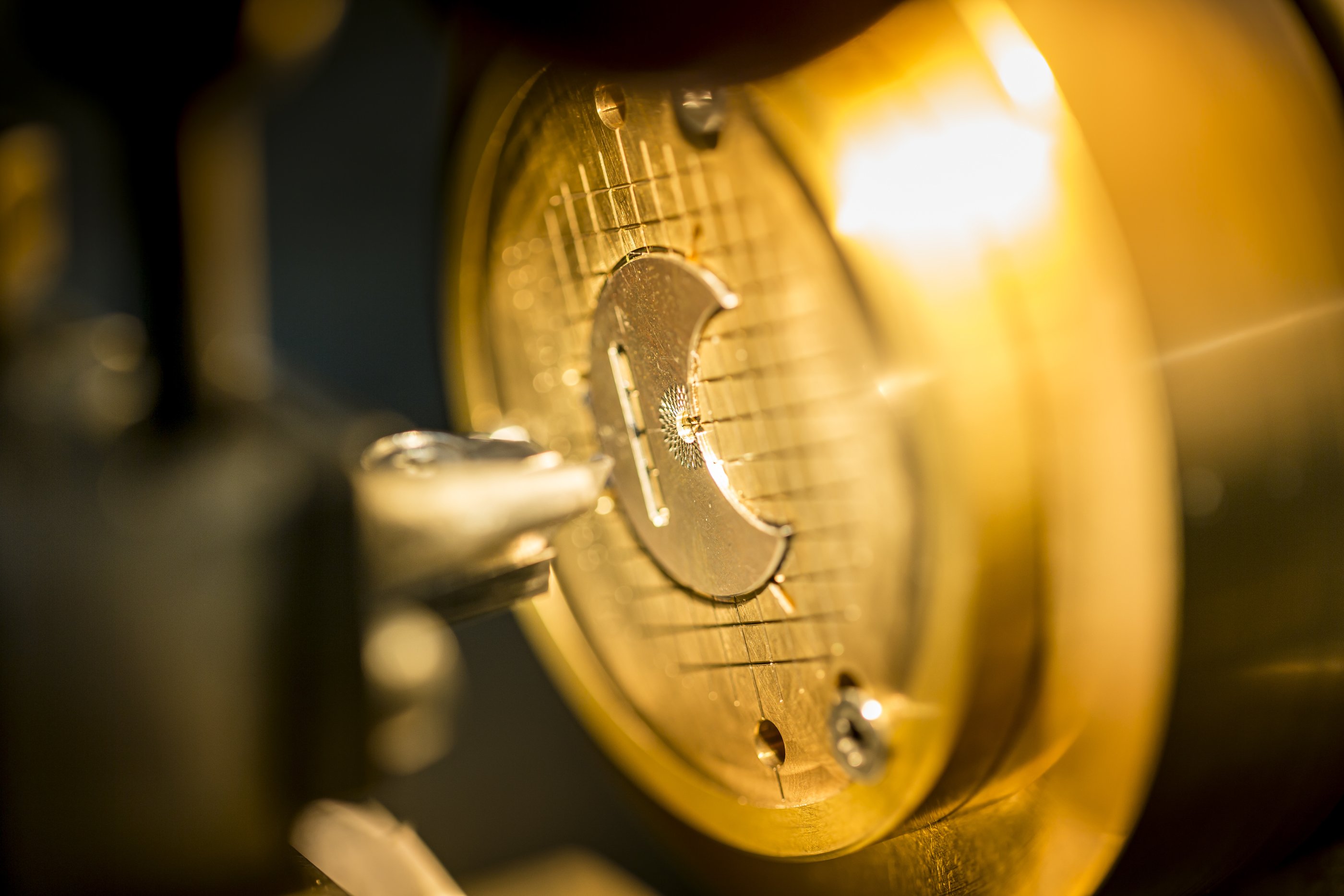 By employing various shaped cams or rosettes on the rose engine lathe, a time-served artisan can impart different patterns to a silver disc. The simplest guilloché dial would feature only one form of decoration, but the Schwarz Etienne Roma Synergy by Kari Voutilainen features an array of dial patterns. It takes two days to complete a dial.
Kari Voutilainen – three production facilities
Kari Voutilainen has three productions facilities: Voutilainen & Cattin, a joint venture based in Le Noirmont, specialising in making cases. Comblémine SA, based in Saint-Sulpice, producing high quality dials for an array of companies. Les Ateliers Kari Voutilainen in Môtiers.
The dials on the Schwarz Etienne Roma Synergy by Kari Voutilainen are engine-turned (guilloché) at Môtiers after which they are to the Saint-Sulpice site. It is within the confines of this building that the dial colours are imparted using galvanic treatment.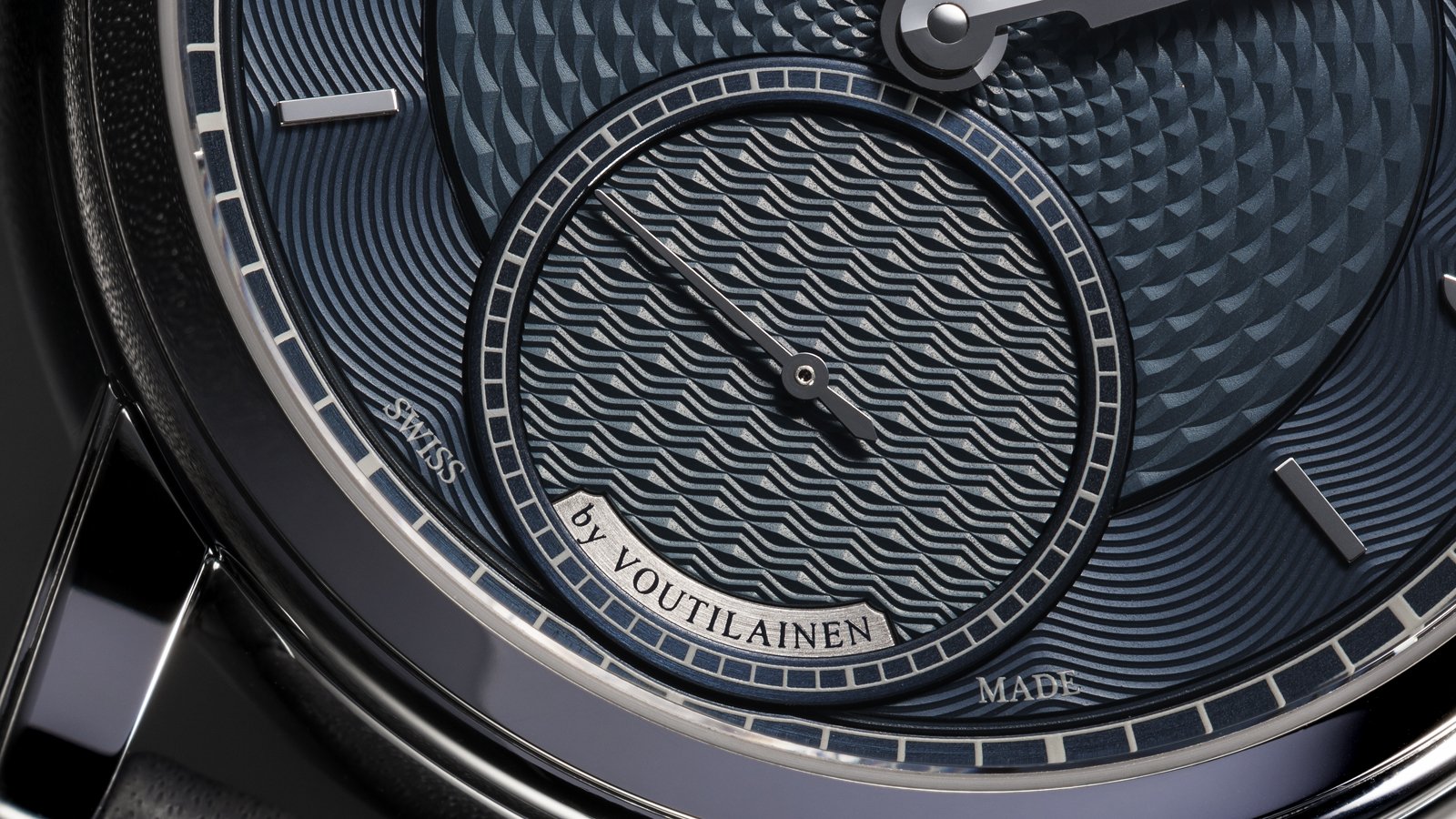 Finissage
In the finishing department of Les Ateliers Kari Voutilainen, time-served finisseurs suffuse surfaces with exquisite forms of decoration. The most challenging and time-consuming form of decoration is 'black polishing'. This technique requires the use of a 'tin-plate' smeared with an even coating of diamond paste. The part being polished is carefully moved across the surface of the tin-plate, ensuring it remains perfectly flat. When successfully completed, the part will exhibit a mirror-like appearance.
Schwarz Etienne – a modern approach
The Schwarz Etienne Manufacture features cutting-edge CNC machines used to machine plates and bridges to infinitesimal measurements. Schwarz Etienne not only makes its own timepieces but also produces private label watches. These are assembled and regulated in a pristine, dust-free environment and are subjected to a myriad of quality controls.
It is by combining these two different worlds that the new Schwarz Etienne Roma Synergy by Kari Voutilainen delivers something unique, surpassing the sum of its individual parts.