T
he Virtuoso VIII elegantly blends Bovet's two iconic cases, the Fleurier and the Dimier since it is the first timepiece in the Fleurier collection to feature an inclined crystal aperture on the 12-6 o'clock axis. This innovative concept offers a new perspective on the caliber's architecture, decoration, and function displays.
Both of the plate's faces feature bridges whose shape immediately remind us of Bovet's historic pocket watches. The steel is chamfered and polished, the disk plates are sunk and chamfered, and the tourbillon cage bridge is made of titanium to reduce the weight of the cage and prevent any magnetic charge.
For this second chapter, the elegant decoration perfects the timepiece's technical prowess. The two elegant arms over the flying tourbillon are rounded-off and polished, and the surfaces of the bridges on both sides are decorated with a circular "Côtes de Genève" motif. The center of the timepiece invites collectors to drift to the surface of the movement and admire its beating heart, the tourbillon's powerful spin, and all of its many functionalities that are handcrafted at Bovet's workshops.
Offered as a limited edition of 50 timepieces, the dial of the Chapter Two was fully redesigned to give the timepiece a new appearance. Offered in blue aventurine glass, the dial forms a horizontal number eight, which in numerology and in multiple cultures symbolizes luck, perfection, and infinity. The timepieces' symmetry also accentuates the functionality and legibility of the complications it displays, the power reserve indicator and the big date.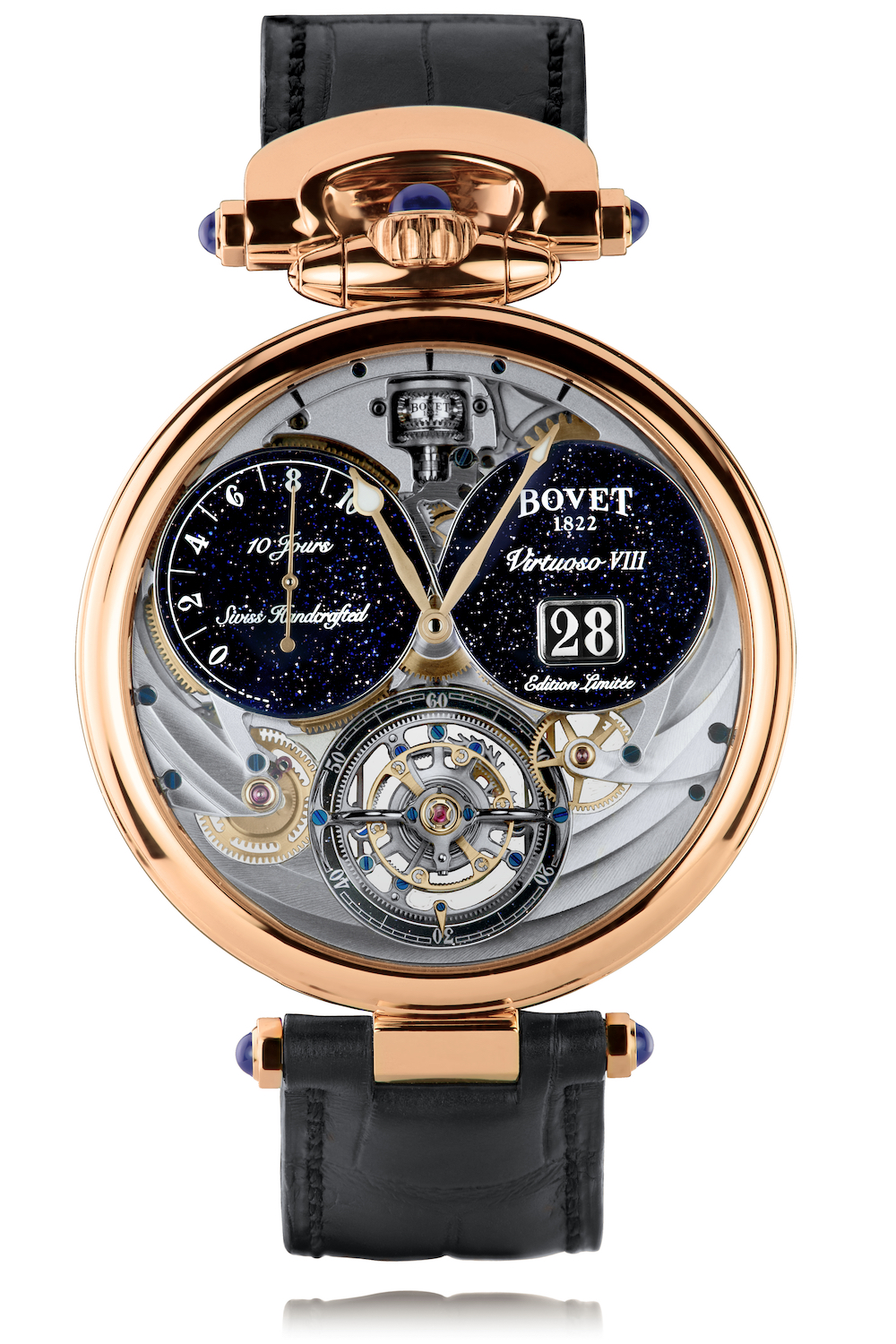 For exceptional legibility, the seconds' display is carefully designed to be displayed by an index screwed onto the cage wheel. The arrow of the index hangs over the surface of the delicate circular dial showing the 60 seconds. The easy, precise readability offered by this display, is remarkable. To achieve this, the seconds' dial must be affixed to the plate during the initial assembly phases, which makes the watchmakers' work even more delicate when working with aventurine glass. The artisans' talent, passion, and experience, are expressed with such intensity and harmony that the Virtuoso VIII Chapter Two truly fascinates with its splendor.
The patented two-sided flying tourbillon's new construction shows its chronometric assets, as it regulates this timepiece. Its attachment point at the center of its axis and distribution on either side of the escapement and balance-spring, drastically reduces the lever-arm effect and friction at the pivot point.
To further improve the performance of this tourbillon, the House's artisans chose a variable- inertia balance wheel. Six collets driven into the felly of the balance wheel create a perfectly precise and dynamic balance and setting. The hairspring, with its curved end, was designed for this caliber and balance wheel.