W
ith four vivid new variants in its technically ingenious Patravi TravelTec collection, Carl F. Bucherer pays tribute to the beauty of all of the four seasons with new models that capture their unique hues and colors. With the "Spring" (green), "Summer" (yellow), "Autumn" (orange), and "Winter" (blue) variants, the Lucerne-based manufacturer offers modern cosmopolitans perfect companions for a stylish journey through the year.
"After the past couple of challenging months, we felt it was time to bring some bright colors onto the wrists of watch aficionados around the world. The TravelTec collection celebrates above all the strong connection between people across time zones and borders; something that has never been more important than now," says Sascha Moeri, CEO Carl F. Bucherer.
A distinctive and ultra-robust stainless-steel case of 46.6 mm frames the colorful and bright dial, which features two chronograph counters, a small-seconds subdial, a date display, and central hour and minute hands. A visual delight is provided by the date indication under an effective loupe – the figures are milled out of the date ring and remain invisible until they appear over a white background in the date window. The four new models come on radiant rubber straps that match the unique colors of the dials.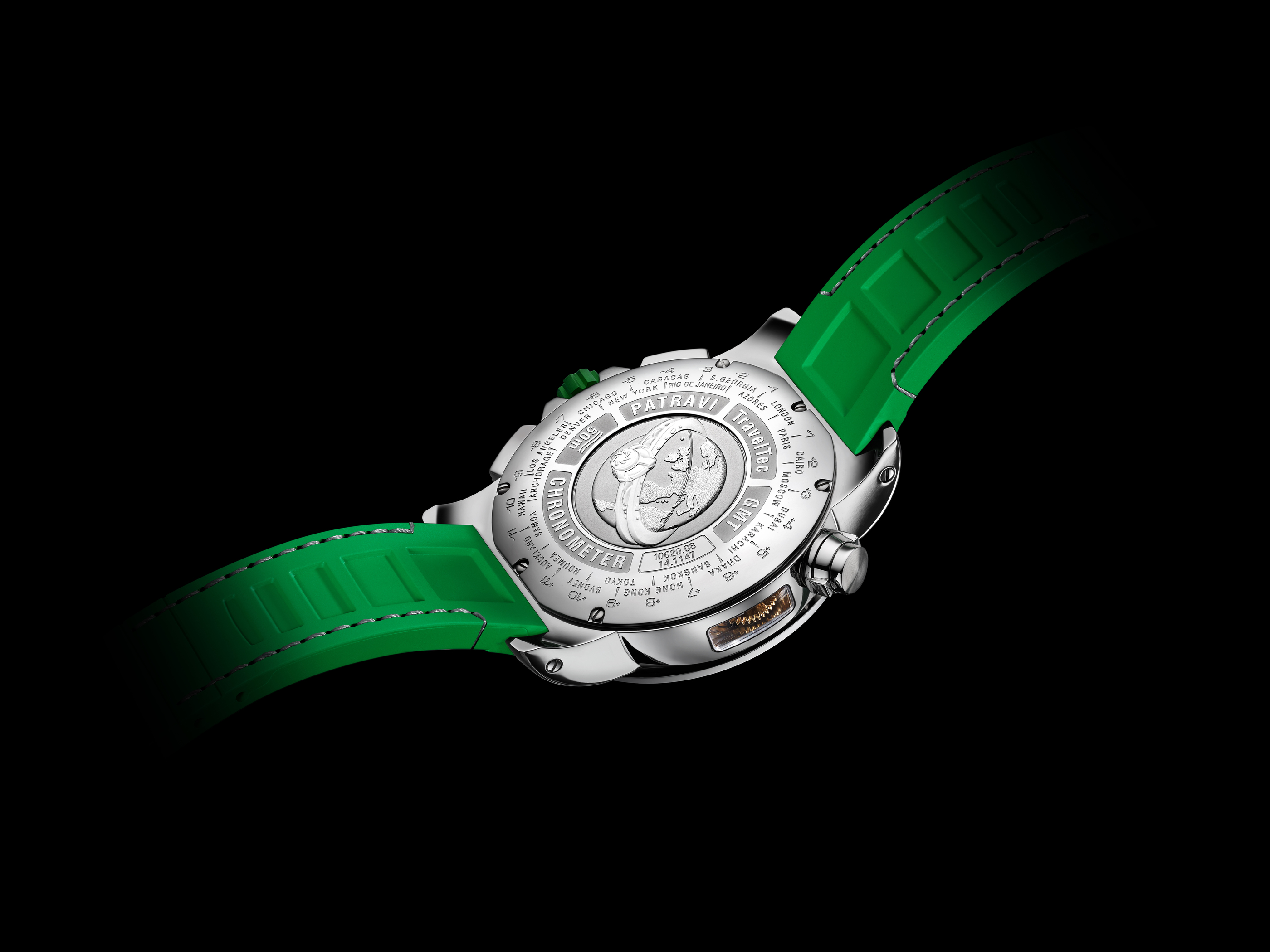 The Patravi TravelTec offers the chance to keep track of not just two, but three different time zones at a glance: an outstanding technical achievement that the construction engineers at Carl F. Bucherer realized by integrating part of the time zone mechanism into the case of the watch. This was a true innovation in the industry when it was first introduced in 2006, and it has since been patented.
This sophisticated mechanism required for selecting the corresponding time zone can be geared in two directions – east and west, or with and against time – via a single monopusher. This fascinating process can even be observed through a window that has been cut into the side of the case. Those who enter another time zone and thus need to adjust their local time can do so very conveniently by moving the wedge-shaped hour hand forward or backward an hour at a time.
Anyone who needs to communicate frequently with other time zones will appreciate the combination of the patented Patravi TravelTec time zone mechanism and the 24-hour indication for the second and third time zones, which enable the wearer to quickly and easily discern between day and night time.