R
oger Dubuis has consistently demonstrated its penchant for excess and extravagance. An inclination matched by a fearless determination to challenge the rules through a resolutely expressive and contemporary approach. This serial innovator mindset results from visionary engineers and incredible watchmakers combining radical expertise. It is nourished by a daily obsession for designing and creating the future of Haute Horlogerie.
Serving aesthetics through technical skills, reinventing tradition by unleashing creativity to push all boundaries, Roger Dubuis introduces the latest interpretation of its iconic Excalibur collection, reserved for an exclusive tribe.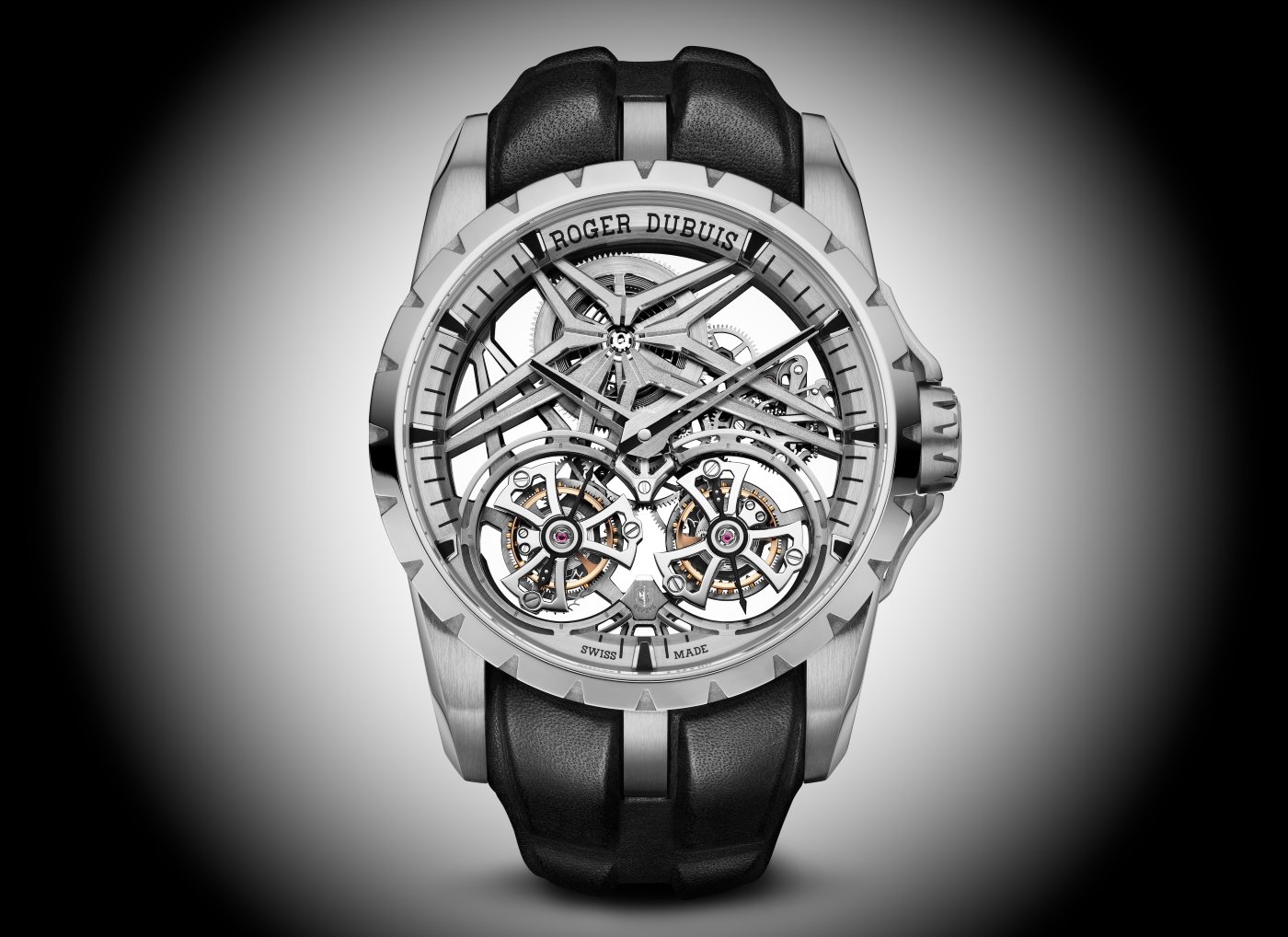 Since 2005, Roger Dubuis has been shaking up the world of Haute Horlogerie with its inimitable artistic skeleton design, regularly reinterpreted by disruptive materials and designs. For the new Excalibur Skeleton Double Flying Tourbillon, the goal was to optimise each of its components so as to offer the members of a hedonistic tribe a watch entirely aligned with their desires and their lifestyle. An ideal blend of design, performance and comfort.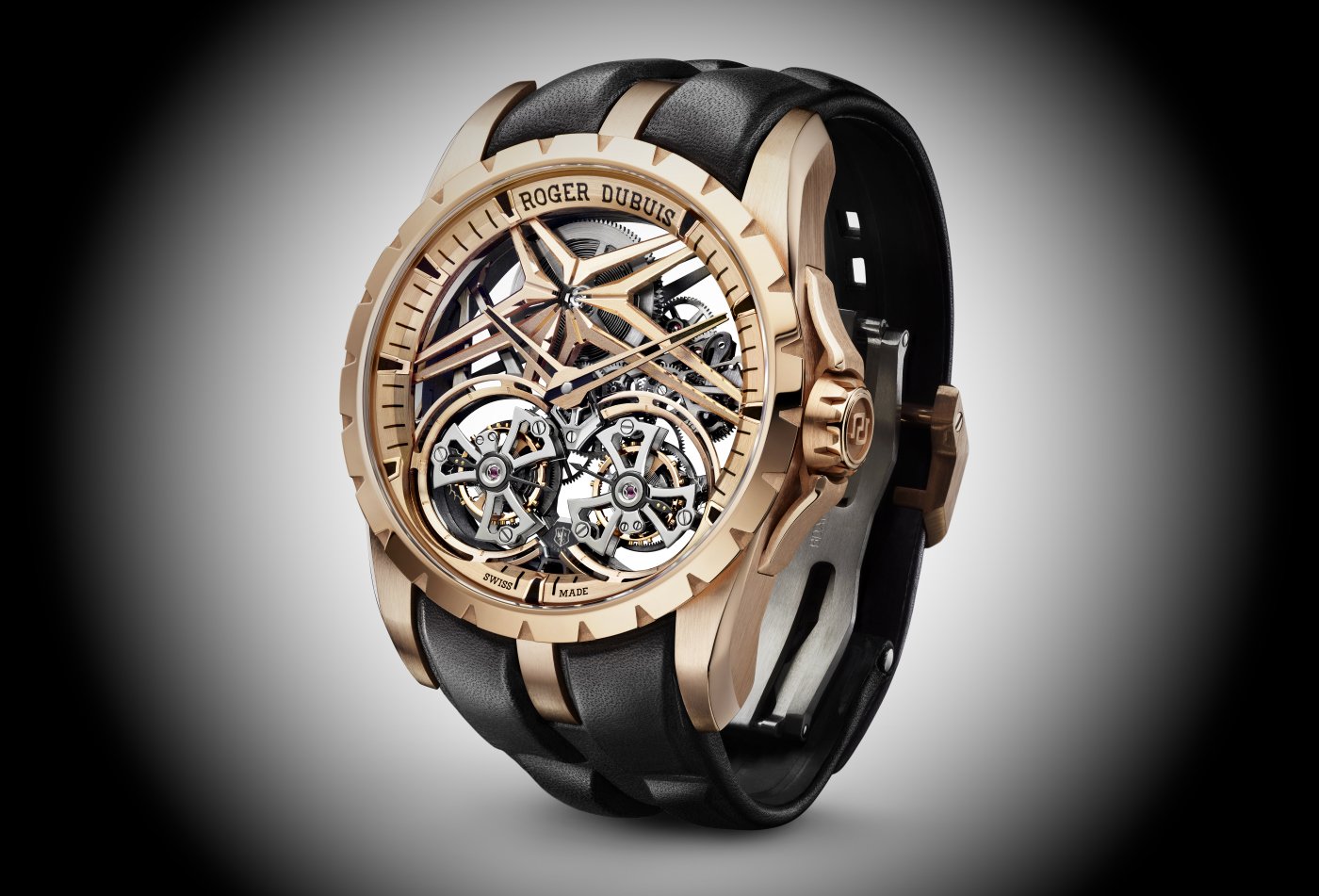 The eminently contemporary architectural calibre powering this latest model represents Roger Dubuis' extreme obsession with rewriting the codes of an institution that it dares to defy. Impelled by intense expertise and a relentless determination to achieve new feats, the Maison has reinvented its signature double tourbillon. The enhancements give this watch an up-to-the-minute edge, both design-wise and technically.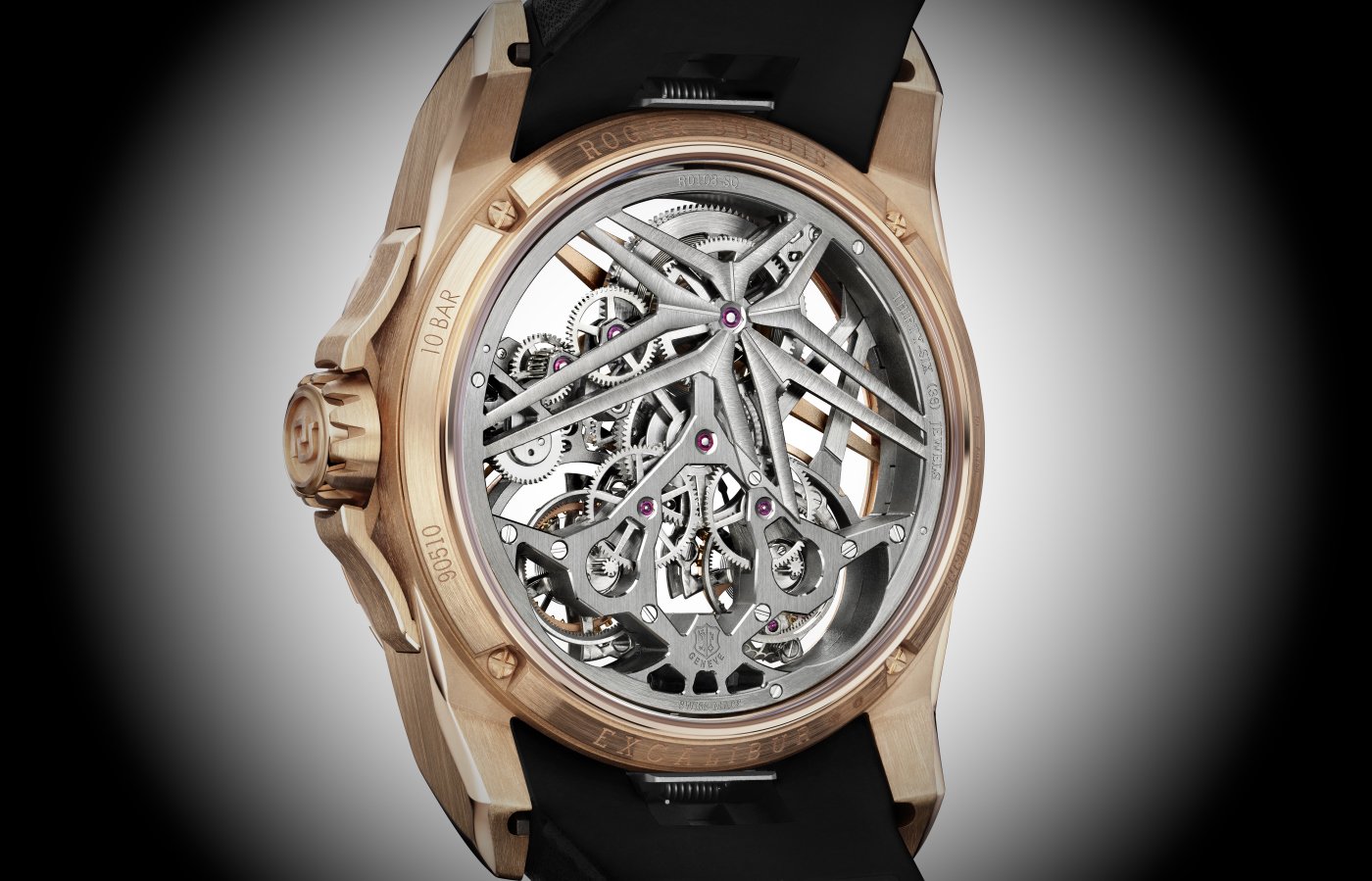 With the Excalibur Skeleton Double Flying Tourbillon, Roger Dubuis set itself the exciting challenge of changing perceptions. The skeleton structure concept has been pushed to its limit to provide a dynamic aesthetic. Clean-cut lines with polished angles create the impression of a thinner look and feel. This visual trick is implemented on every component, offering striking evidence of a modern interpretation.
Entirely rebuilt in terms of volume, the movement inexorably heightens the sense of transparency and depth. The latter quality is boldly highlighted by the iconic Roger Dubuis star, released from its functional role within the movement base. Lodged between flange and plate, criss-crossing bridges placed on different levels, it now levitates freely above the barrel, to stunning effect. This dynamic aesthetic is amplified by the Hallmark of Geneva decorations, each carefully chosen to serve the movement's aesthetic and technical aspects.
Every single detail has been meticulously designed and mastered to ensure that peerless technical prowess is matched by equally spectacular aesthetics. Exemplifying an unwavering determination to provide its tribe of clients with the best possible experience, Roger Dubuis has radically enhanced the power reserve to a generous 72 hours.
To achieve this, the Manufacture's watchmakers have successfully reduced the weight of the tourbillons through selective use of materials, which are also anti-magnetic. Each thus features a lower cage made of titanium (twice as light as stainless steel) and an upper one in mirror-polished cobalt chrome.
Both also feature the edgy new cut-tip take on the distinctive fluted pattern also appearing on other elements such as the star, flange, hours-wheel bar, bezel and crown. Last but not least, to enhance comfort for every wearer, the range of sizes for the strap ensures the buckle is always perfectly centered on the client's wrist for maximum comfort, while the Quick Release System for the interchangeable straps offers maximum flexibility.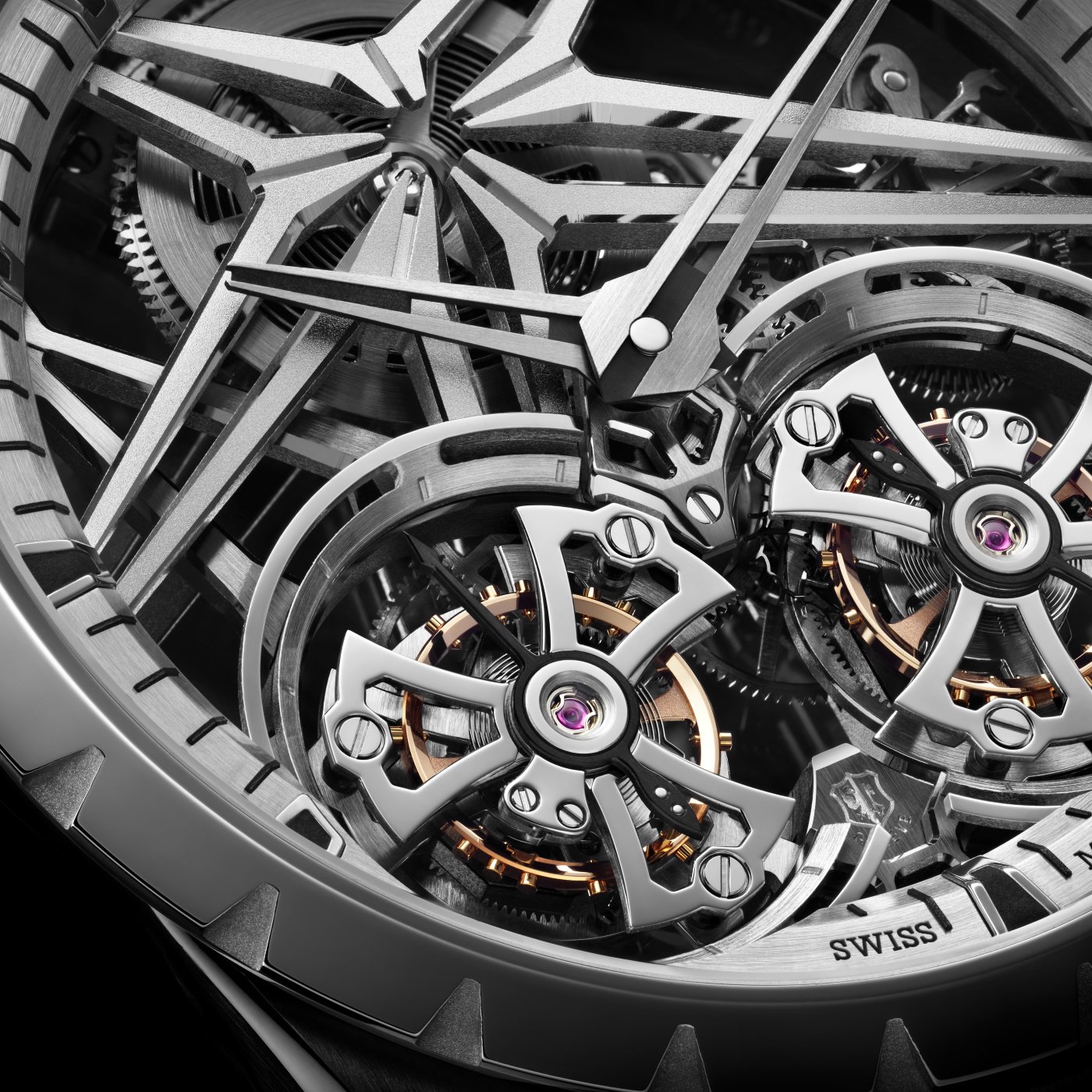 In a powerful display of Roger Dubuis' call to live larger than life, the Excalibur Skeleton Double Flying Tourbillon represents a peerless blend of visual strength and technical performance. Available in eight-piece white and pink gold editions, as well as a likewise limited version full-set with baguette-cut diamonds, this model offers an artistic and uncompromising demonstration of advanced mechanics in action.