N
amed after the location of François Czapek's third boutique in Warsaw, Poland, the Faubourg de Cracovie is Czapek's refined and muscular integrated chronograph until now only available in steel and titanium.
The Czapek SXH3 Caliber, driving the collection, is a COSC-certified, 5-Hertz bespoke automatic movement delivering 65 hours of power reserve from a single barrel. It makes use of some of the most advanced and effective mechanical elements, like a column-wheel, a one-piece linear reset hammer, and a vertical clutch. It is finely finished, with diamond-blasted anthracite bridges visible through the transparent case back.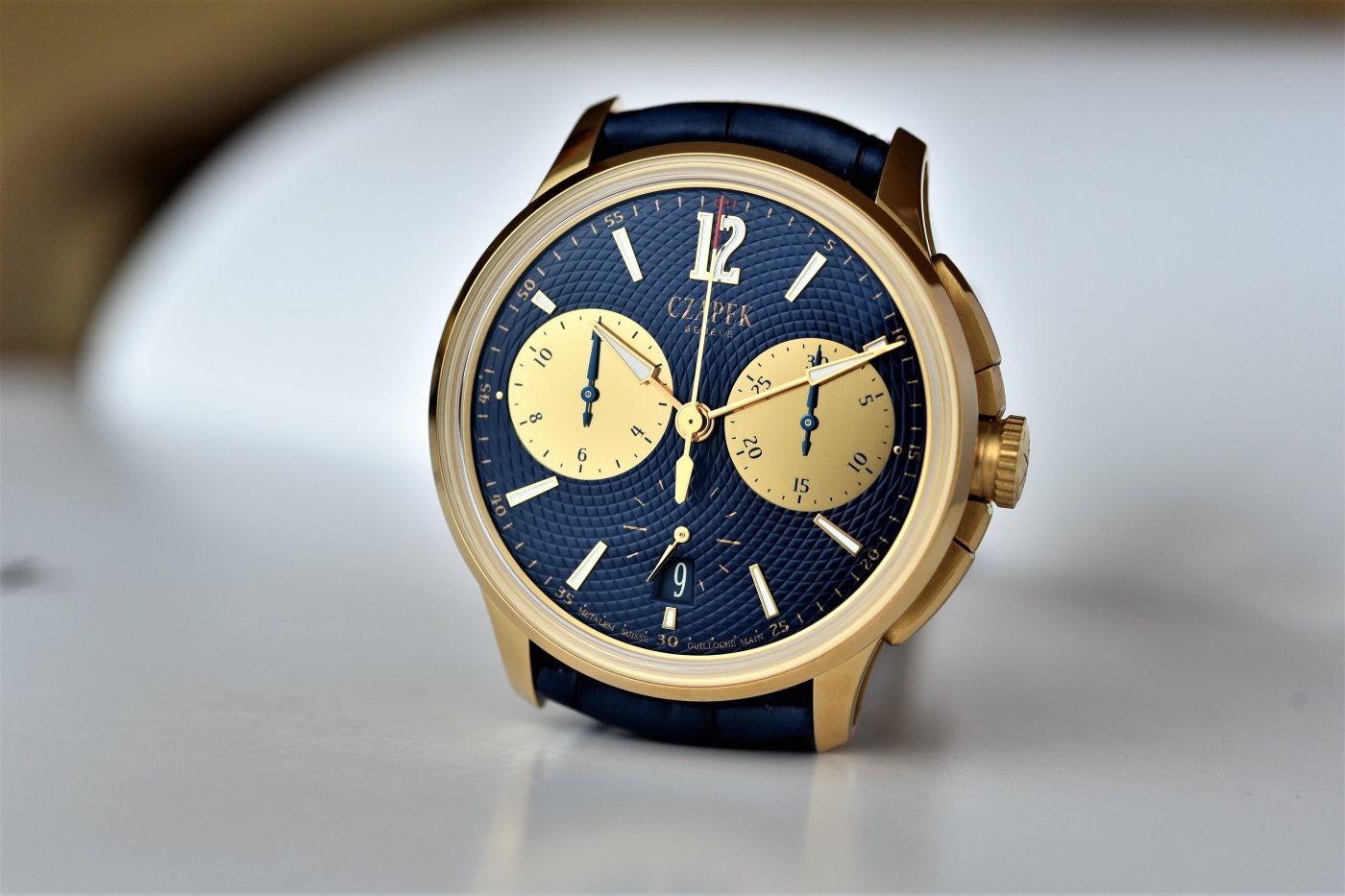 Today the Geneva-based maison is for the first time proposing its sporty model with a shining 41.5mm 18-carat gold case and chronograph counters, combined with a fascinating blue handcrafted guilloche dial with the "Résonance" pattern. This registered and unique design, where intersecting circular lines form a pattern of bas-relief squares, goes back to François Czapek himself and was developed by Czapek together with its Swiss partner for engine-turned dials Metalem. The profound blue hue is manufactured using a special ALD coating developed by another Czapek partner, Positive Coating, based in La-Chaux-de-Fonds.
Named "Océan d'Or" – "golden ocean" in French – the new model comes in a limited edition of 8 pieces for the 5N rose gold version and only two pieces for the 2N yellow gold edition. The latter was conceived as a precious complimentary pair, a "mirror piece", as was the case in China for the most special timekeepers. In fact, at the end of the Qing dynasty, there was a high demand of Swiss-made luxurious timepieces for the imperial court and the wealthiest clientele. For very special events or customers two timepieces were made, each watch being a perfect reflection and complement for the other – a "mirror piece".
"This approach reflects very much the essence of traditional Chinese aesthetics based on a well-known philosophical conception: the principle of Yin and Yang, stating that in all things exists two opposite sides yet inseparable - as well as Czapek's sense of beauty created integrating contrasting elements or combining symmetry with asymmetry, as in the human body", says Xavier de Roquemaurel, CEO of Czapek & Cie.
"Moreover, in the Chinese culture there is a true love for symmetry, reflecting the notion of an established order. Surprisingly, Czapek himself seemed to share this love, whether in the architecture of his movements or in his engine-turning patterns. Our Résonance guilloché, where the two sub-dials seem to respond to each other infinitely, is also based on this idea of symmetry. At the same time, it reflects our collaborative spirit when it comes to creativity, as the idea of the Océan d'Or was originated by a bespoke order by one of our customers. We guided him in designing his Faubourg de Cracovie in gold, and he was then glad to see the project go further and become a limited edition available to another - or a few others - like-minded collectors."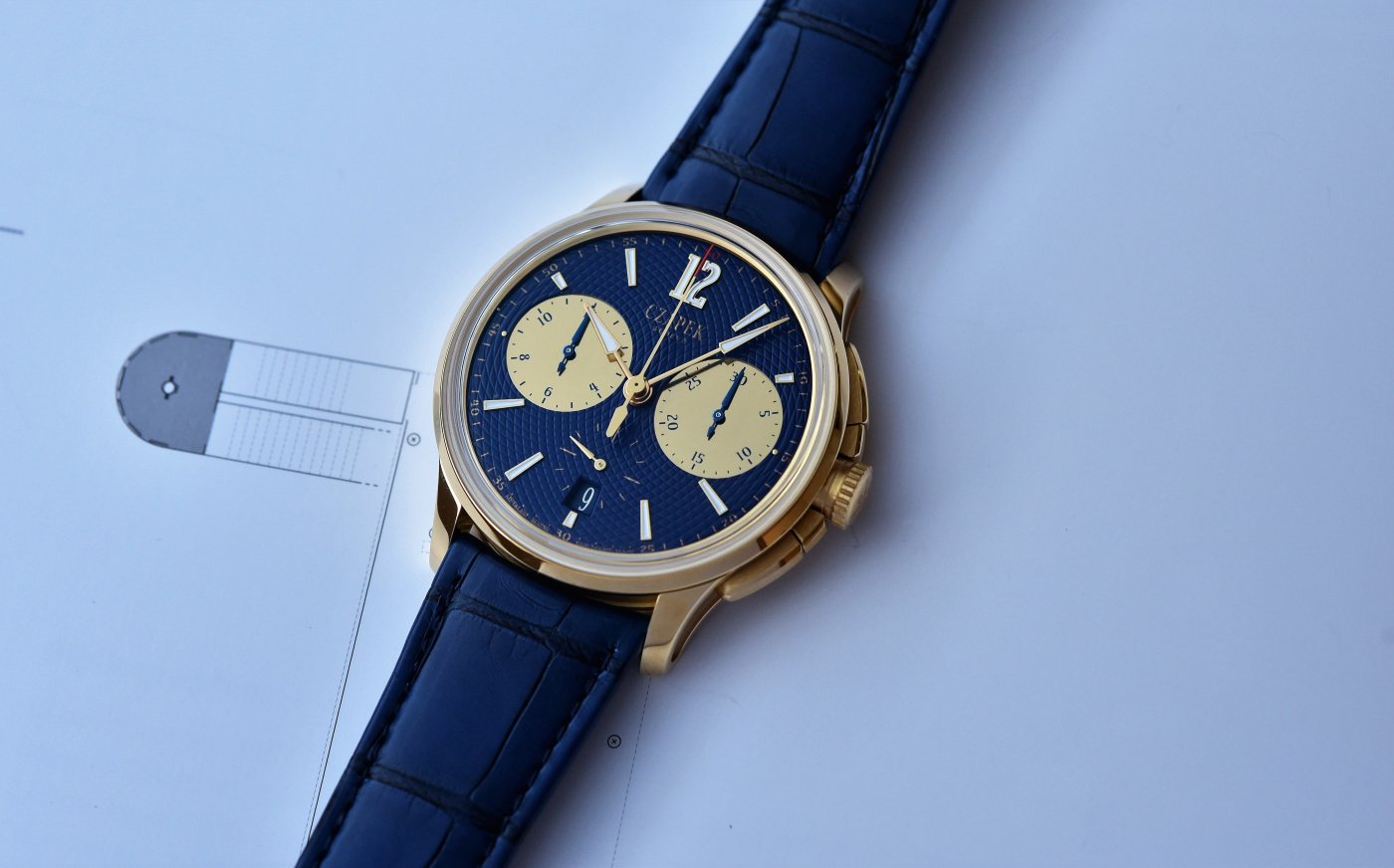 The Océan d'Or limited edition is available at the brand's official retailers, at the store in Rue de la Corraterie 18, Geneva, Switzerland, and on czapek.com.
Price: CHF 46,000