A
bsolute: the "art of emptiness" - that is the spirit of the Escape II Absolute Sapphire. Transparency in its purest form, highlighting the very best of what Purnell creates: pure, Swiss made craftsmanship and the world's fastest double triple-axis tourbillon movement. What you don't see here is what matters. The case, dial, power-reserve, hour gear train and dial bridges are made of transparent sapphire, revealing the skillfully constructed six barrels powering the diamond-set double Spherion movement. Laid bare, with nothing to hide.
Maurizio Mazzocchi Purnell CEO states: "After several years of R&D I am delighted to present a full sapphire Escape II collection which enhances the caliber's weightless appearance and mesmerizing Spherion motion at its best. A collection of unique pieces with other color tinted sapphire will follow this year such as: pink, green and blue."
Purnell's model is created with 100% Swiss made sapphire for the case, the three movement bridges, the dial and the top crystal sapphire. Three sapphires raw block units are necessary, as the machining process consumes 80% of their original mass. The sapphire resists temperatures up to 1,000° Celsius and is scratch-proof, except by diamond.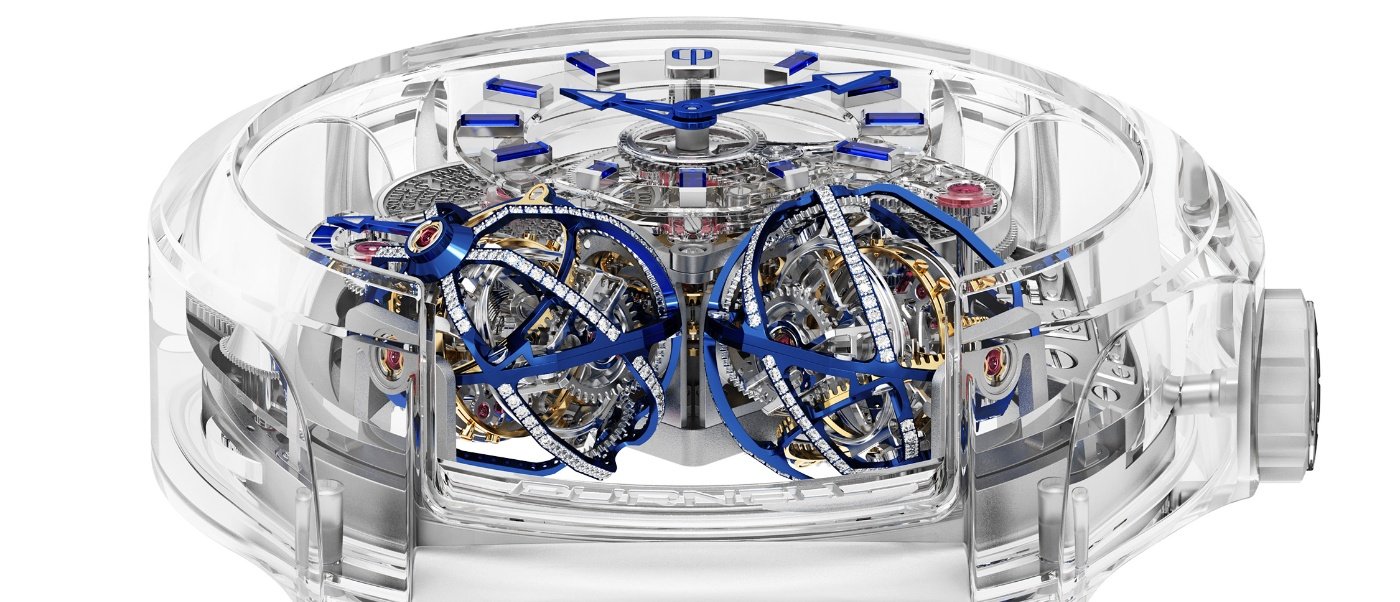 The flawless sapphire transparency guaranteed by Purnell Swiss partner Novo Cristal located in La Chaux-de-Fonds is achieved by the use of the highest purity oxide aluminum crystals and by the diamond granulometry grade used in the polishing process. A polishing process which reaches in its last steps an extremely fine diamond granulometry grade.
In total, the machining and polishing process require 150 hours excluding the development and machine programming and sapphire bloc unit growth.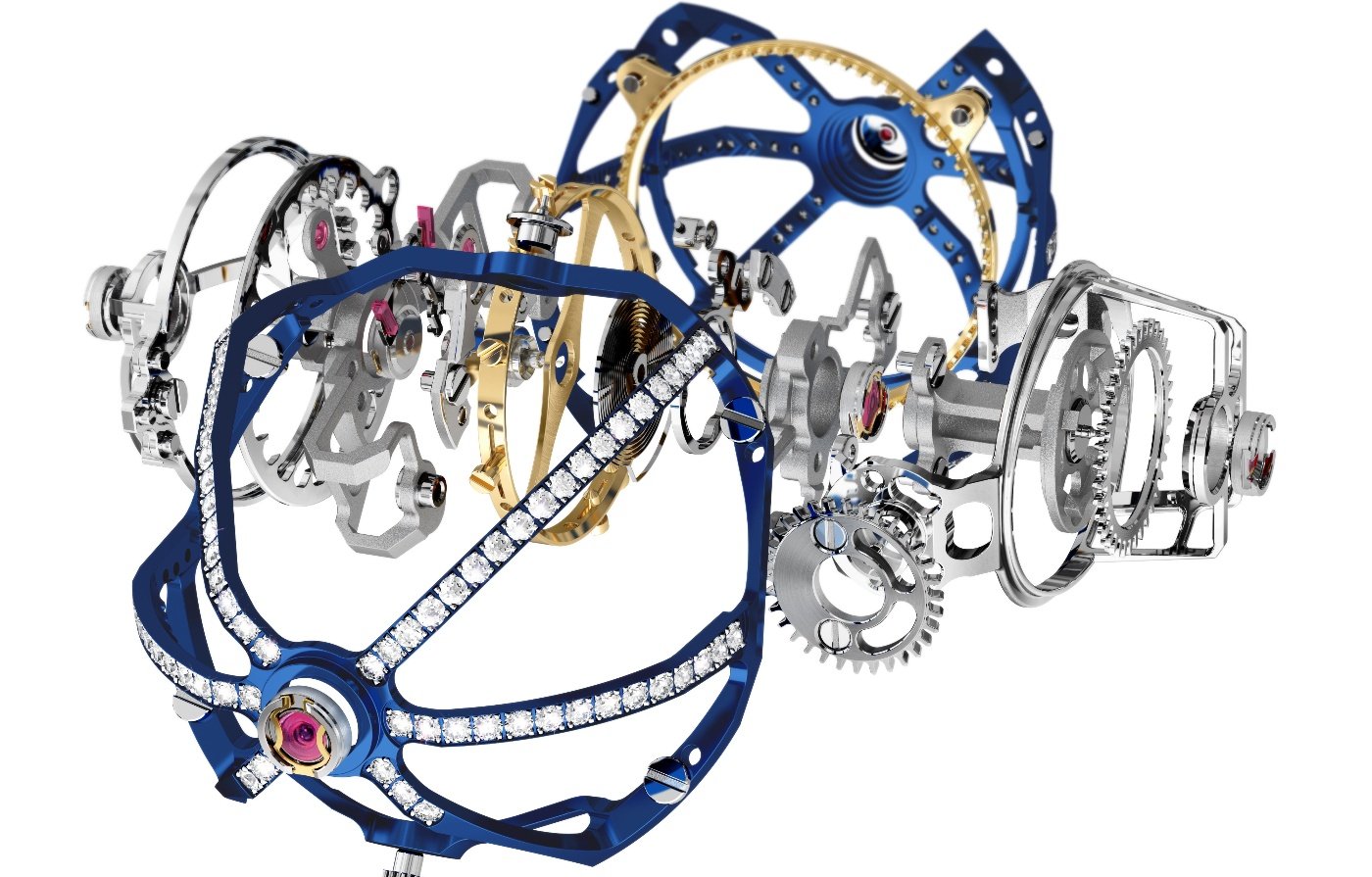 TECHNICAL SPECIFICATIONS
MOVEMENT Mechanical Hand Winding Caliber CP03 Double Spherion with Diamond Set Cages – the World's Fastest Double Triple Axis Tourbillon; called "Spherion" by its inventor, the Master watchmaker Eric Coudray (winner of the watchmaking Gaïa Prize in 2012) Functions: Hour, Minute and Power Reserve Indication via an Ingenious Suspended Mobile Cone Mainspring Sensor Number of Components: 386 Number of Jewels: 67 Power Reserve: 32 hours 6 Mainsprings Assembled in 4 barrels Aligned in Parallel (Four are Superimposed within Two Barrels). 2 Visible Barrel Covers Engraved. Balance Frequency: 3Hz / 21,600 bph Torque: 32 newtons / mm Movement Dimensions: 37.5 mm x 13.3 mm Movement Weight: 15.7 grams Adjusted to all positions Sapphire bridges: sapphire Power reserve bridge, sapphire hour geartrain bridge, sapphire dial bridge High-Velocity Spherion Cages Performance based on a Potter escapement re-visited by Eric Coudray Both Cages are Revolving in the Opposite Direction Thanks to its Differential System Fastest Triple-Axis Tourbillon with Rotation in: ⇒ 8 Seconds Inner Cage ⇒ 16 Seconds Secondary Cage ⇒ 30 Seconds Outer Cage Spherion Weight: 0.831 grams Material: Blued Titanium Setting: 304 brilliant-cut Diamonds in total 3 Shock Protection: 8 Incabloc
DIAL & HANDS Dial: Sapphire dial set with 11 Blue Sapphire baguette applied indexes, totaling 1.04 carats; Gunned Blue Finished Hands
CASE Material: Sapphire Dimensions: 48mm Water Resistance: 3 ATM Monobloc Sapphire Crystal
STRAP & BUCKLE Natural translucid Rubber Buckle: Grade 5 Titanium ardillon buckle