A
fter freeing up time, Trilobe frees up space, a new architectural gesture. Contemporary and classic, «Nuit Fantastique» (after a tale by Austrian writer Stefan Zweig) is a plunge into the deconstructivism called «New Modern Architecture». An architecture that invites to rethink freely: new geometries, atypical forms, movement and dynamism!
This unconventional architecture shakes up what we know, disturbs our way of conceiving forms and their functions. It is a new movement that advocates the go beyond the traditional patterns.
The design of this creation favours minimalism and plays with perceptions. The elegant, grained dial is a real technical challenge, underlying the watch elegance. It defies symmetrical shapes and is made up of four parts, three of which are in permanent rotation.

Raw and uncluttered, the unstructured dial opens three distinct windows: the largest ring for the hours; the minutes wheel that appears within an aperture and the seconds wheel, which alternates between a "Clous de Paris" centre and an azured ring. The intertwining of the minutes and seconds gives a glimpse of the infinite and the time that goes on endlessly, within a satin-finished and polished in-dial bezel.
A new touch of universality and timelessness that is part of this time set in motion, always counterclockwise, an X-Centric conception of watchmaking dear to Trilobe. Nuit Fantastique is available in silver, black, night blue and «Secret». With a sober and elegant 7 pieces steel case and a resistant sapphire crystal, this creation unveils a new interpretation of the passage of time by Trilobe.

Nuit Fantastique is equipped with the X-Centric calibre, a signature automatic movement developed exclusively for Trilobe. Mirror of the brand identity, this calibre enhances architectural geometry: a contemporary distinction with a refined design. Its harmony brings refinement and modernity to the collection. Integrated into the X-Centric calibre, the 5.78mm thick micro-rotor movement combines finesse and technical performance.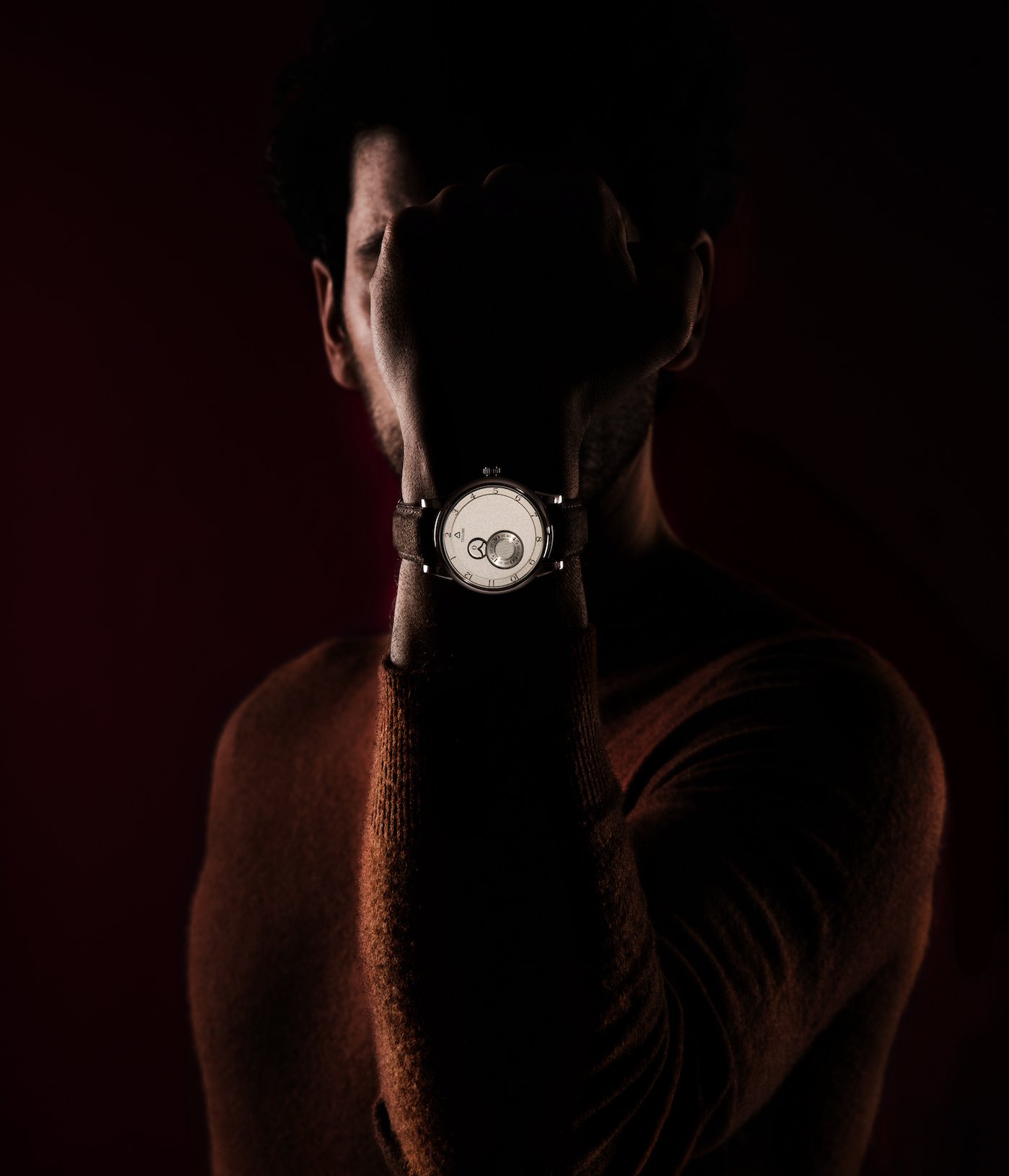 TECHNICAL SPECIFICATIONS
Movement Self-winding integrated mechanical calibre with micro-rotor, 48 hours of power reserve.
Functions Hours, minutes, seconds subdial displayed by rotating rings and fixed indicators.
Patent A display concept composed of three devices representing the hours, minutes and seconds located on the same plane as the dial.
Case dimension Thickness: 9.2mm Diameter: 40.5mm
Case 316L stainless steel 7-pieces case Mirror-polished surfaces alternating with satin-brushed treatments Brought lugs. Domed bezel with sapphire crystal and double anti-reflective treatment Sapphire back Water-resistance tested to 5 bars (approximately 50 meters)
Strap Leather with a pin buckle.
Price: 8,300€ with French VAT
Price Secret Edition: 10,500€ with French VAT