R
ed usually means stop, but in the case of the latest Panova model by the Glashütte-based family company Mühle-Glashütte, the Panova Rot, it means go, go, go! In addition to its existing blue, green and grey designs, this watch is now also available with a red face. Red is one of those colours that simply never go out of fashion, and in summer 2021, it's time for red and its various shades to return to the forefront in the world of fashion.
To embrace this trend without dressing in red from head to toe, watch-lovers can now add a touch of vibrant red to their wrists with this elegant new accessory. With its stunning red face, the new Panova adds a splash of colour that packs a punch and provides a perfect finishing touch for every outfit. And if that wasn't enough, the eye-catching face of the Panova also features a finely grained finish that causes its bold red colour to vary depending on the light, changing from a dark shade to a lighter shade.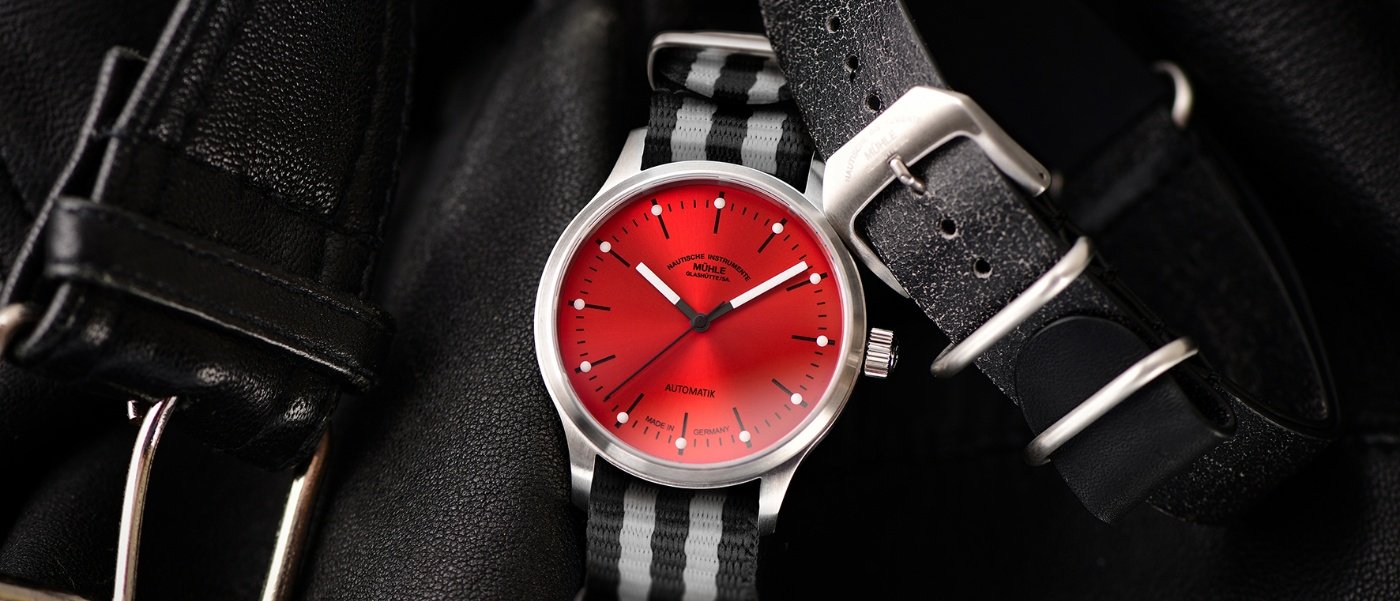 The new face colour is complemented by a selection of two straps that can be easily changed in a matter of seconds and fit all existing models. As a result, the Panova family now offers a world of combination options to suit even the choosiest of wearers. For a sporty approach to life, the textile strap in black with a grey stripe down the middle is not only practical but also perfectly complements the black indices and brushed stainless steel case of the Panova Rot. Its sophisticated alternative is a black leather strap with a napped surface finish.
The case itself is water-resistant up to 10 bars and features a scratch-resistant sapphire crystal and a screw-in crown, thus providing reliable protection for the watch's precise automatic movement. As in other models, the SW 200-1 Mühle version movement inside the case continues to excel thanks to its efficient Mühle rotor and particularly shockproof woodpecker neck regulation.
These impressive components allow it to be regulated in six different positions and set to ensure accuracy values of between 0 and a maximum of +8 seconds per day. This precision target forms the heart of Mühle's own regulation standards, which comply with the German chronometer standard, and helps to ensure that the watch never runs slow. After all, no wearer of a Mühle watch should ever be too late because of their time measuring instrument.
At first glance, the Panova Rot is a fantastic embellishment for every wrist that is not only stunning on the outside but also a fully functional and reliable timepiece on the inside. Opting to wear this new red model is an impressive declaration of commitment to the important things in life and following the right path into the future. And what could be more fitting than the meaning behind the name "Panova": a combination of "panorama" representing far-sightedness and perspective and "via" standing for its wearer's journey through life.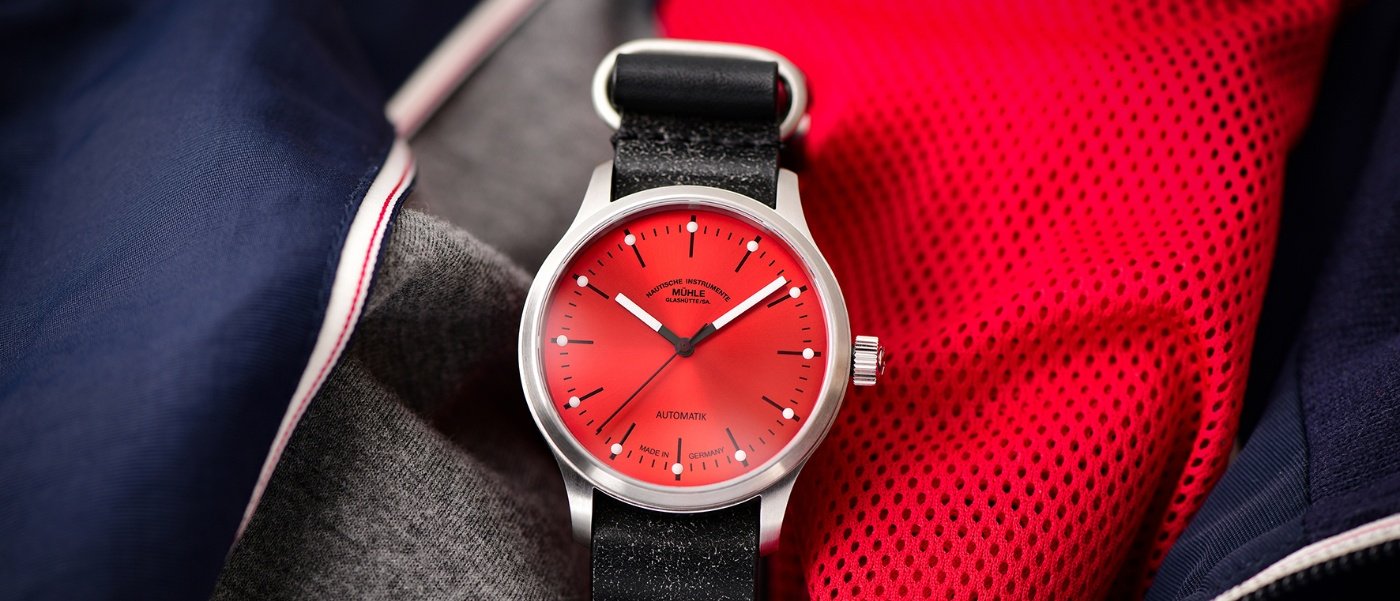 TECHNICAL SPECIFICATIONS
Movement: SW 200-1, automatic; Mühle version with patented woodpecker neck regulation, own rotor and characteristic surface finishes. Stop-second. 38-hr power reserve.
Case: Brushed stainless steel. Anti-glare sapphire crystal. Screw-in crown. Ø 40.0 mm; H 10.4 mm. Water-resistant to 10 bars. Textile or leather strap with a stainless steel pin buckle.
Dial: Red. Hour markers and hands coated in Super LumiNova