N
ot going with the flow, not giving into temptation, protecting its DNA: for almost ten years now, Mauron Musy has been a rare horological breed – and a jealously-guarded secret among collectors. It's the only fully independent manufacture to have made the watch exterior complication its own, universally-acclaimed speciality.
This barely needs further introduction. Describing it is as simple as its workings are complex: no fewer than 36 components, including assembly flanges and satellite compression springs, keep the case perfectly waterproof – without a seal. The traditional waterproofing O-ring has been consigned to the past (or at least to a museum or cabinet of curiosities); Mauron Musy's Armure model is watertight to depths of 300 metres without the need for any seal at all.
Previously, the workings of this ingenious piece of mechanical prowess could be glimpsed through the sapphire caseback of the brand's creations. That was a good start, but didn't go far enough, according to some collectors.
That's because in addition to having its own waterproofing complication, Mauron Musy boasts its own movement, not to be sneezed at either: it's wholly proprietary, made entirely in Switzerland – and entirely within a 60-kilometre radius of the brand's workshops. Aficionados of 'Ultra Swissness' and admirers of beautiful mechanisms were keen to enjoy a better view. The result? The Skeleton Armure, Mauron Musy's first ever skeletonised watch.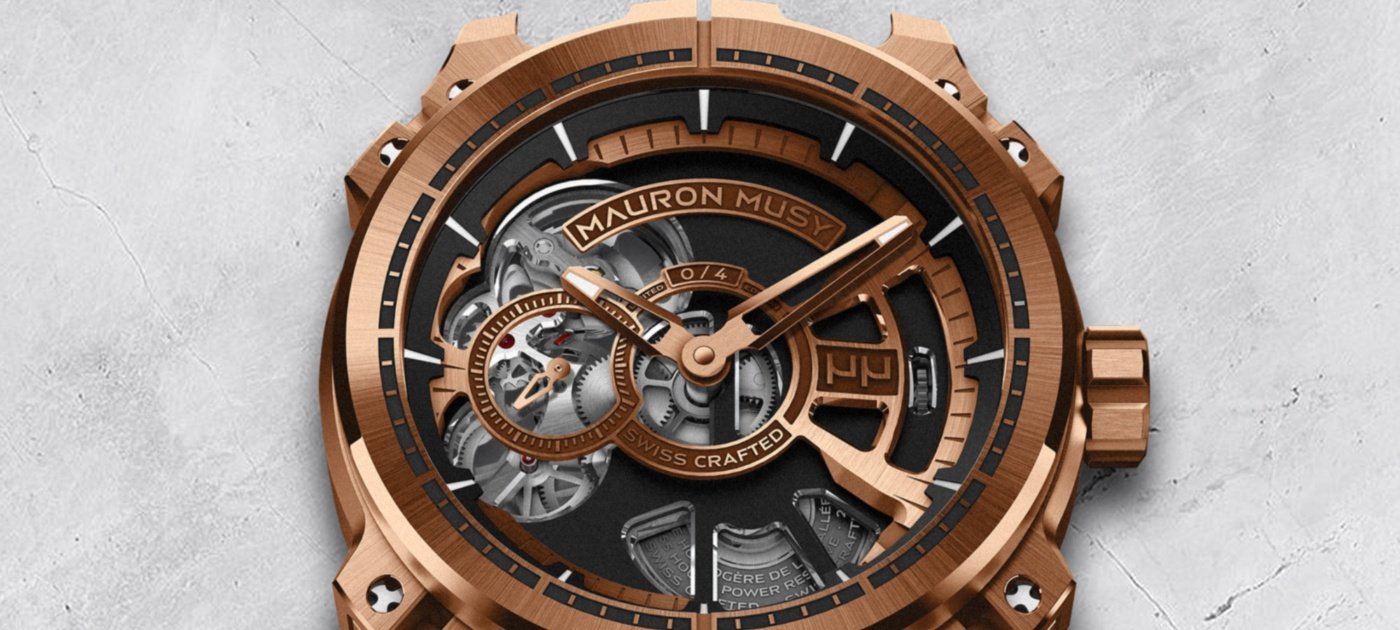 As one might expect, the brand has paid scant heed to convention. The Skeleton Armure MU05 boasts four successive levels of dials, formed by a bezel, a flange, and two levels of dials with different treatments: one in NAC platinum alloy, the other in titanium or gold, depending on the model.
To highlight this deep dive into the heart of the MM01-SK movement, Mauron Musy has decorated the latter with an abundance of relief engravings: the minute circle, the individual serial number, the brand's emblem, and its own mantra: 'Swiss Crafted'. Each surface features its own specific finish – polished, satin, angled, sunburst, or frosted. Every single ray of light and reflection captured within the timepiece's 44-millimetre diameter is harnessed to maximum effect.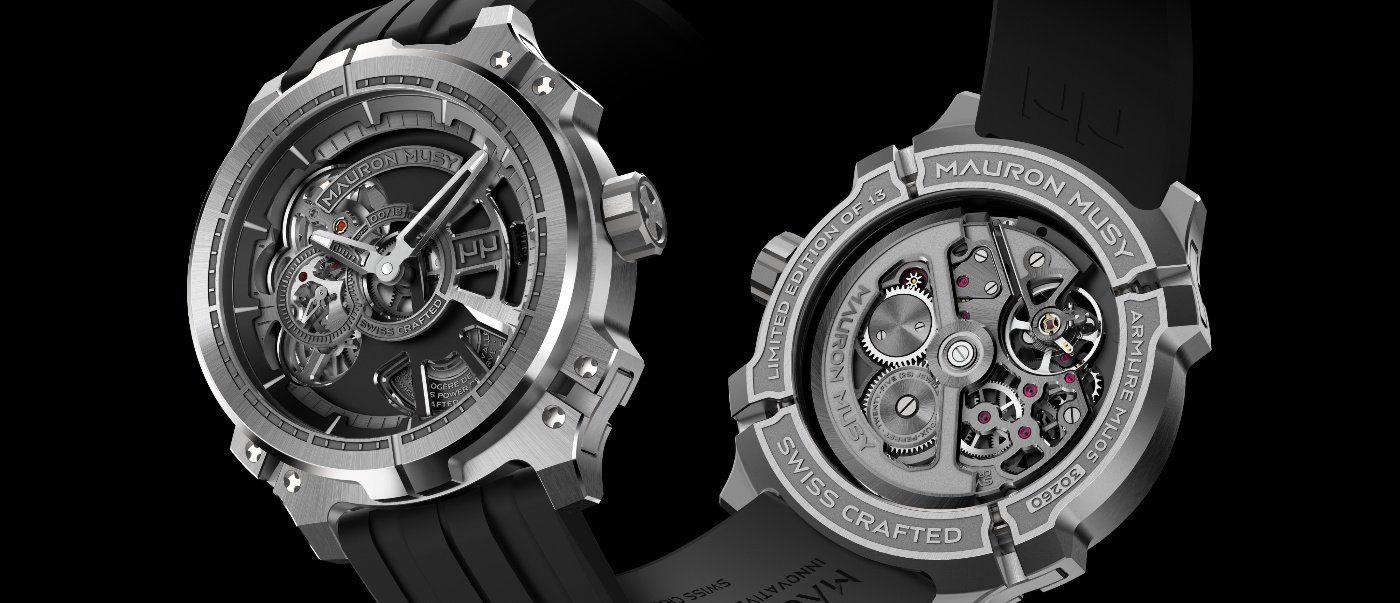 In the centre of this dial arrangement, Mauron Musy has pierced a few holes, in carefully selected locations. The aim is to reveal certain key components of the MM01-SK caliber – but not all of them.
"We wanted to show off part of our mechanical identity, whilst keeping the watch perfectly readable," explains brand co-founder and CEO, Christophe Musy. "Too many skeleton watches fall into the trap of baring too much, resulting in so much detail on the dial that it's impossible to see the hands properly. We were aiming for a different result! We've opened up the dial just enough to reveal the vital components of our caliber: the escapement, barrel, and hour and minute pinion."
Being able to see the caliber and discern the beat of the escapement without losing anything in terms of readability is what gives the Skeleton MU05 such a subtle balance of technical detail and aesthetic charm. In response to requests from its collectors, notably in Japan, Dubai, and Switzerland, Mauron Musy has unveiled just thirteen of these Skeleton Armure MU05 watches in titanium.
Scarcely had they been made available for sale than eleven of the thirteen had already found a buyer – clear evidence of market demand. At the same time, on request only, Mauron Musy offers a 'hard gold' model featuring gold specially treated to make it more resistant to bumps and scratches. And in response to all this enthusiasm, the brand is already planning to write another episode in its skeleton watch series – perhaps even starring another caliber.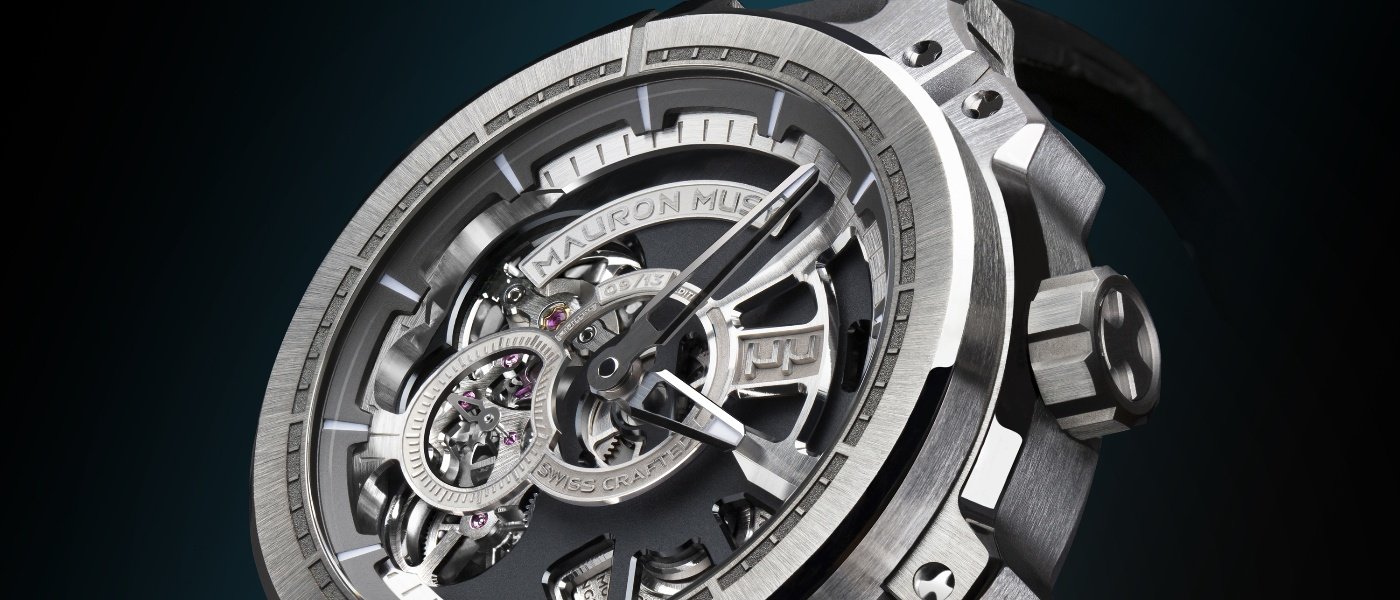 TECHNICAL SPECIFICATIONS
Movement • Exclusive self-winding Calibre MM01-SK • 33 mm in diameter • 6.55 mm thick • 25 jewels • Frequency of 28,800 vph (4 Hz) • 55-hour power reserve • 167 components • Polished steel Swiss lever escapement
Functions • Central displays of the hours and minutes • Small seconds at 9 o'clock
Finishing and decoration • Snailed and hollowed bridges with microblasted structure, anthracite NAC coating • Diamond-polished angles • Microblasted mainplate, anthracite NAC coating • Sunburst and nickel-plated pallet bridge • Rhodium-plated and circular satin-brushed gear wheels • Steel screws with polished heads • Snailed tungsten oscillating weight with anthracite NAC coating
Case • Grade 5 Titanium, engraved • 44 mm in diameter x 13 mm thick • 36 components • Glareproofed sapphire crystal and back • nO-Ring® mechanical water-tightness to 300 m (30 ATM)
Dial • Luminescent-tipped diamond-polished hands • Dial in 6 parts, machined in full, NAC and Rhodium-plated • Diamond-polished angles • Full 3D laser engraving • Stamped with the serial number on 13
Strap • Delivered with two leather and rubber straps enabling tool-free interchangeability • Folding clasp in grade 5 titanium and stainless steel
Specific features • Limited to 13 • Stamped with the "Swiss Crafted" inscription (meaning 100% made in Switzerland) • nO-Ring® technology by MAURON MUSY • Five-year guarantee