T
he name of Poljot-International's latest timepiece comes from the famous Bolshoi theater in Moscow. The brand wanted to design an equally unique watch for its collection. However, it is not easy to design a good square watch - and a skeletonized watch in square shape is twice as complicated.
To perfect the design of the watch, designers worked on some important aspects: a case that is modern and square on one side, and includes traditional details on the other. That's why the square shape was slightly rounded at the corners and the case is still very flat, despite the use of a mechanical movement.
It is currently the flattest watch in the entire collection of the brand. The case size is 38.5 x 38.5mm, which is unique to the Poljot-International lines. A little bit vintage, a little bit traditional. The surface appearance of the cases was also a big issue. First the case was polished, then only the bezel was polished, and in the end it was decided to only do small polishing work on the side of the case. The caseback is open to see the beauty of the movement.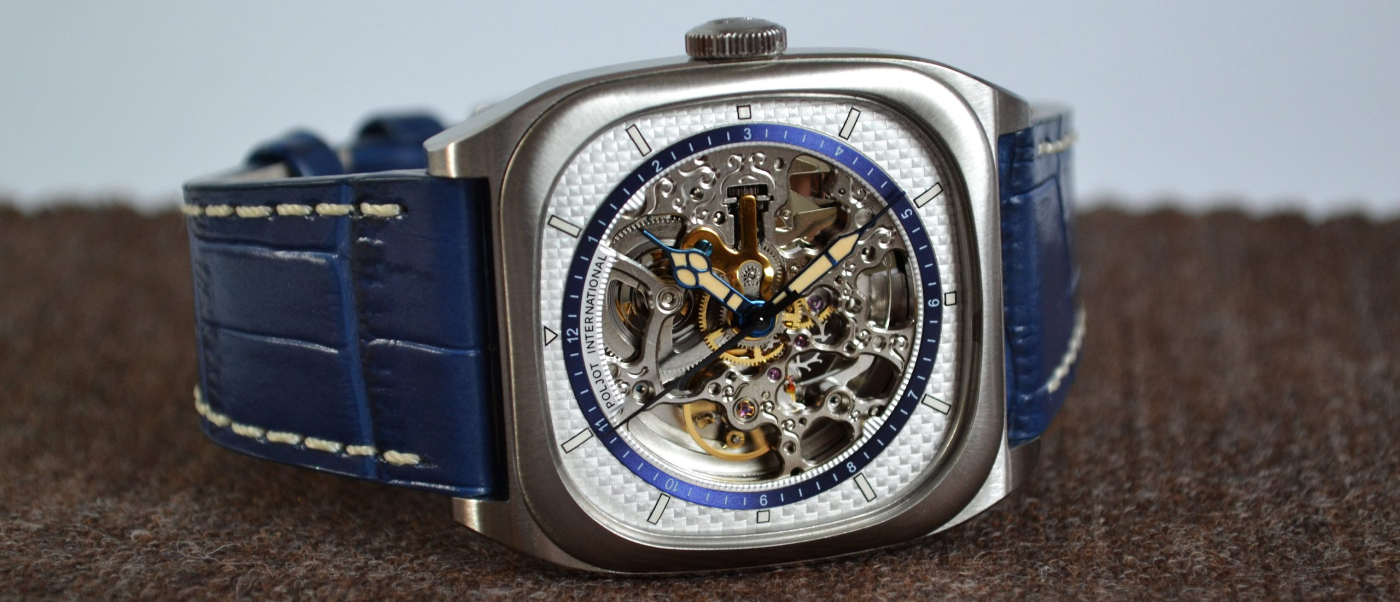 The crown is embossed with the symbol of Poljot-International. The background of the crown is finely cut out so that the symbol of the basilica is clearly and beautifully visible. A small but very important detail.
The dials also play a big role. Some of them are skeletonized, others are not. A special feature is a dial with 12 Arabic numerals, which has an incomparable vintage look. Colorwise, there is something for everyone.
The bracelets were also worked on for a very long time with a new supplier. In addition, a new metal bracelet was developed for this model series.
A special skeleton is used for the movement. It is much thinner, only 3.70mm high and has larger clearances in the bridges. The movement was made by a small, fine manufacture in China and was reworked by Poljot-International and adjusted and adapted in Germany.
In total, the new Bolshoi collection includes 18 different models. They embody the spirit and philosophy of Poljot-International.