H
orage's goal with its Supersede model was to deliver the newest Swiss manufacture micro-rotor in a thin, all-terrain GMT. The brand was looking to conceive a timepiece meeting the following criteria: 10mm or less in thickness; 100-200 meters water resistance; 12/24 hour true GMT with day/night indicator; 70+ hours of power reserve; micro-rotor; and silicon escapement.
While there are other watchmakers that make a GMT under 10mm, Horage could not find one that went beyond 100 meters of water resistance, had sufficient power reserve or made use of a micro-rotor calibre with silicon escapement. A recreational diver rarely exceeds 30 meters in depth, therefore 100 meters is more than sufficient and the baseline water resistance of Supersede. Horage's advanced team of engineers look to go a step further and push the material construction boundaries of Supersede to 200 meters.
This was the task at hand for the Supersede's development. It will be the first microrotor from an independent watchmaker delivering a silicon hairspring after patents expire on November 25th next year. Horage has been working independently from the three Swiss suppliers for the better part of a decade on silicon technology and will finally be shipping a silicon escapement, inclusive of silicon hairspring, escape wheel and anchor.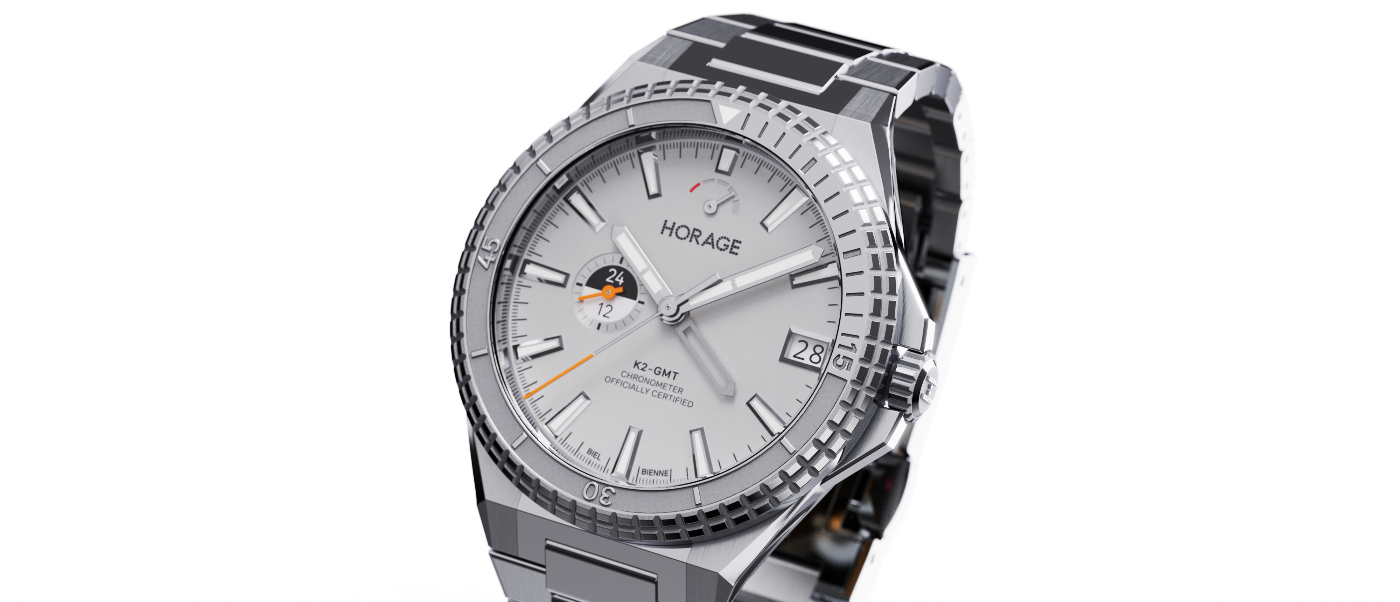 For two years Horage has been invested in the design of the Supersede itself. Such a special platform deserved a design as unique as the calibre. Although based in Biel/Bienne, Horage is a mix of Swiss and expats alike and the goal was to blend cultures to create a new Swiss look. After working on the bridge design for the K2 Calibre, Thomas Funder together with Horage founder Tzuyu Huang would carry on with design of Supresede.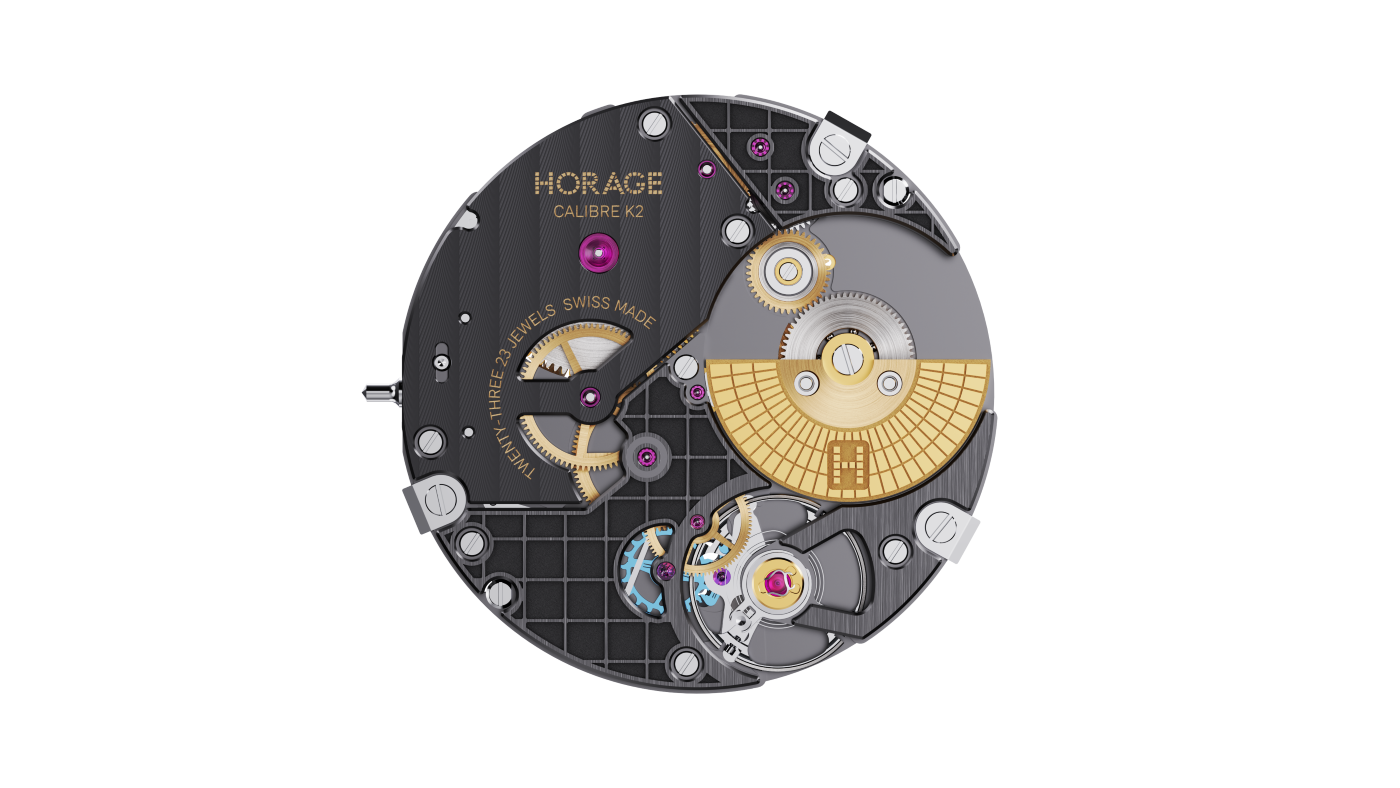 Thomas's inspiration for Supersede stemmed from light and how it reflects off the surface of water. The highly polished unidirectional bezel embodies this look and feel. Thomas played with brushed and polished surfaces to further achieve a feeling of lightness in an already low profile, lightweight watch. To achieve the best polished look Horage utilizes 904L stainless steel a steel that has become a standard metal in their collection.
Keeping the crown in check are the crown guards that continue with brushed and polished surfaces alike. The continuation of the surface finishes flow from the lugs into the bracelet, a bracelet that will allow Horage's community to vote for polished or brushed centre links. The bracelet can easily be changed out to a rubber strap that Horage will announce prior to the pre-order going live. On the case back side Horage will provide the same quality 5-layer antireflective sapphire crystal as on the dial side to ensure the clearest view to the K2 calibre.
The dial was highly complex. Starting with the functions, Tzuyu has placed the calendar at 3 o'clock, day/night sub-dial at 9 o'clock and embossed power reserve indicator at 12 o'clock. Next the focus was on finding the applique to create a visual continuation from case to bezel and through to the hands, thus making time reading easy and fluid. Facet cut appliques at hour marks filled with Grade A Swiss Super LumiNova® and seconds track provide breathing room for the functions and hands to stand on their own.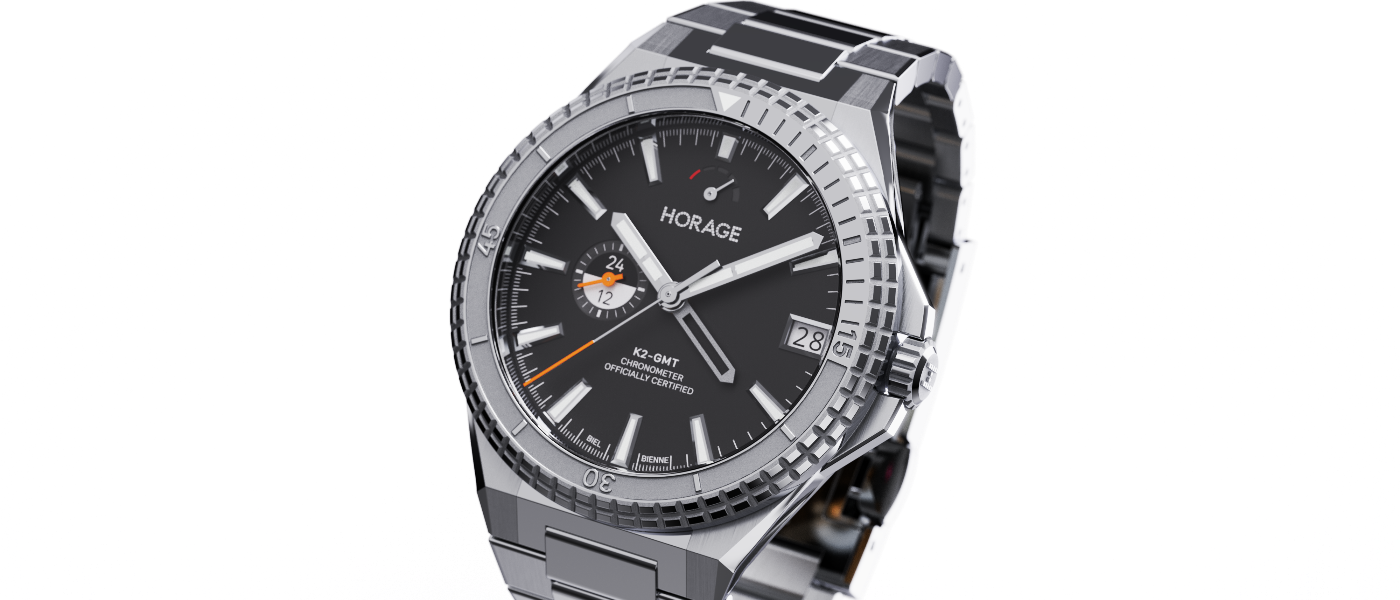 A near final piece of the dial puzzle are the hands as they are akin to the eyes of the watch. Correct proportion and placement have involved months of iterations. The result was diamond cut centre hour, minute, seconds and GMT hand. The hour and minute hand are hand polished and filled with Grade A Swiss Super LumiNova®. The long seconds hand elegantly reaches the seconds track and its orange colour is matched by the Day/Night 24-hour indicator on the sub-dial. Both the orange sections of these hands are finished in X1 Swiss Super LumiNova®.
The home hand is an open design. It easily hides itself behind the local hour hand when one is not traveling or tracking another time zone. The local hour hand position is mimed by the Day/Night 24-hour sub-dial.
Horage has selected six different colours presented on a matte dial surface. 12:00 (White), 24:00 (Black), Jet Stream (Grey), Boreal (Green), Atoll (Light Blue) and Transatlantic (Dark Blue) are all options available for the community to vote on. The top three colours will be available for final pre-order. Between centre and 12 o'clock "Horage" is printed on the dial and just south of centre is "K2 – GMT Chronometer Certified". Nestled in the seconds track at 6 o'clock is "Biel/Bienne" a direct reference to the dual named watchmaking city of Switzerland that Horage calls home.
Supersede, as with all Horage projects, relies on community involvement. Certification comes at a cost to brands and therefore it needs to be considered in the price. Additionally, the entire process can add a substantial amount of time to a product's delivery timeline. Horage is giving its community the opportunity to vote on chronometer certification. In order to keep the pricing of Supersede fair, Horage is also opening the colour selection to a vote. The top three colours will be placed in the pre-orders and available for production.