A
s an expression of ArtyA's horological grammar, the Purity Tourbillon displays a technical inventiveness that combines a maverick style with visual clarity. A beautifully balanced architectural ensemble, the manually wound caliber features an over-sized flying tourbillon with a diameter of 17 mm which is at least 50% larger than most existing tourbillons.
Since the ArtyA Purity tourbillon beats at a rate of 4 HZ, extraordinary accuracy and greater stability are achieved through a much higher frequency than many other high-end Swiss tourbillons (usually 2 or 3HZ).
Equipped with a power-reserve of 70 hours, the two barrels connected in parallel, fuel the movement that operates the central hour and minute functions while the indication of the seconds is elegantly displayed on the flying tourbillon that rotates 360 degrees in 60 seconds.
Mounting the barrels in parallel reduces the thickness of the spring for more stable torque. But also improves the delta of the barrel spring curve, with an ideal ratio between power reserve, performance and regularity.
ArtyA has chosen to manufacture this timepiece with a free-sprung balance with variable inertia. This type of balance wheel represents the ultimate in innovation. It guarantees greater reliability when subjected to shocks and during movement assembly or disassembly, hence better chronometric results over time.
Fully transparent, the sapphire crystal case has nothing to hide and plenty to show. This quest for transparency takes to the extremes the skeletonizing of the movement and enhances the astonishing beauty of its intricate spirit. Each part of the movement is delicately bevelled and polished by hand.
The skeletonised bridges were subjected to intensive and complete validation tests to optimise their resistance capacities. From the very start, Yvan Arpa aimed at a design that could fully exploit the luminescent potentials of the laboratory-created corundum, a sapphire-like gem sharing its many unique qualities, both physical and spiritual.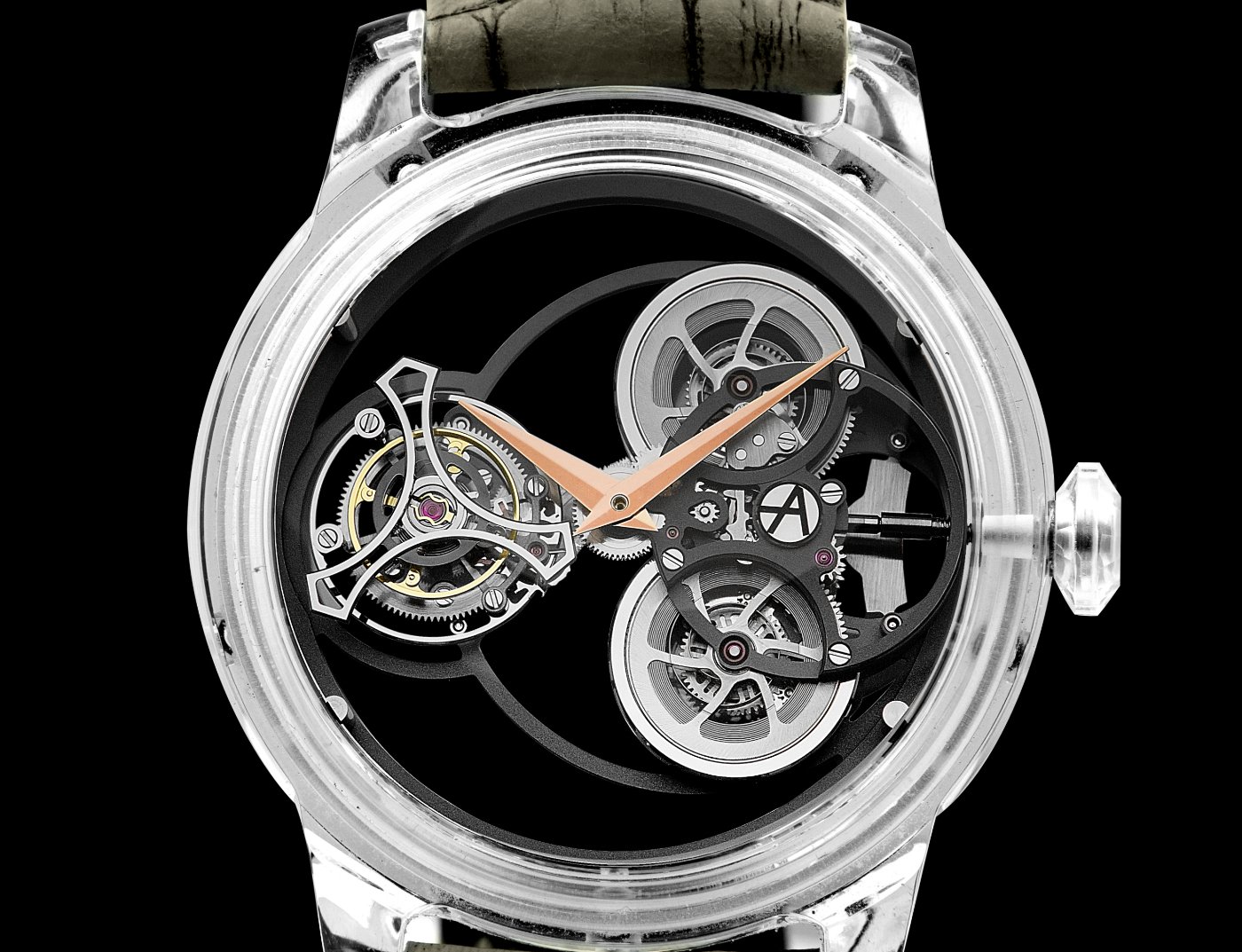 Physically, the case is stubbornly scratchproof because of the remarkable hardness of sapphires – 9 on the Mohs Hardness Scale (approximately 1800 Vickers, the third hardest mineral, after diamond at 10 and moissanite at 9.5).
This also explains why it is such an arduous and costly endeavor to create a full sapphire case to match the high standards of ArtyA.
Spiritually, sapphire is a glittering jewel in the treasure house of our cultural memories. For centuries sapphires have been seen as symbols of the heavens, guardians of innocence, bestowers of truth, and promoters of good health. They are believed to bring gifts of fulfillment, joy, prosperity, inner peace and beauty.