D
elma sent the Blue Shark III Black Edition with cave diver, photographer and explorer Klaus Thymann on a brave expedition deep into the underwater caves of the Yucatan Peninsula in Tulum, Mexico. The area hosts the world's largest underwater cave system with a network of interconnected submerged labyrinths.
Klaus ventured through passages of exposed groundwater in the jungle floor into narrow corridors of subterranean rock where he observed raw undisturbed geological surfaces created over thousands of years. The Delma Blue Shark III served as a steadfast guide and connection to life above ground.

Klaus' mission also brought him to the Laguna de Kaan Luum. While connected by intricate passages to the caves, he explored the Cenote on separate dives to experience its extraordinary properties from the surface. Known for its vibrant color, the illusive hole may be as deep as 80 meters and descending to the bottom requires not only diving expertise but immense bravery.
Despite its captivating color, the deep shaft in the center is feared for its sulfur and thermal clouds and forbidden to tourists. At 22 meters below sea level, Klaus encountered the top thermal layer and entered the sulfur cloud. The eerie green glow surrounding him was otherworldly. Klaus plunged deeper with the help of his Blue Shark III to confidently descend to nearly 70 meters and capture more of what lies within this magical place.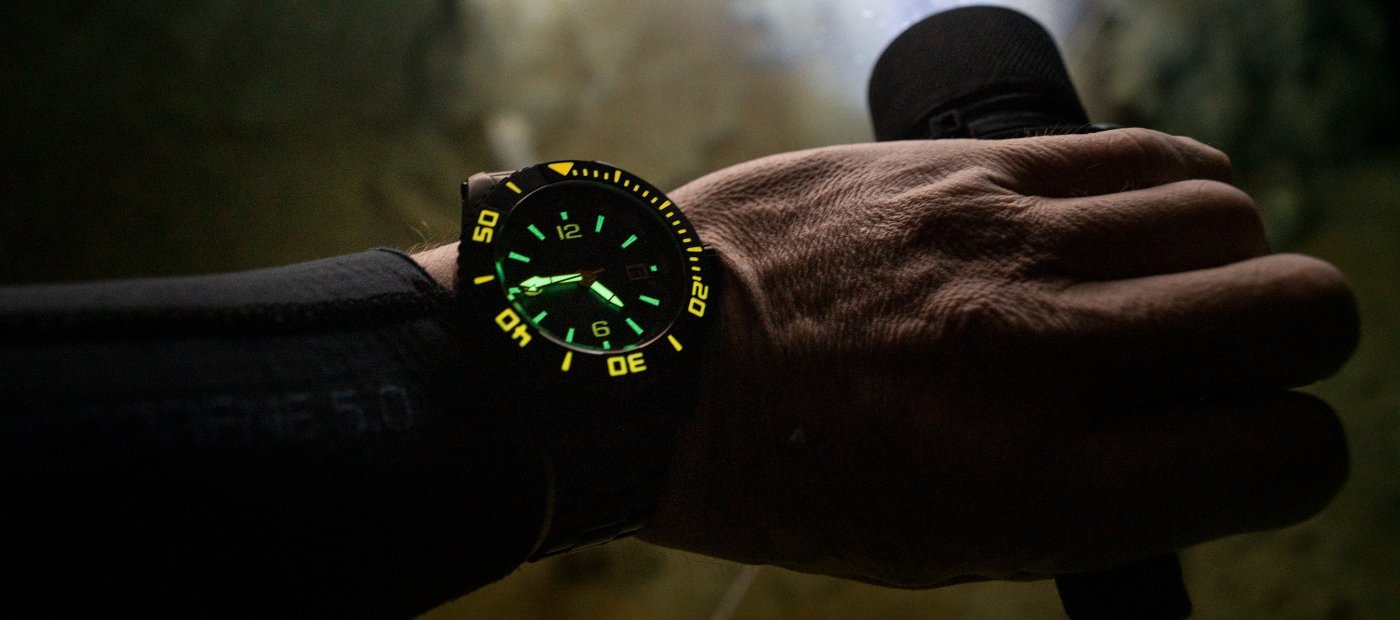 Like in all forms of diving, and perhaps even more so in cave diving, precision and awareness of time is of utmost importance. Deep within underground cave systems, Klaus was delighted by an incredible amount of sensory experiences, with new rock formations and tunnels at every turn of his headlamp, it was crucial to adhere to the dive plan, not to lose focus on timing.

"In the Caves time moves differently, so it is crucial to have a reliable divers watch. I love how the Blue Shark III looks above water but submerged in the darkness it not only looks incredible, it also feels fantastic. The luminescent hands and indices are easy to read giving me confidence to pursue unexplored territory."

Appointed with the collection's signature helium escape valve and crown protection, now with a scratch resistant black DLC coating, the robust new Blue Shark III Black Edition has virtually no limits. Essential features for professional diving including the bold luminous hands and indexes stand out from a powerful black, blue or orange dial. The black unidirectional bezel and bracelet are discreet and resilient. All three versions come with an additional black genuine rubber strap and a black DLC coated buckle with bespoke tools for interchanging the bracelets.
The new Blue Shark III Black Edition represents strength and courage quintessential to Delma's distinctive diving series. Exploring the ocean is not for the faint hearted but with the Blue Shark III Black Edition the world's mysterious and fascinating oceans await discovery.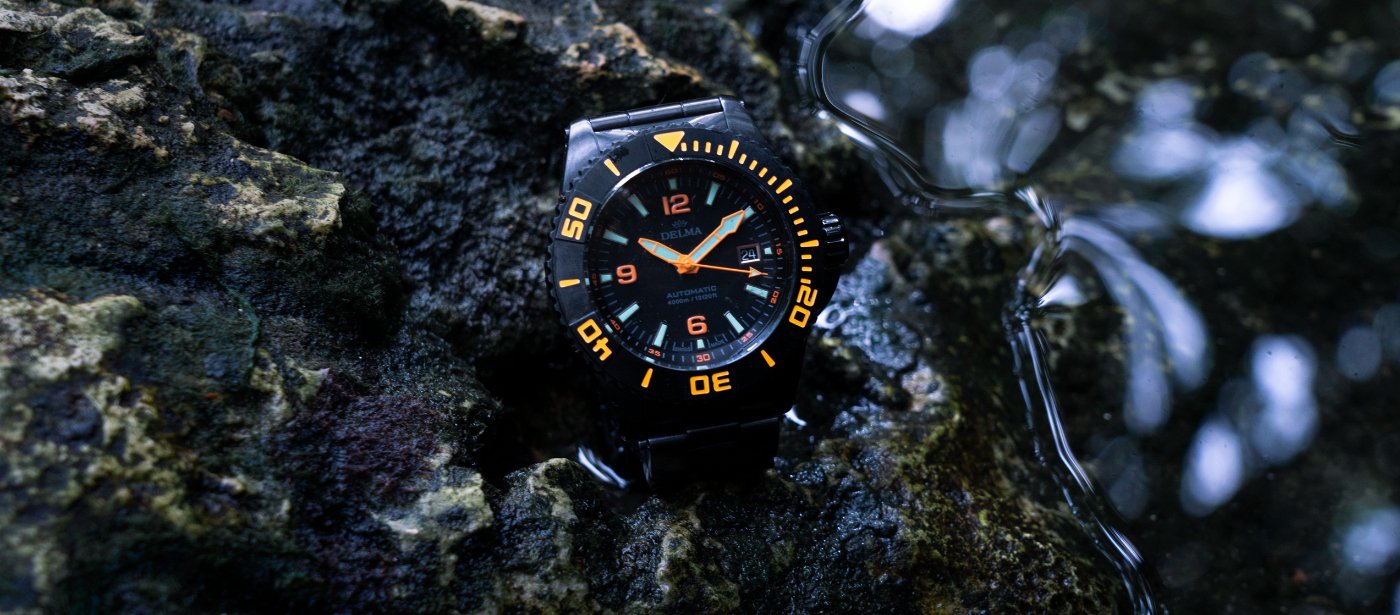 TECHNICAL SPECIFICATIONS
Essential Features
Water-resistance
Water resistant to 4000m / 13120 ft.
Tested and certified by the Swiss PST Laboratory for Product Safety Testing in Zwillikon, Canton of Zurich
Limited edition to 300 pieces
Case & Dial
47 mm diameter, 18.5 mm thick case in stainless-steel black DLC (diamond-like-carbon)
Helium escape valve at 9 o'clock
Luminescent numerals, indexes and hands
Bracelet
Scratch resistant, stainless-steel black DLC coated bracelet and a black genuine rubber strap Security screws and custom tools to enable easy and reliable adjustment of the interchangeable bracelets
Movement
SW200 automatic movement
Self-winding mechanism with ball bearing, frequency 28'800, 26 jewels, power reserve of 38 hours
Central hour, minute, seconds hands and date at 3 o'clock
Bezel
Easy to handle unidirectional rotating bezel in black DLC enables accurate and safe diving
Box
Natural wooden box refined with custom Blue Shark details and compartments for bespoke tools
Price
CHF 2390 / EUR 2490 / USD 2750