I
ntroduced in 1938, the Oris Big Crown Pointer Date has been in constant production for more than 80 years. The original had two distinctive features – an oversized crown so the watch could be operated by gloved airmen, and a central hand that pointed toa date scale around the edge of the dial. The form has become Oris's signature design, a Swiss watchmaking icon, and a byword for beautiful, functional, timeless watchmaking.
Now, the Big Crown Pointer Date is getting one of the most significant upgrades in its illustrious history. The updated 38 mm model carries Calibre 403, one of the Oris Calibre 400 Series of high-performance in-house-engineered automatics. Calibre 403 first appeared in the 250-piece Hölstein Edition 2021, but this is the first time it features in a collection piece. It provides the watch with small seconds and pointer date complications.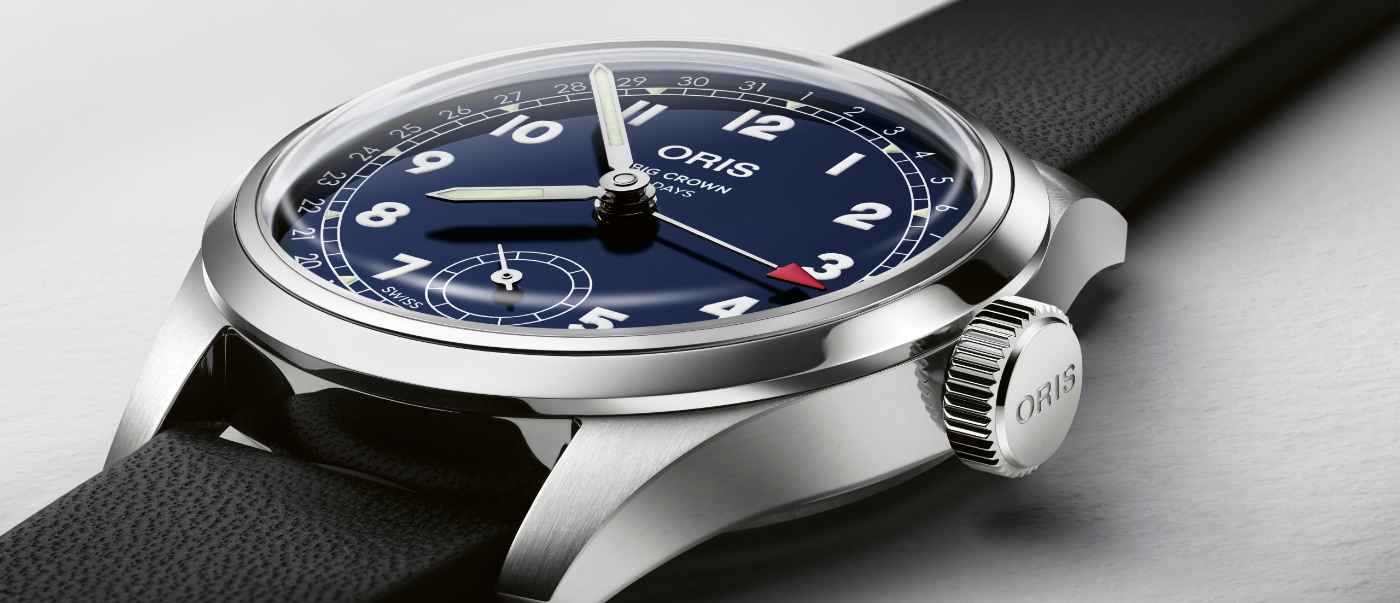 As with every movement in the Calibre 400 Series, Calibre 403 has elevated levels of anti-magnetism, a five-day power reserve and a 10-year warranty. It's also accurate to -3/+5 seconds a day – which would comfortably pass chronometer testing – and has 10-year recommended service intervals.
"People who love Oris have been asking for this," says Oris Co-CEO Rolf Studer. "It's a privilege as Oris guardians to begin this new chapter in the Big Crown story."
The story of Oris the watch and movement creator began in 1904. That was when the company was established, here in the beautiful village of Hölstein in the Waldenburg Valley. Oris is in north-west Switzerland, some way from the cradle of Swiss watchmaking. The choice of location was deliberate – and it's always helped us go our own way.
Our founders were watchmakers, but also pioneers. Their vision was to marry hand-craftsmanship and industrialised watchmaking to produce high-quality watches for the citoyen of the day. Over the next 75 years, Oris would create almost 300 mechanical movements, pushing boundaries while never losing sight of the founders' philosophy.When the hand-wound Calibre 110 was introduced in 2014, it kickstarted the new Oris Movement Creation Programme.
Since then, there have been eight further unique calibres, all engineered in-house.Our most recent belong to the Calibre 400 Series. These automatics have elevated levels of anti-magnetism, five-day power reserves and 10-year warranties. They have set the new standard for Swiss Made automatics.Those game-changing specifications were determined and delivered by our in-house teams of engineers and watchmakers, whspent five years creating the Calibre 400 Series, always with the founders' visionas their template.
The result is that every movement in the Calibre 400 Series is designed to suit the lifestyles of today's world citizens. Calibre 400 is the base automatic with three hands and a date; Calibre 401 adds a small seconds; and Calibre 403 revives Oris's signature combination of complications, a small seconds and a pointer date.
"The question of how our founders would create watches today guides us," says Rolf Studer. "Like them, we want Oris watchesto be high-performing, industrially produced and beautiful, but above all, to make sense. We call it the luxury of common sense. Our new Big Crown Pointer Date Calibre 403is the epitome of this philosophy."