S
trong, dramatic colours – and unforgettable names – have become part of the identity of the Chronoswiss limited edition regulators. The name is also part of the brand´s proud local heritage, as the rivers close to Lucerne are one of Switzerland's most important breeding grounds for the rare, piscivorous kingfisher.
The blue and orange hues on the timepiece are achieved by taking contemporary materials one step further, particularly chemical vapour deposition. The handmade guilloché dial is coated with CVD in a material combination unique to Chronoswiss. The funnelled subdials and the straight-grained bridge are also coated with CVD in the two complementary colours. Says Maik Panziera, Chronoswiss designer and master guillocheur: "With CVD the end result is more metallic in comparison with a galvanic treatment – and with CVD you have more colours to choose from."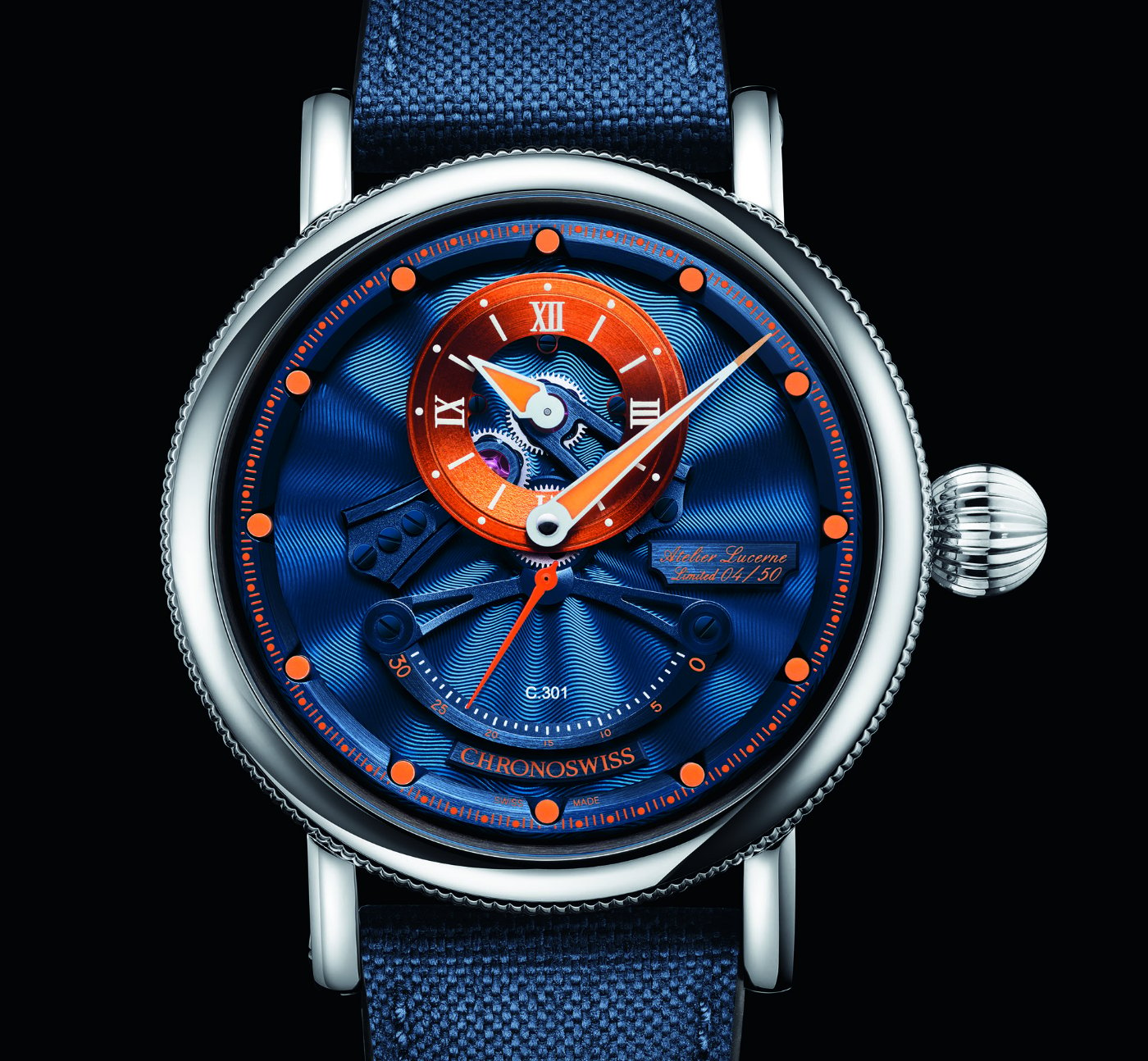 "We have researched and experimented with the combination of guilloché and CVD for years now, and it provides unique optics," Chronoswiss owner and director Oliver Ebstein adds.
The multiple-layered regulator set-up is based on the principle of a hybrid dial, doubling up as module plate holding the straight-grained bridges, screws and wheels of the automatic C.301 movement. This elaborate 42-part construction with open gears revealing the mechanics of the regulator is topped off by a 30-second retrograde display, a contemporary take on a 17th-century invention. The milky, orange-blue glowing five-minute markers reached by the cool-grey Trigono-shaped minute hand are massive pillars of Super-LumiNova mixed with zirconium oxide. As you might know, the regulator is historically known for extreme precision. So is the Kingfisher, thanks to its remarkable hunting technique of aerodynamically shaping itself like an arrow to dive into the water and capture a fish with its long beak.
The complex, hypnotising long-wave guilloché is executed by hand in the Chronoswiss atelier in Lucerne. The pattern reminiscent of the mesmerising bird spreading its wings looks easy, but is, in fact, difficult to execute. As there is only 0.275 millimetres between each line, with these long arcs you must have zero vibration in the century old machine – a challenging task performed by one of Chronoswiss' three guillocheurs.
A sturdy, marine blue Cordura strap with equally coloured exterior stitching is securely held in place with the brand's patented Autobloc screws, and an orange leather inner lining provides excellent comfort to the wearer.
Whereas most watches on the market are still black or white, Chronoswiss does what others don't do. "We want to express our passion for watchmaking and create surprising timepieces that make you go 'wow – I have never seen anything like that'. With our current and coming collections we have gone even further away from the mainstream to create what we love – and so do a growing number of collectors around the world," shares Oliver Ebstein.