W
ith the Spring Drive Caliber 9RA5 and the Hi-Beat 36000 Caliber 9SA5 launched in 2020, Grand Seiko took an important step forward in precision and overall performance. In 2021, a new Spring Drive movement, Caliber 9RA2, was made. It has the same high functionality as Caliber 9RA5 but, thanks to the repositioning of the power reserve indicator to the back of the movement and the reduction of the height of the hands above the dial, it allows a slimmer case profile.
This year, Grand Seiko introduces two watches featuring Calibers 9SA5 and 9RA2 that are made of Ever-Brilliant Steel, a type of stainless steel which is more corrosion resistant and therefore more durable than that which is commonly used in watches today. It has a brilliant white hue that enhances the beauty of the watch and is perfectly suited to the Grand Seiko Style, which was established in 1967 and whose 55th anniversary these two creations celebrate.
Both calibers deliver significant advances in performance, thanks to innovations that only a fully integrated manufacture could create. The Hi-Beat 9SA5 movement offers a power reserve of 80 hours while Caliber 9RA2 offers a power reserve of 120 hours witha precision rate of +/-10 seconds per month. Remarkably, both movements are thinner than their existing counterparts and make possible slimmer cases that are true to the design principles of the Grand Seiko Style that was established in 1967 with the celebrated 44GS.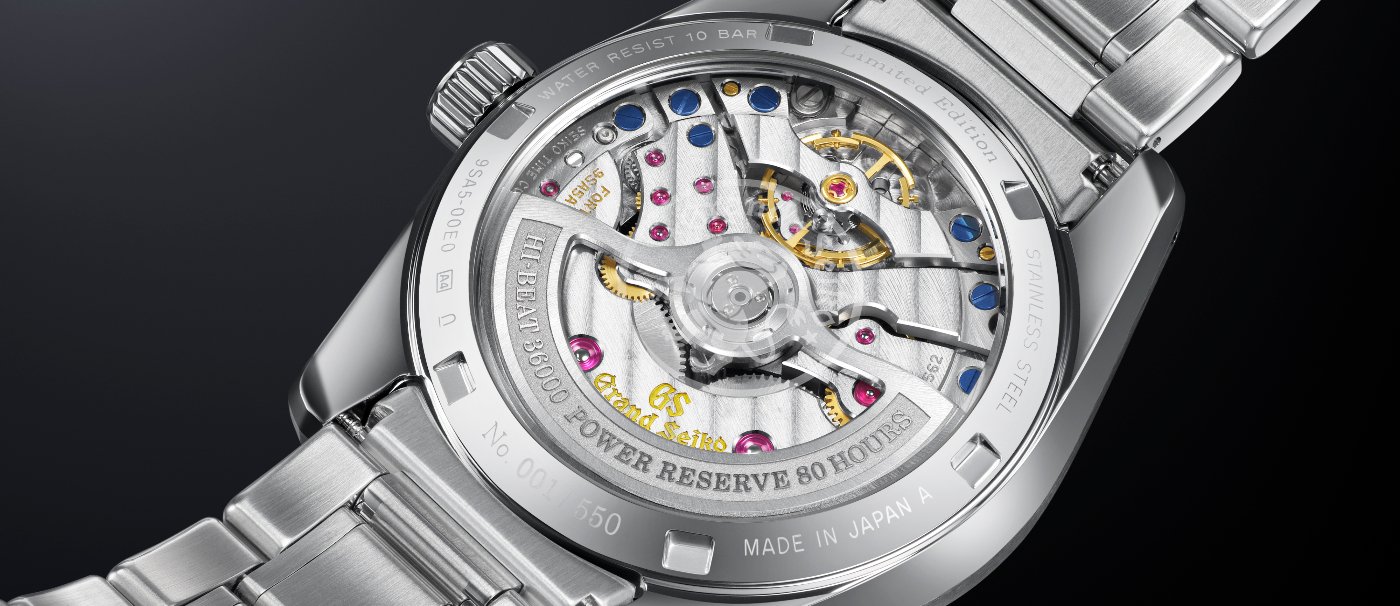 Both timepieces share the same dial design which has a depth and a texture that attract the eye and take the imagination upwards towards the sky at night. The deeply etched pattern is that of the elliptical orbit of the stars as they move across the heavens. The sharp edges of the hour and minute hands provide a pleasing contrast with the gentle curves of the dial pattern. The gold-tone seconds hand extends right across the dial and its motion captures the serene passage of celestial time. The dial of the Hi-Beat version is blue, while the Spring Drive version is in dark gray.
The see-through sapphire crystalbacks reveal the beautifully finished bridges and are clear evidence of the skilled craftsmanship of the men and women of the two studios where the watches are made and hand assembled. The Hi-Beat creation is the work of the Grand Seiko Studio Shizukuishiwhile the Shinshu Watch Studio is the home of the Spring Drive version.
Both watches are available as limited editions of 550.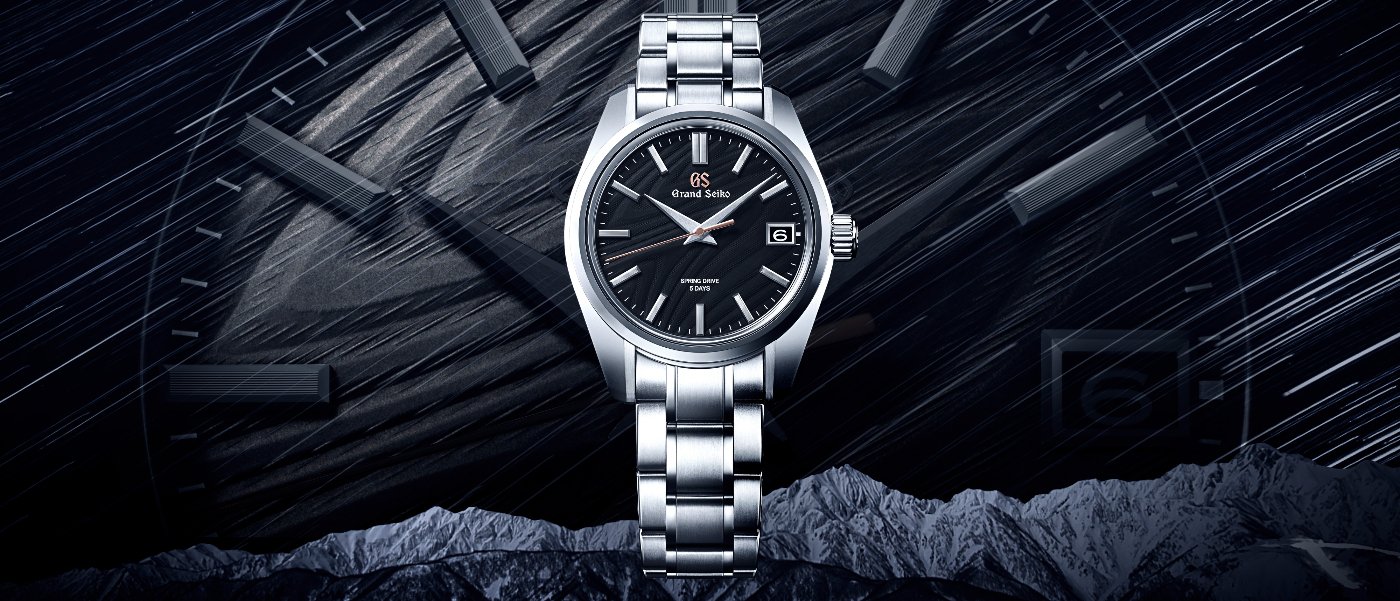 TECHNICAL SPECIFICATIONS
Mechanical Hi-Beat 36000 80 Hours Caliber 9SA5 (SLGH009)
Driving system: Automatic
Vibrations: 36,000 vibrations per hour (10 beats per second)
Accuracy (mean daily rate):+5 to -3 seconds per day
Spring Drive 5 Days Caliber 9RA2 (SLGA013)
Driving system: Automatic
Accuracy: ±0.5 seconds per day (±10 seconds per month)
Power reserve: 5 days (120 hours)
Specifications
Ever Brilliant Steel case and bracelet
Three-fold clasp with push button release
Box-shaped sapphire crystal with anti-reflective coating
See-through screw case back
Magnetic resistance: 4,800 A/m
Thickness: 12.1mm (SLGA013) / 11.7mm (SLGH009)
Approximate recommended retail prices in USD:$10,500 (SLGH009), $9,500(SLGA013)
Limited edition of 550 each