P
almiro Monti was a true innovator, not just in terms of design and marketing but in the technical field as well. The great intuition he had was to develop a technical expedient which would make reading the two chronographic counters, which up until that time were standardised on two or three dials located at 12, 3 and 9 o'clock, more logical and intuitive.
Modifying the traditional movements to answer this specification was no easy task; a modification of this import demanded enormous technical expertise and the willingness to commit a significant investment. But nothing was going to change Palmiro Monti's mind once he'd decided to carry his highly ambitious project through.
After trying for a number of years, his dream finally came true in 2001 when he patented an add-on device to the basic movement enabling four counters to be aligned in a logical and aesthetically pleasing way.
The success of Chrono 4 was immediate. Consumers understood it was revolutionary and rewarded it with commercial results that exceeded expectations, which encouraged Eberhard to offer other, highly attractive, versions of this mechanical jewel.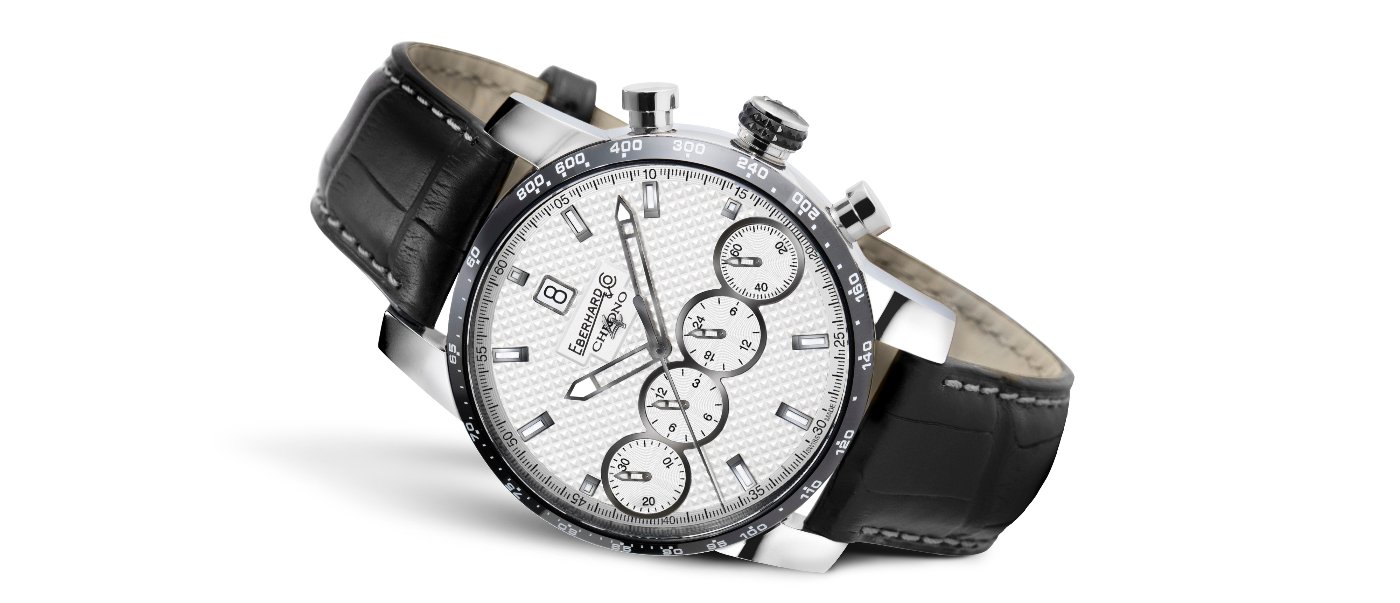 To cite just the milestone events in its evolution, we would point to the introduction of the Géant, produced in steel, titanium and full black. A watch of generous proportions, 46 mm in diameter, designed to appeal to a broad segment of clientele. The Géant was also the inspiration for the limited editions launched to commemorate the 10th anniversary of the collection.
A Chrono 4 model in a different shape was also developed, called the 'Temerario' (Fearless) to reflect the bold design and application of further ingenious devices patented by Eberhard & Co.
Over the years, many celebrities have chosen the Chrono 4 as their signature timepiece. The legendary Jackie Chan, for one, who fixed on a limited-edition Chrono 4 Temerario to celebrate his 60th birthday in 2014. World motorcycling champion Loris Capirossi has his 'own' Chrono 4, a 2008 limited edition called the CAPIREX in his honour, of which only 195 pieces were produced.
Finally, we should mention the incomparable model released by the House on the occasion of its 130-year anniversary, an "haute horlogerie" creation with a skeleton dial and an upper bridge of sapphire glass through which the DLC-treated gears are visible.
The new Chrono 4 embodies all the technical expertise developed by the House over almost 140 years of dedication to chronography, with a visual appeal in keeping with contemporary styling. The case is 42 mm in diameter, the most popular size in today's sports watches market.
The finish is polished, as is the steel bezel featured on one of the two versions, the other having a ceramic bezel and a more sporty-looking tachymeter scale. The Caliber EB. 251 is unchanged, a patented Eberhard & Co. product that has been a Chrono 4 mainstay since its introduction.
The wide selection of dials, all protected by sapphire glass cases with internal anti-reflective coating, features "Clous de Paris" processing in the central area and 'azurée' for the four counters, and ranges from an overall black, white or air-force grey appearance to contrast versions in black/white or silver/black. Straps are available in steel, rubber or alligator to suit any requirement, and can also be fitted with the exclusive Déclic folding clasp.