W
inning bronze: with its wide range of impressive highlights, the special edition of the ProMare Go, which is limited to 300 pieces, has certainly secured a spot on the podium. This robust sports watch by the independent family company Mühle-Glashütte brings together extraordinary individuality, top functionality and the finest exclusivity to reach new levels of performance.
The ProMare Go Bronze gets both its name and its individual character from its bronze case. The middle section of the case and the inlay of the bidirectional bezel are made of aluminium bronze, a freshwater and saltwater-resistant alloy that is also the material of choice for propellers in the world of shipbuilding. This not only results in a stunning appearance but additionally means that the case material fits perfectly with the nautical background of this new sports watch, the name of which is a combination of the Latin terms "pro" and "mare", which fittingly translate to "for the sea".

Another feature of this bronze case is that it forms a characteristic patina over time, which in turn protects the material underneath against seawater and other environmental influences. What's more, the final appearance of this typical patina very much depends on how the watch is worn by its owner, thus making every ProMare Go Bronze a time measuring instrument that is one of a kind. Wearers can enjoy a taste of this future patina in advance thanks to the 60-minute scale and triangular marking of the bronze inlay. These are specially treated after engraving to speed up the patina formation in these specific areas.
The visible bronze areas of the case are complemented by elements made of stainless steel in the case of contact areas such as the back of the case, the screw-in crown and the bezel. This combination of materials makes the watch extremely comfortable to wear. What's more, it also ensures the permanent functionality of its moving parts, which are cleverly designed not to bond when the bronze patina develops.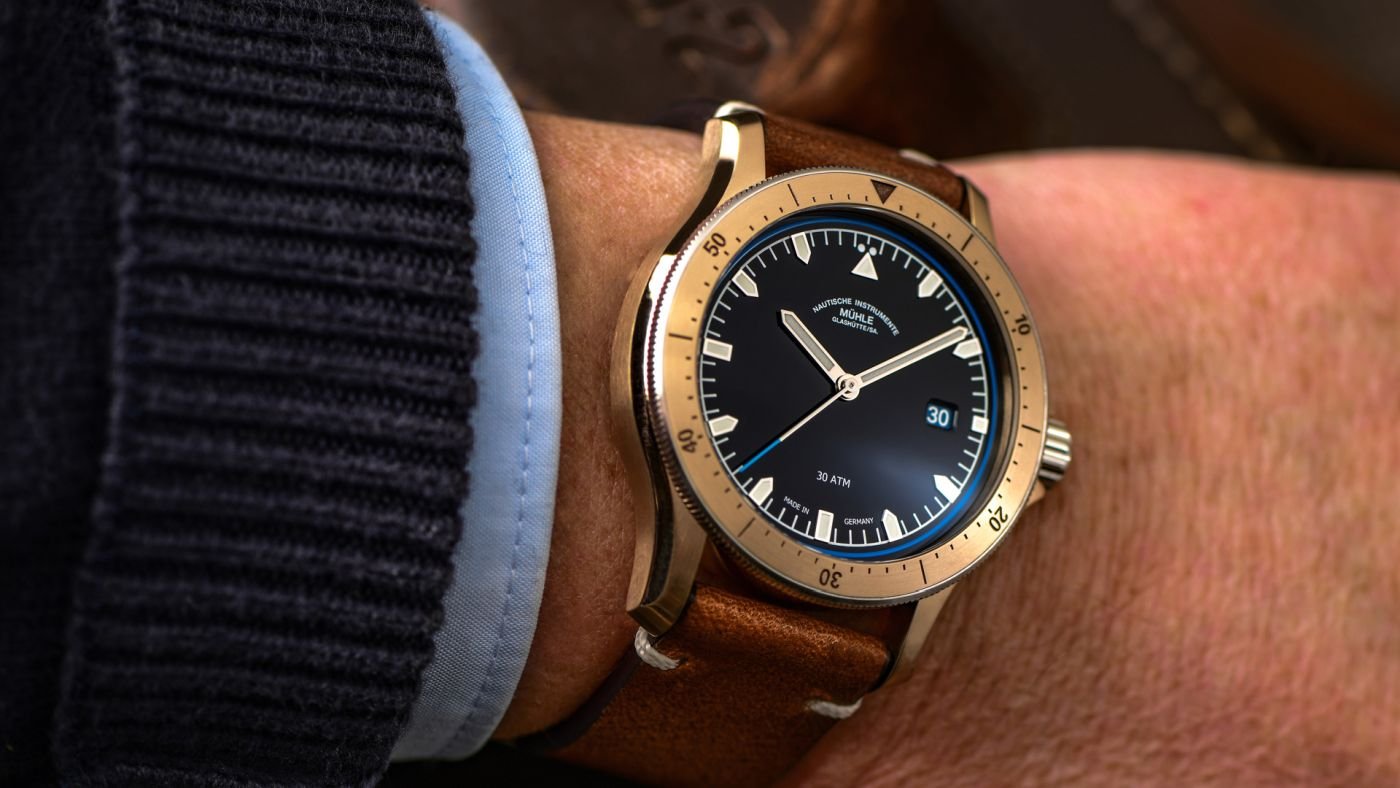 The case itself is water-resistant up to 30 bars and features a scratch-resistant sapphire crystal that is 2.5 millimetres thick, allowing the wearers of a ProMare Go Bronze to admire the deep blue face of their trophy at any time. To ensure excellent readability at all times of day and night, the face features large, sporty hands and applied indices with a generous coating of luminous material.
The powerhouse behind this bronze medal for the wrist is a track-tested SW 200-1 Mühle version movement. In line with the rules of the exclusive art of Glashütte-based watchmaking, the movement is enhanced by the finest Glashütte grained finishes and fitted with both the efficient Mühle rotor and the company's patented particularly shockproof woodpecker neck fine regulation.
These impressive components allow it to be regulated in six different positions and set to ensure accuracy values of between 0 and a maximum of +8 seconds per day. This precision target forms the heart of Mühle's own regulation standards, which comply with the German chronometer standard, and helps to ensure that the watch never runs slow. After all, Mühle-Glashütte's ultimate priority is making sure that its watches never make their wearers too late.

TECHNICAL SPECIFICATIONS
Movement: SW 200-1, automatic; Mühle version with patented woodpecker neck regulation, own rotor and characteristic surface finishes. Stop-second. Fast date correction. 41-hr power reserve.
Case: Brushed/polished bronze. Bidirectional bezel made of stainless steel with a bronze inlay. 2.5 mm-thick domed and anti-glare sapphire crystal. Stainless steel back with a transparent panel. Screw-in stainless steel crown. Ø 42.0 mm; H 12.2 mm. Water-resistant to 30 bars. Leather or leather/rubber strap with a stainless steel pin buckle.
Dial: Blue. Applied indices. Hour markers and hands coated in Super LumiNova.
Limited edition: 300 pieces
Recommended retail price: £2,700