A
wake's story began in 2019 with a challenge: to create a watch for the G7 summit that would embody France's commitment to finding solutions to ocean pollution.
This is how the brand developed the world's first watch made from recycled fishing nets, proving that it is possible to transform an environmental threat into a new and innovative resource. Gifted by President Emmanuel Macron to the world leaders, he presented it as "an example of what France wants to do in terms of sustainable innovation". Awake then opened the way to responsible manufacturing for the entire watch industry.
Today, the French brand presents a new version of AW.01, the most advanced version ever made: exclusive, ultra-light and fibreglass-reinforced Ocean Composite® material, automatic movement (for the first time in the brand's history), sapphire crystal, Swiss SuperLuminova BGW9, and an ultra-resistant natural rubber strap. This evolution of AW.01 reflects the brand's desire to push the performance of its materials even further and to explore new solutions and technologies, while placing the reduction of its carbon footprint at the heart of its philosophy.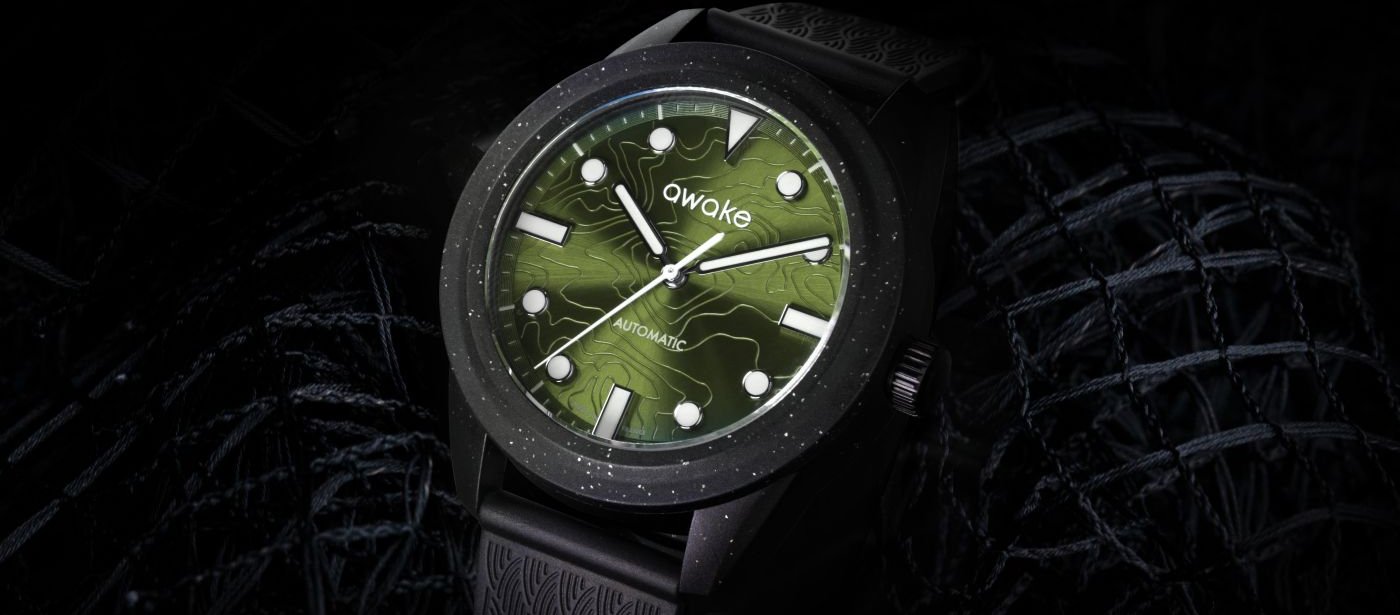 Developed in Japan and reputed to be robust and reliable, the Miyota 8N24 calibre provides a new interpretation of Awake philosophy. Animated by an exclusive rotor, it has a frequency of 21,600 alternations per hour and a power reserve of 42 hours.
Combining upcycled fishing nets and fibreglass, this case is a true signature of the brand. It results from a unique blend of two completely opposite materials. One directly sourced from the ocean and regenerated into a new and sustainable resource. The other one, renowned for its resistance, its robustness and its great lightness. This combination makes Ocean Composite® similar to carbon in its aspect and technical performance.
Ocean Composite® meets a necessary need to rethink the industry's approach to manufacturing. It is one of the first upcycling innovations introduced into the watch industry and embodies the brand's desire to develop responsible materials yet unexploited.
To mark the transition to an automatic movement, a big milestone in Awake's history, the brand decided to go back to the source of its design, by revisiting the pattern it designed in 2018 for the Origins collection.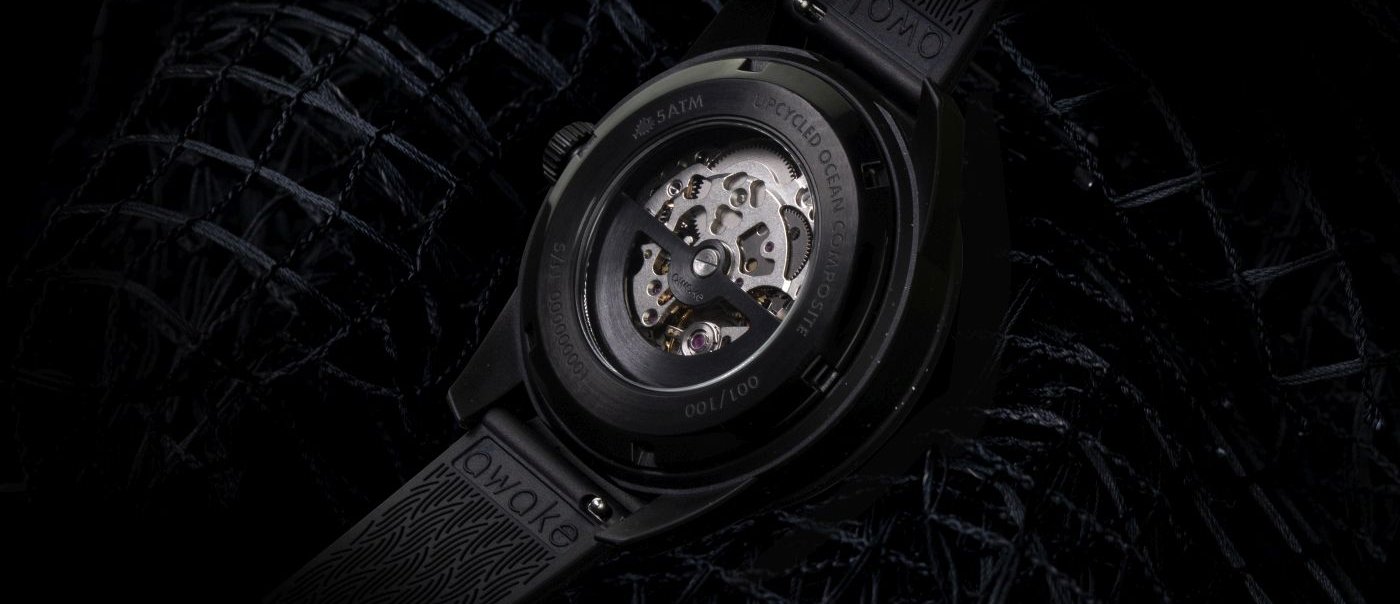 The marine cartography inlay reminds how important it is to maintain the balance of our oceans, which are the lungs of the planet. This is enhanced by a sunburst effect which brings more power and life to the dial.
Ocean DNA will be available in two versions: Atomic Blue and Atomic Green. Awake is socially and environmentally committed and assembles all its watches in France, thus reducing its carbon footprint while preserving local craftsmanship and employment. In order to guarantee optimal reliability and precision, each movement is manually adjusted in the atelier and delivered with a test certificate.
TECHNICAL SPECIFICATIONS
Case : Ocean Composite® (recycled nylon reinforced with fiberglass)
Caliber : Miyota 8N24 (42h power reserve)
Strap : Natural rubber with pin buckle
Diameter : 42mm / Thickness : 11.89mm