R
ise. Risk. Repeat: a philosophy AS Monaco abides by on the field, and one that matches with Purnell's "More Future Than Past." It is in this spirit that Purnell created a world premiere for its AS Monaco collaboration: two limited editions featuring a see-through football tourbillon crafted out of tinted crystal, putting the tourbillon inside on full display.
Unveiled in two limited editions of 11 pieces - to match the number of players on the pitch - the Purnell x AS Monaco timepiece features a completely new take on the "football tourbillon" created just a year ago by Purnell on the occasion of its partnership with France Football and the Ballon d'OrTM.
Instead of a tourbillon encased in an engraved football made of solid precious metal, this iteration shows a football made of 24 hexagons of tinted crystal (or cristal de roche in French)—12 in AS Monaco red and 12 that are transparent. Overall, the rotating football weighs only 1.12 grams, making a full rotation in 30 seconds.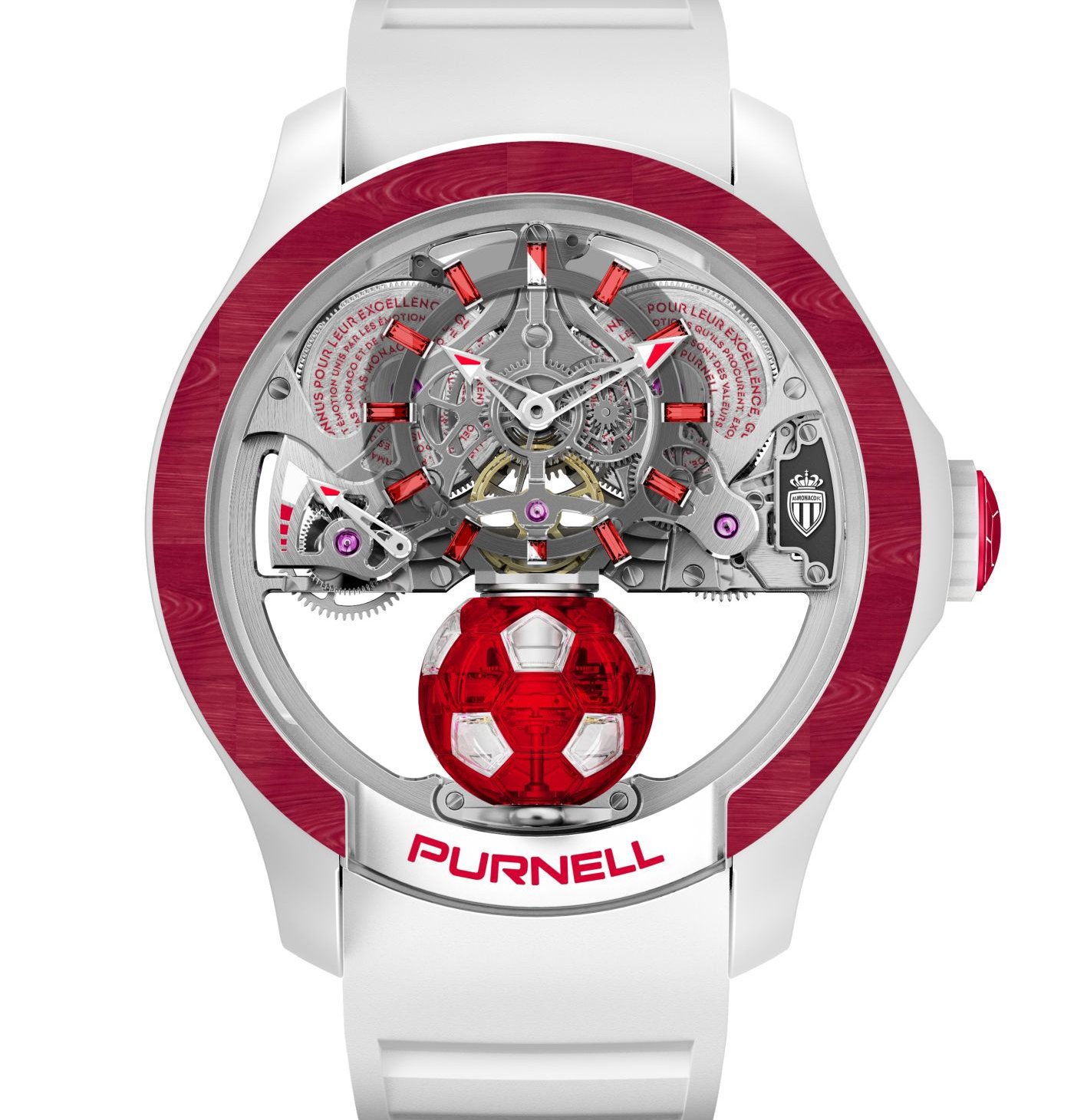 This phenomenon was achieved thanks to Purnell's association with watchmaking extraordinaire, Eric Coudray, winner of the 2012 Prix Gaïa. With Purnell, Coudray was able to devise a titanium skeleton in the shape of a football, where the watchmaker can then place the football's crystal "facets" one by one. A feat of expert craftsmanship, the result is a hypnotic interpretation of a rotating football in perpetual movement - a first in the world of watchmaking.
The cristal de roche also adorns the dial in the form of the hour indexes tinted in "Daring Red", the AS Monaco pantone. The hour indexes at 12 and 6 o'clock are bicolor, featuring the football club's legacy "La Diagonale" pattern that can also be found on the team jerseys.
The two limited editions each come in new colorways. The first sports a 48mm case in White Purnell Microfiber (WPM) with a bezel in Red Purnell Microfiber (RPM), a new case material exclusive to Purnell, while the second limited edition piece shows a more streamlined case entirely in WPM with a red tinted middle case as a nod to the association with AS Monaco. And the final touch: the AS Monaco crest, engraved on the movement bridge at 3 o'clock.
With the goal of bringing the tourbillon to the forefront of avant-garde haute horlogerie, Purnell only associates with the best in their field. The brand found a natural association with the world of AS Monaco, the official football club of the Principality. A place of renown, regard, and elegance, Purnell found a deep association with these ideals that AS Monaco represents.
In exclusivity for this partnership, Purnell and AS Monaco created two limited editions featuring the watch brand's Caliber P10 with a rotating "football tourbillon". "AS Monaco's slogan - Rise. Risk. Repeat. - matched our own will to create a timepiece that reflected both of our worlds," says Maurizio Mazzocchi, CEO of Purnell. "We decided to develop a tourbillon in a way that had never been done before: encased in a crystal football, rotating in 30 seconds. A truly spectacular form of fighting gravity." A collection available exclusively in Monaco as of July 2022.

TECHNICAL SPECIFICATIONS
Movement
Mechanical Hand Winding Caliber P10
World Premiere of Innovative Football Tourbillon, encased Red and
White "Cristal de Roche", Full Rotation in 30 seconds
Functions: Hour, Minute, and Power Reserve Indication via an
Ingenious Suspended Mobile Cone Mainspring Sensor.
Number of Components: 245
Number of Jewels: 37
Power Reserve: 50 hours
2 Barrels with 2 Visible Barrel Covers Engraved.
Balance Frequency: 3hz / 21,600bph
Torque: 32 newtons/mm
Movement Dimensions: 38 mm X 14.4 mm
Movement Weight: 9.88 grams
Adjusted: 12 Positions
Shock Protection: 8 Incabloc
Crystal Football
Titanium "skeleton" upholding the 24 crystal facets in alternating
AS Monaco "Daring Red" and Transparent colors.
Unobstructed view of the tourbillon inside, giving a full rotation in 30 seconds
Material: Red and Transparent "Cristal de Roche"; 1.12 grams
Shock Protection: 8 Incabloc
AS Monaco crest engraved and painted on bridge at 3 o'clock.
Dial & Hands
Smoked Sapphire Dial with Hand-Polished Hands, featuring Hand-Painted AS Monaco Diagonal patterns on the tips.
Dial set with Hand-Applied Red "Cristal de Roche" Indexes
Displaying Hours. Indexes at 12 and 6 o'clock featuring the AS
Monaco Diagonal pattern.
Power Reserve Indicator painted in AS Monaco "Daring Red" & "Fearless White" pantones.
Case
Material: Red Purnell Microfiber Bezel, White Purnell Microfiber Case
Dimensions: 48mm
Water Resistance: 3 atm
Number of Case Components: 15
Monobloc Sapphire Crystal
Lateral Windows on Edge of Case at 9 o'clock and 12 o'clock
Strap
Natural Rubber
White ceramic, titanium ardillon buckle