P
reviously considered as a modular weather measurement instrument ripe for conquering the stars, Space Module had evolved. After exploring the galaxy, it is now exploring time, but not only its main function has changed, its philosophy also. L'Epée's Space Module Clock is a playful animated creation, combining space exploration with the fundamental human need for connection.
The playful seesaw animation on the top of the fuselage depicts a scene of child-like innocence, an Astronaut and an Alien gleefully bouncing and spinning around, working together and having a blast. Showcasing the alien and astronaut transports us back to our childhood adventures, to those dreams of exciting exploration through space searching for exotic lifeforms. L'Epée offers three different configurations of intergalactic journeys, with the choice of traveling with our best friend, our new alien friend, or in a fast jet and UFO.
Just below the upper observation deck, underneath a large mineral glass observation dome, where astronauts and aliens play together, the time is displayed on two anodized and laser engraved cylinders. The minutes pass by quickly on the top level while the hours creep by below. But when you are playing with a seesaw on a spaceship, time really flies when you are having fun.

The clock rests on three outrigger legs perfect for setting down in soft or rocky terrain, and the body has plenty of windows and portholes for observation as you explore space. Time setting and winding are accomplished via two portholes opposite the window into the beating heart of the calibre.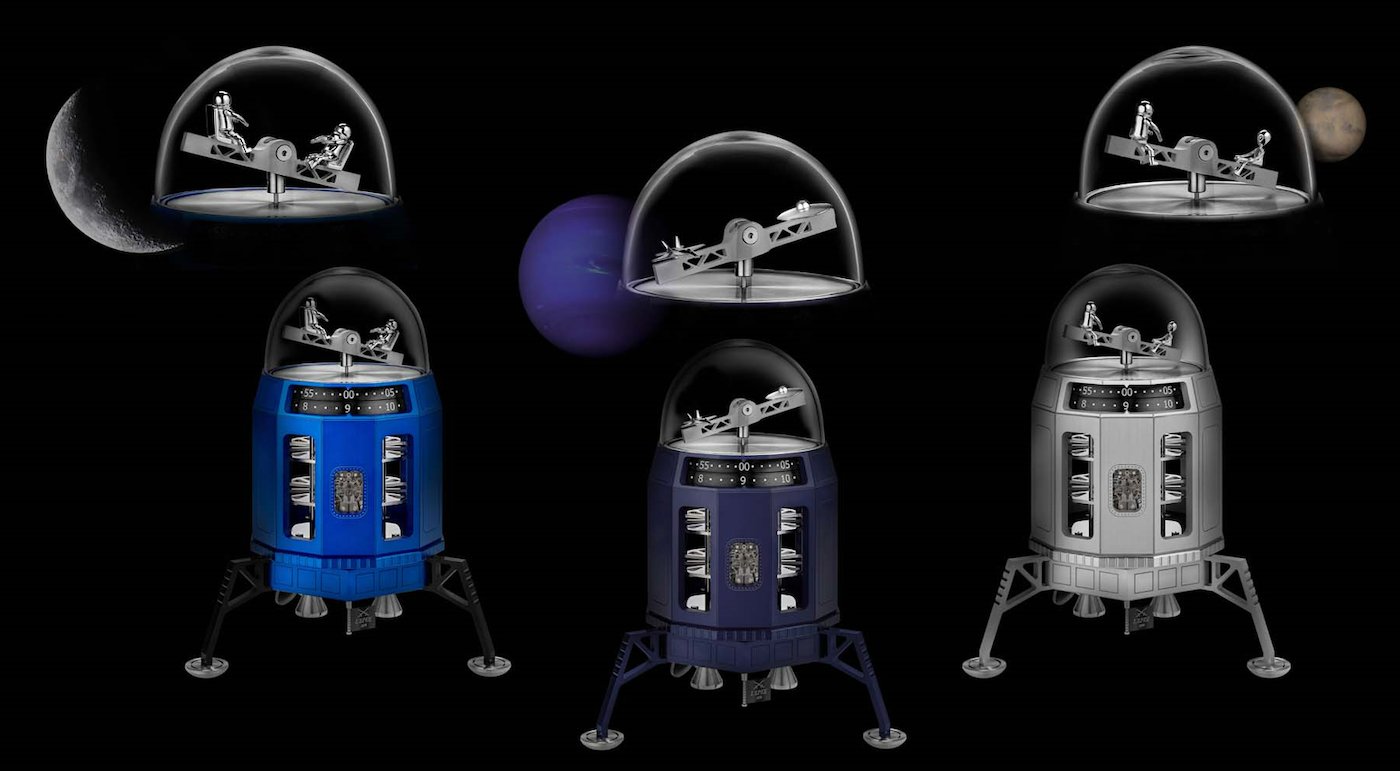 Underneath the main body are mounted three propulsion engines for manoeuvring off a new planet, an anemometer for taking measurements of the wind of any atmosphere, a satellite communications dish, and a symbol of human exploration, a flag.
TECHNICAL SPECIFICATIONS
Dimensions: 28.1 cm high x 25.7 cm diameter
Weight: 3.4 kg
Power reserve: 8 days
Balance frequency: 18,000 bph / 2.5 Hz
Jewels: 27
Total components: 364
Case material: aluminium
Movement material: palladium brass
Finishings: polishing, satin-finishing, sand-blasting
Manual winding on rear face (level 1)
Limited edition of 50 pieces per configuration