T
he Hi-Beat 36000 80 Hours SLGH005 White Birch has become an iconic timepiece for the Grand Seiko brand. Featuring the new Evolution 9 design language, the White Birch has become a favorite for watch enthusiasts of all kinds and was awarded the Men's Watch Prize at the 2021 Grand Prix d'Horlogerie de Genève.
Following in its footsteps is a new variation of that model, the SLGH017 "Night Birch." This Hi-Beat 36000 watch shares the same Evolution 9 design as the celebrated 'White Birch' SLGH005 but is presented with a black dial that captures the atmosphere of the white birch tree forests on the Hiraniwa Plateau at night. These forests cover some 400 hectares and are located near the studio in Shizukuishi where all Grand Seiko mechanical watches are crafted.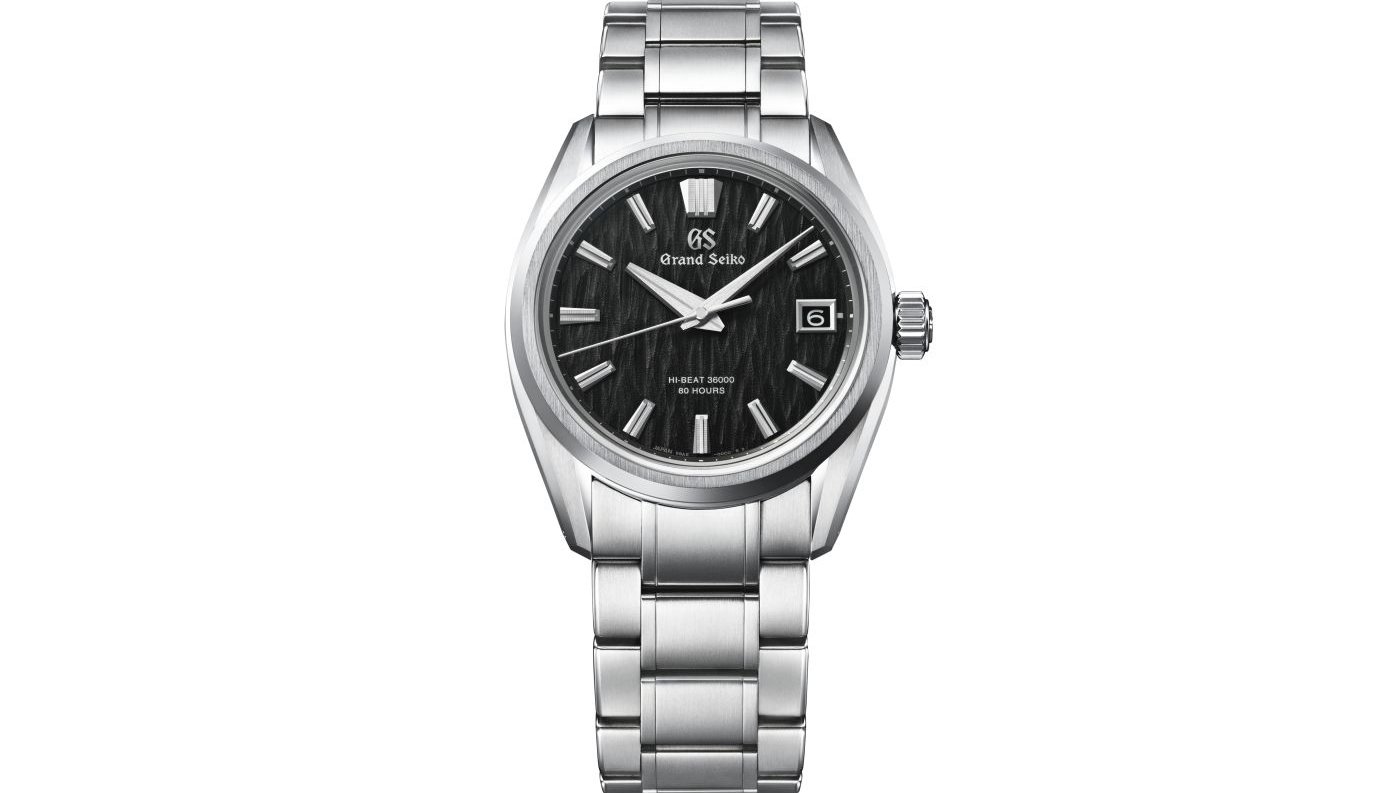 Evolution 9 is the name of Grand Seiko's new design language, first introduced with reference SLGH002 in 2020. With its complex faceted case, large hands, and prominent markers; Zaratsu-polished, distortion-free finish; and highly ergonomic proportions, Evolution 9 will be an essential part of Grand Seiko's collections for years to come.
Boasting a distinct vertical texture, the deep black, and gray dial capture the serene mood of the white birch tree forest as the moon's light cascades over the landscape. The complex dial is pressed several times to create high depth and utilizes more clear coating than found in other Grand Seiko models adding to its depth.
In addition, this is the first Birch model to be constructed out of Grand Seiko's high-intensity titanium. Often, titanium watches have a muted, gray look. This is not so with Grand Seiko's High-Intensity Titanium, which has a much brighter finish than most other grades of titanium used in the industry. The hardness of High-Intensity Titanium is much higher than that of pure titanium. Because Grand Seiko's titanium is so hard-wearing, there is no need for the use of any surface coatings, which can diminish the brilliance of the metal.
The model's powerful hands and grooved, prominent markers ensure perfect legibility. Its Zaratsu polished, distortion-free mirror finish and delicate hairline finish alternate to give the case a quiet and harmonious glow. The case has wide lugs and a low center of gravity that ensure that the watch sits easily and securely on the wrist.
Housed inside its case, and first presented in 2020, is the caliber 9SA5. Developed from the ground up after nine years of development, the endeavor was led by movement designer Hisashi Fujieda. 9SA5 is a 10-beat movement boasting 80 hours of power reserve and a precision rate of +5 to -3 seconds a day. It incorporates three important developments: Grand Seiko's new Dual Impulse Escapement, free-sprung balance, and horizontal gear train. Deploying all the skills and experience gained over the past six decades, Grand Seiko created what is beyond a doubt the finest mechanical caliber in its repertoire.
TECHNICAL SPECIFICATIONS
Caliber: 9SA5 Hi-Beat 36000 80 hrs
Power Source: Automatic
Accuracy: +5 to -3 seconds per day (when static)
Power Reserve: 72 Hours
Jewels: 47
Case: High-Intensity Titanium
Width: 40mm
Thickness: 11.7mm
Length: 47mm
Lug Width: 22mm
Strap: High-Intensity Titanium
Buckle: Folding Clasp
Case back: See-through
Crystal: Box-Shape Sapphire
Dial Color: Black
Markers: Baton
Water Resistance: 100m
Price: $10,400 USD