T
he name Time Fast II references the fact that it's a 2-seater car and it has two movements (one for time and one for the engine automate). Racing cars are getting faster, modern time seems to be running faster, and it is L'Epée's second car inspired clock.
The floor and body are screwed to a H-chassis as in their full-sized counterparts. The body of Time Fast II is in aluminum because in the 1960s, aluminum was the high-tech material for racing cars as carbon fiber is today. An aluminum body on a race car offers a higher power-to-weight ratio, shorter braking distances, and faster cornering: all winning attributes in a sports car.
Time Fast II features two independent movements, both with their own power source. The first movement is in the cockpit and is responsible for keeping the time. Hours and minutes are displayed by rotating stainless steel disks on the air filters feeding the dual carburetor banks on top of the engine. The 8-day movement is regulated by a visible 2.5 Hertz escapement in the 'driver's helmet' and powered by a mainspring visible in the passenger's 'seat'.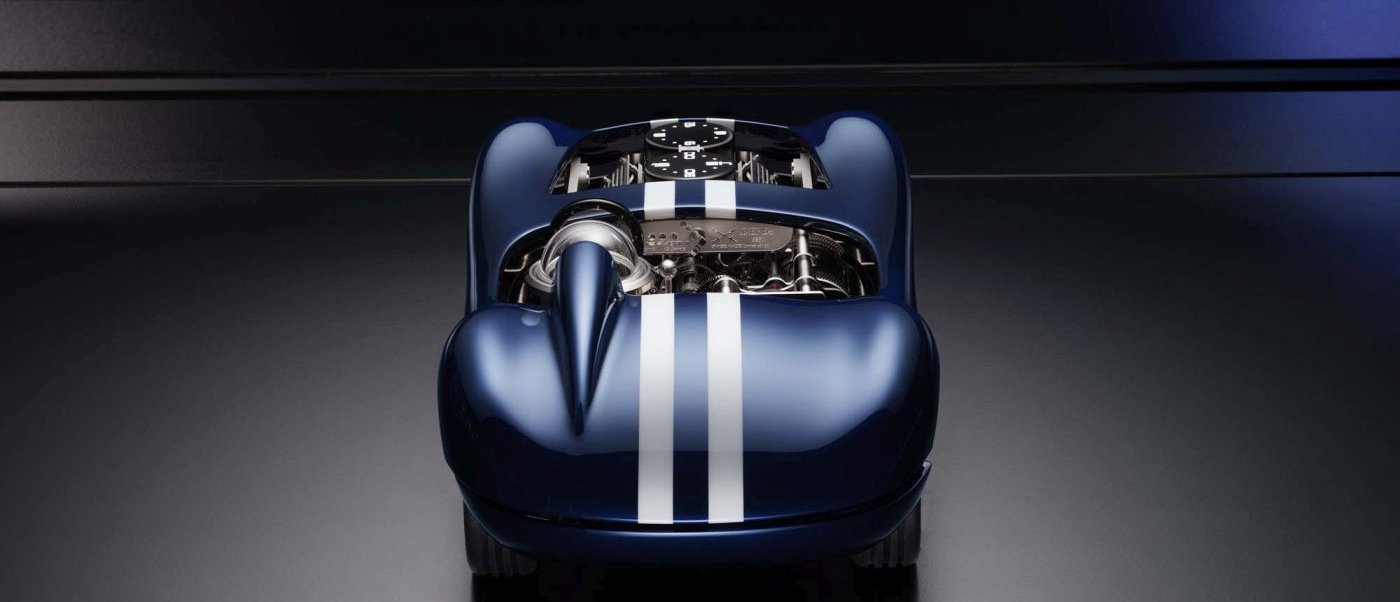 The second movement powers the engine automat. Turning the dashboard key starts the engine, triggering the pistons of the V8 to go up and down. This animation is completely independent of the time movement.
A manual gear lever selects between winding the time movement, winding the engine automate or neutral. Winding is accomplished by selecting the appropriate gear and pulling the car backwards.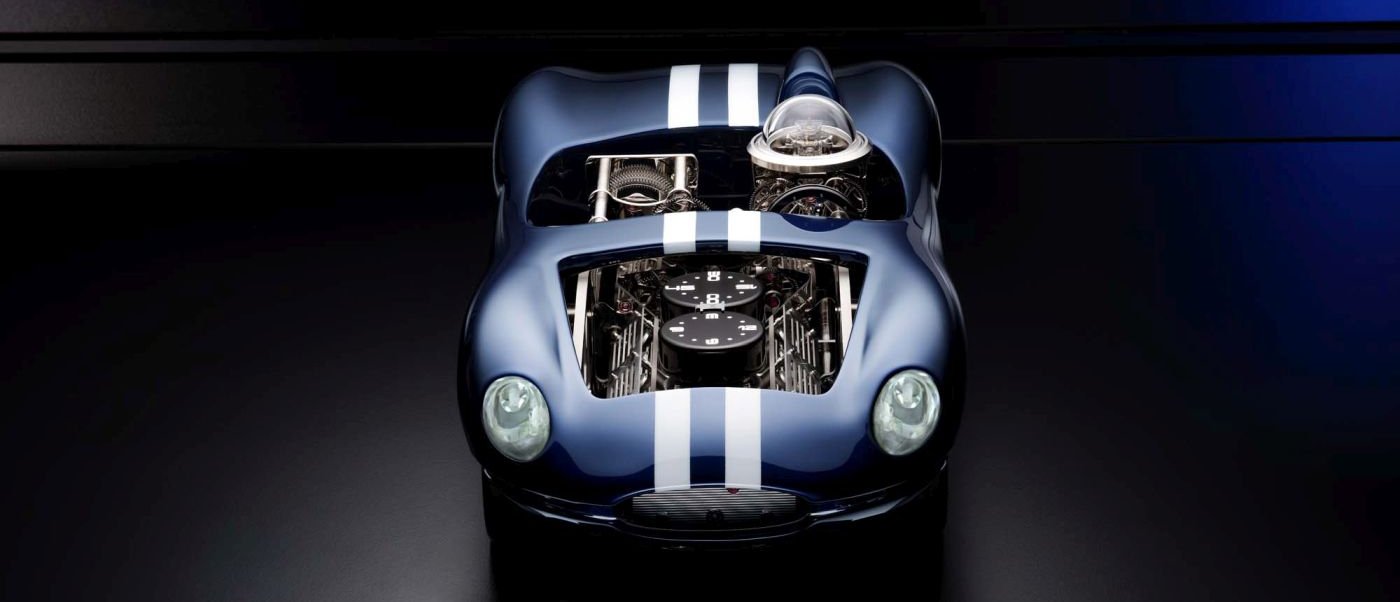 The three-spoke steering wheel is assembled just as the original steering wheels were, with a center rim and two outer rims held together by 12 rivets. The steering wheel is turned counterclockwise to set the time, while turning clockwise allows repositioning of the wheel to center.
Highlighting just how much meticulous attention to detail L'Epée put into ensuring that Time Fast II is as accurate as possible to the cars that inspired it, the stainless-steel spoked wheel rims are crafted just like the real racing wheels were in the 1960s. The tires are in soft rubber for optimal grip when winding the movements and filled with a carefully selected foam compound so that the tires are slightly flat on the bottom to the same degree as real sport's car racing tires on a real car racing track.
TECHNICAL SPECIFICATIONS
Limited editions:
99 pieces in each of five colours: Ferrari Red, British racing green, Mercedes silver, AC cobra blue with white stripes, and White with blue stripes
Dimensions:
450 mm long, 189 mm wide, 120 mm high
Weight:
Functions:
Hour and minute displays on rotating disks
Time is set via counterclockwise rotation of the steering wheel, clockwise rotation repositions the steering wheel as desired
The clock is wound using the rear wheels
Reversing the car (and rotating the rear wheels) winds the mainspring barrels
A gear box lever selects which movement barrel is wound during winding
Time Fast II moves freely forwards and backwards in neutral.
The key on the dashboard starts the engine piston automat
Engine/movement:
Tiered mechanical movement, L'Epée 1839 1855 MHD in-house calibre
Escapement: 2.5 Hz/18,000 bph
26 jewels
Power reserve: 8-days
Materials: Palladium-plated brass, polished stainless steel, Incabloc protection system
Bodywork and wheels:
Blown glass dome, machined and polished to simulate the driver's helmet
Top and bottom bodywork in aluminum
12-spoked rims in stainless-steel
Tires in soft compound rubber with foam inside offering authentic deformation of the tire on the ground
Materials & Finishing:
Materials: palladium-plated brass, stainless steel, anodized aluminium
Finishes: polished, satin-finished and sand-blasted movement / polished and satin-finished rims / lacquered bodywork