A
rnold & Son is releasing a new high-jewellery version of its three-dimensional moo nmodel. Above and beyond the technical prowess of inserting a 12mm lunar sphere into awatch, the piece features superlative gem-setting, both in terms of the stones chosen andthe techniques used. From pavé to invisible and channel setting, Arnold & Son is drawing on know-how of the highest level to produce eight Luna Magna Ultimate II timepieces.The 44mm diameter case is crafted from 18K white gold and is studded with no fewer than 7.62ct of exceptional-quality diamonds. The extraordinary colour of the Paraíbatourmaline, a rare and much sought-after stone, is the finishing touch on this exotic andrefined piece in blue-green tones bordering on turquoise.
A fine, atoll-like ring surrounds Luna Magna Ultimate II. It is formed of 112 baguette-cut diamonds totalling 5.90ct. They overhang the flat surface of the bezel, appearing as if simply placed upon it, floating over its edge, allowing the pass through them like an open prism. This is known as an "invisible" setting, generating unique sparkle. The rarity of itsmaterial makes the dial just as exceptional. Its glittering appearance is due to millions ofpure ruthenium crystals. This extremely hard metal is found in platinum mines, as they are found in the same ore. However, ruthenium is much rarer than platinum. For Luna Magna Ultimate II, the ruthenium was reformed into crystals and dyed using complex processes, before being deposited onto a dial plate. The result, now found regularly on Arnold & Son's timepieces, is unique in the watchmaking world.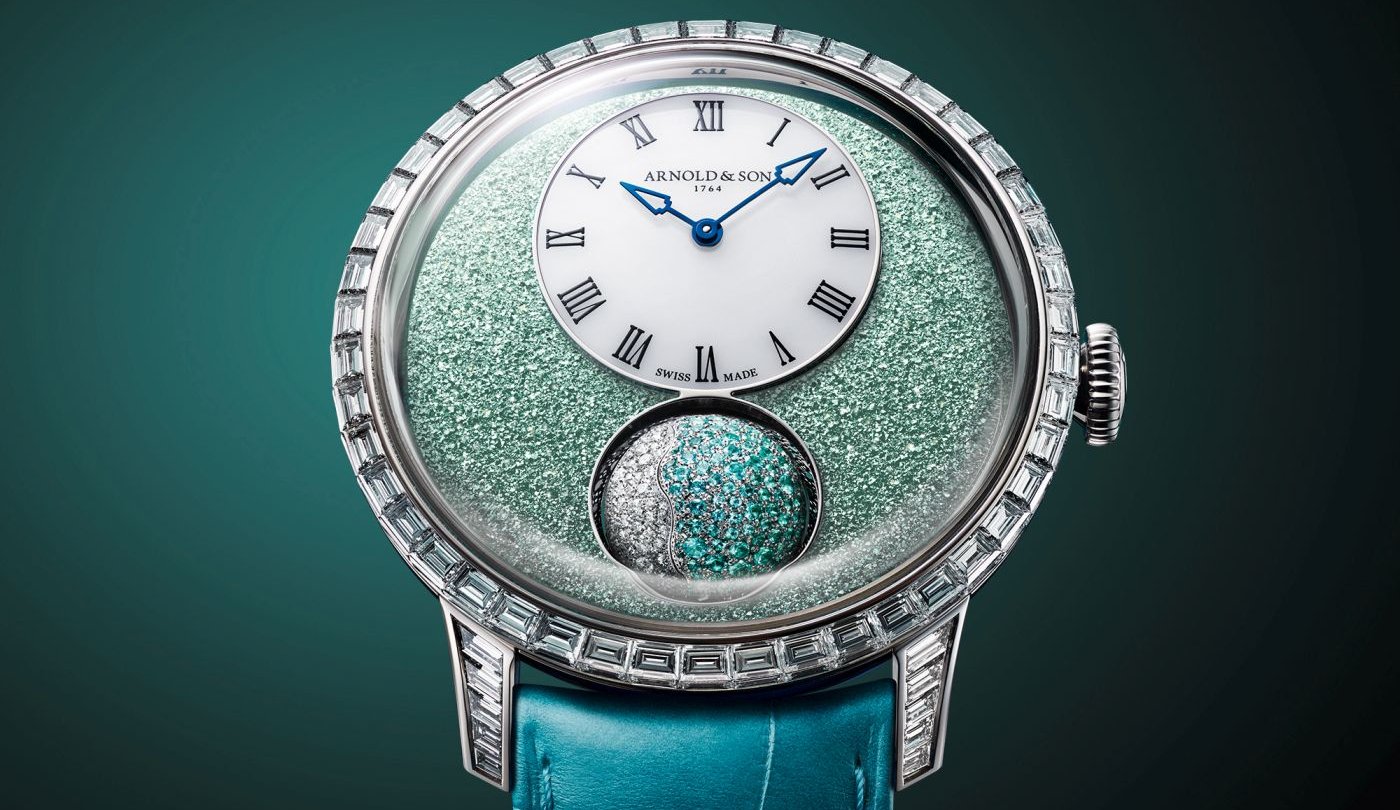 A traditional dial is located at 12 o'clock, marked with 12 signature Arnold & Son Roman numerals. This off-centre subdial owes its pristine, slight milky white hue to opal. Its classic design harks back to the aesthetics of the famous marine chronometers made by English watchmaker John Arnold. Under the time display, Luna Magna's three-dimensional moon takes on a new appearance. The white gold globe is entirely pavé-set. It is split into 161 brilliant-cut diamonds, representing the illuminated side of the moon, and the same number of Paraíba tourmalines for the portion in shadow.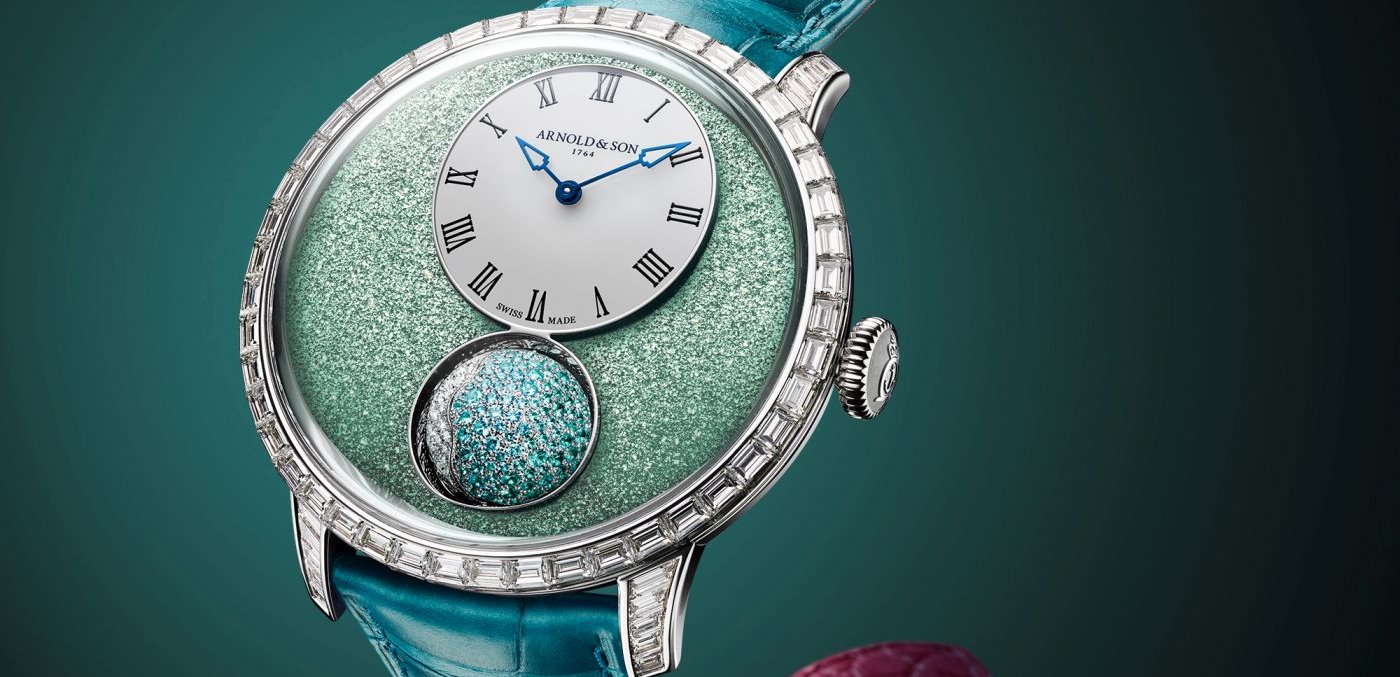 Luna Magna Ultimate II is driven by the A&S1021 calibre, which has been fully developed, manufactured, assembled and adjusted in the Manufacture. This hand-wound calibre, which has been designed with the lunar globe in mind, features a 90-hour power reserve and a regulating organ oscillating at a frequency of 3 Hz. The movement offers a secondary display on the case-back side presenting the phase of the moon. Its clearly readable markings are designed for high-precision adjustments.
The sophisticated celestial mechanics are also based on precise astronomical reality. The duration of a complete lunar cycle is 29 days, 12 hours, 44 minutes and 2.8 seconds, and Arnold & Son has managed to replicate it in such a way that it will take 122 years for the movement's display to deviate from the correct celestial reading by one day. The correction required at this time will be easy to make, as the Luna Magna's moon-phase function is directly accessible from the crown. This practical feature has been made possible by Arnold & Son's total command of the watchmaking process.