D
oing well by doing good. The collective desire to help each other; the vision of a brighter future and a better life; the firm belief that through partnership, the possibilities are limitless – this is the spirit shared by Bausele, the U.S. Army and veteran soldiers in creating the Mil-Spec Collection. The distinctive Field (ref. 31101) and Dive (ref. 34101) watches – developed and designed to military specifications with a task force of 11 veteran soldiers, watchmakers and watch lovers – are being assembled by veterans in the US. In addition, 10% of sales go to veterans' associations.
"With the MIL-SPEC Collection, Bausele embarks on an unprecedented collaboration with US military veterans, both in designing the watches and assembling them in the US. We're an Australian brand with a universal message: Take the time. Because besides telling time, a watch also tells us how precious it is, that it's ours to take and do something with, not to waste or wait. And that's perfectly in tune with this amazing project that opens new possibilities and brings us together with remarkable individuals for a great cause," said Christophe Hoppé, Bausele's Founder.
Arron Coote, Bausele's CEO, echoed: "Bausele's 'MIL-SPEC' watch was not only designed to military specifications in close collaboration with veteran soldiers; it is also being assembled by veteran soldiers in the US, on American soil. In addition, our aim is to also benefit veterans associations by donating 10% of sales. Beyond its purpose as a superior quality watch that can be worn on active duty, but also every day, the MIL-SPEC makes a difference. It embodies the positive spirit that comes from shared values and the desire to do well by doing good."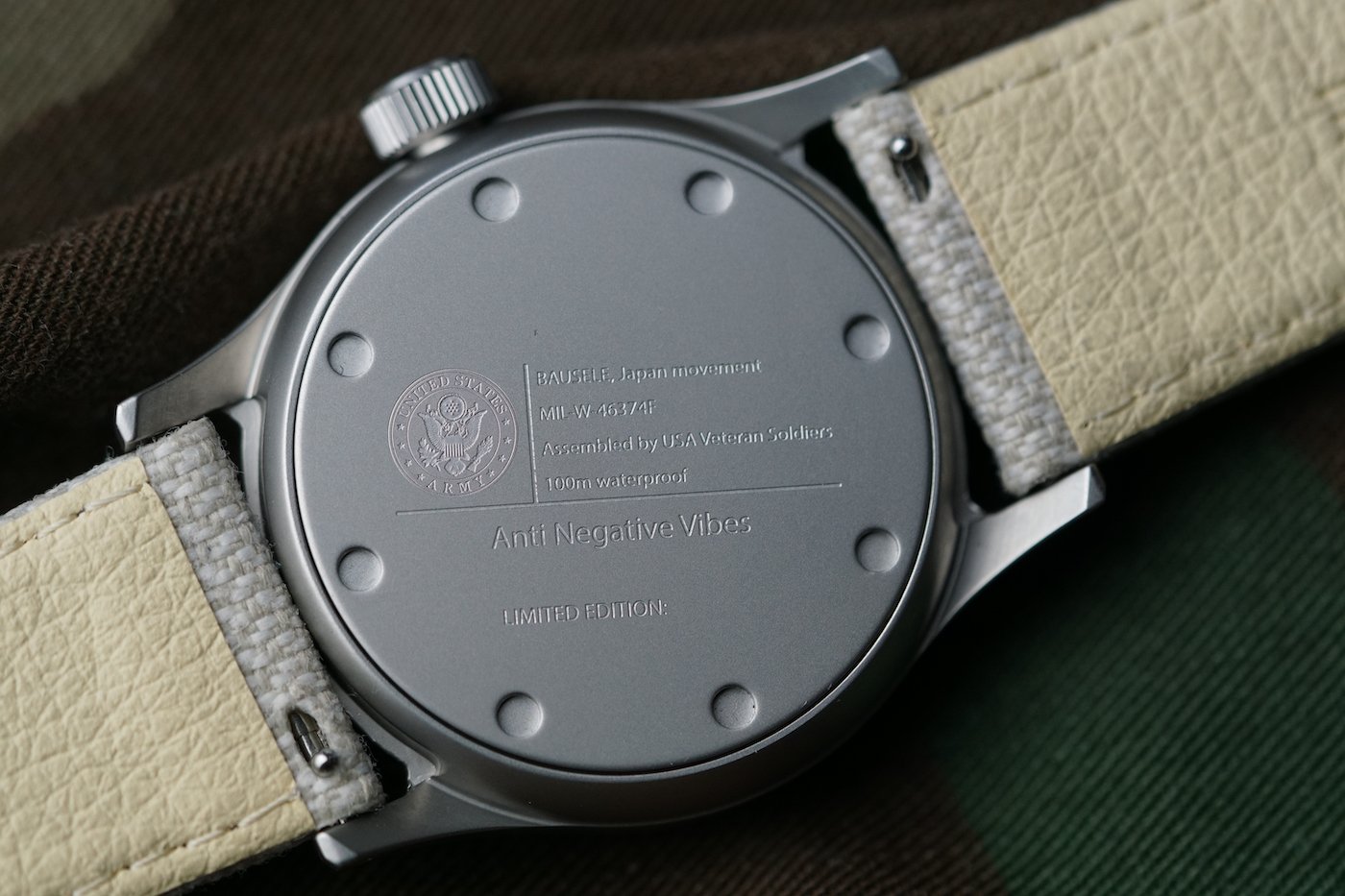 Bausele has always had a strong 'defense' gene in its DNA ever since it was founded in 2011. The brand originally provided limited edition watches for the Australian Intelligence Corps and the Special Operations Engineers Regiment, and that was before beating out some of the biggest watch names in the world to become the official watch of the Royal Australian Airforce 100th Anniversary in 2021.
Bausele was also the official watch of the Invictus Games held in The Hague in April 2022. This global adaptive sports competition is dedicated to inspiring recovery, supporting rehabilitation and generating a wider understanding and respect for wounded, injured and sick Servicemen and Servicewomen, both serving and veterans. Arron Coote, Bausele's CEO wouldn't have missed it for the world. On returning to Los Angeles, Arron wanted to do more to help the incredible people he had just spent five days with and decided to create an affiliate program that could help all veterans charities and organizations in the United States – by generating revenue through a dedicated watch collection – Bausele MIL-SPEC.
Arron Coote is a passionate mental health campaigner who lives in Los Angeles. When he first moved to the US, already then, he was taken aback by the many homeless people on the streets. He was deeply affected by the number of veterans living in makeshift tents on the streets around the Veterans Affairs building.

Over the last several years Arron had developed a friendship with a US Army veteran, Jamal Ali. The two had discussed many times the difficulties faced by veterans when transitioning back into society after serving in the military as well as the effects of PTSD on this assimilation process. They found through shared stories and experiences that they had a lot in common around trauma and how it affected their lives.
Arron first pitched his idea of a "mil-spec" watch to raise funds for veteran soldiers in an e-mail to the US Army licensing department on July 1s , 2021, expecting the likelihood of ever getting a response to be very small. To his surprise, the next morning he received a reply that began with "Although our licensing program has historically limited licensing to organizations in the U.S. and Canada, your concept is very interesting…" Within 8 months, with the design 'task force' already hard at work on initial prototypes, Bausele was granted a US Army IP license.
The Bausele US Army collection is inspired by watches from a time when they were kept for life. In the 1940s, military watches followed well-defined aesthetic codes. A brushed metal case so as not to reflect light, a black dial with luminous hands and numbers that told time at a glance in the dark of night, and a straightforward but ultra-precise and ultra-robust movement…
The first step was to explore the rich history of military watches. The team then studied the official US Military specifications, MIL-W-46374F, a 36-page document detailing the standards a watch must meet if it is to be worn by members of the United States armed forces. For the Bausele MIL-SPEC collection, they chose to stick to the original designs on pages 31 and 34 of the Military Specifications: Reference 31101 applies to the field watch, the first 2 numerals referring to the page of the official MIL-W-46374F military specifications document where this watch case design is detailed; consequently, 34101 applies to the dive watch.
"We kept the original size as well as the case shape for both models, ensuring it is functional and comfortable in every aspect and activity of the wearer's life but also up to military training and combat-ready. Besides being highly resistant to shock and water, it has to be accurate, reliable and durable – and make telling time clear and quick. We're proud that Bausele's design passed muster with flying colors," comments Arron Coote, CEO of Bausele.
Adds Christophe Hoppé, founder of Bausele: "Our aim was to create an authentic product with an aesthetic that stands the test of time and not only pays tribute to the world's iconic military watches and their origins, but also makes no compromises in living up to the high standards that continue to define the everyday of servicemen and servicewomen. As with all other Bausele watches, both MIL-SPEC models come with a 5-year warranty."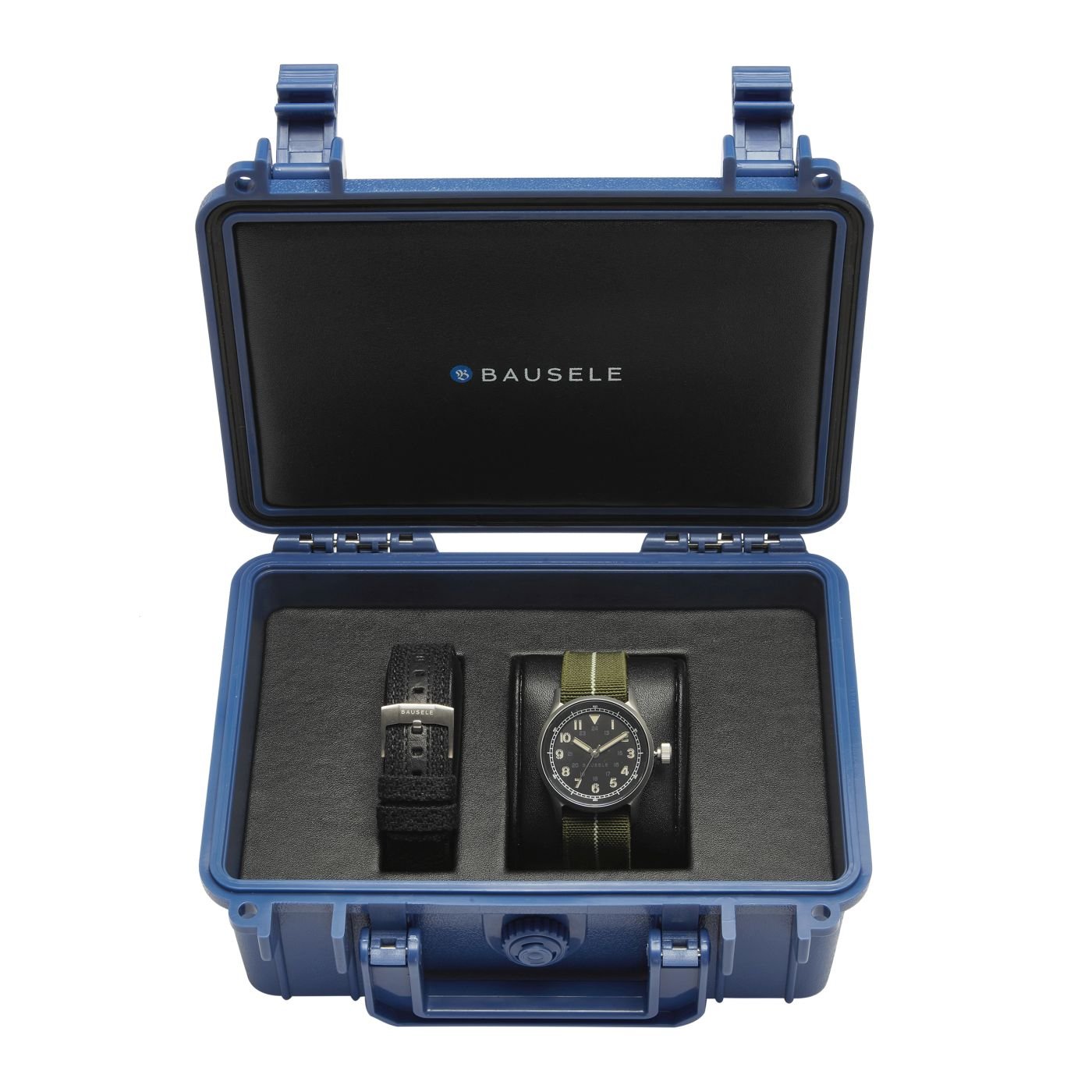 TECHNICAL SPECIFICATIONS
Limited edition: "The first 500" – 500 pieces, numbered, designed and built to MIL-W-46374F
Functions: Hour, minutes and central seconds.
Movement: Seiko NH38, hacking, automatic
Case: 38 mm diameter (bezel only), 316L sandblasted surgical grade stainless steel, (untreated or with black IP coating). The reference number (31101) is etched between the lugs. Thickness: 12mm. 45mm lug to lug.
Case back: 316L sandblasted surgical grade stainless steel, laser engraved
Crown: Screw-down crown filled with soil from military forts across the USA – visible through the crown cap.
Crystal: Double-domed sapphire crystal with five layers of antireflective coating.
Dial & hands: 2-layer dial, "old radium" Luminova® on numerals and hours & minute hands, 24-hour time (military time) around dial center.
Water resistance: 10 ATM / 100 meters.
Strap: 22mm leather or nylon strap.