O
ne thing about the watch community: it's never long before a distinctive model gets a nickname. For some watches, the color scheme is a dead giveaway, like "Hulk" or "Batman". But none says more about the style and spirit of a watch or says it better than the sobriquet given to the Nivada Grenchen Depthmaster – better known as the "Pac-Man".
Founded in Grenchen, Switzerland, in 1926, Nivada Grenchen earned its reputation through watchmaking innovations that defined the 1950s and 60s, not to mention the legendary Antarctic and Chronomaster Aviator Sea Diver collections. Today, just over a half-century later, Nivada Grenchen is in full revival mode, breathing new life into its engineering and design legacy – and faithful to the principle of very ethical prices that Nivada was famous for already back then.
Introduced in 1965, the Depthmaster was the very first dive watch to be waterproof to 1,000 meters – or 3,300 feet. A staggering depth – and an equally staggering record in the context of mid-20th century watchmaking.
At the time, most sports watches designed for underwater use were rated to 100 meters, rarely 200 meters. Few brands were as innovative and significant as Nivada Grenchen in terms of pushing the performance envelope under the toughest conditions.
What's especially interesting about the Depthmaster is the fact that, at the time, it looked totally different from the other dive watches around at the time, with their round cases and their insistence on big round luminous indexes on the dial.
For starters, the Depthmaster came in a cushion case with a diameter of 38mm, a substantial crown, a thick metal bezel with a knurled edge and no insert, and beefy lugs. This watch speed heavy duty.
The daring 'Deco' font used for the cardinal markers too, was hard to miss – and like nothing ever seen before on a watch dial, let alone a sports watch. As the legend grew, vintage watch collectors were quick to spot the similarity between the 6 o'clock and 9 o'clock markers with another pop culture icon and soon took to calling the Depthmaster the "Pac-Man".
The Depthmaster not only defied the limits for a diving watch by setting a depth record; it was also truly avant-garde in defining a distinctive aesthetic code for a purpose-designed tool watch.
So far, the legendary Depthmaster "Pac-Man" has only been available in brushed stainless steel, secured to the wrist with a sturdy rubber strap. Less than two weeks ago, a blacked-out Depthmaster came out on a "beads of rice" metal bracelet.
Nivada, together with the team at Undone, is going all in with a Depthmaster that truly gives meaning to the "Pac-Man" moniker and makes it resonate with the community in the know : you can practically see the ghosts scurrying and the energy pills glowing on the black screen-like dial (it's "textured as on screen"). "Pac-Man Yellow" came naturally for the main color code on this creative collaboration for a limited edition of only 200 timepieces. And the "high score" is still a water resistance to 1000 meters.
Nivada Grenchen is showing perfect timing for what watch enthusiasts want right now. Well-designed watches, rooted in a wicked cool history, at incredibly ethical and affordable prices. This new Depthmaster by Nivada Grenchen was a co-creation, born from kicking around ideas and styles between creative partners, playing off each other's codes. This watch crystallizes the blend of creativity and commercial dynamism that are the hallmarks of its CEO, Guillaume Laidet.
"Working with Undone was a blast. We appreciate each other, we respect each other. Our minds naturally converged as we each brought our expertise and different creative takes to the table to create this fun watch. That's always the aim: to put fun at the center of all our watchmaking endeavors," he explains.
Nivada Grenchen collaborations have been surfacing with surreal frequency over the past few weeks; and the trend is showing no signs of letting up any time soon. This new Depthmaster x Undone is set to come to market before Christmas at a very accessible CHF 950.
Nivada Grenchen is one of those brands that has kept under the radar too long, one with an incredibly rich, authentic and fascinating history. Nivada Grenchen was founded by Jacob Schneider in 1926 and quickly gained a reputation for beautiful, affordable and extremely reliable timepieces: tool watches that were – are! – second to none.
The Depthmaster was one of the first commercially produced watches with an exceptional depth rating of 1,000 meters or 3,300 feet. An incredible prowess, considering that, at the time, the vast majority of dive watches had a water resistance of 100 to 200 meters. The obvious question, of course, is how Nivada was able to make a dive watch with a depth rating more than three times that of any other watch at the time.
"That was one of the questions we asked ourselves when we decided to revive this model," Guillaume Laidet smiles. "If you look at the original watches, you will see that there is no helium release valve. We added this valve when we revived the model in 2020 to increase the quality of the watch. But at the time, Nivada decided they could achieve that depth simply by building it like a tank."
Indeed, the original Depthmaster was able to achieve this incredible rating thanks to:
A stronger and more resistant waterproof winding crown
A special inner protection
Additional case back threads, and
A double-thick crystal
The other aspect that underscores the coolness of the Depthmaster and cements its status as a vintage legend is the fact that, when it came out, it was so totally different from other dive watches, with their round cases and round luminous markers on the dial. Instead, the Depthmaster stepped onto the stage in a 38mm diameter cushion case, with beefy lugs, a thick knurled-edge metal bezel with no inserts, and in some versions, with highly luminous markers that were like nothing ever seen before. The cardinal markers at 12, 3, 6 and 9 o'clock were designed in a stylized "Deco" font that deviated so much from the norm, that they were unmissable, not just under low-light conditions – and it gave the Depthmaster visual signature that made the watch instantly identifiable.
To build your own watch – a dream that became reality in 2014, and with an unparalleled level of customization... Probably the most famous brand of customizable watches, Undone Watches, since its creation 8 years ago, has forged a peerless reputation around the extreme customization of small functional watches, mechanical or quartz, at prices defying all competition (around a few hundred euros). Undone's watch customization system – which broke new ground at the time – is among the most advanced and comprehensive on the market. In just a few clicks on the Hong Kong-based brand's website, via a clever and ultra-easy-to-use platform, you can build your own unique model, right before your very eyes, and in less than five minutes.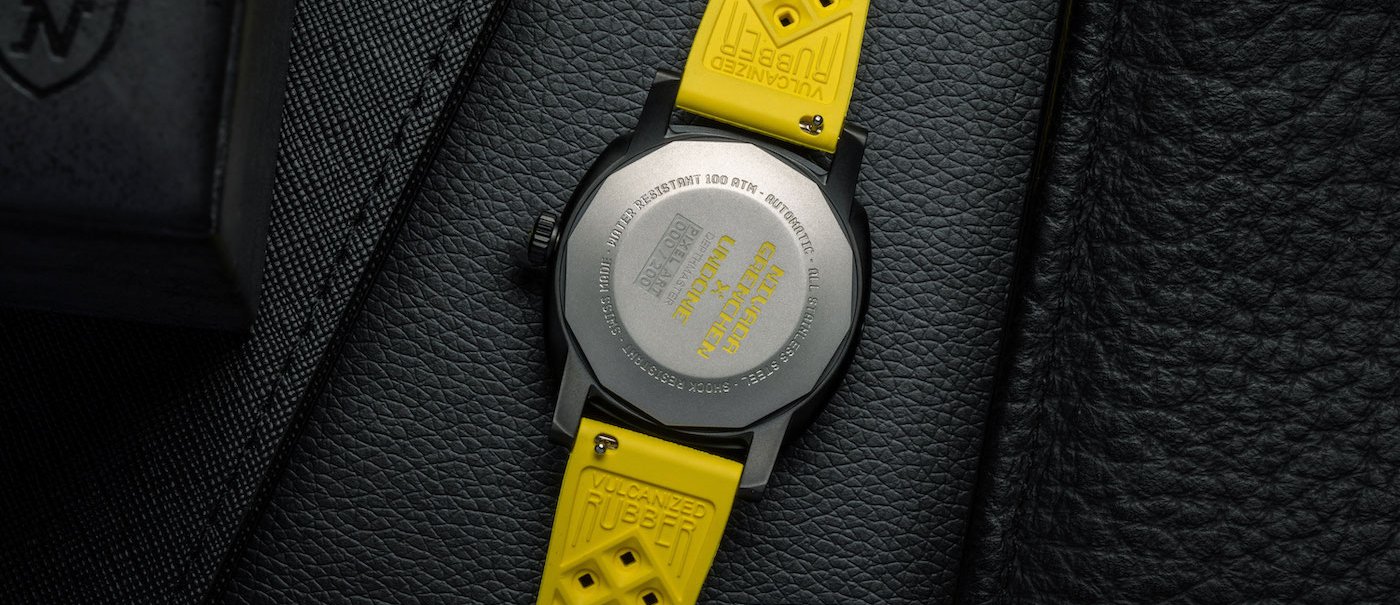 You can choose among different basic collections and multiple options for the case, case back, dial, indexes, hands and of course all sorts of straps and color combinations. This is a highly personalized approach since it is also possible to engrave initials or to print a personal photo on the case back. In fact, Undone watches offers so many different customization possibilities, it is practically impossible to list them all.
At the same time, the mechanics and materials are of top quality and the customer service is second to none. Rugged, yet affordable watches that resonate with a true sense of personal identity. That's the sweet spot where Undone Watches shines for its customers. In the past five years, Undone Watches has grown from a three-person operation to a company with over 30 employees. Definitely a brand to watch.
The hallmarks of watchmaking collaborations with Undone Watches revolve around bright colors and playful designs. A breath of fresh air. The models are usually inspired by favorite cartoon and comic book heroes, the likes of Popeye, Snoopy and Astro Boy or Batman…
TECHNICAL SPECIFICATIONS
Reference: 14118A-UND01
Case: 39mm, black DLC-treated stainless steel
Water resistance: 1,000m (3,300ft); helium release valve
Crystal: Sapphire
Dial: Matte black, yellow Super-LumiNova marker inserts
Hands: "Pac-Man Yellow", coated with Super-LumiNova
Movement: SOPROD P024, automatic
Functions: Hours, minutes and center seconds, quick-set date, automatic winding mechanism with ball bearing, hacking seconds, 26 jewels
Power reserve: 38 hours
Strap: Black calfskin with fat "Pac-Man Yellow" stitching
Price: CHF 950
Availability: Limited Edition of 200 pieces