T
he world of underwater caves and caverns! A unique scenery of out-of-this-world rock formations, stalactites and stalagmites. Crystal-clear waters that offer incredible visibility deep and far, an uncanny diversity of fish and other creatures. A fascinating and mysterious universe that is attracting more and more divers who are passionate about exploration. These divers, always with their trusted dive watch on the wrist, venture deep into the caves to discover nature's hidden wonders.
As exciting as cave diving is, it is not risk-free. This is an ultra-technical activity that requires not only a certain level of proficiency but also the temperament to deal with stress, to surpass oneself, and overcome one's fears in extreme situations when confronted with narrow passages, violent currents and reduced visibility.
With cave diving, situational awareness and time management can be challenging. Divers must sometimes get through winding gullies, which can impair freedom of movement and orientation. They must also keep aware of their immediate surroundings, as they can easily scrape against rocks and coral formations that can cause serious injury. And always keep the clock in mind.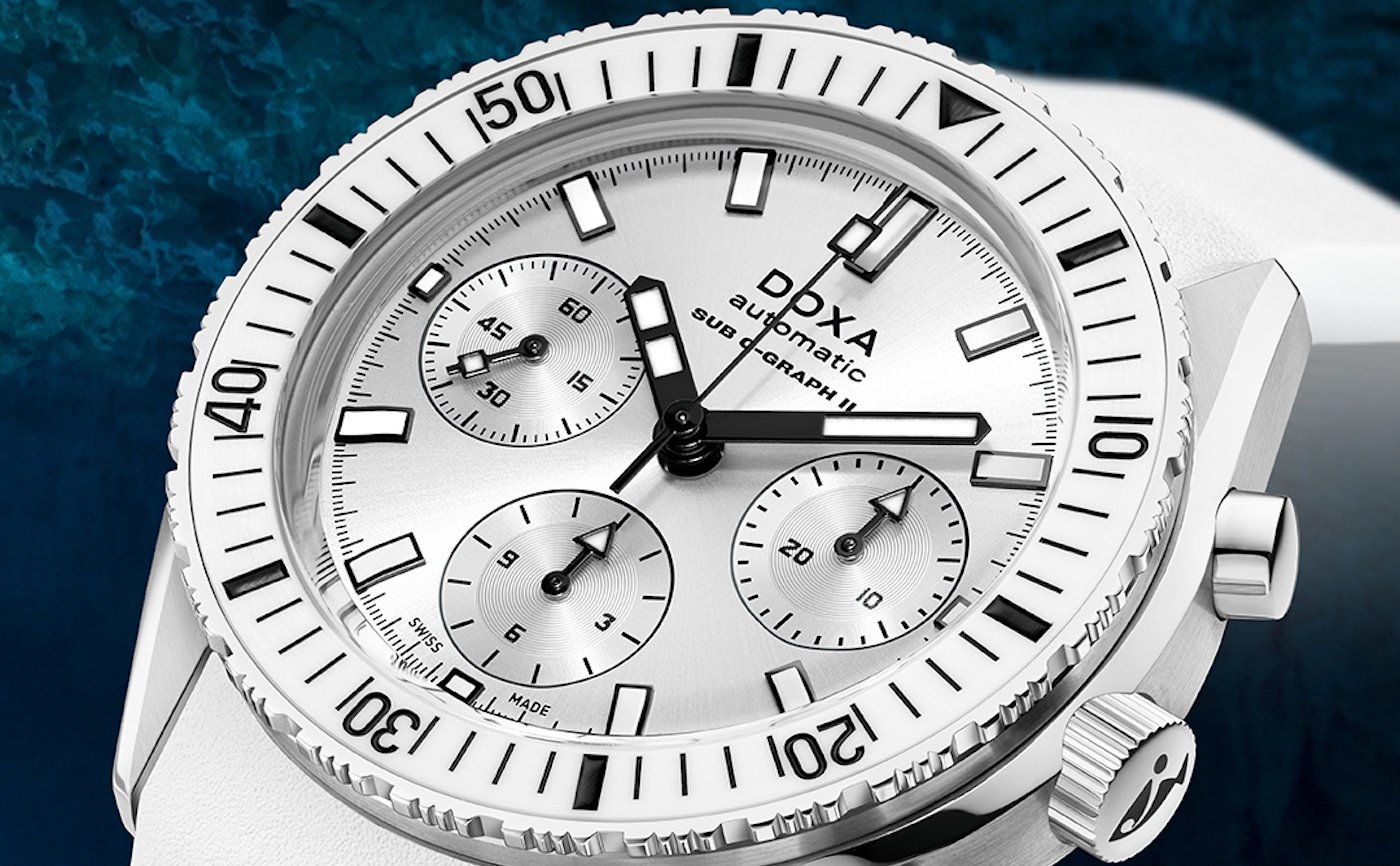 Then there is the darkness. In caves, natural light can be nonexistent, making it difficult to spot obstacles and navigate your way around in an environment where strong currents make it even harder to keep a steady course. So, while diving in caves can be great fun, the risks are real, and they quickly amplify. That is why cave diving calls for extra purpose-designed equipment, like a powerful primary light, a backplate for the buoyancy vest, markers, guidelines, safety reels... and a reliable and easily readable watch.
The right dive watch is in fact crucial. Cave divers sometimes go for up to 9 hours without surfacing, and returning to the surface is not just a matter of 'going back up': it is often not possible at any given moment and requires some navigating and planning; that is why time management is key in terms of depth and air supply.
While it is a given that all divers today are equipped with latest-generation high-tech digital instruments, it is also true they never go on a dive without reliable, mechanical, safe back-up equipment – like a SUB.
Across the wide range of dive watches that have earned DOXA its reputation for reliability and a distinctive aesthetic, the mechanical chronograph – with its true 'tool' function – has always played a leading role ever since the first SUB was launched in 1967.
The SUB 200 C-GRAPH II was developed to fulfill the role of a tool watch on these high-risk dives. With a more contemporary diameter of 42mm and a reduced thickness of 15.85mm, it offers the same functionality and features as its larger 45mm sibling presented in 2020. The SUB 200 C-GRAPH II is also made of the highest quality 316L stainless steel.
The mechanical automatic chronograph (28,800 vph, 4.0 Hz, 27 jewels) is a Tri-Compax model with three counters for keeping track of dive times and a unidirectional rotating steel bezel with the minute indication highlighted in white Super-Luminova™.
Beneath the scratch-resistant sapphire crystal with anti-reflective treatment, the dial dazzles with a new finish that echoes the collection's vintage spirit: a luminous sunburst effect that gives the dial a subtle, distinctive elegance.
The SUB 200 C-GRAPH II's sunburst finish, with its almost-imperceptible brushed lines that radiate outward from the center of the dial, like the rays of the Sun. Obtained using metal filament brushes, it effectively magnifies, even truly illuminates each of the collection's six dial colors.
With its slightly lighter heft, a revisited integration of the bracelet (there is the option of the iconic stainless-steel 'beads of rice' bracelet or a softer and suppler FKM rubber strap), 20 ATM (200 meters or approx. 650 feet) water-resistance rating, and a power reserve of up to 56 hours, the SUB 200 C-GRAPH II should quickly earn its place as an indispensable tool-companion for divers seeking a reliable, high-performance watch for their more extreme underwater adventures, while cultivating a sporty-chic look in urban surroundings that remains as elegant and contemporary as ever.
See now, buy now: the SUB 200 C-GRAPH II model will be available from April 2023 at all DOXA Watches points of sale and on the official DOXA Watches e-commerce platform.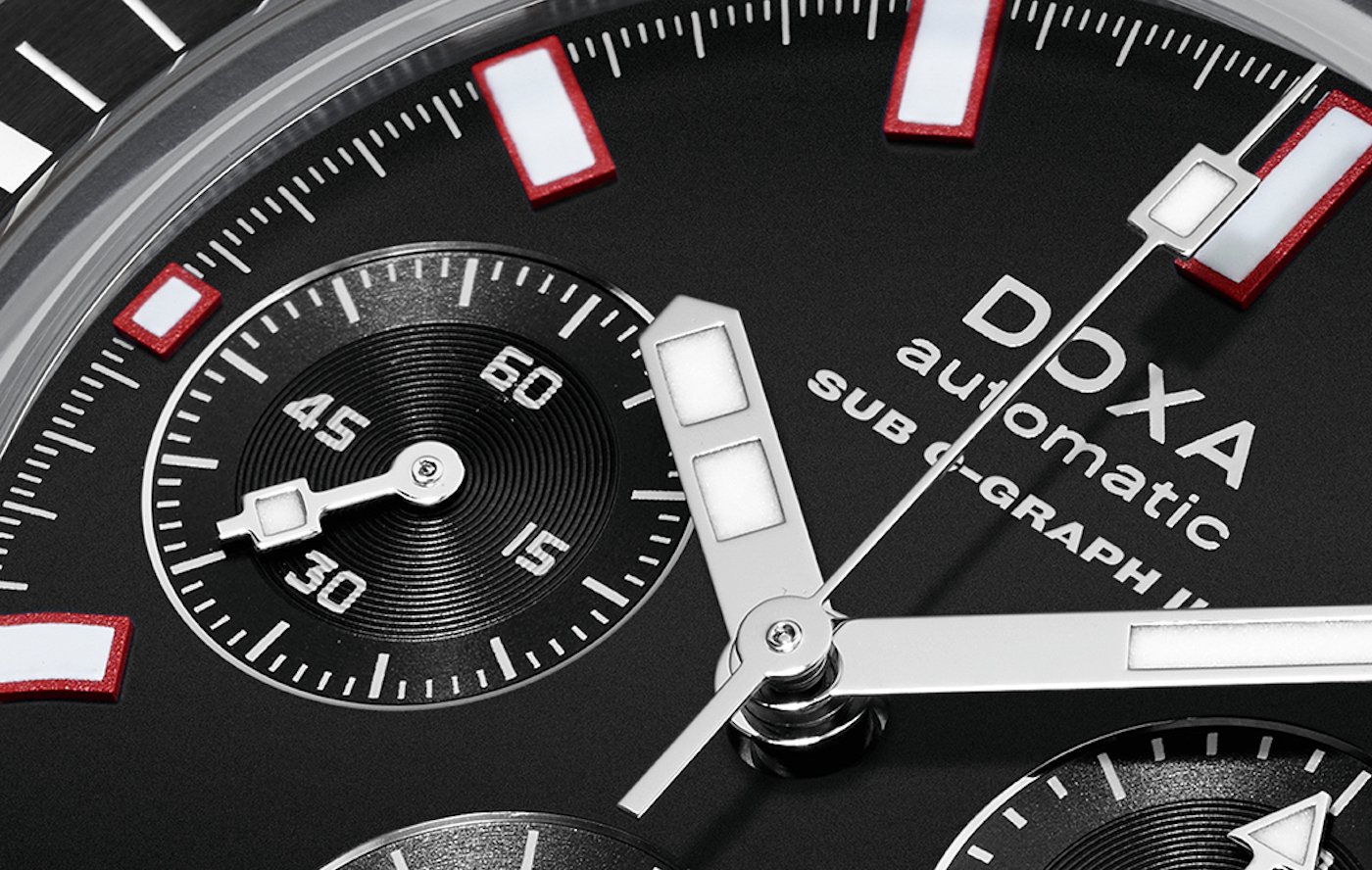 TECHNICAL SPECIFICATIONS
Indications
Hours, minutes, seconds, chronograph
Three counters: 60 seconds, 30 minutes, 12 hours
Case
Stainless steel case
Diameter: 42.00 mm x 46.00 mm
Thickness: 15.85 mm
Screw-down crown
Crystal: Sapphire
Unidirectional rotating bezel
Solid steel back, screw-in
Water resistance: 20 ATM, 200 meters, approx. 650 feet
Dial
Sunray-finished
Available in the 6 colors of the collection
Hour, minute and counter hands coated with Super-LumiNova™
Bezel
Steel, unidirectional rotation
Marker at 12 o'clock coated with white Super-LumiNova™
Caribbean & SharkHunter models: Super-LumiNova™ on all markers, except the timer
Whitepearl ceramic model: no Super-LumiNova™ on the bezel
Movement
Swiss, mechanical self-winding, 3 hands, chronograph
Power reserve: approx. 56 hours
Frequency: 28,800 vibrations per hour (4 Hz)
27 jewels
DOXA decorations
Strap/Bracelet
Stainless steel "beads of rice" bracelet, attached by screws for a secure fit
Folding clasp with wetsuit extension, embossed "DOXA fish" symbol or
FKM rubber strap, tone-on-tone color-matched with the dial
Buckle featuring the exclusive "DOXA Fish" symbol
Retail price
Models with stainless steel bezel insert: Stainless steel bracelet: 2'790.00 CHF / 2'890.00 EUR / 2'890.00 $ FKM rubber strap: 2'750.00 CHF / 2'850.00 EUR / 2'850.00 $
Models with ceramic bezel insert: Stainless steel bracelet: 2'890.00 CHF / 2'990.00 EUR / 2'990.00 $ FKM rubber strap: 2'850.00 CHF / 2'950.00 EUR / 2'950.00 $