F
or the love of horological engineering, and carried by a watchmaking lineage spanning three generations, La Chaux-de-Fonds native and inventor Stéphane von Gunten announces the creation of his own brand, Haute-Rive. The new venture is named after his great-great-grandfather's atelier, where exceptional timepieces came to be over a century ago.
Stéphane von Gunten is not just a watch engineer. He's also a visionary. His career in the industry has been one of concepts, inventions and creativity. If he chose independence, it's because he sees creativity at the heart of his work. To imagine. To push forward. He sees himself as a humble innovator, aware of the limits of his art yet committed to pushing them further. With Haute-Rive, he enters a new – no doubt his most personal – period of expression in watchmaking. At his own pace, the newly independent watchmaking engineer sets out on his own path in the traditional, one-off design and production of timepieces that reflect his character and life philosophy – to share, with that humility that is the hallmark of all passing down and gives rise to the most accomplished watchmaking.
Today, Stéphane von Gunten announces the birth of Haute-Rive, an independent Swiss watch brand at the top of the watchmaking hierarchy. After nearly twenty years at prestigious watchmaking Maisons, Stéphane von Gunten decided to step away from the time constraints of big groups and enjoy total freedom of expression with the skills acquired on a journey that intimately prepared him for this new chapter. Haute-Rive is a tribute to horological engineering, of course, but above all, it's a tribute to family values, to what it means to be human, to sharing, in the spirit and service of Swiss watchmaking excellence, rooted first and foremost in wonderment and delight.

High watchmaking, tradition and innovation. Three intertwined subjects in which innovation is often the poor relation.
With Honoris I, its inaugural collection, Haute-Rive places these three elements on an equal footing. A wristwatch in yellow or white gold, polished, elegant, with a mysterious flying tourbillon and a grand feu enamel dial; the whole resting on a finishing ethic (chamfering and decorations by hand) that exemplifies Haute Horlogerie, high watchmaking.
The element of tradition is rooted in the cultural and family heritage of founder Stéphane von Gunten. In Honoris I, he perpetuates the work of his ancestor Irénée Aubry, the 19th-century watchmaker and inventor, among others, of the 8-day pocket watch known as Hebdomas.
In equal part at the heart of Honoris I is innovation. Stéphane von Gunten takes his grandfather's inventions further, creating the first wristwatch with a 1000-hour power reserve that is both wearable and elegant – and reasonably slim at just 11.95 mm in thickness and 42.5 mm in diameter.

Once a month, Honoris I needs to be wound via its 60-facet bezel, controlled by a column-wheel function selector. The construction of the case, movement and complications, and the way they interact, are all the result of an extreme pursuit of slimness, performance and refinement. This rare combination provides coordinates for the trajectory that Stéphane von Gunten is charting for Haute-Rive.
Why should mechanical watchmaking be constrained by tradition? Why not draw on it instead for inspiration in mechanics, aesthetics, comfort and performance? It is to find answers that Stéphane von Gunten founded Haute-Rive.
Haute-Rive – it means 'high shore'– is the name given to the place on the shores of Lake Neuchâtel, in Chez-le-Bart, near St-Aubin, where his ancestor Irénée Aubry set up his workshop. There he had laid the foundations for the Hebdomas pocket watch. One of the greatest successes of the 1900s, it offered eight days' running time and was produced at a rate of a 1,000 units per day – three extraordinary distinctions at the time. Haute-Rive – 'Haute' as in Haute Horlogerie, and 'Rive' as in the visible but narrow shore where excellence lies.
Haute-Rive, the brand, thus speaks to watch purists who reject traditional limits. One of them in particular spurred Stéphane von Gunten's watchmaking creativity: If Irénée Aubry succeeded over a century ago in designing an industrially produced watch with a running time of 8 days, he, Stéphane von Gunten, must be capable of moving the power reserve cursor even further, to the maximum, and without diverting from the language of fine watchmaking. The other thing: he wanted a watch that was wearable, and as slim possible.
He then laid down the specifications and a symbolic number, 1000 hours. Stéphane von Gunten's first caliber, the HR01, allows his inaugural Honoris I to be 42.5 mm in diameter and just under 12 mm thick.

HR01, 1000-hour power reserve:
With a single barrel.
With a mysterious flying tourbillon.
With a function selector.
With bezel winding.
And a thickness under 12mm.
Irénée Aubry's legacy is what unleashes in Stéphane von Gunten all the knowledge and skills he accumulated throughout his career as a watch designer. And he never loses sight of the importance of proportions and of that touch of mystery that piques the interest of connoisseurs. That is little doubt why the HR01 caliber's watchmaking elements are placed on top of the grand feu enamel dial; they interact, merge and intrigue all at the same time.
Before they were tamed, the rivers that flow down from the Swiss Jura Mountains to Lake Neuchâtel were unpredictable. Threatened by floods, the people who lived there favored higher ground, like that offered by the place called Haute-Rive in the town of Chez-le-Bart. Long since part of the municipality of St-Aubin-Sauges, it was here that Irénée Aubry set up his workshop, sheltered from the rising waters, after leaving Saignelégier, the village nestled in the mountainous Franches-Montagnes district of the Jura canton where he was born. Irénée Aubry was not your typical Jura watchmaker. He didn't have a farm; he didn't do piecework or daywork. His friends and neighbors called him nickname "the inventor."

His favorite subject was the power reserve, one of the weak points of pocket watches despite their large size. Irénée Aubry did something about it, coming up with a concept for which he obtained patent no. 88 on January 10, 1889: a watch that, once wound, could run on its own for eight straight days. The Graizely Frères watchmaking company acquired his patents and registered the brand name Hebdomas. Graizely added its own patent for a regulating organ visible through the dial, and thus was born one of the most important watchmaking successes that lasted from 1890s to the 1930s. Practical, affordable, slim, and recognized with several awards at World's Fairs, Hebdomas pocket watches were manufactured in La Chaux-de-Fonds by the company renamed Graizely et Cie, which later became Schild & Cie.
Another timepiece conceived by Irénée Aubry created a sensation. Commissioned by the canton of Jura in 1887, Irénée Aubry developed an exceptional pocket watch to be presented to Pope Leo XIII on the occasion of his Jubilee by a delegation of pilgrims from Franches-Montagnes – the region where Irénée was born. This pocket watch – the famous Montre du Pape (the Pope's watch) – ran for 40 days with a single winding. An unprecedented achievement. In 1888, he was decorated with the Croix Pour l'Église. Widely acclaimed, he stole the show with his watch at the Paris World's Fair in 1889.
The gold case of the Montre du Pape features a portrait of Pope Leo XIII and an engraving of the Franches-Montagnes coat of arms. The gold bezel is fluted – a motif Stéphane would later echo on his Honoris I, whose bezel is an important feature. Just as its 1000-hour power reserve, which evokes the scope and ambition of 40 days' running time – at the time.
As a child, Stéphane had often heard about this foundational event in his family's history. The pope's watch is the basis of Stéphane's inspiration and the spark for creating the Haute-Rive brand. It's the emotional touchstone from which he draws his creative genius, it's his Proust's madeleine. Another commonality: as inventors, Irénée and Stéphane hold some thirty patents.
The Pope's Watch and Honoris I:
Mechanical lineage:
The basic architecture of the movement
Patented construction
40-day power reserve
Aesthetic lineage:
The fluted bezel
The time wheel design – the link between the spring and the rest of the gear train
One of Irénée Aubry's preoccupations was to navigate between concept and design. It is also at the heart of Stéphane von Gunten's approach. For Honoris I, he aimed for the formal elegance of a dress watch, the technical language of visible mechanical attributes and performance. The design of his inaugural timepiece takes the form of a fully polished gold case. It is topped by a bezel with 60 concave facets and honed edges. It measures 42.5 mm in diameter. It is barely 12 mm thin. These could be considered the dimensions of an elegant chronometer with no special complications. And yet the Honoris I's case houses several exceptional attributes: a flying tourbillon, a 1000-hour power reserve, a function selector, and a power reserve indicator on the back in the form of a readily legible disc.
Rounding off the aesthetic of this classic timepiece, Haute-Rive opted for a grand feu enamel dial. Available in black or white, it is expertly executed at high temperature on an 18-carat gold plate using the champlevé technique. Prior to the five consecutive firings, the plate is cut to accommodate the movement's protrusions. For this dial is more than just a surface: It is the canvas for an aesthetic and technical composition. A large wheel, known as the wheel of time, the gear train under a central bridge with four pillars, and the tourbillon – these three elements emerge from the dial without revealing quite how they interact. The mystery continues with the long crown stem and its flowing pinion, easy to spot next to the column wheel required for function selection. The space dedicated to the barrel and its sizeable mainspring pushes these elements upwards. Stéphane von Gunten builds on this, transforming them into a technical statement set within a classically crafted whole. This echo of a traditional aesthetic is reinforced by the two leaf-shaped, perfectly polished hands in, depending on the version, white gold or flame-blued steel.
To achieve the goal of a 1,000-hour power reserve for the HR01 caliber, Stéphane von Gunten increased the mainspring's size to the maximum while preserving the overall dimensions of the watch. Usually, timepieces that offer 10 days of running time are quite enormous, often packaged in futuristic designs. Honoris I was conceived in the most classic spirit of wearability. That's why Stéphane von Gunten opted for a single barrel. Increasing its size meant having the plate act as the drum. Custom-designed by a specialist in this field, the mainspring inside is 3 meters long, certainly the longest ever installed in a wristwatch. To deliver the smoothest possible torque, it is fitted with a sliding flange that prevents surges and peaks. The sliding flange also protects the gear train when the spring is fully cocked.
The barrel communicates on one side with the power reserve indicator, located on the case back. Around a grained central cover, a ring with a graduation from 0 to 1000. This 360-degree indication offers optimum readability at all times, impossible with a traditional gauge. On the other, the barrel engages a differential that connects it to the gear train and to the winding mechanism. Winding is effected by turning the bezel counterclockwise. Why? The force required and the number of barrel turns would have made it quite impossible to use a crown. What's more, the bezel feels comfortable to the touch, easy to turn thanks to the 60 subtly recessed grooves. They provide just the right grip for the winding operation, which can be spaced 40 days apart, i.e., once a month, with a 10-day safety margin.
The function selector created for Honoris I is unique. It is linked to a crown that cannot be pulled out, to a column wheel, and to a sliding pinion located on the longest and most visible of all the crown stems. This directly engages the gear train for setting the time, right at the heart of the HR01 caliber. The central, three-dimensional gear bridge, shaped like a double mustache, is an essential graphic but also horological element of HR01 caliber's design and a Honoris I hallmark. Its shape and prominence hint at a layered movement, fully in the spirit of classical watchmaking, which lends itself to the play and interplay of superlative finishes.
Above the barrel, the HR01 caliber is topped by the wheel of time. It transmits power to the gear train, reminding the beholder of the importance of the driving force in this watch. The wheel of time meshes with a gear train spread over 7 levels vertically. At the end of this kinetic chain, Stéphane von Gunten installed one of his specialties, a complication that bears no secrets to him: a flying tourbillon. A large rhodium-plated brass cage, in the shape of an openworked cross, holds the finely tuned assembly. It houses a flat steel alloy balance spring, a variable-inertia balance wheel, and a Swiss lever escapement. It's the structure and verticality of the cage that stand out here: They emerge from the dial, creating a third focal point above the spread of exquisitely executed enamel.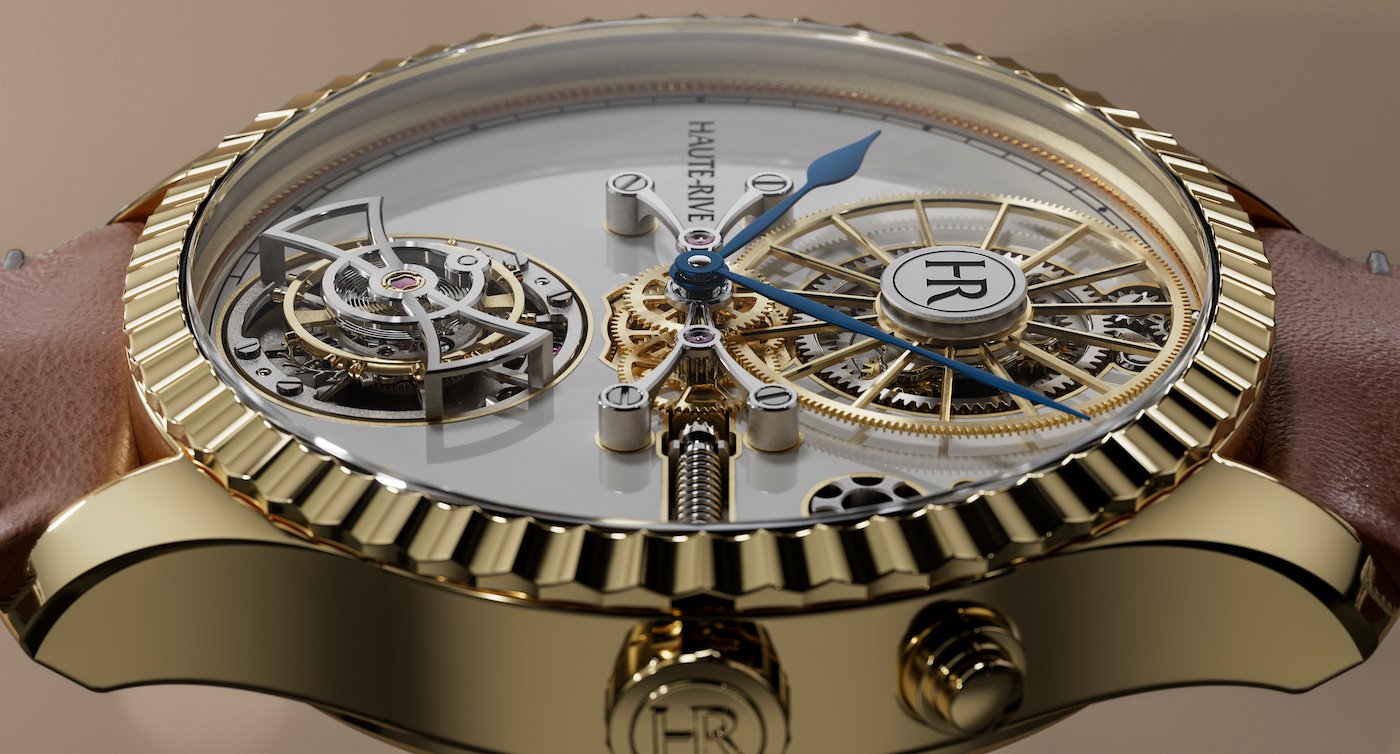 TECHNICAL SPECIFICATIONS
Movement
Reference: HR01 caliber
Winding: Manual, via rotating bezel
Power reserve: 1,000 hours (41 days), one barrel, 3-meter-long mainspring
Regulator: Mysterious flying tourbillon with one-minute rotation, angled anchor escapement, variable inertia balance wheel
Functions: Hours, minutes; function selector; power-reserve indicator on the case back
Diameter: 38.45mm diameter, i.e., 17''' (lignes)
Thickness: 7.75mm
Frequency: 2.5 Hz (18,000 vibrations/hour)
Components: 288
Rubies: 35
Plate and bridges: Sandblasted, grained | Hand-beveled with Jura gentian wood
Case
Material: 18K yellow gold or 18K white gold
Dimensions: 42.5mm diameter
Height: 11.95mm
Crystal: Sapphire with anti-reflective coating
Case back crystal: Sapphire
Water-resistance: 3 ATM (30 meters, 100 feet)
Dial
Base plate in 18K yellow gold or 18K white gold
Black or white grand feu enamel, champlevé technique
Hands
Leaf-type, domed, polished
18K white gold or blued steel
Strap Black or brown nubuck calfskin, hand-stitched, tone-on-tone topstitching Buckle in 18K yellow gold or 18K white gold
Limited edition
Production limited to approx. 10 watches per year
Price
CHF 148,000 excl. VAT.