A
watch that changes its appearance every day is in itself something very special…
Taking 'bespoke' to the next level, Byrne Watch offers customers the possibility of personalising the cardinal indexes – at 3, 6, 9 and 12 o'clock – and making their timepiece truly theirs.
Every day, at noon or midnight, in a flash, the 4 cardinal indices – four rotating cuboids – turn at once to reveal another face.
Roman numerals, Arabic numerals – or any other character, symbol or design made to order – can be made to appear on the markers.
A patented animation complication that took 3 years of R&D in Fleurier, Switzerland.
The Byrne GyroDial gives its wearer the feeling of a different watch every day, or whenever they choose, in a flash. Hence, the brand's motto: "One watch, four faces."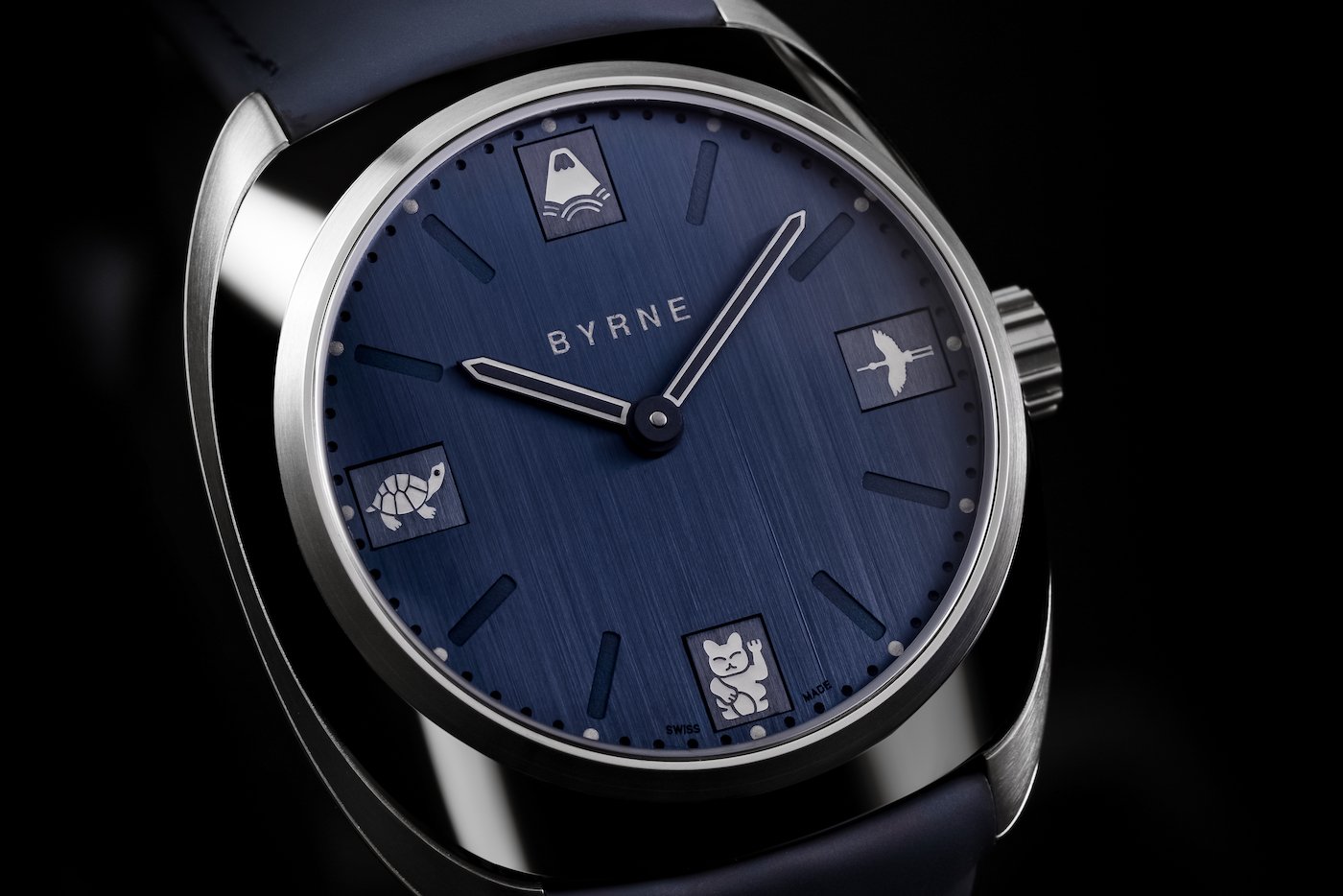 With this bespoke-developed movement, Byrne Watch has invented the (r)evolutionary watch: Every day at noon, or midnight, or on request, the four cardinal markers undergo a change as part of a never-ending cycle.
Arabic numerals, Roman numerals, special characters or artwork – anything is possible. That is because each of the indices is in fact a cuboid – at any given moment, we see only one its four faces, absolutely flush with the dial. When the time comes, all four cuboids rotate one turn, instantaneously revealing different cardinal markers.
Today, Byrne Watch is taking the idea of bespoke for a timepiece to the next level. Byrne, whose very essence is to offer a watch that meets the wearer's deepest desire for personalisation, now offers the possibility of defining the appearance of the four faces of each cuboid cardinal marker. The watch face now becomes a genuinely unique expression of its owner.
At a time when "bespoke" has become the new watchword, it seems only natural that an object as personal as a watch should also offer the possibility of true personalisation. And yet...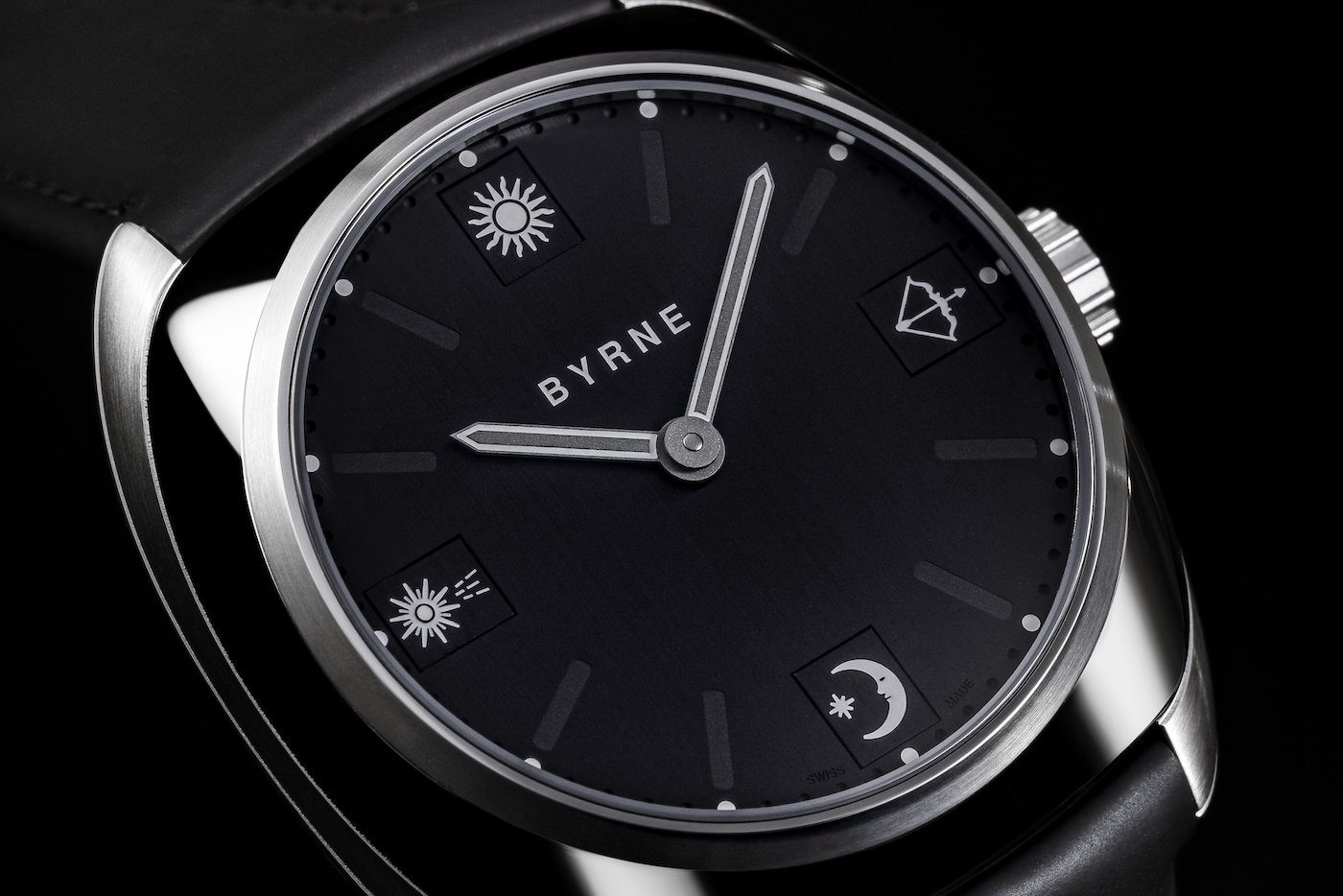 It wasn't marketeering that inspired John Byrne to dream up this option for their clients, but the vast possibilities of the imagination. It all began five years ago, when attending a performance of Georges Balanchine and Igor Stravinsky's ballet "Apollo." His eyes lit up with wonder, captivated by the changing appearance of several dancers lined up one behind the other, appearing to be one and the same ballerina but wearing different costumes. This sparked the idea of designing a watch that, in a flash, could also change its face.
The GyroDial intuitively lends itself to integrating any form of personalisation on its cubes. In fact it was engineered into the watch from the outset. Everything had been thought out and thought through upstream. That's the concept's intelligence, with its singular ability for customisation: the cuboid markers are designed to accept any kind of engraving, symbol or even a precious stone. Any element, essentially, can be applied to or integrated into each of the four faces of each cuboid.
For Byrne Watch, it is especially gratifying to offer their clients such a breadth of possibilities. To give them the opportunity to own a unique watch, made only for them and, in a way, by them...because the client is in fact, right from the start, part of the design process.
Byrne Watch founder John Byrne's primary aim is to match his clients' desires as closely as possible. John Byrne: "The client can dream up their own watch. There really are no limits to the imagination. The GyroDial complication has been thoroughly thought out all the way upstream, so that today we have absolutely free rein."
In taking 'bespoke' to the next level, Byrne offers a unique customisation experience. With 4 different faces per cardinal index, the Byrne GyroDial can potentially present up to 16 different marker faces – a vast canvas for the imagination.
Anything is possible, from motifs inspired by the signs of the zodiac or the symbols of a country's history, to personal family references Anything can also be kept from view, since the finesse of personalisation offer also enables the face to be switched on demand - simply by rotating the crown. The wearer decides when to keep a face hidden, and when to reveal it, depending on where they are or who they're with. This option is particularly appreciated when a secret number is involved.
Every graphical motif on a Byrne watch is engraved and rhodium-plated, never painted. Each decoration or design is conceived on a nano-graphic scale and then rendered by in-house artist before it is sent to the manufacture engraving. An incredible technical feat, it represents personalisation at the 'ultra' level.
To John Byrne, this approach to personalisation has always been integral to his attitude towards life. Coming from the world of technical service, he appreciates how breathing new life into old or new parts requires agility and flexibility. He understands the importance of choice to the client. This mindset spontaneously led to the obvious realisation that "a watch with four different faces means that surprise, fun and enjoyment will be at the very least quadrupled." That's how the adventure began.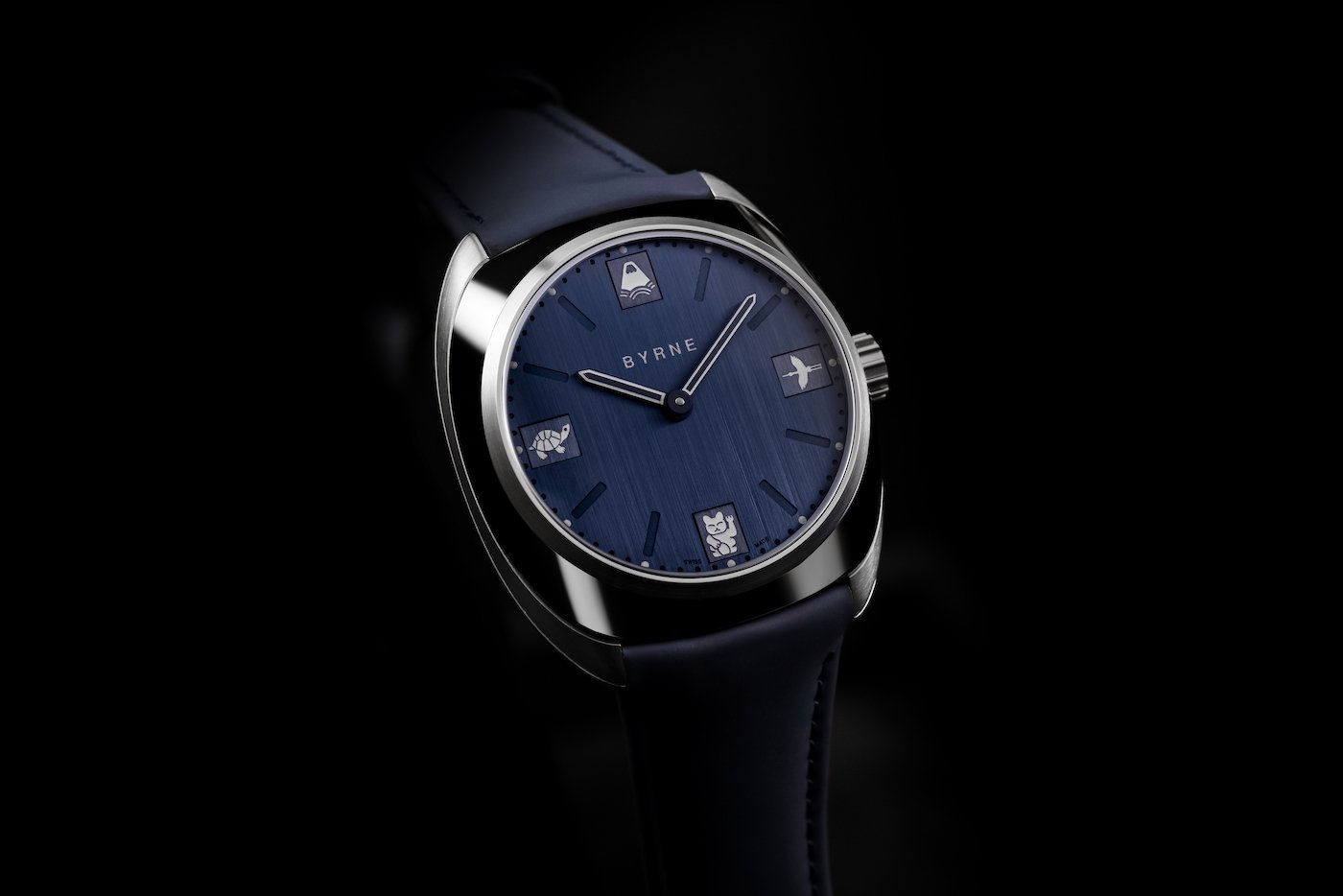 John Byrne's connection to the artistry and craftsmanship that go into high watchmaking, such as enameling and gem-setting, runs deep. He sees himself as both guardian and guarantor of these ancestral techniques. The artistic direction the brand is taking exemplifies this stance, allowing him to express it with greater and greater deliberateness.
TECHNICAL SPECIFICATIONS
Functions
Hours, minutes
Mobile indexes with instantaneous change at midnight every day, or on demand
Case
Material: Grade 5 titanium
Diameter: 41.7mm
Thickness: 14.8mm
Crystal: Sapphire box crystal, anti-reflective coating on both sides
Case back: Sapphire box crystal, anti-reflective coating
Water resistance: 5 ATM , equivalent to 50 meters
Dial
Black or galvanic blue
Straight grain finish, recessed hour markers
'GyroDial' cardinal markers at 3, 6, 9 and 12 o'clock
Movement
Caliber: 5555, mechanical self-winding, Swiss, developed in Fleurier
Finishes: Plate and bridges in sand-blasted and rhodium-plated plate maillechort (German silver), straight-grained, offset Côtes de Genève chamfered and finished by hand
Components: 261
Stones: 42
Diameter: 30.00mm
Height: 8.00mm
Power reserve: 60 hours
Frequency: 4 Hz / 28,800 vph
Strap
Rubber or large-scale alligator, choice of colours, bespoke integrated curved inserts
Buckle in Grade 5 titanium