I
n August 2017, the Longines Museum acquired a small Longines watch. It was made of steel, with a diameter of 32.5 mm. It featured what is known as a "sector" dial, along with a generously proportioned small second subdial at 6 o'clock. The watch sowed a seed, and the brand's Product Department was quickly alerted. They came to take a look. The watch in question, serial number 5.239.852, dates back to 1929. According to the company ledgers, it was sold on 18 August 1934 to a firm by the name of Ostersetzer, at the time Longines' agent for Italy. Inside beat the legendary calibre 12.68Z. It was love at first sight.
1934
Watches with these kinds of segmented dials have become highly sought-after by collectors. Longines, whose busy Brand Heritage Department fields around fifty information requests each day on average (see our article "A glimpse into Longines' heritage and patrimony" from December 2018), has noted an increasing number of requests for pieces like this.
After conducting some research in their own archives, staff exhumed several other references with sector dials in black or white, belonging to wristwatches and pocket watches from the 1930's, which gives an idea of how popular these watches were.
1935 Ref.3818, 1936 Ref. 3454, 1939 Ref.3916
A 1935 sectorial pocket-watch
Many of these timepieces were equipped with the same calibre, the 12.68Z, which gives some idea of the rational approach to movement production taken by Longines from the late 1920's, when the 12.68Z was produced on a large scale. It is a very precise calibre that has proven to be extremely reliable. Its timekeeping qualities ensure a rigorous and precise time display, which is shown off to great advantage against the precision markings of a sector dial.
Completely devoid of extraneous detail, their sole ornament being the markings required to measure time, these dials with their ultra-precise, minimalistic geometrical design purpose-engineered to showcase the chronometric functions of the watch were very popular between the wars.

LONGINES HERITAGE CLASSIC


REFERENCE NUMBERS: L2.828.4.73.0, L2.828.4.73.2

CALIBRE: Mechanical self-winding movement, Calibre L893 (ETA A31.501). 11½ lignes, 27 rubies, 25,200 vibrations per hour

POWER RESERVE: 64 hours

FUNCTIONS: Hours, minutes, small second at 6 o'clock

CASE: Round, ø 38.50 mm, stainless steel

DIAL: Silvered, 2 zones, painted Arabic numerals and markers

HANDS: Blued steel

WATER RESISTANCE: Up to 3 bar (30 metres)

CRYSTAL: Sapphire with multi-layer anti-reflective coating

STRAP: Black leather and nato blue denim effect leather with pin buckle, blue leather and nato anthracite denim effect leather with pin buckle

PRICE: CHF 2,000 (plus applicable taxes)
A worthy setting for an exclusive new movement
The powers that be decided that the 1934 piece, with its handsome, architectural, symmetrical sector dial, would be the ideal vehicle for a new movement Longines was then working on in collaboration with ETA. Its codename was the A31.501 (Longines L 893.5), and it was being developed exclusively for Longines. It's a very powerful automatic 11.5-ligne movement, measuring 26.20 mm in diameter and 4.60 mm thick in the centre, with a generous power reserve of at least 64 hours, and a silicon balance spring.
The L 893.5 Calibre
It doesn't have a date function, but what it does have – at the specific request of Longines – is a particularly generous space between the two axes of the hours and minutes, and the second hands. This configuration meant that Longines could give their watches an appearance as close as possible to that of certain vintage models. The 1934 watch was clearly the ideal home for this new movement.
A vast heritage to explore
Longines' collections are divided into five categories: Elegance (quartz and mechanical), Classic, Tradition (99.6% mechanical, including the COSCcertified Record range), Sport (including the Conquest V.H.P.), Heritage.
Longines didn't wait for the vintage wave to peak before diving into its own historical archives. On the strength of its impressive heritage, meticulously collected, documented and archived for over 150 years, Longines made its first incursion with the 1987 reissue of the famous and historic Lindbergh, dating from 1927. This historical approach is greatly aided by the fact that Longines has occupied the same building for over a century and a half (removals often lead to archives being lost, as we all know), that the company has enjoyed remarkable stability in terms of management, and finally that Walter von Känel, who joined Longines in 1969 and has run the company since 1988, is well known for his dedication to history and museography.
"I love time-only watches. To me, a good time-only watch should exude practicality and beauty at the same time – something that the Longines Sector Dial does so well. There's an air of effortlessness to it. And I like that it's a nuanced, modern reinterpretation: it manages to stay true to its roots, while moving forward." – Esra Gurmen, journalist and watch collector
From the outset, the philosophy of Longines has been to replicate or reissue certain historic pieces using modern technology, while remaining as faithful as possible to the original piece. For the last five years, on the strength of the rising popularity of and demand for historic timepieces, this branch of the company has become more tightly structured, regularly producing both limited-edition anniversary pieces and models destined to join the current collection.
While, by Longines' own admission, this segment accounts for only a small proportion of its revenues, it contributes substantially to the historic and heritage prestige of the brand, making it attractive to collectors, raising its social media profile and bringing it to the attention of the most discerning aficionados who, as we know, are often more purist about such things than the brands themselves.
In pursuit of perfect balance
Reworking and redesigning a historic model while preserving the spirit of its creation is by no means an easy task. Moving from a diameter of 32.5 mm to a diameter of 38.5 mm, while retaining the aesthetic balance of the piece, is far more than just a matter of simple arithmetic. You also have to achieve the correct compromise, one that satisfies both absolute purists who swear by the original watch, and aficionados for whom the diameter of the 1934 model is too small to wear today.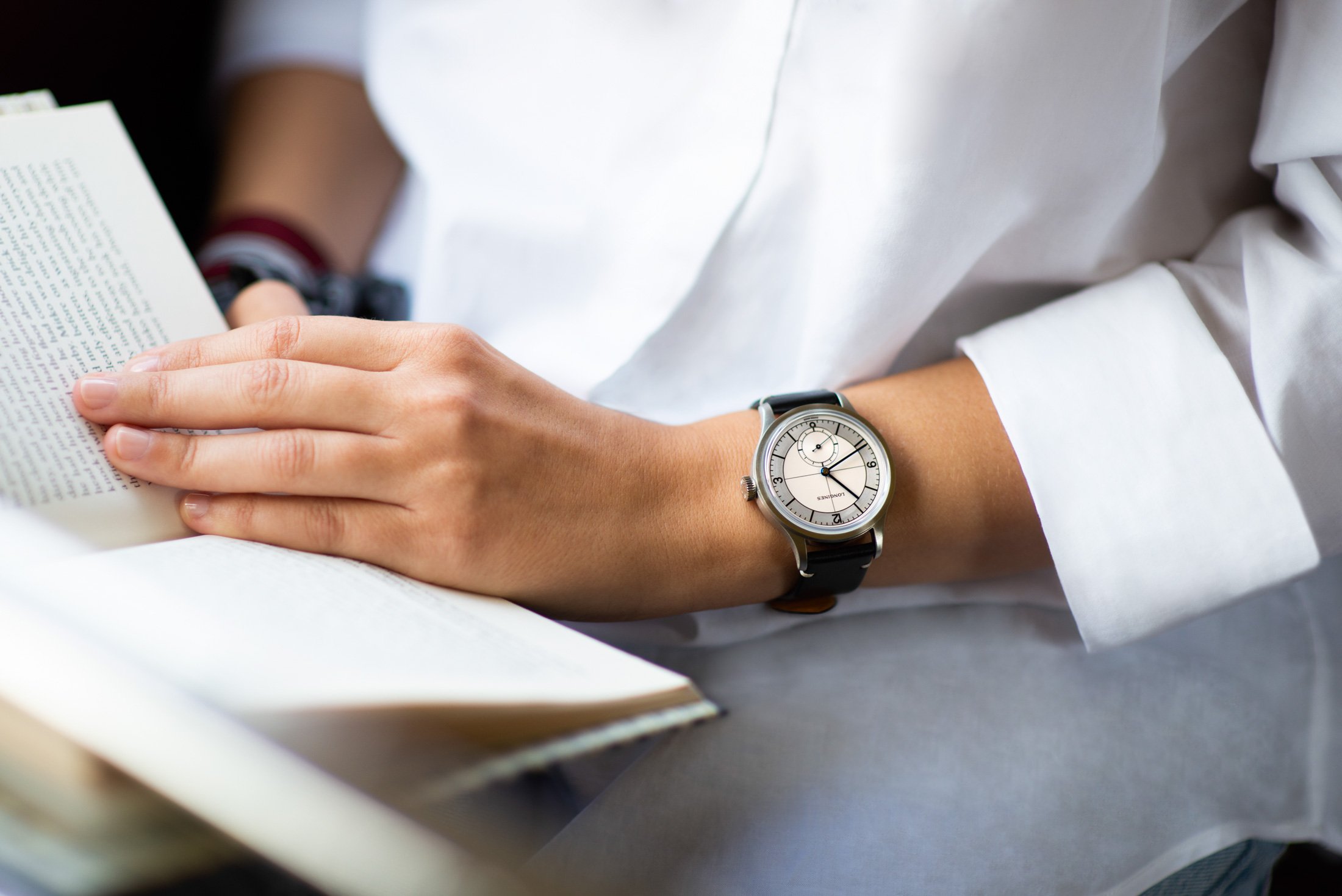 It's all about the relationship between the diameter and the thickness, and the geometrical balance of the dial. It's an extraordinarily delicate task because, within the very restricted area of a watch, each millimetre, each fraction of a millimetre, counts. The smallest error can upset the balance of the whole. Here's one very simple concrete example: the figure 6 on the dial.
"The history and heritage of Longines is something that astounds me, the longevity of it. Having existed, producing watches through some of the most poignant moments in time, there's something so special about that. I love collecting these watches for that very reason, you're collecting small pieces of history. The Longines Heritage Classic is something that remains aesthetically true to the brand's past, bringing it to the modern day collector. The fact that each of these historically relevant pieces will now go and form new stories with people around the world is exciting to me; that's really what this hobby is all about." – Matt Hanson, collector
The position of the big small seconds in the lower half of the dial partially occludes the 6. For technical reasons to do with the distance between the axes of the hands, as well as aesthetic considerations of harmony regarding the watch as a whole, Longines' designers must have spent a long time on this micro-detail before they found the ideal solution. In fact, compared with the original, the 6 on the updated piece is slightly more visible. Only very slightly, but this is the kind of detail that can determine the success or failure of the entire project.
Effortless perfection
Going on first impressions, the new Longines Heritage Classic is a resounding success. It stands apart from many recent (more or less well-conceived) vintage models because of the sheer effortless simplicity of its design. "What is a watch?" it asks. "It's this," it seems to reply, with modest but implacable self-assurance. A watch is the hour, minute and second, precisely and scientifically displayed. It is a small but faithful time machine, housed in a case that is equally simple, discreet and elegant.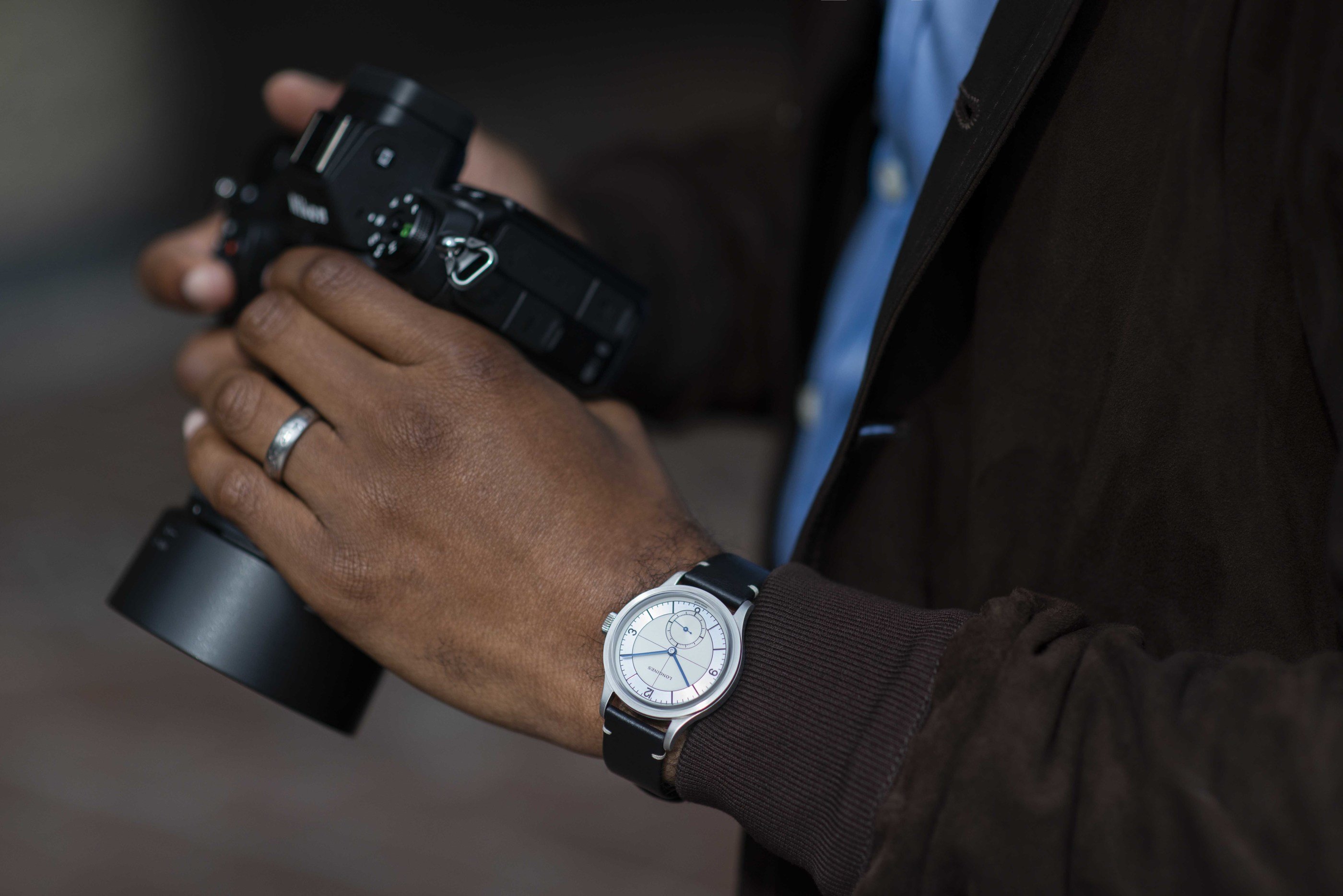 "When I first laid eyes on the new Sector Dial timepiece, I was rather taken aback. This new piece has the perfect mix of yesteryear and modernity of today. The inspiration of the case design comes from an era where these watches weren't just mere time telling devices but actual tools and the simplicity in its design lends to its utilitarian purpose. The balance of the sector dial is pure genius, with not only contrasting tones but contrasting textures of smooth and brushed. When I looked closer and saw the slightly raised applied numerals, it was rather pleasing to see that Longines had added this detail…" – Chris Beccan, journalist and watch and whisky collector
It could come off as clinical, but in fact it's quite the opposite. Its simplicity, confidence and unapologetic rigour exude a charm all their own. It seems to say: this is the watch, in the sense that it embodies the essential functionality and timeless form of an object designed to tell the time as precisely as possible. And its form is perfectly appropriate: it's a watch that dates back to 1934, a watch that doesn't hide its age, and yet is ageless.
As so many people say: "I miss the days of the 'watch for life'." Well, maybe this is it.
Beyond nostalgia
But, if anything is to last, it has to be adaptable. Today, we expect a watch to be water-resistant (this one is, to 30 m), precise and reliable (guaranteed by its high-powered exclusive movement).
But while the shape might be identical, perceptions have changed. In the translation from 1934 to 2019, its size has expanded from 32.5 mm to 38.5 mm. The "maximum" size for a watch like this, according to the purists, is also a size that will likely exert an appeal well beyond its original target audience of men, particularly in some markets.
The eye is inexorably drawn to the two zones of its silvered dial, its blued steel hands, its painted Arabic numerals and markers, its discreetly boxy sapphire crystal; the viewer is charmed by its elegant, handsome and refined overall appearance, and its beautifully clear display.
The Sector Dial, to use its nickname, comes supplied with two different straps that can be changed easily using the small tool that is also included in the presentation case. There's a blue Nubuk or matt black calfskin two-stitch strap, and a blue or anthracite leather "denim effect" NATO strap, all with pin buckle. The Longines Heritage Classic will be go on sale worldwide since October.
In addition to its intrinsic qualities, and the excellent response it provides to a market still riding high on the vintage wave, its CHF 2,000 price tag practically guarantees a very favorable reception.
Explore the Europa Star archives - Join us as a Club member
Including over 350 fully searchable back issues, up to the latest 2019 publications. A treasure trove for all knowledgeable professionals and aficionados.