I
f there's one word that defines the spirit of Longines better than any other, it's "consistency". This is not the same as stasis, or being wedded to the past; indeed, consistency is equally applicable to watchmaking innovation. While some watch brands choose to fabricate a glorious past, the history of the maison based in the village of Saint-Imier (where it has remained since 1832 – another telling sign) is genuinely rich in innovations. Longines' role in the development of the Swiss watch industry, in particular, deserves to be more widely known.
That's one of the goals CEO Matthias Breschan has set himself. He told us: "Longines' pioneering role should be brought to the fore. The history of the company is one of constant innovation. But very few people really know about the contribution Longines made to water-resistant chronographs, flybacks, GMT watches and high-frequency movements."
In his opinion, the Longines Spirit collection, launched last year, is a perfect illustration of the brand's strategy of contemporary reinterpretation: "Longines has a vast back catalogue, from which we can draw inspiration for modern interpretations. Indeed, when I arrived, I was surprised by the extent of this rich heritage, despite having worked in watchmaking for several decades!"
The brand unites past and present by drawing on its heritage to design a model with uncompromisingly modern accents. Sublimating tradition requires considerable finesse.
A new keystone collection
Longines' history is peppered with forays into many different watchmaking domains. This living heritage has been wisely and painstakingly conserved (the company ledgers record the serial numbers of every product manufactured, from the earliest years – a very rare occurrence), and continues to be refined over the years with the subtle addition of technological developments.
A feature on Longines from a 1967 issue of Europa Star. Longines' vast and incredibly well-organised archives make it possible to respond to any request, even for the oldest models. "We can systematically trace all our historical output, thanks to the meticulously recorded serial numbers. We have also kept a considerable stock of old parts for repairs," explains Longines CEO Matthias Breschan.

©Europa Star 1967
Hence the new livery of the Longines Spirit collection, which has become a pillar of the brand in record time. The latest variation was unveiled this year with a titanium case.
Titanium is a highly symbolic material: it is a staple of the aeronautical industry, which is where the Longines Spirit derives its inspiration. In the last century, the winged hourglass played a pioneering role in aviation, accompanying the exploits of such legendary aviators as Howard Hughes and Amelia Earhart.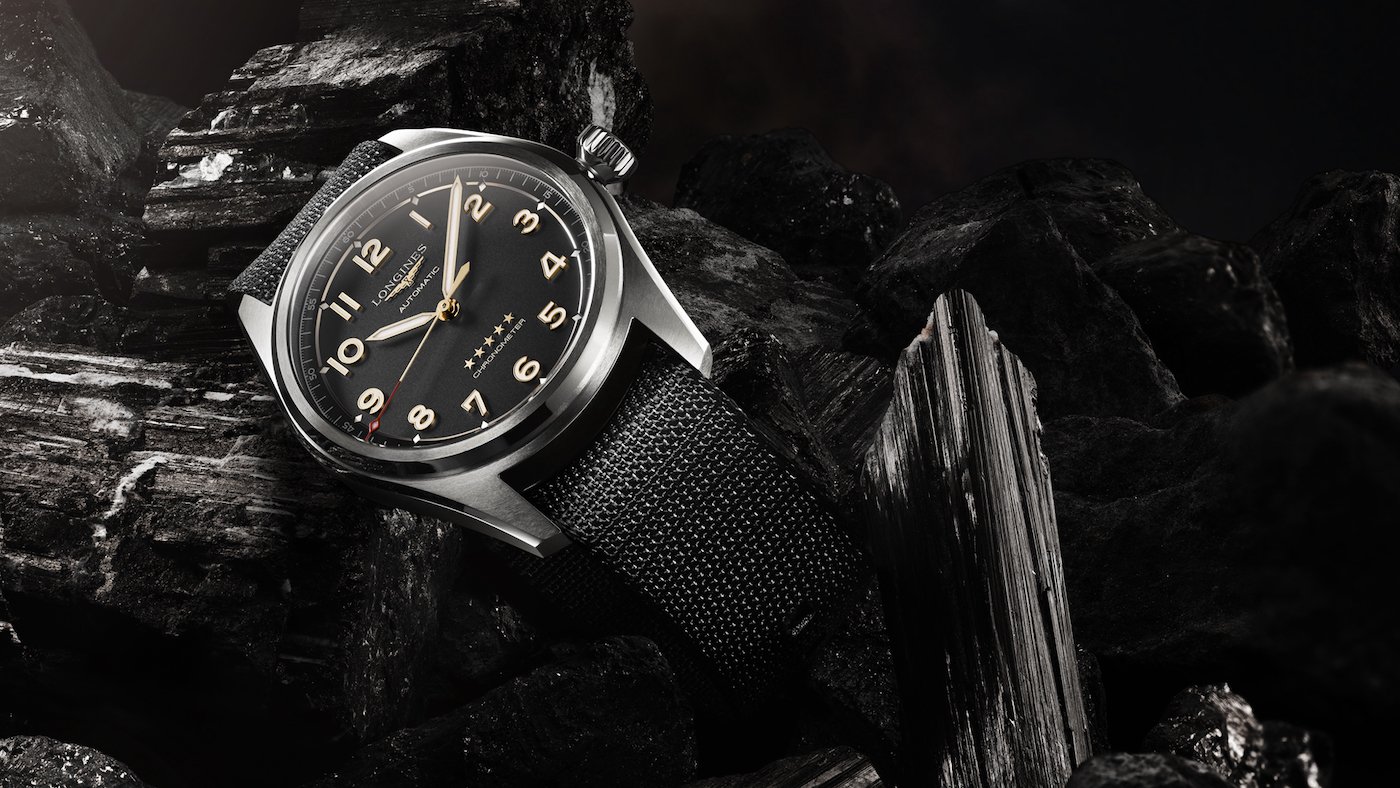 Contemporary aesthetic
Titanium is difficult to machine, but it is both lighter and stronger than steel. The alloy used for the Longines Spirit, Grade 5 titanium, is an alloy of titanium, aluminium and vanadium. Clearly, strength is not just about weight.
The matt finish and slightly darker tone of the metal lends an even more contemporary dimension to the pure, sleek lines of this collection. It is the quintessential expression of the brand's efforts to marry past and present by drawing on its heritage to design a model with uncompromisingly modern accents. Sublimating tradition requires considerable finesse.
The Longines Spirit collection includes new models forged from titanium, as a tribute to the brand's origins in the world of aviation. The satin-brushed and polished 40mm or 42mm case encloses an exclusive COSC-certified automatic movement (L888.4) with a silicon balance spring. A domed sapphire crystal protects the sandblasted anthracite dial with satin-finish black flange. Golden Arabic numerals and hands filled with Super-LumiNova® contrast with the dark tones of the dial.
Aesthetically, the new models are remarkable for their refined execution: the case and bracelet feature satin and polished finishes, contrasting with the anthracite sandblasted dial and satin-finish black flange.
They make the most of the contrast between the sombre colour palette and the subtle lustre of the finishes. Hands, numerals, stars and hourglass reflect the soft sheen of 1N gold – another example of materials and finish in perfect equilibrium – and take possession of a dial whose aeronautical symmetry is uninterrupted by any date window. In one final reference to the night sky, the hands and numerals glow with the distinctive luminescence of "Blue Line" Super-LumiNova®.
Titanium plus silicon
The position of the five stars on the dial owes nothing to chance. Throughout Longines' history, the star has been a symbol of the highest quality and reliability. Indeed, these models have been certified by the COSC (the Swiss Official Chronometer Testing Institute), and come with a five-year warranty.
The automatic movement features a balance spring made of silicon, a material increasingly valued in watchmaking because it is inherently light, amagnetic, strong, corrosion-resistant and impervious to thermal expansion.
The new Longines Spirit also comes with a titanium bracelet and a nylon NATO-style strap. The strap was developed specifically for this model, using a special weave that replicates the black and anthracite hues of the dial while offering unparalleled comfort.
Titanium is a highly symbolic material: it is a staple of the aeronautical industry, which is where the Longines Spirit derives its inspiration. The alloy used for the Longines Spirit, Grade 5 titanium, is an alloy of titanium, aluminium and vanadium.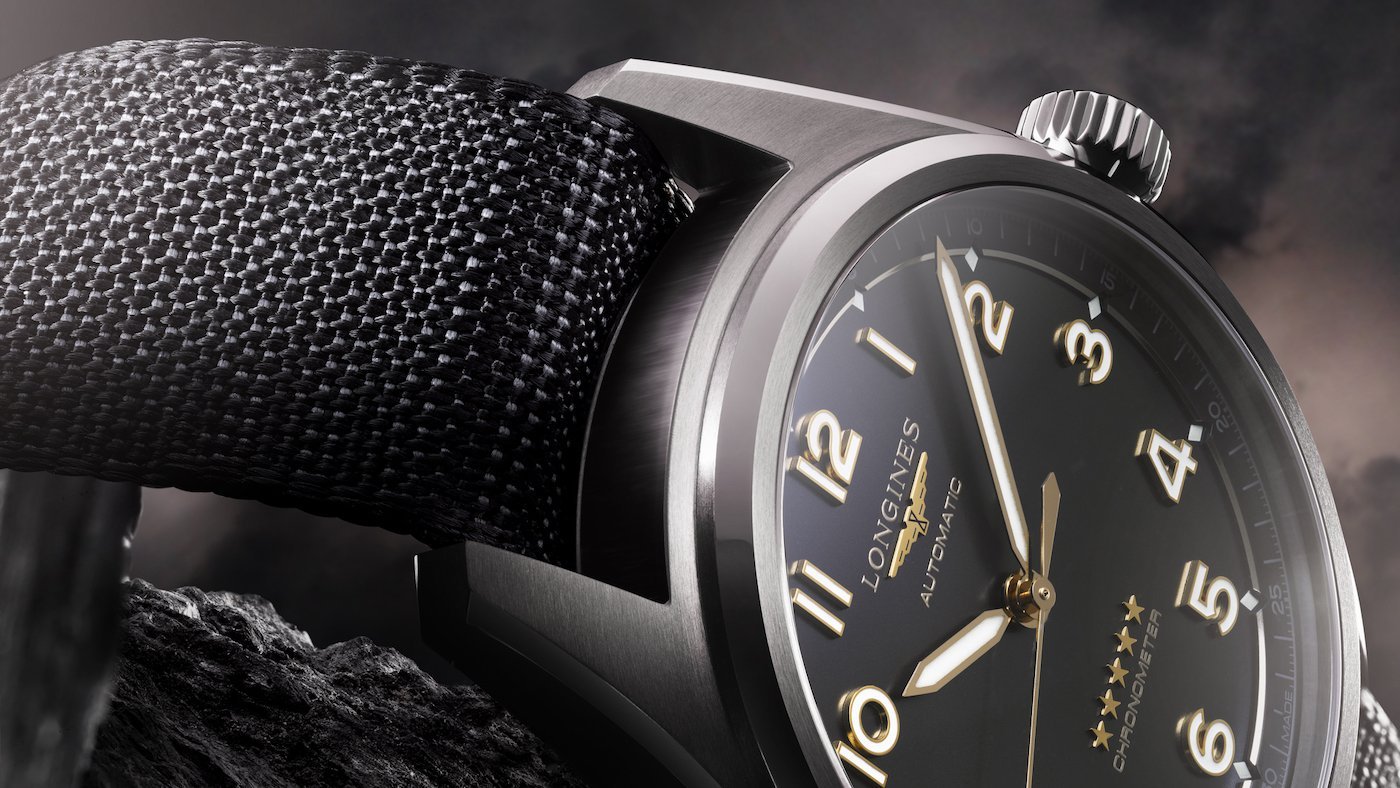 Holding course
While the average price of Swiss watches continues to rise each year, Longines has not deviated from its core price range of between 1,000 and 4,000 francs. The new titanium variants of the Longines Spirit are priced from 2,500 to 2,900 francs, well within the brand's comfort zone.
Despite the siren song continually emanating from watchmaking's higher altitudes (to which many have been drawn), Matthias Breschan has no plans to change course. "Our own experience proves that you can still be successful in this segment, if you make the effort to convey a clear identity and a strong brand image across several markets."
He sees a risk for the entire Swiss watch industry if this segment is neglected. "With the general move upmarket, people forget that 1,000 to 4,000 francs is still a lot of money for many potential clients. These delusions of grandeur have concerned me for a number of years. We see brands raising the prices of already expensive watches, without making any substantive changes. Brands we've never heard of are positioning themselves at price levels that I feel are very high. What happens if a client needs after-sales service, and the brand no longer exists? It's a dangerous game for our industry."
Subtle readjustments
Longines intends to continue to offer timepieces within this clearly-defined niche, incorporating new technologies while remaining faithful to its historic identity and heritage. This is a more delicate exercise than it might at first appear, requiring constant readjustment to navigate the currents of history, without succumbing to the ever-changing winds of fashion.
An advertisement that appeared in Europa Star in 1989, for the reissue of the famous Lindbergh Hour Angle Watch, which is still available today.

©Europa Star 1989
This timeless appeal is what will ensure Longines remains relevant, regardless of whether the prevailing trend is for vintage understatement, or disruptive materials and colours, in the frenetic American market or the expanding economy of China.
Like an experienced pilot, the brand is doing its best to steer a steady course. "Our mission has always been to offer the best value in our segment, and I believe Longines has proved that it's entirely possible to succeed with this strategy," Matthias Breschan points out.
In popular culture, the titanium wedding anniversary celebrates the 72nd year of marriage, which gives an indication of the material's longevity. For Longines, which celebrates its 190th anniversary next year, it is a more than fitting tribute.
TECHNICAL SPECIFICATIONS
REFERENCE NUMBERS
L3.810.1.53.2/6
L3.811.1.53.2/6
CALIBRE
Mechanical self-winding movement, COSC-certified
Calibre L888.4 (A31.L11)
111⁄2 lignes, 21 jewels, 25,200 vibrations per hour
Silicon balance spring
Power reserve approx. 72 hours
FUNCTIONS
CASE
40mm and 42mm, 12.20mm deep
Round, titanium
Domed sapphire crystal with multi-layered anti-reflective coating on both sides
Screwed crown
Caseback with 6 screws
DIAL
Sandblasted anthracite dial, satin-finish black flange, applied Arabic numerals, Super-LumiNova®
HANDS
WATER RESISTANCE
Up to 10 bar (100 metres)
BANDS
Titanium bracelet with triple security folding clasp and push-button opening mechanism, interchangeable
Anthracite NATO-style woven nylon strap with titanium buckle, interchangeable
SUGGESTED RETAIL PRICE