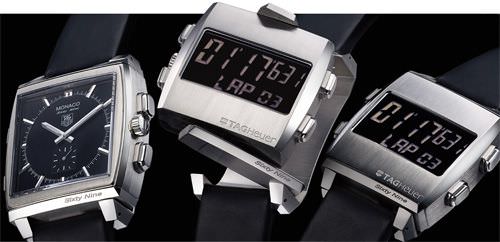 MONACO 69


The TAG Heuer success story is first and foremost a story of love and passion shared by men and women striving to innovate quality watchmaking and master the tiniest fractions of time. From Edouard Heuer the founder back in 1860 in St-Imiers to Charles-Edouard Heuer in the late 50s, and Jack Heuer through the 70s to Jean-Christophe Babin, the current CEO of the brand since the year 2000, the technical innovations and design creativity of the brand all stem from the solidarity and unremitting effort of a dedicated team.

Passion breeds success
"Our team embodies TAG Heuer's obsessive and passionate search for innovation and perfection," Jean-Christophe Babin acknowledges. "We have been at the forefront of precision timekeeping from the brand's very beginnings and over the years we have developed and manufactured some of the most revolutionary sports timekeepers. Sport and technical prowess are a part of our DNA, whether we're talking about mechanical movements such as the Calibre 11 Chronomatic, the first ever self-winding chronograph movement with a microrotor, or our efforts during the quartz revolution when Jack Heuer pioneered the use of the very first Swiss made LED and LCD quartz movements encased in the iconic Manhattan Digi-Ana chronograph.
"In more recent times, we have invested heavily in both machines and that most important of assets, people, so that today we can proudly boast that reliability, sturdiness and perfect consumer service are now a total reality at TAG Heuer – all of which are elements that actively participate in the brand's commercial success. In fact, we now enjoy an unprecedented and impressive defect rate well below 1 percent, a true Guinness Book Record within the watchmaking industry,"Babin adds with a smile of contentment.
"In the last few years, we have introduced a highly innovative series of projects: the Monaco 69 Concept Watch, the Monaco V4 Concept Watch; the Diamond Fiction ladies' watch which recently won the 'Grand Prix d'Horlogerie de Genève', which is just a small step within our new objective of further developing our involvement in the ladies' watch market; the Calibre 360 Concept Chronograph - the first ever mechanical chronograph movement in a wristwatch measuring and displaying 1/100th of a second, the prototype of which was recently sold for 20,000 Swiss francs at auction by Antiquorum in November in Geneva in favour of the Musee de l'horlogerie et d'emaillerie; the Professional Golf Watch and the Aquaracer to name just a few.
"I am very conscious of the fact that we owe today's incredible success to our team of passionate watchmakers, designers and engineers," Babin proudly admits, "who, in addition to their passion, have as a motto 'nothing is impossible' and are proud to show the world that TAG Heuer deserves, more than ever, its ranking at the top of the Swiss luxury watchmaking industry."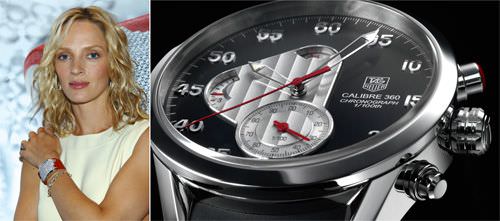 Uma Thurman - CALIBRE 360 CONCEPT CHRONOGRAPH


Innnovation, a global approach
"At TAG Heuer, innovation is a global approach," Stéphane Linder, TAG Heuer's genial Product Director explains. "We have had three or four years of intense creativity with new designs, but what one has to remember is that innovative techniques are always behind the brand, pertinent to the brand, a part and parcel of our image. However, the innovations have to be in one of our established sports categories of automobiles, Formula I, water sports and golf, and they have to tell a story.
"For example, we created a titanium collection in the late 90s, but the consumer couldn't really see any difference between the old and the new because despite titanium being a performance material, the only real difference was the weight of the watch. So that didn't really work because innovation is all about the perceived image. If for example Mercedes brought out a cheap sports car, that wouldn't be considered as innovative and the same is true for TAG Heuer. Our territory is innovation and whatever we do that is new, must be perceived to be new, the difference has to be seen. In our case, the differentiation is the act of designing a set of meaningful and distinctive differences to distinguish the TAG Heuer offering from that of our competitors.
"The authenticity of the TAG Heuer brand lies in three areas: design, technology and functions. If we simply create a gadget, nobody cares, we have to produce a product with a real noticeable additional value that adds prestige to the brand and is of interest to the consumer. Innovations must have a legitimacy, a raison d'être, with a very low obsolescence potential. To achieve this, we have created a four-layer system: sourcing creativity, concept watches, specialist timepieces and our core business. Let me explain."






Stéphane Linder & Jean-Christophe Babin


Sourcing
"For our sourcing creativity, we take up and maintain contact with the leading European fashion and design schools. We have had dozens of suggestions from, for example, the Domus Academy in Milan and St Martins in London, and we've now taken the process a step further by actually teaching the teachers the ins and outs of designing watches. We also have a regular contact with designers of all categories, high-engineering schools, engineering consultants, and we visit various consumer and trade fairs such as those for automobiles and textiles to see what is happening in general so that we can develop our own ideas."

Concept watches
"Our concept watches are all about building a brand image. It's good for the brand and excellent for creativity. In the past, many of our projects never got very far because everyone involved thought primarily about the constraints and the problems. Now we start off with a blank piece of paper and an open mind and see where it leads us, but today our creative and technical people now see the ideas enthusiastically without the constraints of how much has to be invested, or how it will be developed.
"The Monaco V4 concept watch that we introduced at BaselWorld in 2004 and created such a stir is a perfect example of what I'm talking about with its revolutionary linear winding weight and two axes turning in the same direction that link them with notched belts. There's also the Monaco 69 which is a mechanical watch that swivels to offer a quartz chronograph with timing to 1/1000th of a second. This year we unveiled our Calibre 360 Concept Chronograph, the most avant-garde 'engine' ever in watch history. It has two movements, a manual winding chronograph movement with 360,000 vibrations per hour (that's ten times higher than anything else that exists!), with a 1/100th of a second displayed on a counter, a power reserve of 100 minutes and the other movement is an automatic TAG Heuer Calibre 7 with 28,800 vibrations an hour and a 42-hour power reserve."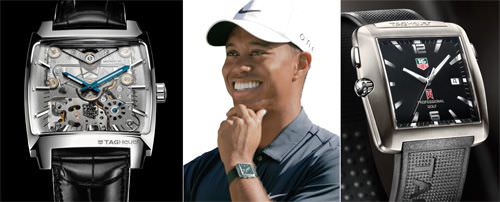 THE MONACO V4 CONCEPT WATCH - Tiger Woods - PROFESSIONAL GOLF WATCH


Specialist timepieces
"Finally there are our specialist timepieces," Stéphane Linder explained with enduring enthusiasm. "The first ever Professional Golf watch is a perfect example of specialization since it was developed and worn by Tiger Woods to meet the unique ergonomic demands of golfers. Normally golfers don't wear watches because it impedes their movement. The clasp and a folding buckle hurt a golfer's wrist when he's playing, as does the crown when the wrist is bent. We therefore produced a watch without a clasp, using instead a patented integrated folding and unfolding system with a crown at 9 o'clock as opposed to 3 o'clock. To this we added a special strap with ultra elasticity that adapts its length to any wrist diameter and keeps the watch away from the golfer's glove. Weighing just 55 grams and absorbing 5,000 G shocks, Tiger Woods confirmed that he doesn't feel the watch when he is playing.
"Last, but far from least, there's our New Aquaracer Calibre S with a 1/10th chronograph and regatta countdown, the new Aquaracer Series that Brad Pitt wears in the advertising and the new Formula 1 Chronograph that Kimi Räikkönen was intimately involved with. These are specialist timepieces, but we know that there is a demand for them and will therefore sell. At which point they will become an integral part of our core business, which is made up from our Formula 1, 2000 Series, Link and Carrera collections."






AQUARACER CALIBRE S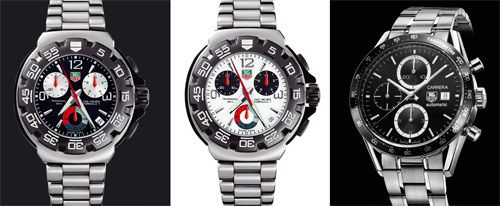 FORMULA 1 CHRONOGRAPH - CARRERA CHRONOGRAPH WITH TACHYMETER


Conclusion
Beyond its emblematic models, attractive advertising using such leading sports and glamour stars as Uma Thurman, Maria Sharapova, Tiger Woods, Brad Pitt, Kimi Räikkönen and an impressive innovative flow, TAG Heuer today is a showcase of modern management applied to creative watchmaking.






Kimi Räikkönen and Juan Pablo Montoya in TAG Heuer's workshops.


"We're a blend of know-how and secular expertise with imported management processes, methods and philosophies from Harvard and Procter & Gamble," Jean-Christophe Babin confides.
"The company is a very lean and participative structure with only four layers from the CEO to the basic watch operators, few, but very young and highly empowered managers leading the key Research & Development, Operations and Quality Insurance Departments and a worldwide network of partnerships with universities, car manufacturers, F1 engineers and young designers.
"We are a brand that is managed overall like a soccer team with the philosophy that victory is a matter of collaboration and talent sharing, where nobody has the monopoly concerning ideas and innovation," Jean-Christophe Babin underlines. "What we do is the responsibility of the entire team and looking back at the last five years, it seems that TAG Heuer, in that sense too, continues to innovate and pioneer within the Swiss watchmaking industry."


Source: December - January 2006 Issue

Click here to subscribe to Europa Star Magazine.