At BaselWorld earlier this year, TAG Heuer introduced a new prestigious and innovative chronograph, the Carrera Calibre 360 Chrono-graph. A high-prestige incarnation of 2005's Calibre 360 Concept Chronograph - the first mechanical wrist chronograph to measure and display time to 1/100th of a second, the Carrera Calibre 360 Chronograph is a perfect example of the brand's unquestionable talent for combining technique with elegance.

Carrera Calibre 360 Chronograph
The Carrera Calibre 360 Chronograph is the world's most accurate mechanical chronograph, a stunning timepiece that underlines the brand's permanent attention to enhancing horological performance with modern, trendy aesthetics. The briefest glance at the Limited Edition of the 18 carat rose gold version of the chronograph with its chocolate-brown guilloche dial and matching alligator strap, says it all.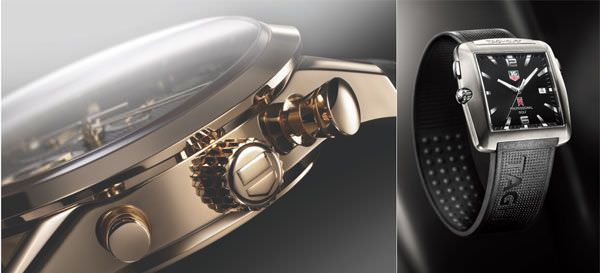 The CARRERA CALIBRE 360 CHRONOGRAPH
The GOLF WATCH


Confirmation of the importance of this chef d'oeuvres, if any was needed, arrived in November when the Carrera Calibre 360 Chronograph was named 2006 Sports Watch of the Year at the Grand Prix d'Horlogerie de Genève.
The complex triple-patented movement of the Carrera Calibre 360 has more than 230 components and sports a drastically lightened and miniaturized hairspring and escapement mechanism, along with two sets of escapement mechanisms representing an engineering first, allowing the watch to function at a regular speed of 28,800 vibrations per hour (vph) for standard timing, then accelerate to the extraordinary speed of 360,000 vph in chronograph mode. In the automobile world, the 360,000 vibrations per hour of the Carrera Calibre 360 would be comparable to a car engine that attains an unbelievable 75,000 rpms (revolutions per minute).

Link Series
Another of TAG Heuer's leading collections is the Link. Established in 1987 under the name S/el (Sports and Elegance) and re-designed just after the millennium, the Link is the watch par excellence for athletes and sports' men and women. The collection continues along its highly successful path with the latest timepieces that combine performance and style with strength and elegance.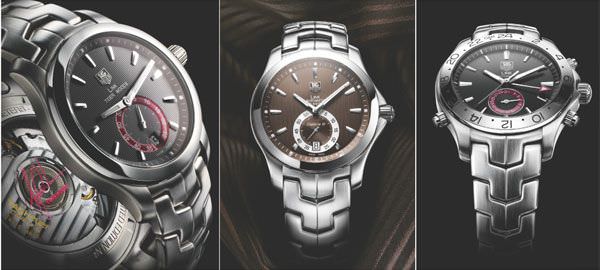 The LINK CALIBRE 6 LIMITED EDITION TIGER WOODS
TheLINK CALIBRE 6 BROWN
The LINK CALIBRE 7 GMT


The new Link Calibre 6 is an elegant, slim and aesthetically pleasing automatic stainless steel watch that takes a new turn in Link styling. With an eye-catching vertical-line dial texturing in trendy brown (it's also available in black and silver), the Calibre 6 has an oversized second counter and a date aperture at 6 o'clock, a double-sided anti-reflective treatment on the sapphire crystal and a transparent caseback to admire the automatic mechanical movement. The stainless steel Link bracelet remains faithful to its symbolic roots.
To celebrate TAG Heuer's on-going commitment to the iconic golfer Tiger Woods, the brand is launching the new Link Calibre 6 Tiger Woods Limited Edition 2006. The epitome of prestige watchmaking, this slim and elegant watch is equipped with an automatic movement with an oversized small seconds counter and a date aperture at 6 o'clock. With its sapphire crystal caseback highlighting the movement and carrying Tiger Woods' prestigious signature, along with the refined textures of the dial, this special edition will create a stir amongst collectors and fans of the world's leading golfer.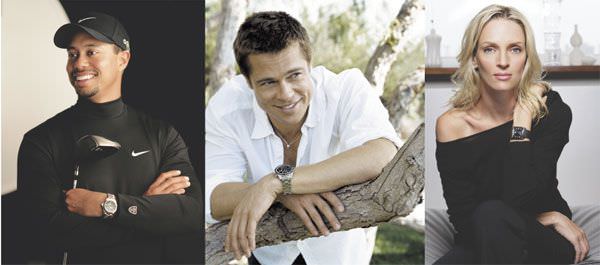 Tiger Woods, Brad Pitt and Uma Thurman


For the busy traveller who likes to combine business with pleasure, there is the new Link Calibre 7 GMT. Endorsed by Tiger Woods who travels almost non-stop throughout the golfing calendar year, this watch again combines style with function. Stylishly slim at 39 mm, it has a full 24-hour function with a date counter at 6 o'clock and an oversized red-tipped hand for the second time zone function that reads off the 24-hour scale on the fixed bezel. Equipped with an automatic movement, the watch has a curved scratch-resistant sapphire crystal and is water-resistant to 200 metres.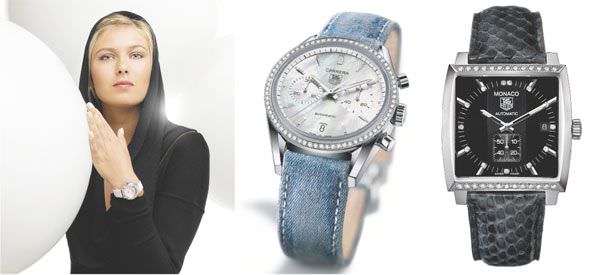 Maria Sharapova
The CARRERA DIAMONDS DENIM
The MONACO WATCH LADY BLACK


Strength and Beauty
Amidst this impressive collection of technical prowess, TAG Heuer hasn't forgotten its commitment to the ladies – a difficult feat considering those ambassadors closely involved - Uma Thurman and Maria Sharapova.
Hollywood star and Wimbledon Champion they may be, but Uma and Maria are perfect representatives of self-confident, seductive, determined and fashion-focused women. In short, they are TAG Heuer women: independent, cultured and glamorous ladies who don't follow trends, they establish them.
With Uma, Maria and modern ladies like them in mind, TAG Heuer has designed and created a diamond-set collection of timepieces for sophisticated professional women.
The original square-cased chronograph first seen on Steve McQueen's wrist in the 1970 film Le Mans, is the ultimate representation of TAG Heuer's innovative and daring spirit and its retro-chic design is now regarded as a necessary accessory for the fashionable woman.
The Monaco Watch Lady is equipped with the TAG Heuer Calibre 6 automatic movement set in a slightly downsized and sleeker case. The bezel of the case is set with 26 Top Wesselton diamonds and the dial's hour markers are highlighted by a total of 13 Top Wesselton diamonds. The watch is available with either a white mother-of-pearl or a chic black dial with a matching leather strap.
Changing style and form, there is the Carrera Diamonds Denim Chronograph, a stainless steel watch equipped with an automatic movement and a bezel set with 70 Top Wesselton diamonds and an elegant and highly trendy blue denim strap designed by Vincent Dupontreue, the fashionable Parisian couturier.
With their strong and powerful, yet ultra-feminine appearance, these new sparkling TAG Heuer watches are designed and destined to be worn by today's avant-garde women; by ladies seeking to enhance their appearance via an elegant, eye-catching watch steeped in history, yet as modern and glamorous in appearance as the leading ladies who wear them. They are testimony as to how TAG Heuer combines its technical strength with avant-garde beauty.


The first Swiss watch in space? … A Heuer Stopwatch!
Back in 1962, the US Astronaut John Glenn wore a Heuer Stopwatch when he piloted the Mercury-Atlas 6 Friendship 7 spacecraft on the first manned U.S. orbital mission. This means that Heuer, now named TAG Heuer, was the first Swiss watchmaker in space! Prior to Glenn's historic flight, the only watch to pass beyond the stratosphere was the Russian-made chronograph that Yuri Gagarin wore when he orbited the earth in 1961.







An independent researcher, Jeff Stein, has presented conclusive evidence that US astronaut John Glenn was wearing a Heuer stopwatch, a 'standard Heuer stopwatch, Reference 2915A,' with a 12-hour capacity and 1/5 second accuracy, was fitted with elastic bands and secured to the sleeve of Glenn's spacesuit. It is now owned by the Smithsonian Institute and currently on display at the San Diego Air and Space Museum. Stein includes this quote from the display: "After the failure of other brands on the earlier flights of Alan Shepherd and Virgil 'Gus' Grissom, the TAG Heuer was selected by NASA due to its ability to withstand the high G-forces created by liftoff."
The evidence, presented by space and watch enthusiast Jeff Stein, is based on flight records and NASA documents and several archival photographs. The launch from Cape Canaveral, Florida, later renamed Cape Kennedy, on February 22, 1962, saw John Glenn successfully orbit the earth three times, reaching a maximum altitude of approximately 162 miles and an orbital velocity of approximately 17,500 miles per hour. The mission lasted almost five hours, requiring the use of Heuer's Stopwatch and according to Stein, the Heuer stopwatch strapped to Glenn's wrist over his space suit served as the 'backup clock' for the flight.
"Measuring time has been a critical factor in men's journeys into space," writes Stein, "as it was also critical in man's early journeys across the oceans or the continents by railroad. Whether executing precise manoeuvres or navigating the journey, it has been critical for space travellers to be able to time events and to know the time of day (in a realm in which there are no days). Conditions demand timepieces that will be rugged, reliable and precise, and easy to read and operate.
"I am happy to introduce the TAG Heuer name—with its rich history and reputation in sports and scientific timing—into this discussion (or perhaps we should call it the 'space race'), and to present the information and images that I have gathered," writes Stein on his excellent vintage Heuer website - www.onthedash.com - the definitive online guide to Heuer chronographs and dashboard timepieces.
John Glenn's adaptation of a Heuer stopwatch allowed him to keep time reliably with the utmost accuracy throughout the flight. Today, the astronaut would have no shortage of high-quality TAG Heuer chronographs to choose from!


Source: Europa Star December-January 2007 Magazine Issue