When Fawaz Gruosi introduced his first watch collection in the year 2000, and despite the unquestionable originality of the Instrumento No Uno, very few people anticipated the horological scope and success the de Grisogono brand would achieve in its first few years
of existence.
With his background in design in jewellery and objets d'art, Fawaz Gruosi formed his own company, de Grisogono, in 1993 and opened a boutique in Geneva. By introducing the hitherto neglected black diamond into his jewellery and everyday objects such as sunglasses and the then up-and-coming mobile telephone, de Grisogono creations caught the imagination of the consumer. Boutiques in London and Gstaad followed in '97 and '98, followed in quick succession by openings in Rome, Paris, St. Moritz, Kuwait, Moscow and Hong Kong.
Gruosi's very first foray into the watch world was his creation of jewellery watches for Chopard, one of which was the highly innovative Ice Cube Collection. With the success of that collection still ringing in his ears, Fawaz Gruosi made the adventurous decision to launch into watch production under the de Grisogono name.
The rest, as they say, is history … nevertheless, let's take a look, in chronological order, at the watches created and manufactured in the brand's seven years of existence.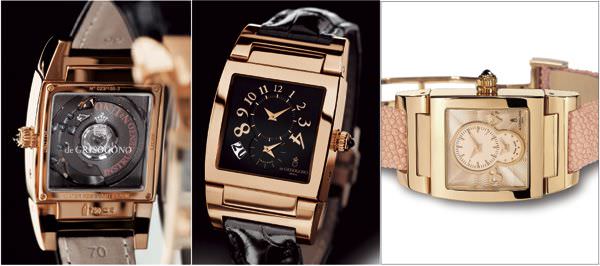 Instrumentino, Instrumento No Uno


2000 - Instrumento No Uno
The very first de Grisogono watch set the standard for all of the brand's future timepieces. Aesthetically pleasing, the Instrumento No Uno combined tradition with originality of form and mechanical complications.
With its square case and slightly arced sides and articulated attachments the watch had a second time zone indicator and, surprise, surprise, a large date aperture at 7.30, a feature that made the watch immediately stand out. There was an easy-to-use grooved crown with an in-set black diamond and the movement used an automatic modified calibre.
With its two-tier dial available in fifteen versions, a 42-hour power reserve and water-resistant to 30 metres, the Instrumento No Uno met with instant success, leaving both specialists and aficionados excitedly expectant for the brand's future creations.
2001- Instrumentino
Remaining in the spirit of the Instrumento No Uno, the Instrumentino was launched to meet a demand from the ladies. 15% smaller than its predecessor at 49 x 29 mm, this model is in 18 carat white, yellow and red gold and was also available set with around 718 black or white diamonds and rubies. With its second time zone and only the numerals 4 and 8 indicated on the dial, the inspiration was clearly its elder sibling.
Equipped with either a mechanical self-winding movement visible through a sapphire caseback or a quartz movement, the watch was also no-table for its introduction of the galuchat strap.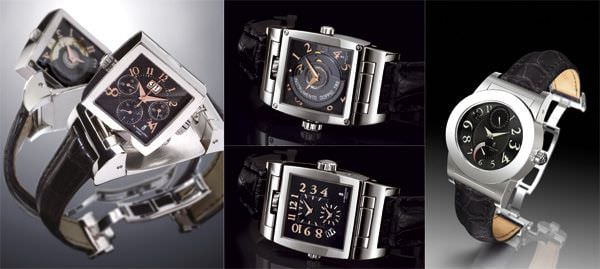 Instrumento Doppio, Instrumento Doppio Tre, Instrumento Tondo


2002 - Instrumento Doppio
The Instrumento Doppio arrived amidst much excitement. The promise of something unusual had been rumoured and at its first outing it created a genuine surprise. Introduced as 'One style, two faces' it had an ingenious pivoting system that offered on one side a fully functional chronograph with 12-hour and 30-minute functions and a large date at 12 o'clock. After turning a small wheel on the exterior of the case at 12 o'clock, the case swivels to reveal the dial of a second time zone with an analogue display of the hours and minutes. For this a specially integrated mechanism had been developed and patented consisting of two modules, one to dis-play the time zone and the other to set its time. An unusual feature is that the hands pass through the oscillating weight in order that the movement can wind. Surprisingly, both sides and all the functions work from the same modified single barrel movement.
The Doppio measures 36 mm x 60 mm and is 18 mm thick. Manufactured in a Limited Series of 500 pieces in stainless steel and 18 carat yellow, red and white gold.

2003 - Instrumento Doppio Tre, Instrumento Tondo
2003 saw de Grisogono and Fawaz Gruosi getting into their stride and introducing two new models: Doppio Tre and the Tondo. The Instrumento Doppio Tre offers three different time zones and a large date, two time zones on one side with the large date at 7.30; dial two, revealed in the same manner as the Doppio via a special wheel at 12 o'clock, gives the third time zone with an independent correction and setting.
The case measures 36 x 60 mm with a dial opening of 27 x 27 mm and the watch's thickness is 6.73 mm. The watch is equipped with an ETA-based movement calibre with automatic winding.
The Instrumento Tondo again breaks with watchmaking tradition. An oval watch in stainless steel, or 18 carat red or white gold, the watch houses a modified, entirely blackened ETA-based mechanical movement with a self-winding mechanism RM 14-89. There is an additional time zone module with a date and power reserve indicator. There is a three-level oval dial measuring 28.5 x 26 mm with Arabic numerals designed by Fawaz Gruosi.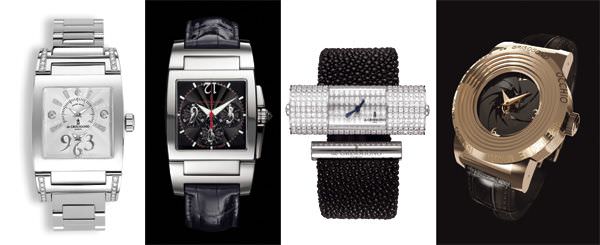 Instrumento Steel & Diamonds, Instrumento Chrono, Lipstick, Occhio Ripetizione Minuti, 2005


2004 - Instrumentino Steel & Diamonds, Instrumento Chrono, Lipstick
There were three new collections in 2004. The first was an up-market Instrumento Steel and Diamonds version of the Intrumentino, giving this elegant timepiece a slightly sportier look than the 18 carat gold versions. The watch (29 x 49 mm) is equipped with an ETA quartz movement and has the second time zone with a silver, black or light brown dial with a guilloché rim. The flexible attachments are set with 36 diamonds weighing 0.40 carats.
Next came the Instrumento Chrono, de Grisogono's first foray into the world of sport. Using the now renowned square case format (33 x 33 mm) in stainless steel, the chronograph is equipped with an ETA automatic movement blackened in the de Grisogono style. In addition to the hours, minutes and small seconds, there are three chronograph counters, 30-minutes, 12-hours and seconds. A black or silvered dial is available with Superluminova-coated dauphine hands, sapphire crystals front and back, leather strap with a folding buckle. The watch is water-resistant to 30 metres.
The third offering of the year was the incredibly feminine watch that is as much jewellery as it is timepiece: Lipstick. As the company claims, 'The name on everyone's lips', Lipstick comes in two versions, cylindrical or rectangular, however the exceptional sparkle given by the setting of diamonds, sapphires, emeralds or rubies against a fine galuchat strap with a doubly secure fastening system, makes the Lipstick an eye-catching watch as original as it is harmonious.

2005 - Instrumento Grande, Occhio Ripetizione Minuti, Power Breaker
The Instrumento Grande has a very large date aperture that is housed in a new case in the form of a rectangle in a horizontal position. Simple and sober in concept, the watch (39.7 x 48.3 mm) is equipped with a basic ETA automatic movement with the addition of an exclusive module for the large date. The Instrumento Grande is available in either stainless steel or 18 carat red gold with silver, off-white, black or brown dial with guilloché decoration, and dauphine hands with a Superluminova coating. Water-resistant to 30 metres, the watch is a masterpiece of understated elegance.
de Grisogono's Limited Edition the Occhio Ripetizione Minuti is a unique look at an old favourite – the minute repeater. Unlike anything yet seen it is designed on the reflex camera concept whereby a twelve-bladed diaphragm mechanism opens to reveal the repeater movement for the duration of the chiming period, then shuts again to have provided a fleeting glimpse of this mechanical marvel.
The movement is a Christophe Claret hand-wound Minute Repeater movement Calibre with a Cathedral gong strike and an exclusive de Grisogono auxiliary diaphragm sub-assembly. The minute repeater and diaphragm assembly totals 414 parts and has hours and minutes functions and hour, quarter and minute repeater striking on three gongs. At 43.6 x 56.4 mm and a thickness of 14.1 mm, the Occhio Ripetizione Minuti, which is available in 18 carat red, white or blackened gold is a powerful reminder of the originality of de Grisogono's wealth of creativity.
The third collection for the year is the Power Breaker, an original sports' watch derived from Formula I motor racing. The watch (54.23 x 43.33 mm) comes in various versions – stainless steel Black PVD finishing on steel, pink, red or 'Browny Brown' (a mat-finished tawny pink gold created for de Grisogono by Fawaz Gruosi) 18 carat gold and is equipped with an ETA self-winding mechanical calibre with a Dubois Dépraz chronograph sub-assembly. The chronograph has a 30-minute and 12-hour counter with a central seconds hand and the watch is water-resistant to 30 metres.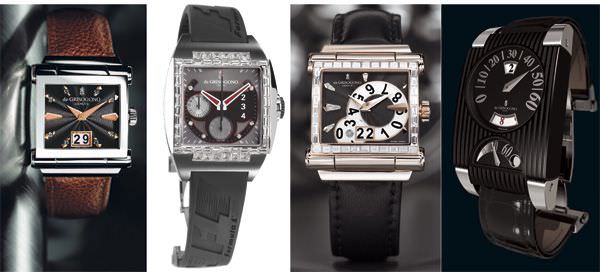 Instrumento Grande, Power Breaker, Grande Open Date, FG One


2006 - Grand Open Date, Uno Grande Seconde, FG One, Be Eight
2006 was a busy year for de Grisogono by anyone's standards. Four highly original collections that proved that the brand through its creativity and uniqueness was in the haute horologie sector to stay.
The Grand Open Date is a genuinely innovative means of keeping track of the date. With its open date discs as the main feature, it hides nothing concerning the date mechanism, but offers watch aficionados the possibility of something new in mechanical timing. The 18 carat rose gold rectangular-shaped watch (48.3 x 41.11 mm) is equipped with an automatic de Grisogono GD 15-89 movement with hours, minutes and date functions. This ground-breaking timepiece is available with or without diamonds.
Uno Grande Seconde is an eye-catching up-date of the original No Uno. The hours and minutes are indicated in a sub-dial at 6 o'clock and the main feature of the watch is the large central seconds hand indicator. The 18 carat rose-gold watch (33 x 57.35 mm) has a 3-level dial: upper guilloché edge, Clous de Paris decoration, square second scale, circular snailed hour counter. There is a time zone corrector on the case at 4 o'clock, there are sapphire crystals front and back, a crown set with a black diamond and the watch is water-resistant to 30 metres.
The FG One is the first de Grisogono watch to which Fawaz Gruosi has given his initials. This unusual timepiece in its cambered rectangular case (58 x 33 mm) with a crown at 12 o'clock is equipped with an automatic ETA movement fitted with a complications module. The round upper dial features a retrograde display of the minutes in a 230° arc. Driven by an instantaneous-change jump mechanism, the local hour appears in the dial aperture at 12 o'clock. A broader aperture at 6 o'clock features a second time zone display of a different colour driven by a 'progressive' hour change mechanism. Seconds are displayed in the semi-circular lower dial with a retrograde hand moving across a 120° arc, with a day/night indication for the second time zone. The FG One is clearly a defining moment in de Grisogono's history since it is the perfect demonstration of the brand's mastery of innovative watchmaking.
To end the year on a particularly high note, de Grisogono introduced the be Eight. Sophisti-catedly elegant with rounded curves, the watch follows the female shape with its 'smooth shoulders, generous bust, slender waist and shapely hips'. Some observers suggest a similarity with 'Le Violon d'Ingres', Man Ray's famous black and white photograph of the back of a nude, whilst others refer to the figure eight being a symbol of harmony in Chinese culture.
Whatever your interpretation, Fawaz Gruosi has created a delightful ladies' timepiece. The watch is available in various colour golds and is equipped with a quartz movement with a flush-fit crown at 3 o'clock. There is a lacquered dial with four hour markers and it indicates hours and minutes. This highly feminine watch is available with or without diamonds and with its fluid lines it will enhance even the most slender female wrist.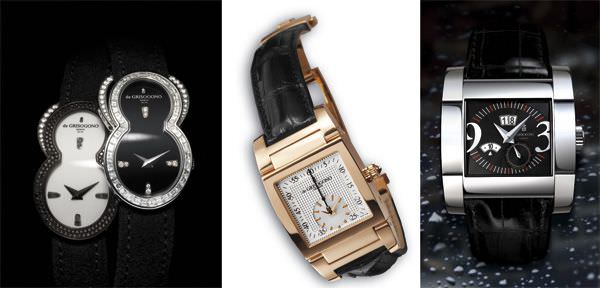 Be Eight, Uno Grande Seconde, Instrumento Novantatre


2007 - And so to today … the Instrumento Novantatre
Until now, there has been no annual calendar model in the de Grisogono watch collections. However, the Instrumento Novantatre changes all that in an original manner: the large date appears at 12 o'clock, whilst the month appears at 8 o'clock and the small seconds are on a sub-dial at 5 o'clock. Needless to say the self-winding mechanical movement is automatically tuned into the 30- and 31-day months. The Instrumento 93 is of a typically sporty de Grisogono design and format (47.2 x 40 mm) with a black dial with a radiating guilloché pattern and two oversized indices 9 and 3. A sapphire crystal caseback reveals the familiar blackened movement that is so much a part of the brand's originality. There is an alligator or galuchat strap connected to articulated lugs thus making it a comfortable fit and yet another innovation in the history of one of today's most creative brands.
Another year, another highly innovative timepiece. As time goes by, it's clear for all to see that timekeeping holds no hidden secrets and offers no restrictions in de Grisogono's quest for combining beauty with mechanical complications.


Source: Europa Star February-March 2007 Magazine Issue